Ways to Celebrate Juneteenth 2020
Image of Juneteenth 2019 celebration at Hampton National Historic Site in Maryland.
It's Juneteenth today, and if that's news to you or you're unsure what that means, your first stop today can be learning the history of this overlooked holiday, which celebrates when news of the Emancipation Proclamation finally reached Galveston, Texas in 1865, which is to say, two and a half years after it became law. African-Americans in southeastern Texas began celebrating a new independence day to mark the end of chattel slavery in the United States.
Smithsonian Magazine posted a feature today on how the holiday came to be and spread across the nation that's probably required reading, which you can follow up with this National Geographic feature on why this "holiday of hope" is so important as America attempts to reckon with a history of racist violence and exclusion exercised against African-Americans.
The celebration is one of hope but also of struggle and of a people fighting for their liberation, which is to say, what is ongoing today. There are protests in all five New York boroughs today, and all across the country. Turning out on the streets to demonstrate your rights and your opposition to ongoing racist violence and police brutality remains an appropriate way to mark Juneteenth.
For those who can't march or after direct action, there are myriad options streaming right to your computer today: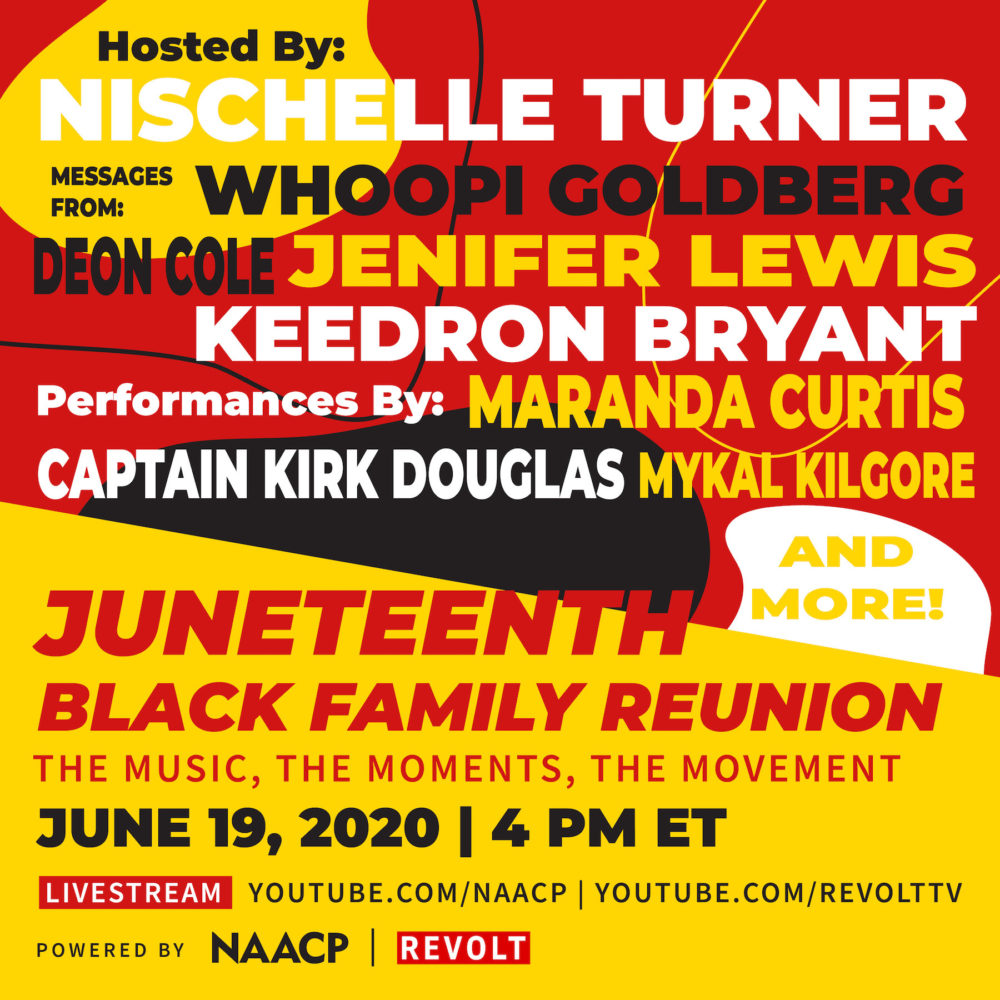 The NAACP, in conjunction with REVOLT, will host a special virtual Juneteenth Black Family Reunion and Juneteenth virtual Town Hall on Friday, June 19 at 4 p.m. EST and a virtual town hall discussion at 6 p.m. Participants can view both events live via the NAACP or REVOLT YouTube channels.
Freedom on Juneteenth is a presentation from the oldest black theater company in the U.S., Cleveland's Karumu House. They are making their streaming debut with the piece, which incorporates music, dance and spoken word, speaking to the recent death of black Americans by police, followed by a panel discussion with leaders from the Black Lives Matter movement. It starts at 7 p.m. EST and is available via Karamu House's Facebook, YouTube channel, and Vimeo.
Black Women and the Ballot is a series of short radio plays celebrating Juneteenth and examining African-American women's contributions to suffrage, in the past and in work continuing today. Put together by The American Slavery Project, black theater companies and the New York Society for Ethical Culture, it will be streamed starting at 7:30 p.m. EST via YouTube.
A Juneteenth Reading is a virtual reading of Vincent Terrell Durham's "Polar Bears, Black Boys and Prairie Fringed Orchids," presented by more than 30 Bay Area theater companies, led by PlayGround, the Lorraine Hansberry Theater and Planet Earth Arts. You have to reserve a ticket via Zoom, which is free, but donations that will benefit black theater projects are encouraged.
Finally, on the easiest side for you, Bandcamp is donating its portion of all sales today to the NAACP Legal Defense Fund, and many artists and labels have followed suit. If your wishlist is burning a hole in your pocket, there's a special upside to adding something to your music library today.