WOMEX 2022 in Lisbon Wraps Up With A Bang!
The 2022 edition of WOMEX, the biggest exposition of global music in the world, has wrapped with more than 3,100 music professionals (including 280 performing artists) from 113 countries, hosted more than 60 showcase artists representing 280 musicians spread across eight stages, 21 music-based documentaries, 111 speakers and mentors participated in the conference sessions and a bustling trade fair with 676 exhibiting companies with more than 260 stands and two radio studios on-site. All this took place in Lisbon, Portugal, Oct. 19-23.
Once again Afropop Worldwide was there with a keen focus on the African and African diaspora acts. Banning Eyre and regular Afropop feature writer Ron Deutsch, who currently lives in Valencia, Spain, were on site covering the action throughout.
In our upcoming WOMEX 22 broadcast/podcast (uploading on Nov. 24), we will bring you showcase recordings and interviews with artists we newly discovered, and a few old friends. As spectacular as these showcase artists were and are, WOMEX also draws many artists, producers and record labels bringing new music and insights into our world at the WOMEX trade fair. Rest assured that we collected lots of new sounds and interviews to feature on upcoming programs, including intimate sessions from the European Broadcast Union studio, in collaboration with our friends at KEXP, Seattle. In short, with fewer and fewer Afropop artists making it to the U.S. to perform, the WOMEX confab is more important to our mission than ever.
Speaking of upcoming Afropop programs, our year-end show for 2022 will be "New Africa 2022." At WOMEX we asked artists to point to something new in African music they discovered or were turned on by this year. We got some fascinating answers, and now we're throwing it open to you. You can record a short bit on your phone, or send your pick in writing to info@afropop.org. Keep to one item, and make it brief. And if you can, suggest a piece of music that illustrates your idea. We would love to hear from you and you might wind up on Afropop Worldwide.
Now to our WOMEX showcase report. Here are images and a few words on the key showcases we covered in Lisbon.
Thursday night established a trend with three, woman-led bands from Brazil, Mali (via Montreal) and Mozambique (via Lisbon).

All photos by Banning Eyre.
Lia de Itamaracá (Brazil)
At 78 years old, Lia de Itamaracá is an icon of ciranda music from Pernambuco, Brazil. She proved a commanding presence on stage. Tall, statuesque, reminiscent of the late Zanzibar taarab queen Bi Kidude, Lia led a band of veterans with a full brass section, two female backing singers and three percussionists. She was nothing short of spell binding.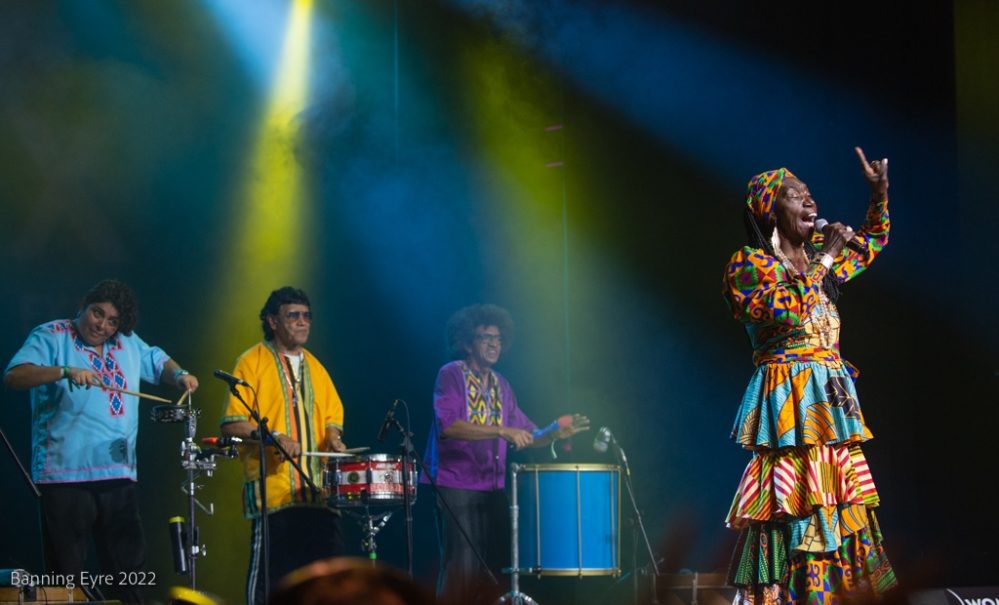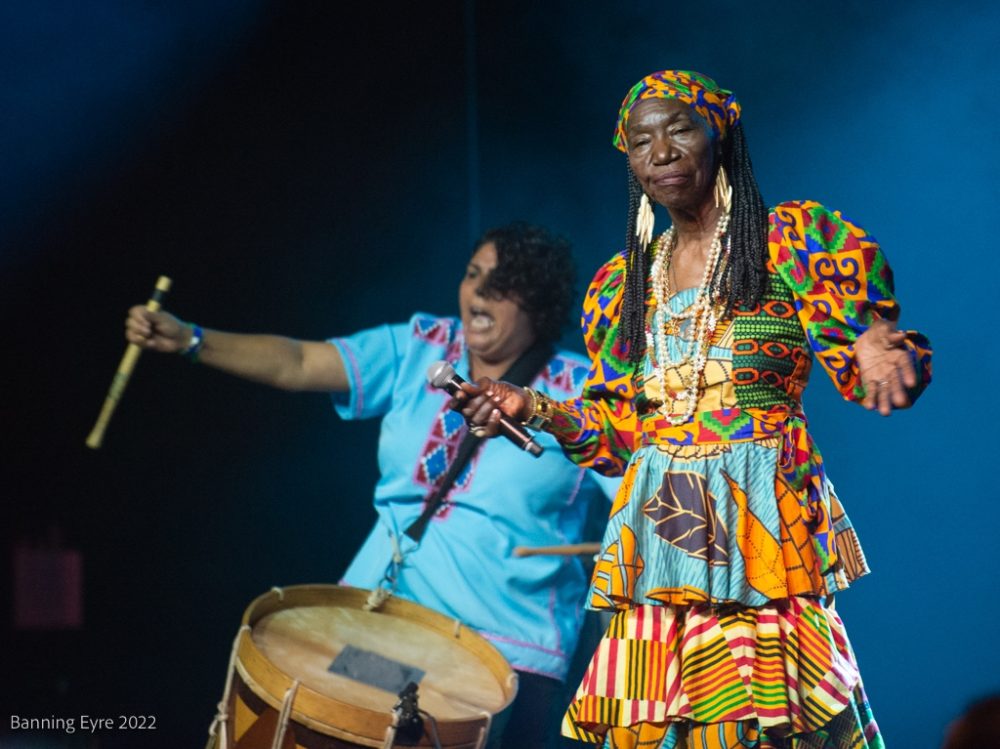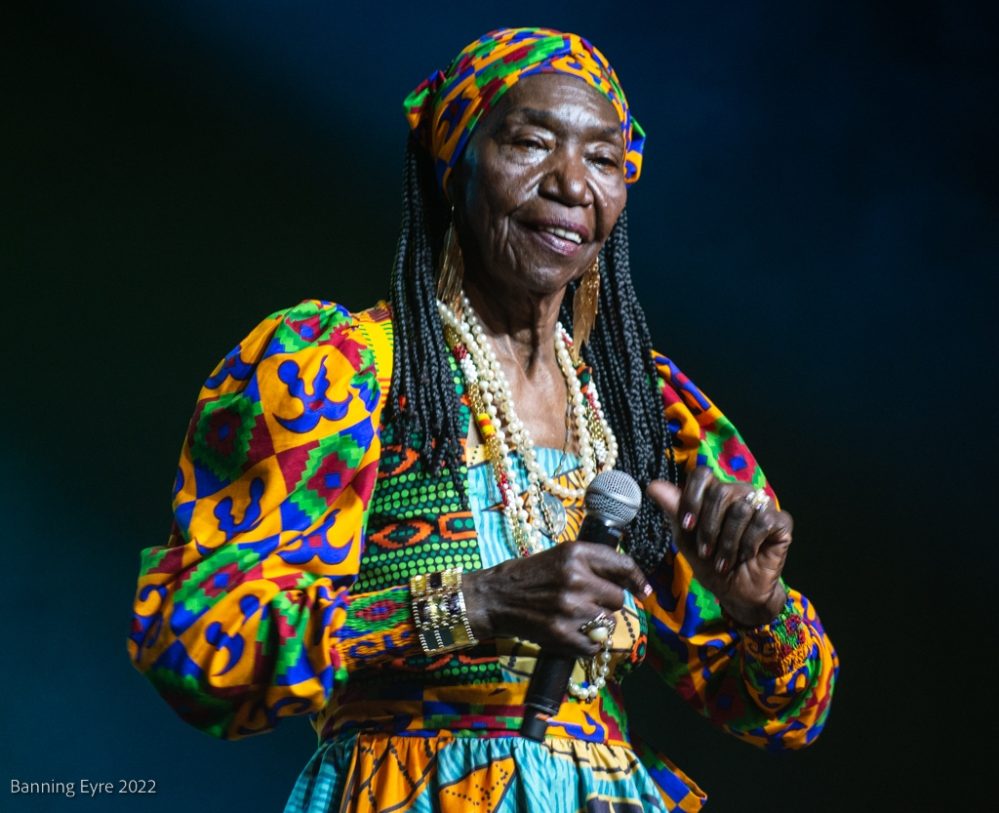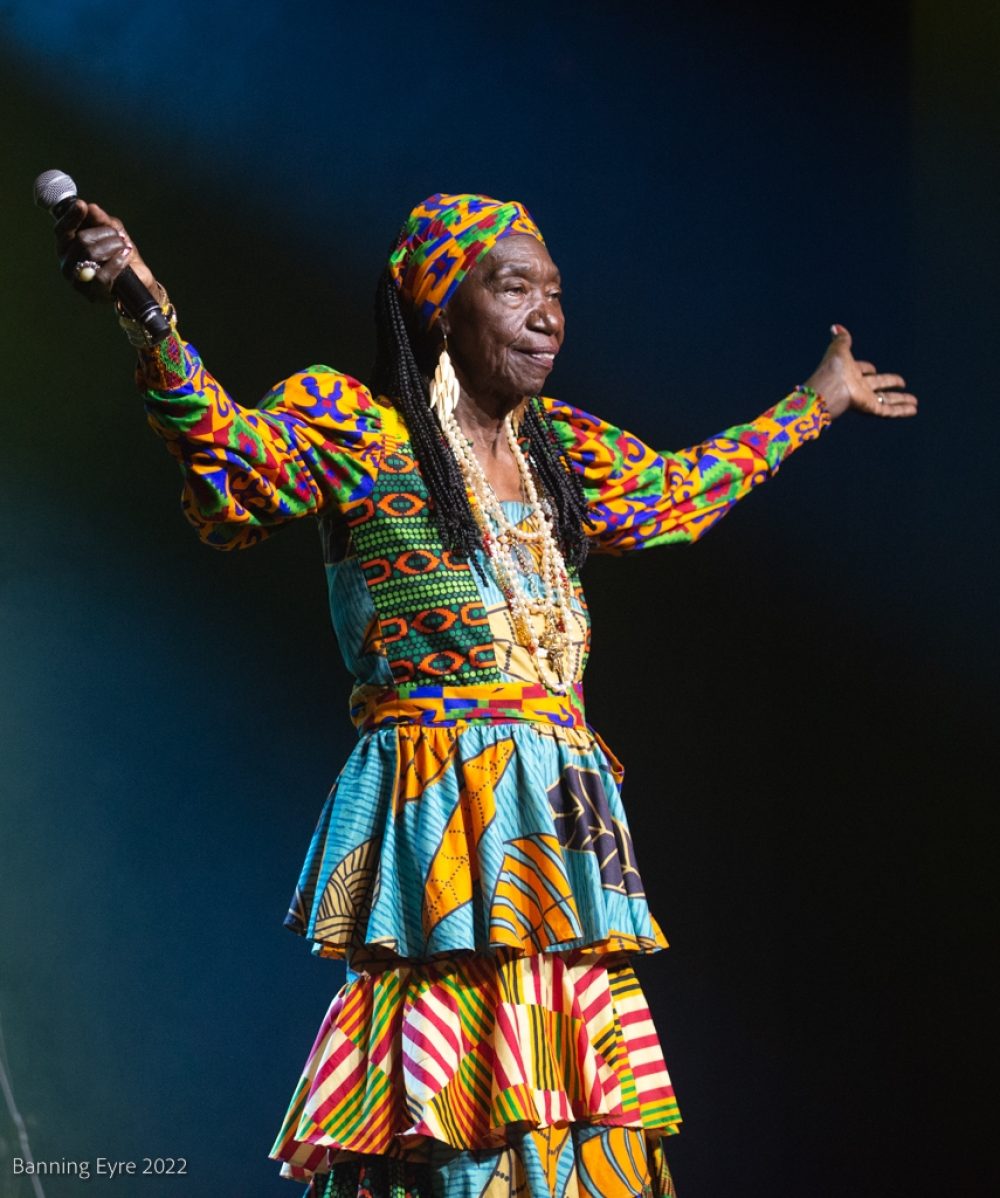 Djely Tapa (Mali/Canada)
Daughter of Malian jelimuso extraordinaire Kandia Kouyate, and a self-proclaimed champion of Afrofuturism, Montreal-based Djely Tapa has already appeared on two Afropop Worldwide programs in 2022, most recently in her impromptu Nuits d'Afrique set with guitarist Derek Gripper and kora player Zal Sissoko. At WOMEX she unleashed the power of her own band, delivering a forceful and original take on 21st century Mande pop.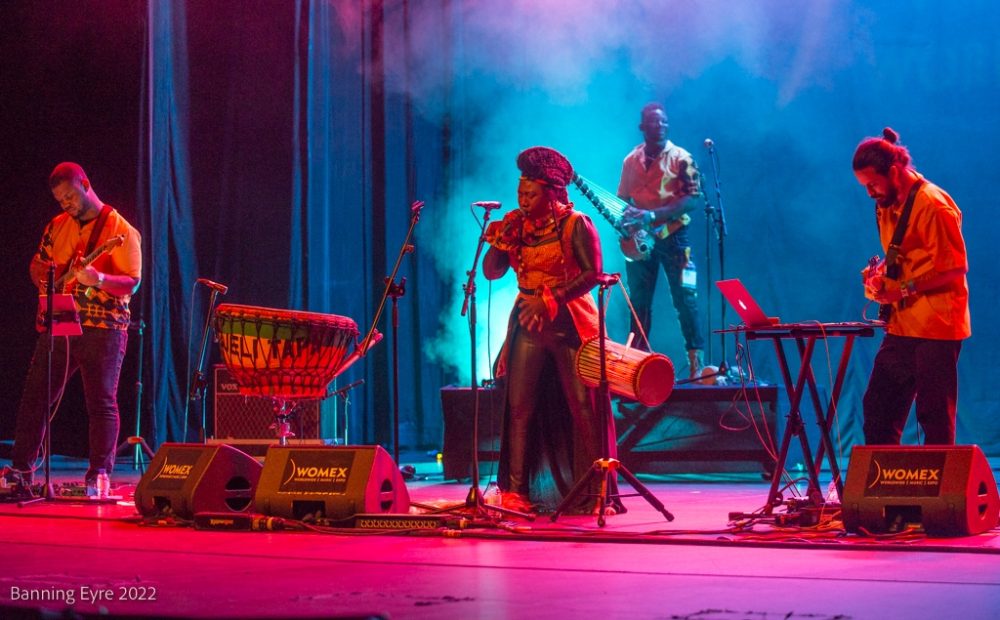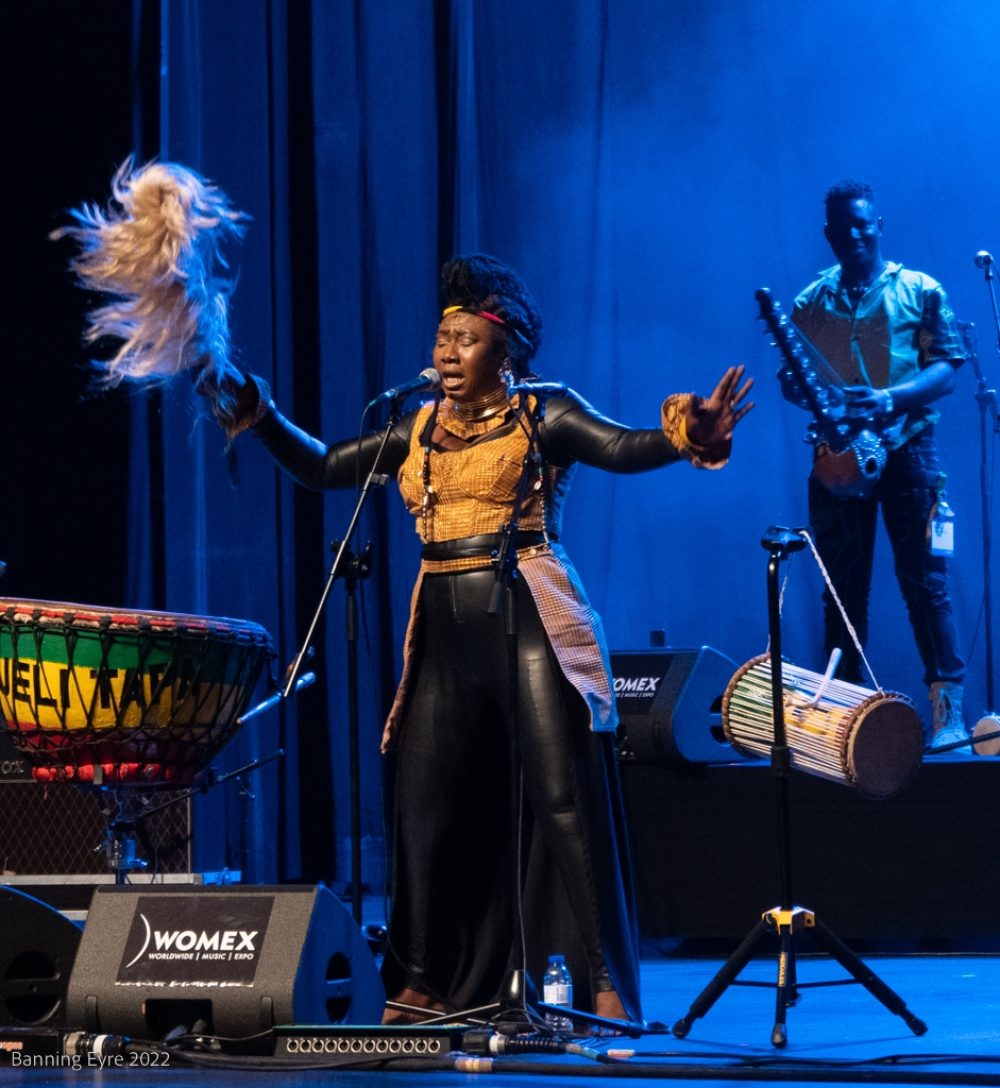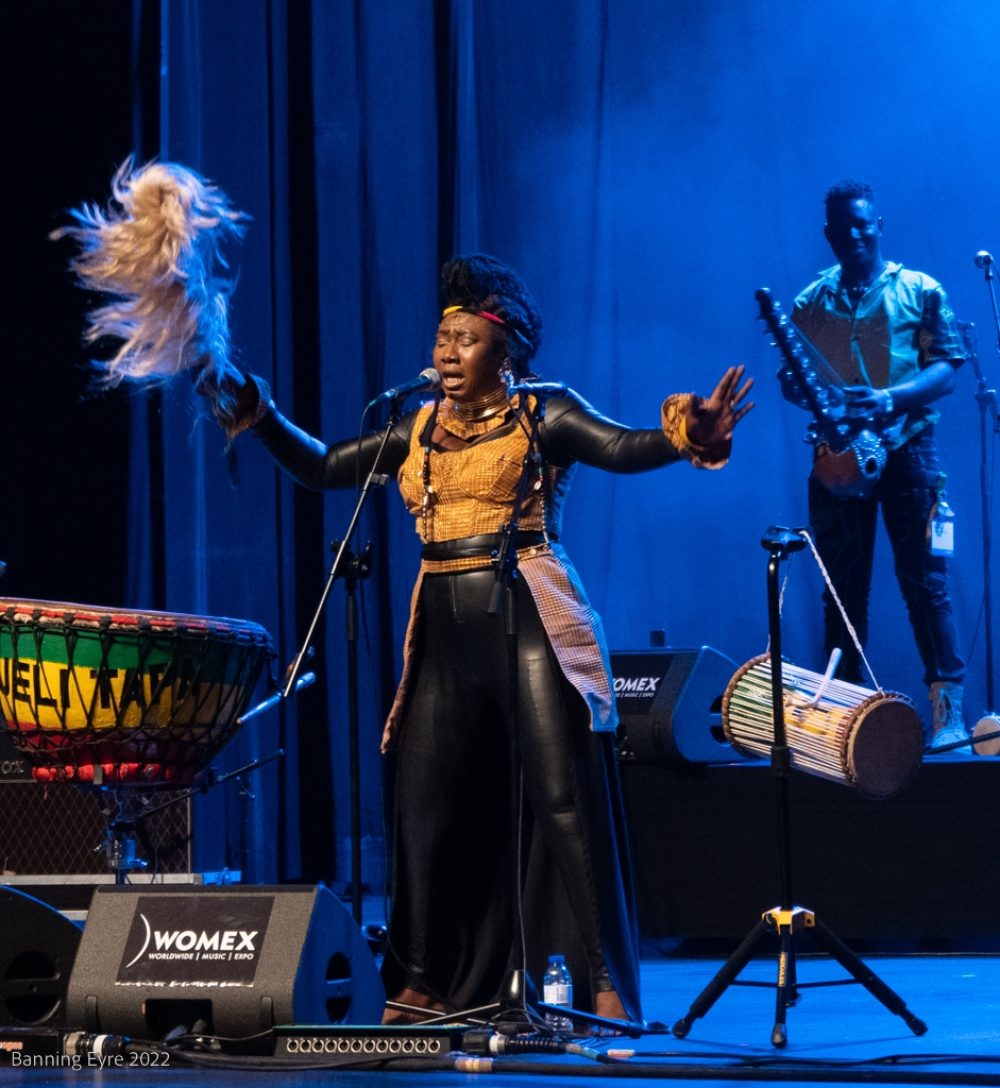 Selma Uamusse (Mozambique/Lisbon)
A discovery for us was this superb singer/composer/bandleader from Mozambique, based in Lisbon. The chopi xylophone timbila and a version of the southern African mbira—fed through distortion in the manner of Konono Nº1—figured prominently. This was rocking electric music, folklore on steroids, spiked with pointed social justice messages. Most impressive of all was Uamusse's command of the crowd. She owned them with her energy, charisma, gutsy voice and (it has to be said) amazing hair! Afropop was also pleased to record a radio session with Selma and her band.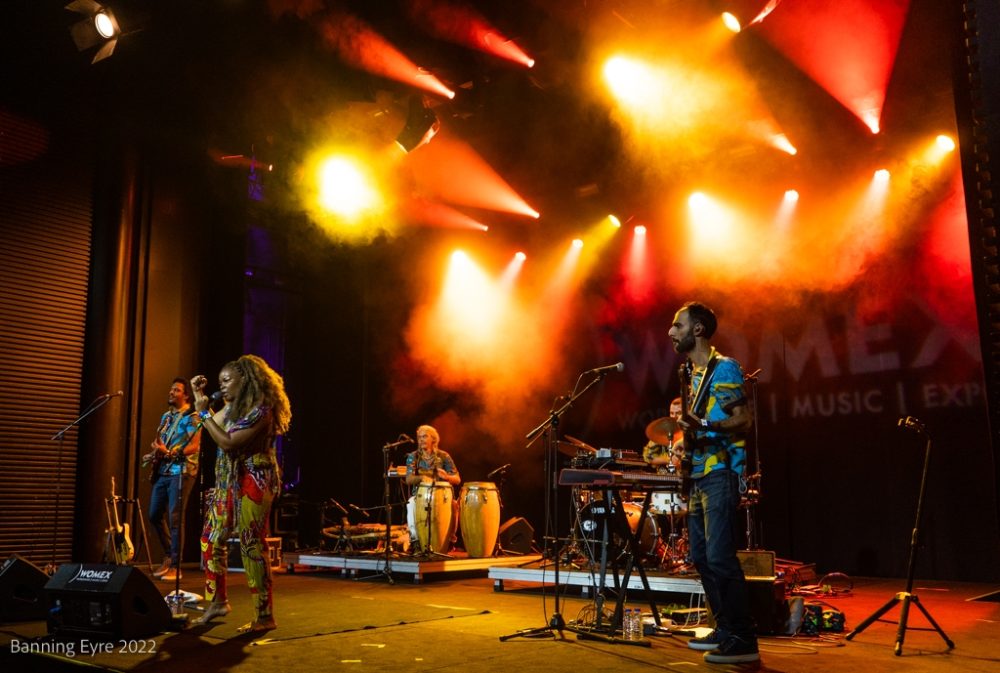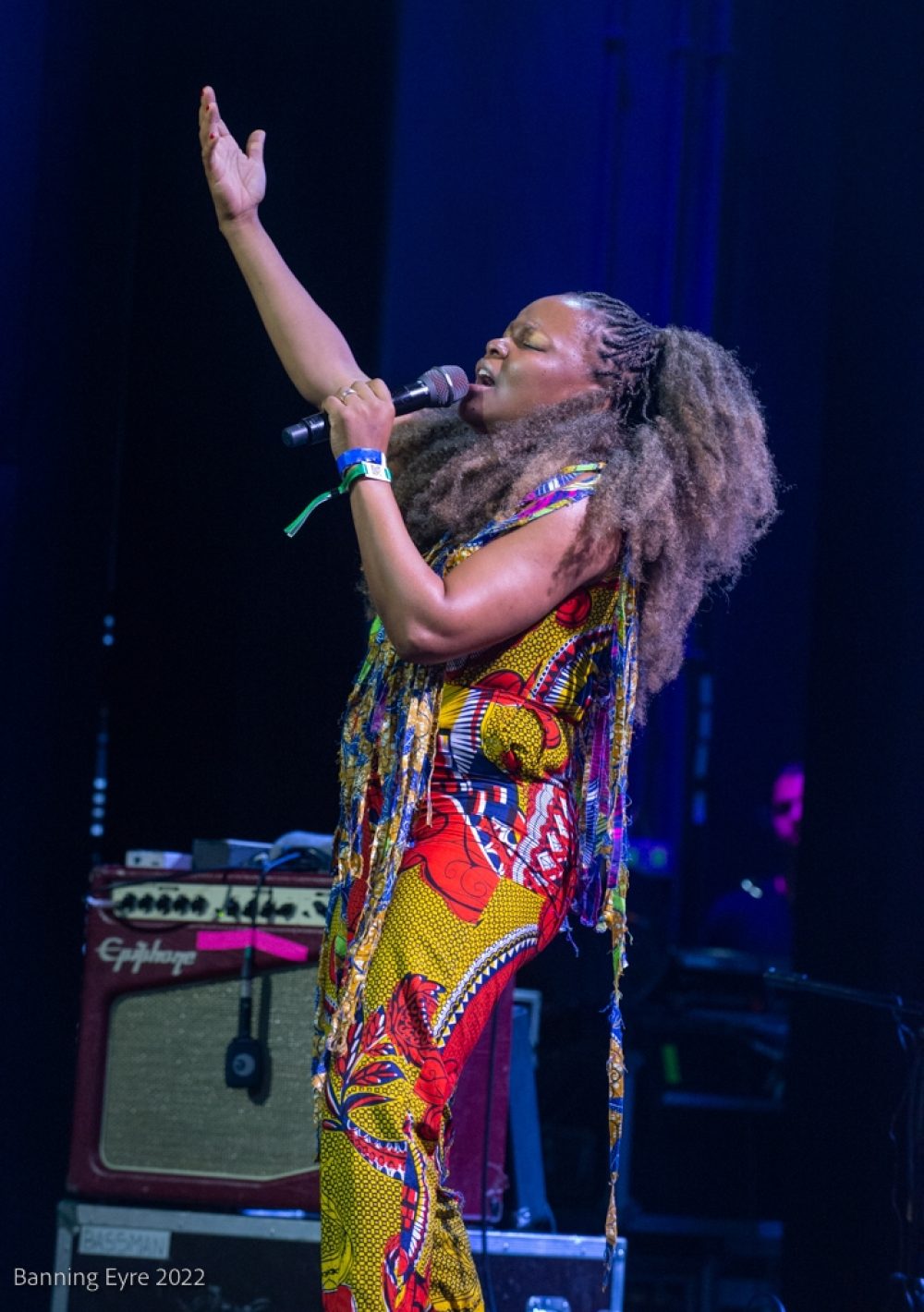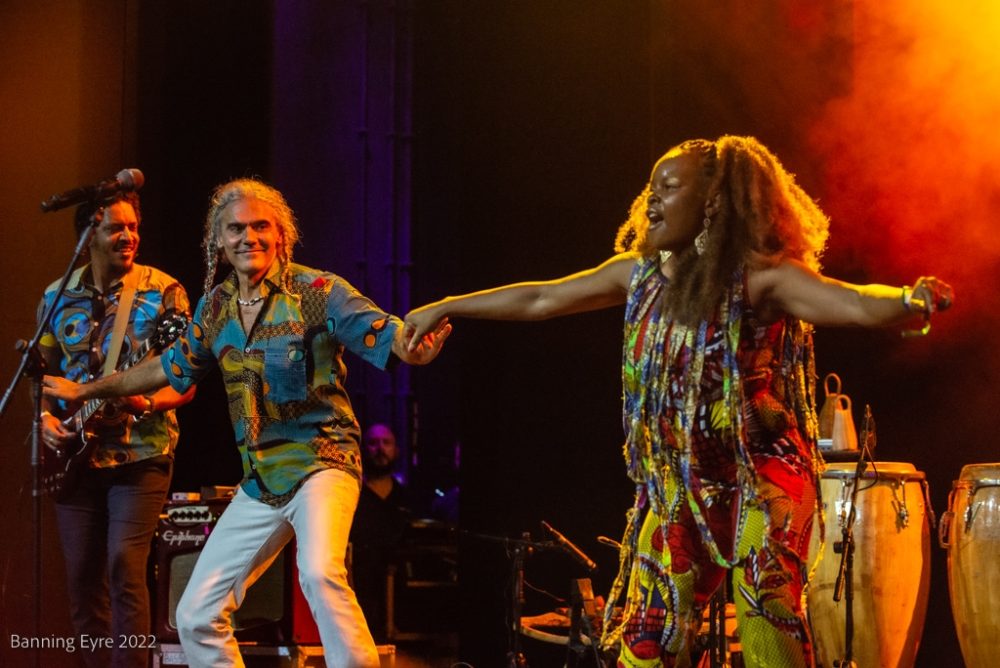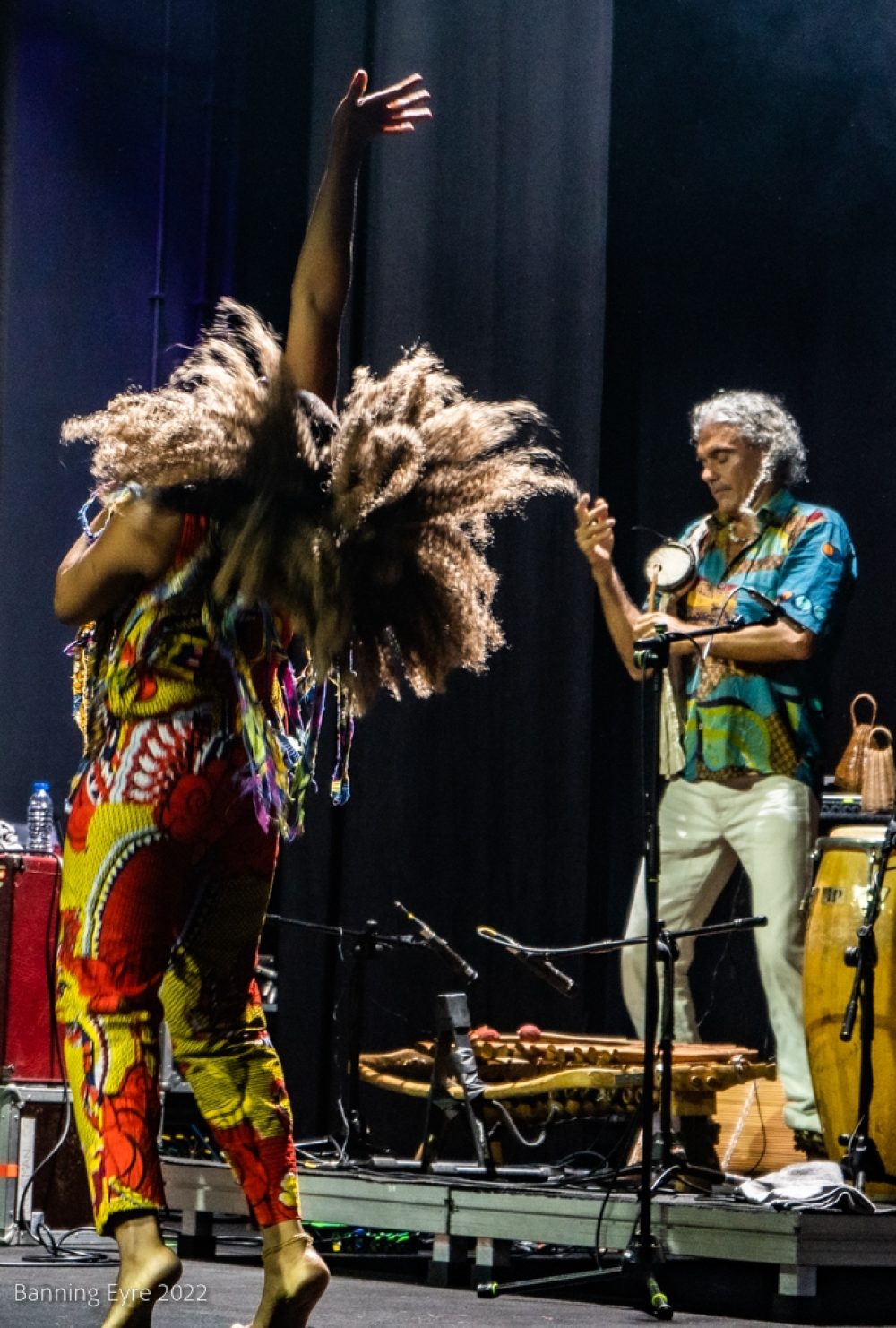 Friday's action began in the Coliseu dos Recreios, a circular venue with awesome visuals, less-good acoustics. It was a bit of a hike from the other venues, but that didn't cut down on the crowds for three formidable acts: Afrotronix, The Dizzy Brains and La Mabanegra. No photos on these last two as we couldn't catch it all. It was a busy night. We did catch showcases by Djazia Satour, Al Bilali Soudan and Tito Paris.
Afrotronix (Chad/Canada)
This Monreal-based act, fronted by Chadian guitarist Caleb Rimtobaye, was featured on Afropop's SXSW stage in 2019. The influences range from Chadian saï to Congolese soukous, Haitian compas and beyond, but the presentation is decidedly techno-futuristic.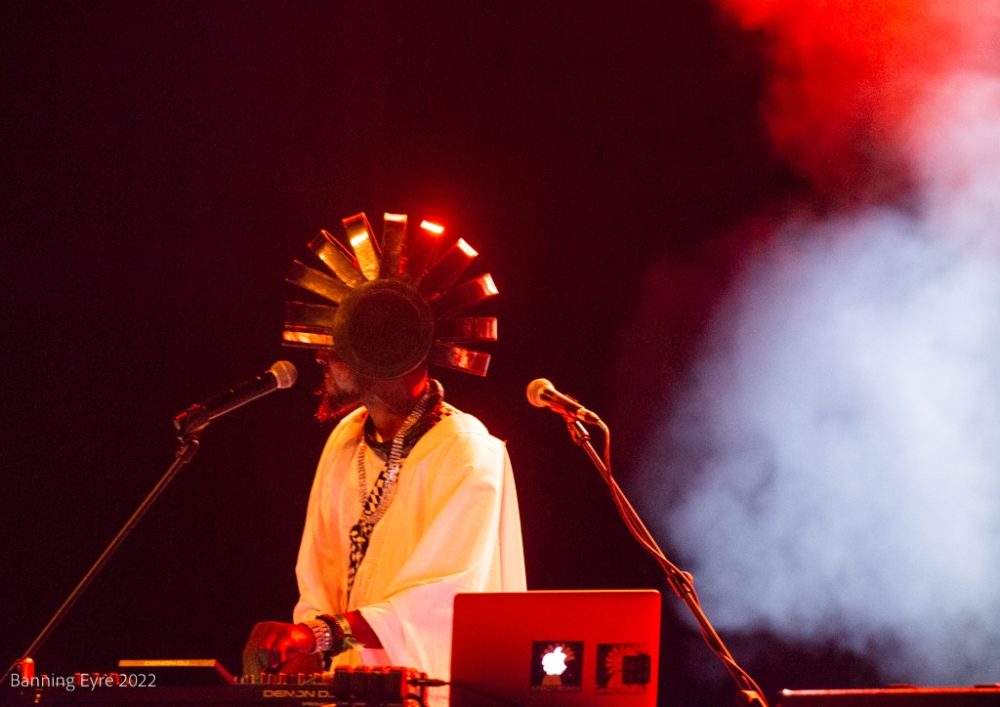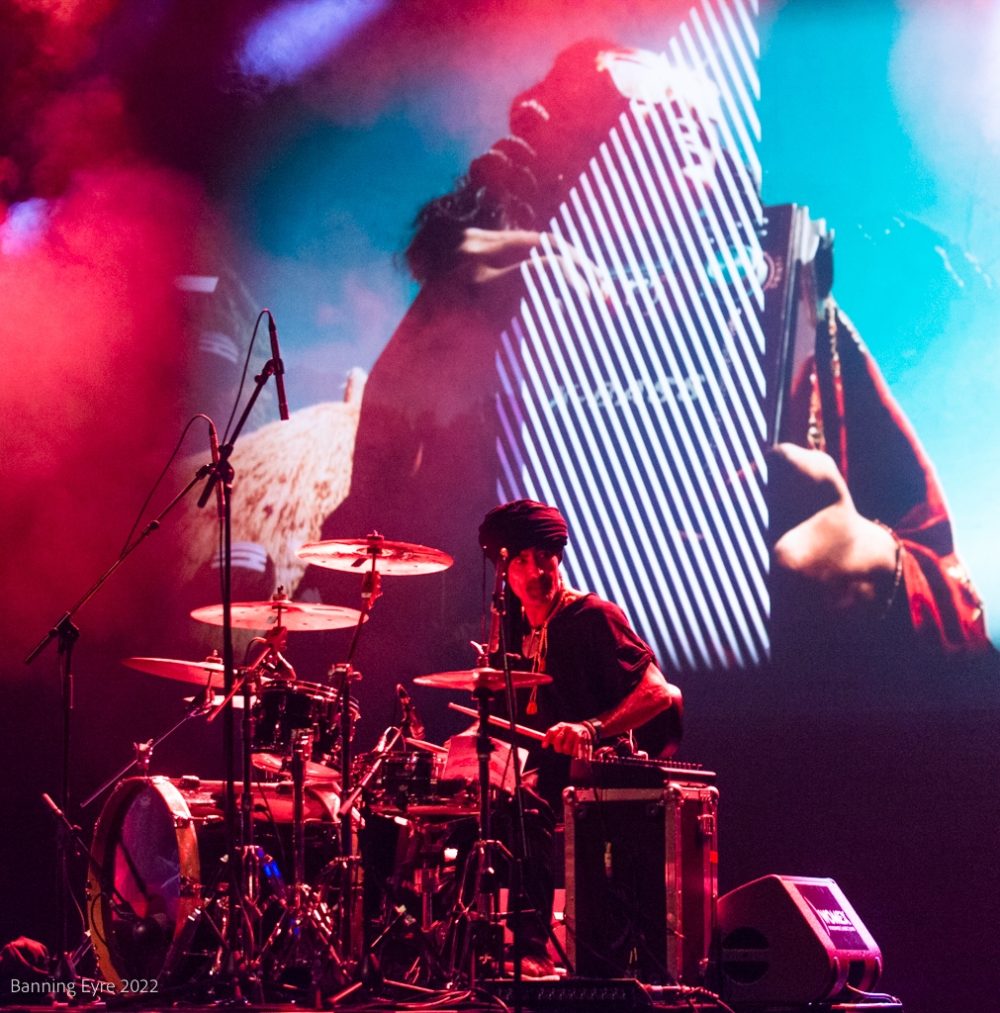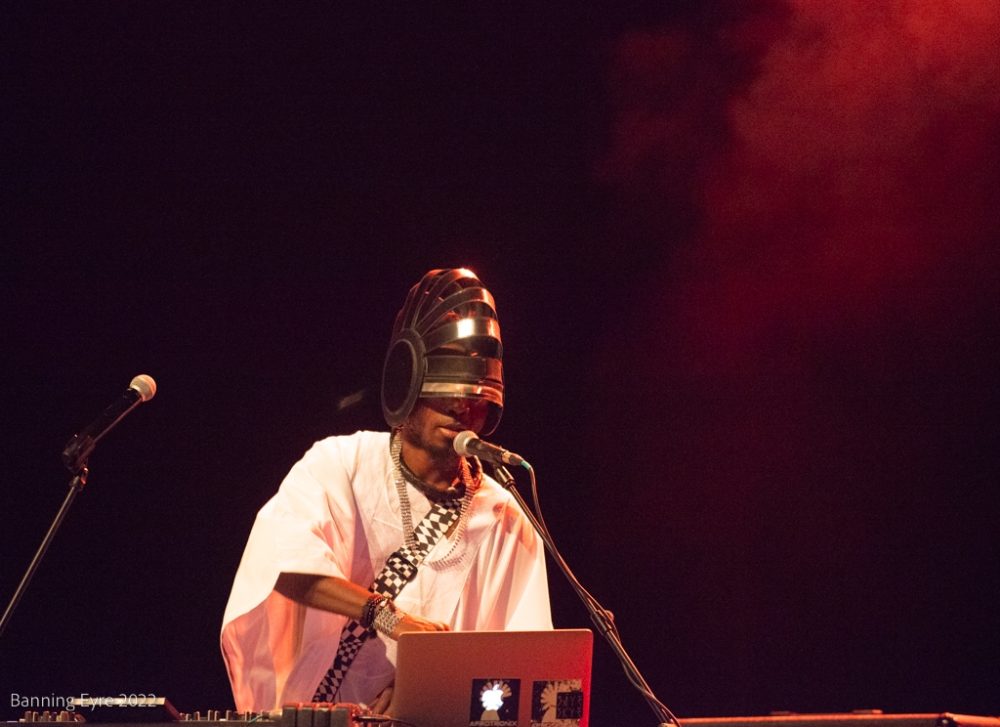 Dzazia Satour (Algeria/France)
Djazia is a veteran of Gnawa Diffusion (led by her brother Amazigh Kateb) and the electro trip-hop combo MIG. But with her own group, she delves into 1950s Algerian chaabi, folk, funk and rock. Her set was beautifully paced and ultimately hard-hitting. It also featured one of the most impressive audience sing-alongs we've ever seen.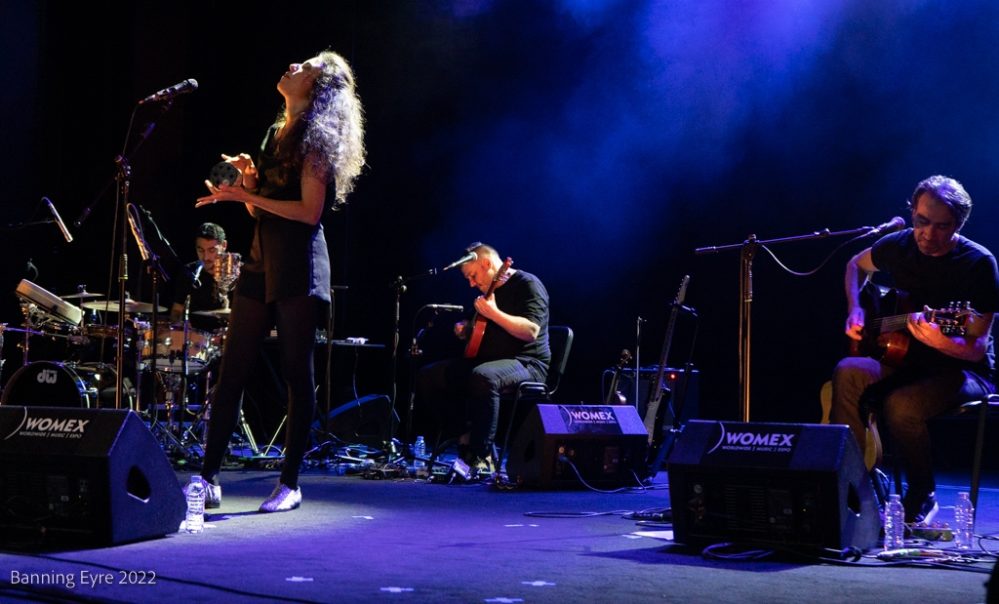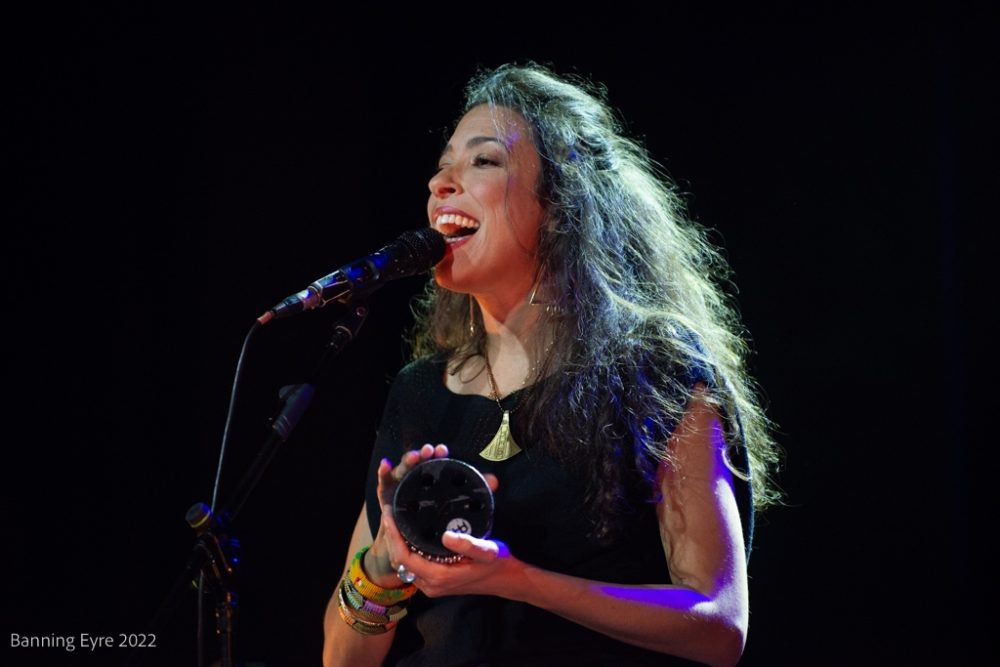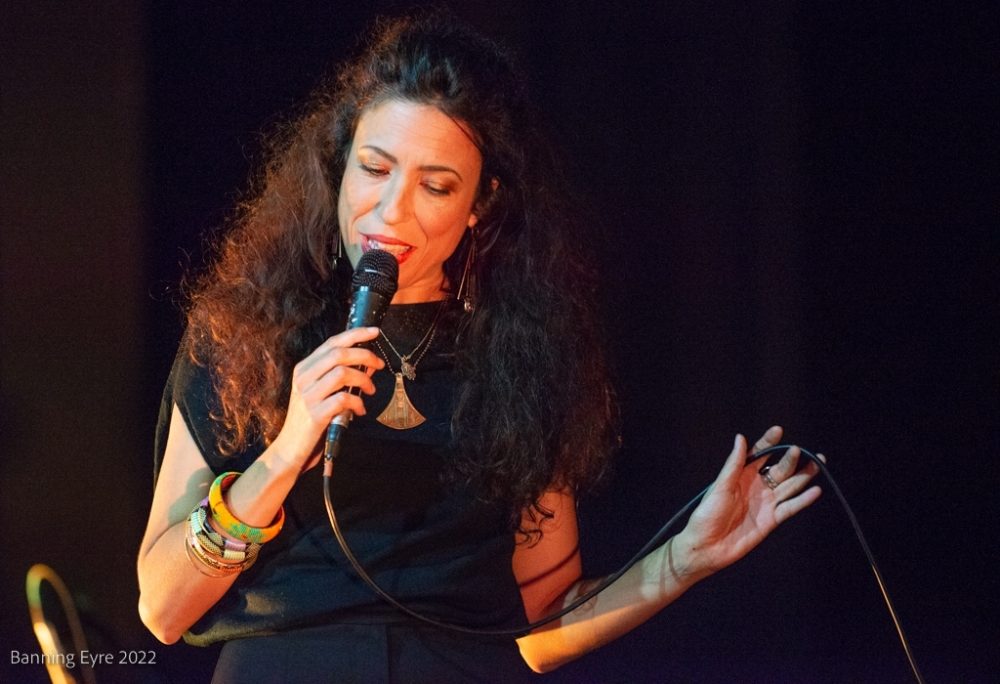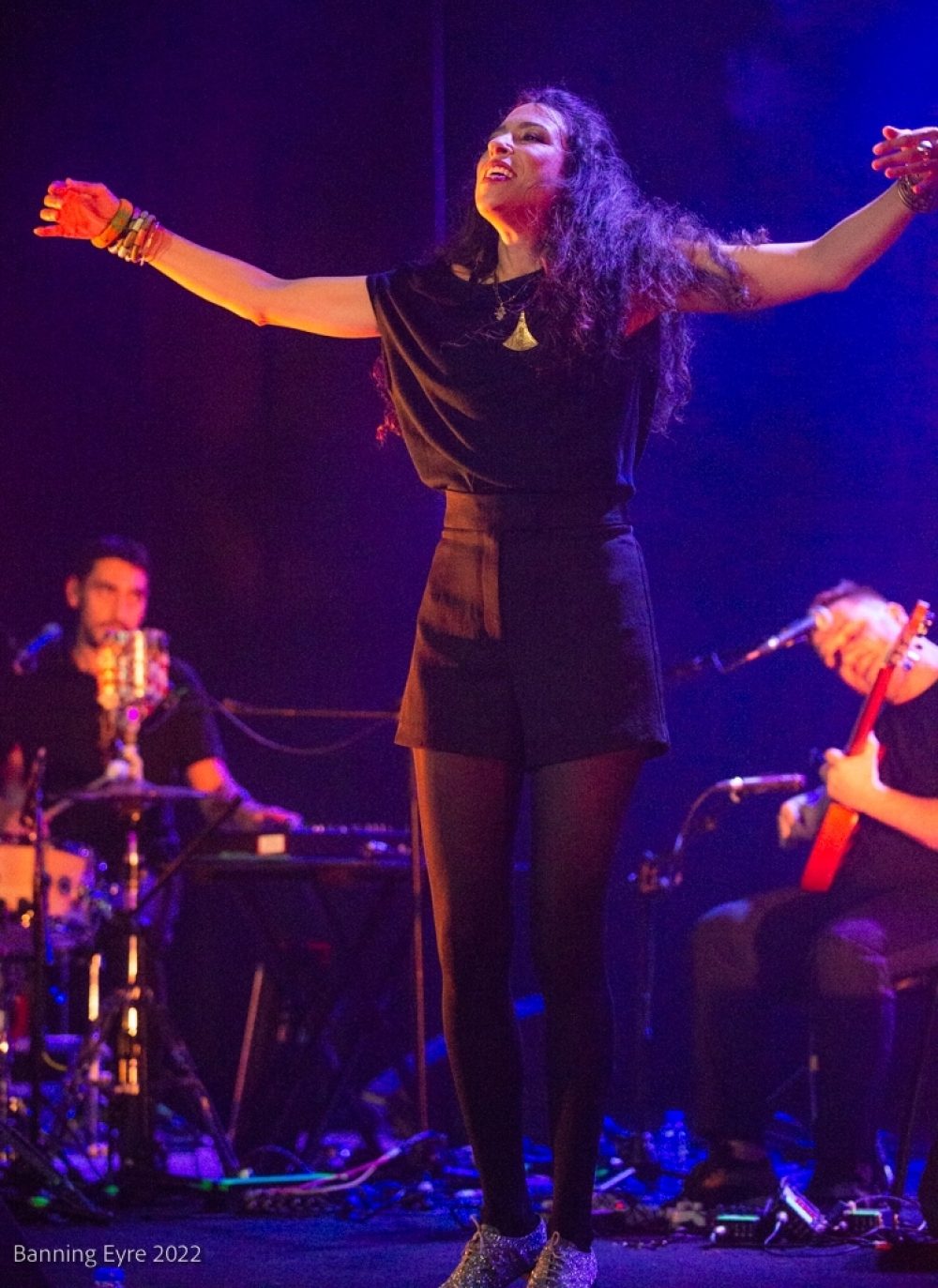 Al Bilali Soudan (Mali)
Most of the African artists this year reside in other countries, outside the continent. The truth is, not a lot of African-based acts can afford the expense of showcasing at WOMEX, regardless of their talent. This quartet is an exception, and an exceptional one. Al Bilali Soudan hail from Timbuktu specializing in mesmerizing takamba rhythms and Tuareg folklore. As in their recent New York appearance at Joe's Pub, they absolutely hypnotized. I kept watching the doors as people shifted between competing showcases. As far as I could see, no one left this one!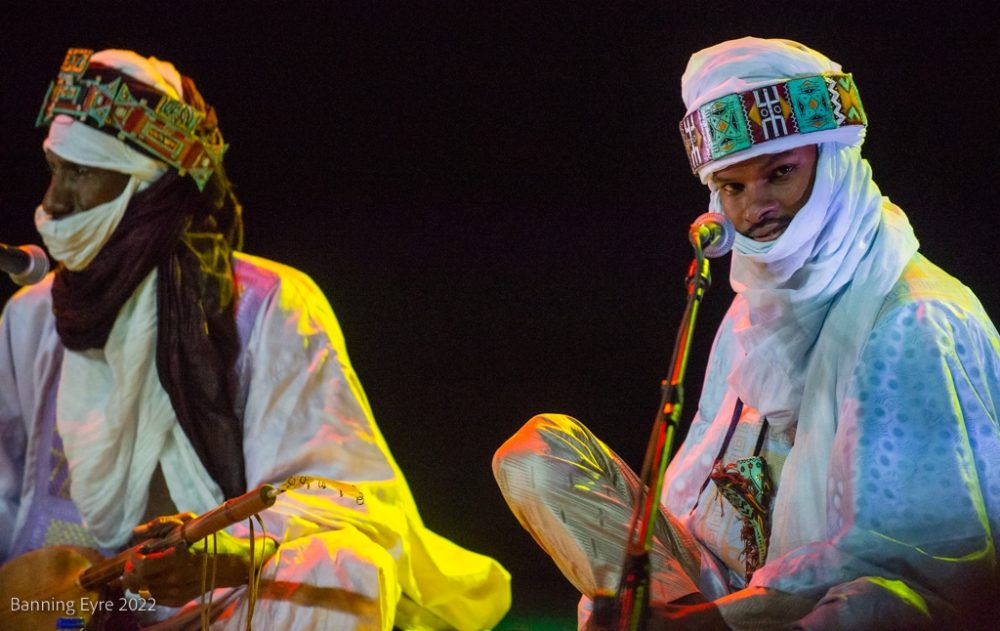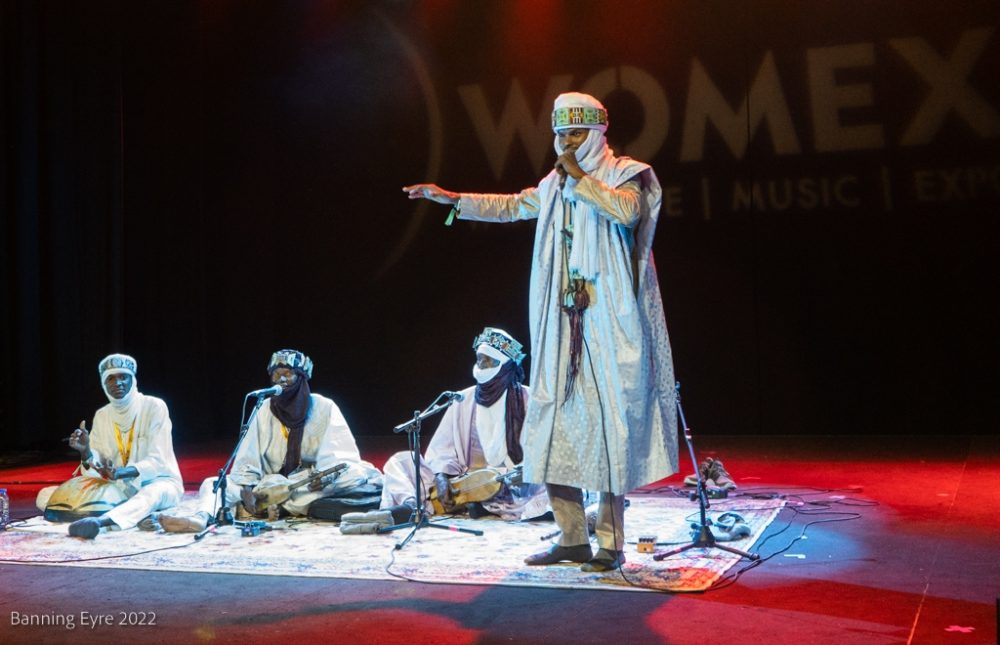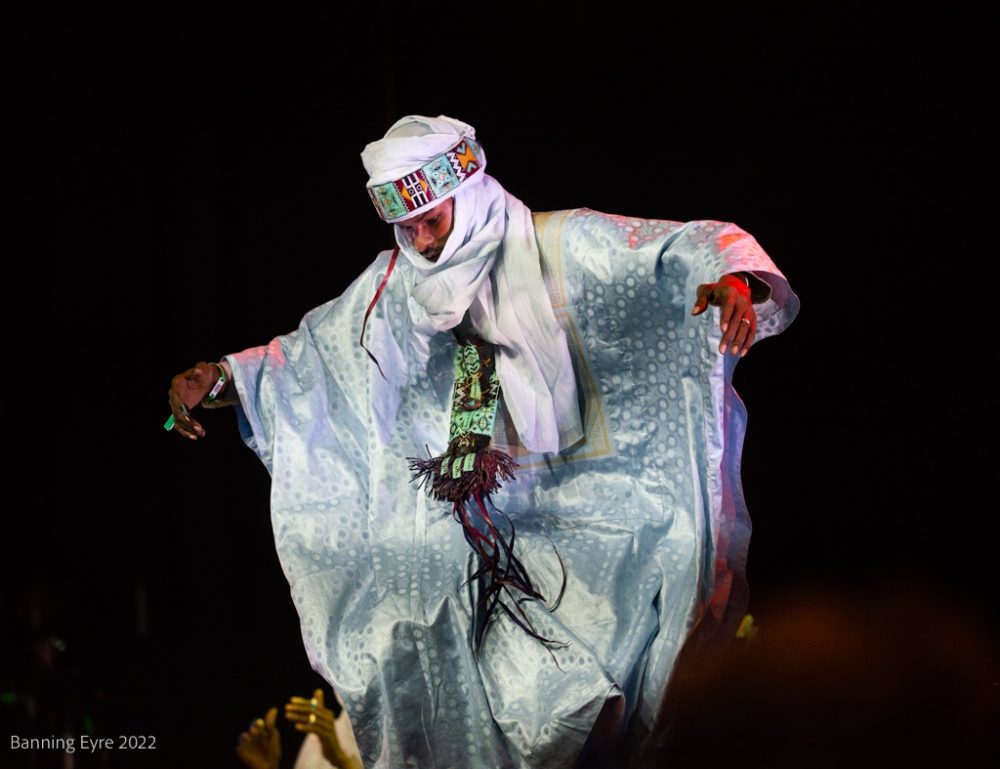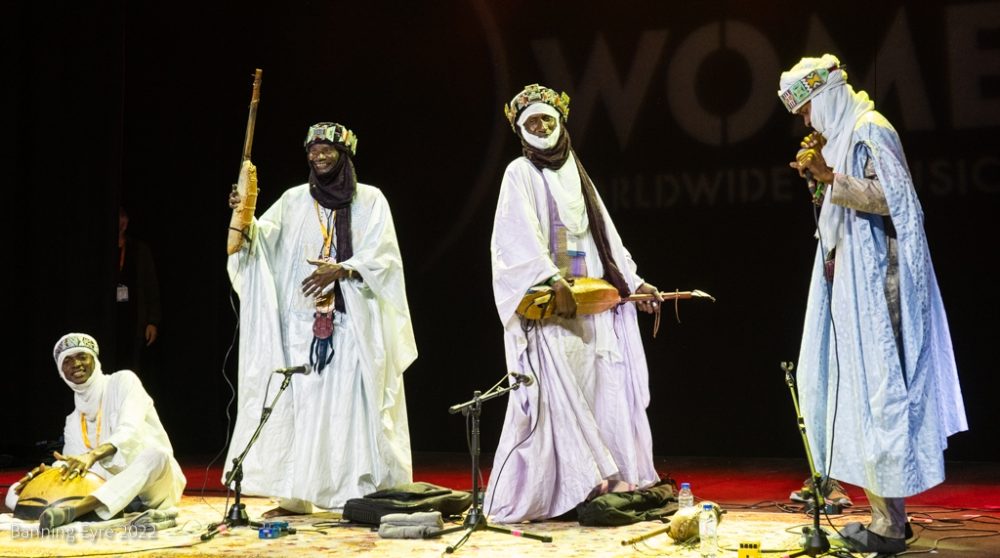 Tito Paris (Cabo Verde/Portugal)
Tito Paris is a giant of Cabo Verdean music, with a huge catalog of hits, which he sampled to a delighted crowd of old and new fans. Backed by a seasoned crack band, Tito is a beguiling presence, whose easy confidence onstage telegraphs that he has nothing to prove, and plenty to share.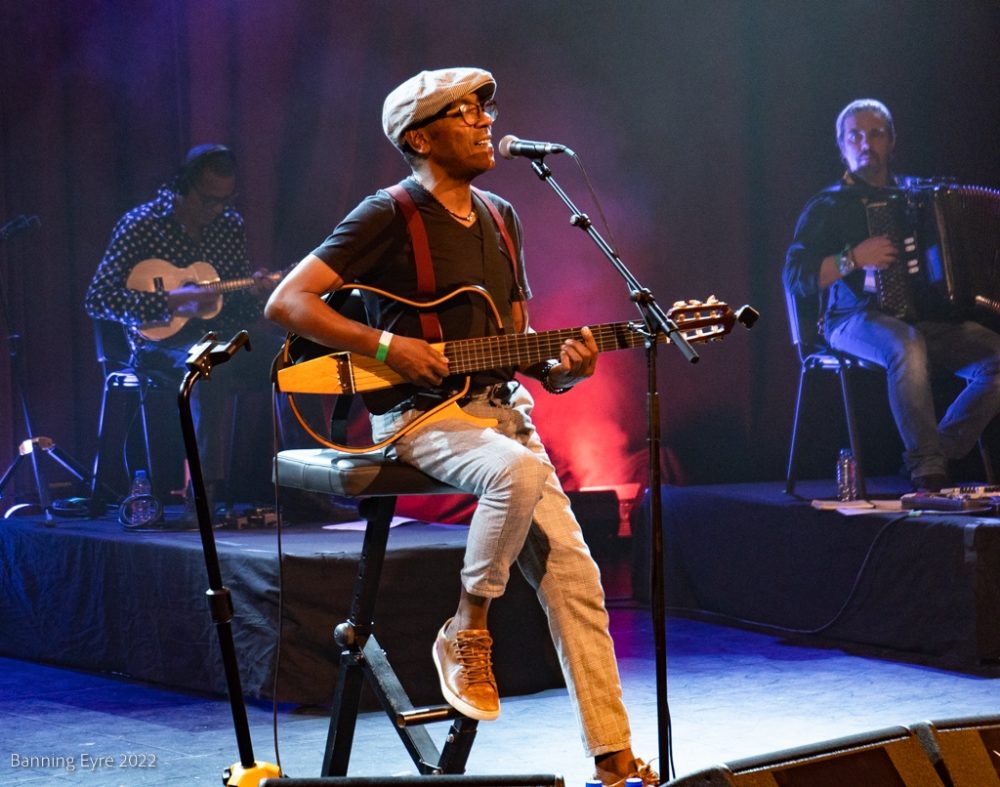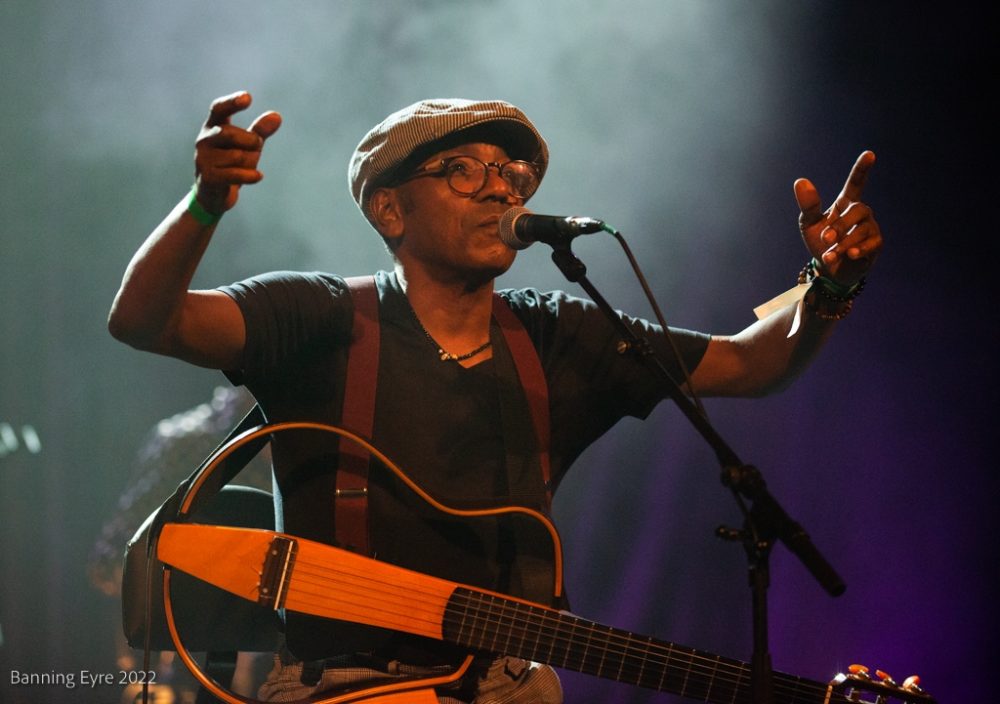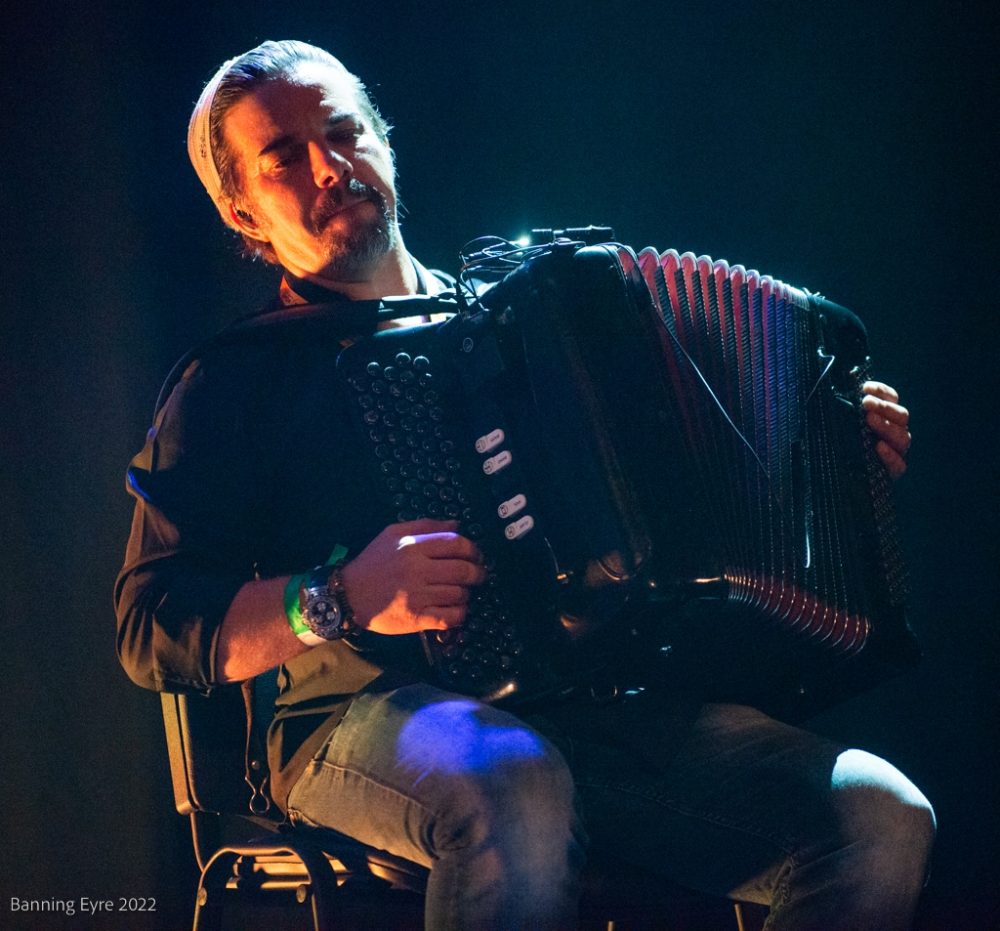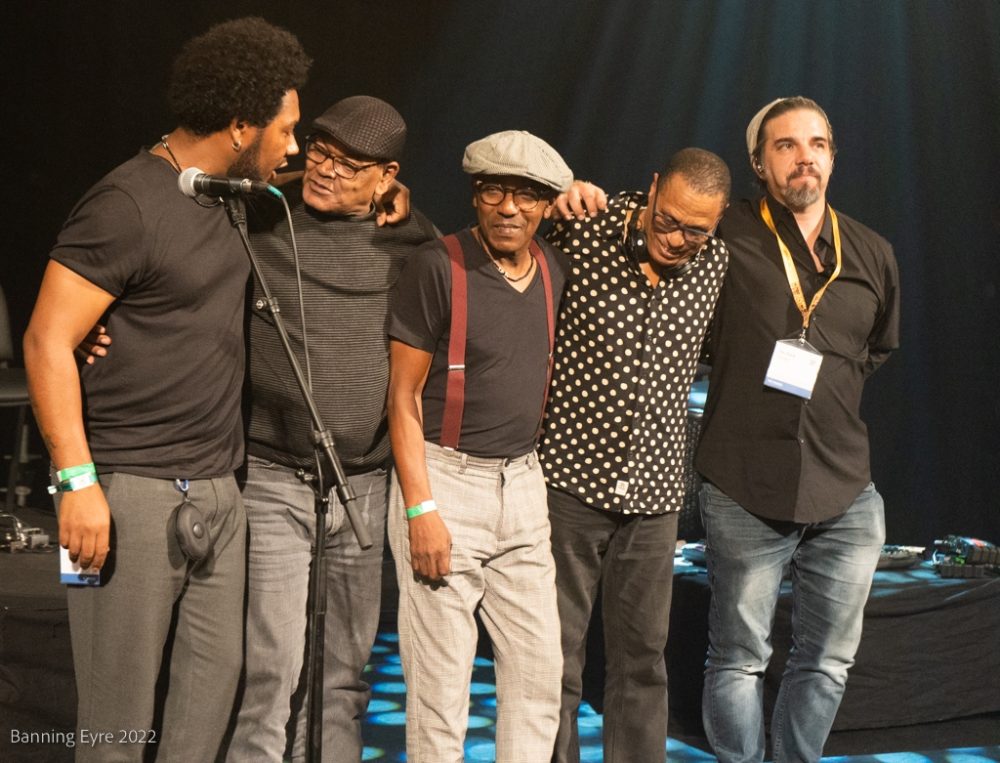 Saturday wrapped up the showcase stages with a whirlwind of Afrocentric talent, from Cuba to Ghana, Morocco and Guinea-Bissau.
Pilani Bubu (South Africa)
Pilani Bubu presented an elegant daycase at the Trade Fair. There were elements of gospel, soul and pop, and she was backed by a fine ensemble whose sound evoked classic township soul and jazz. The trumpetist (whose name is not listed in the program) was a standout.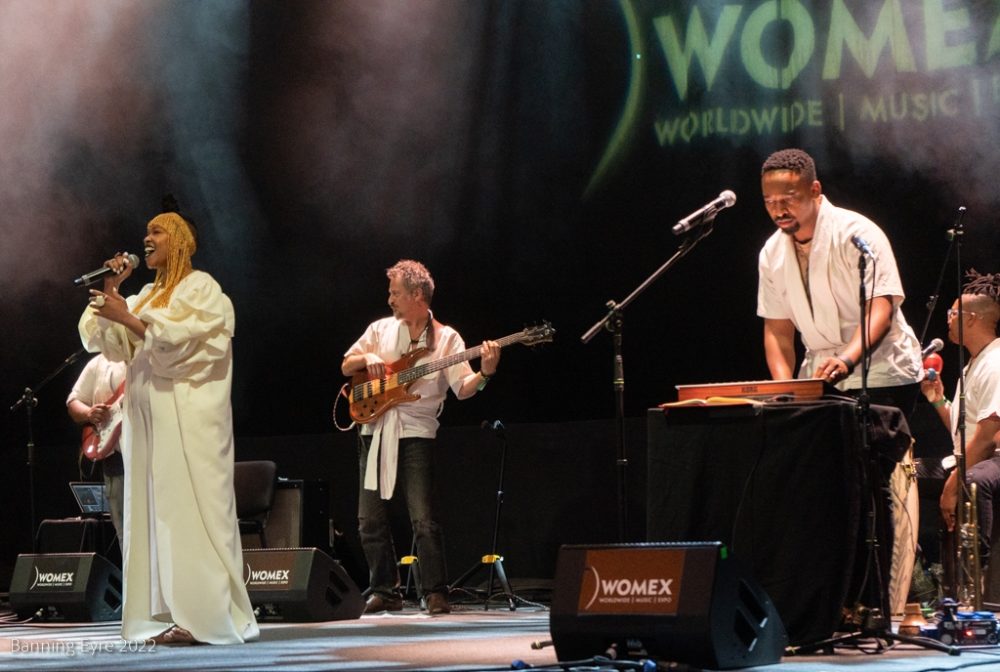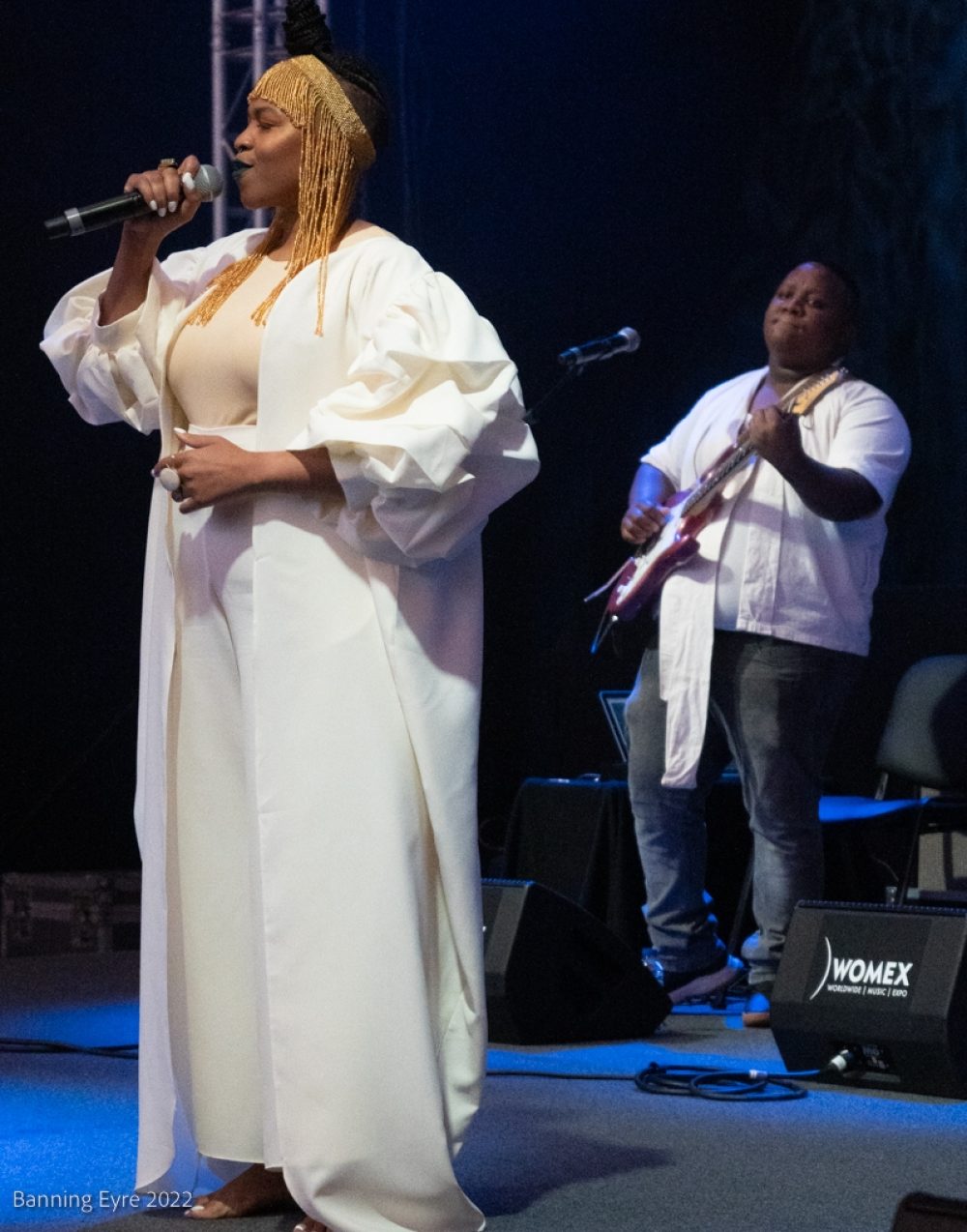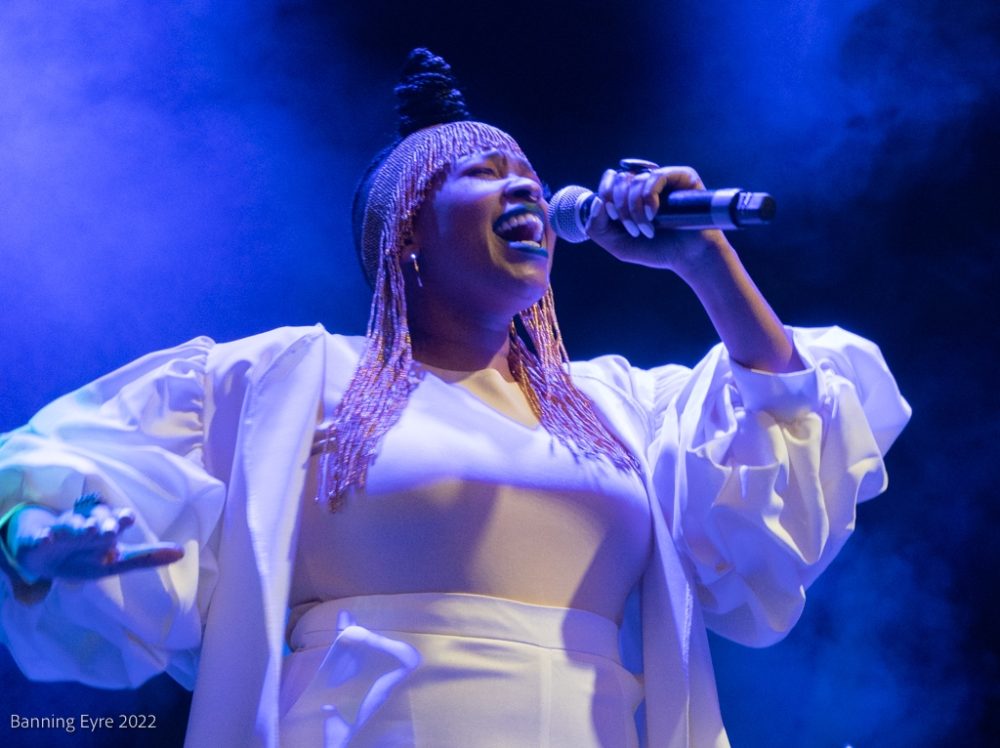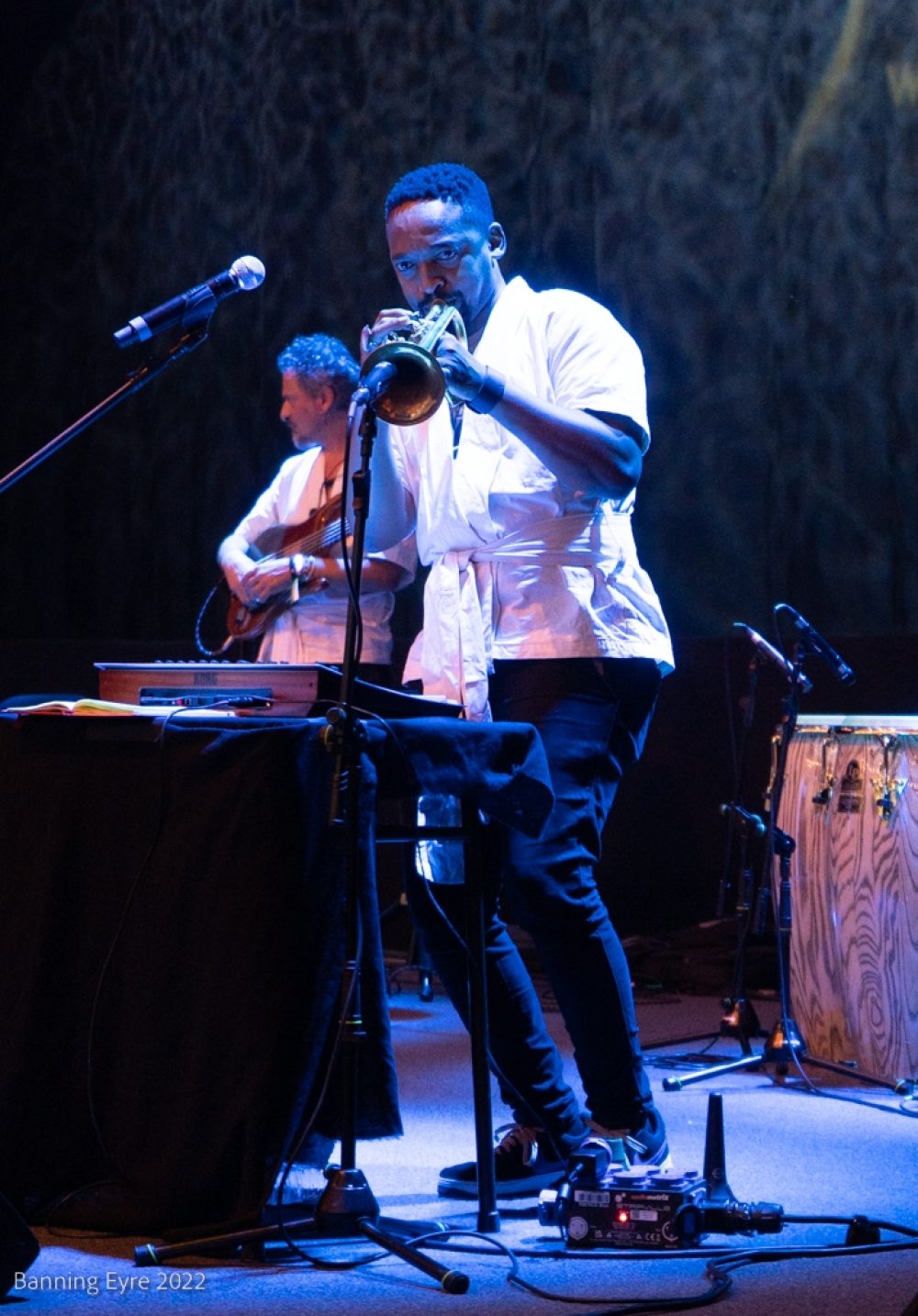 Brenda Navarette (Cuba)
The sight of a Cuban woman playing the sacred bata drums of Yoruba religion made for an impressive start. But just the start. Steeped in Afro-Cuban religion, this singer, percussionist, composer and bandleader delivered on all fronts. With a voice said to evoke Ella Fitzgerald and Sarah Vaughn, and the full force of an Afro-Cuban ensemble behind her, Brenda Navarette came through with a set that a number of observers voted the strongest of all these showcases.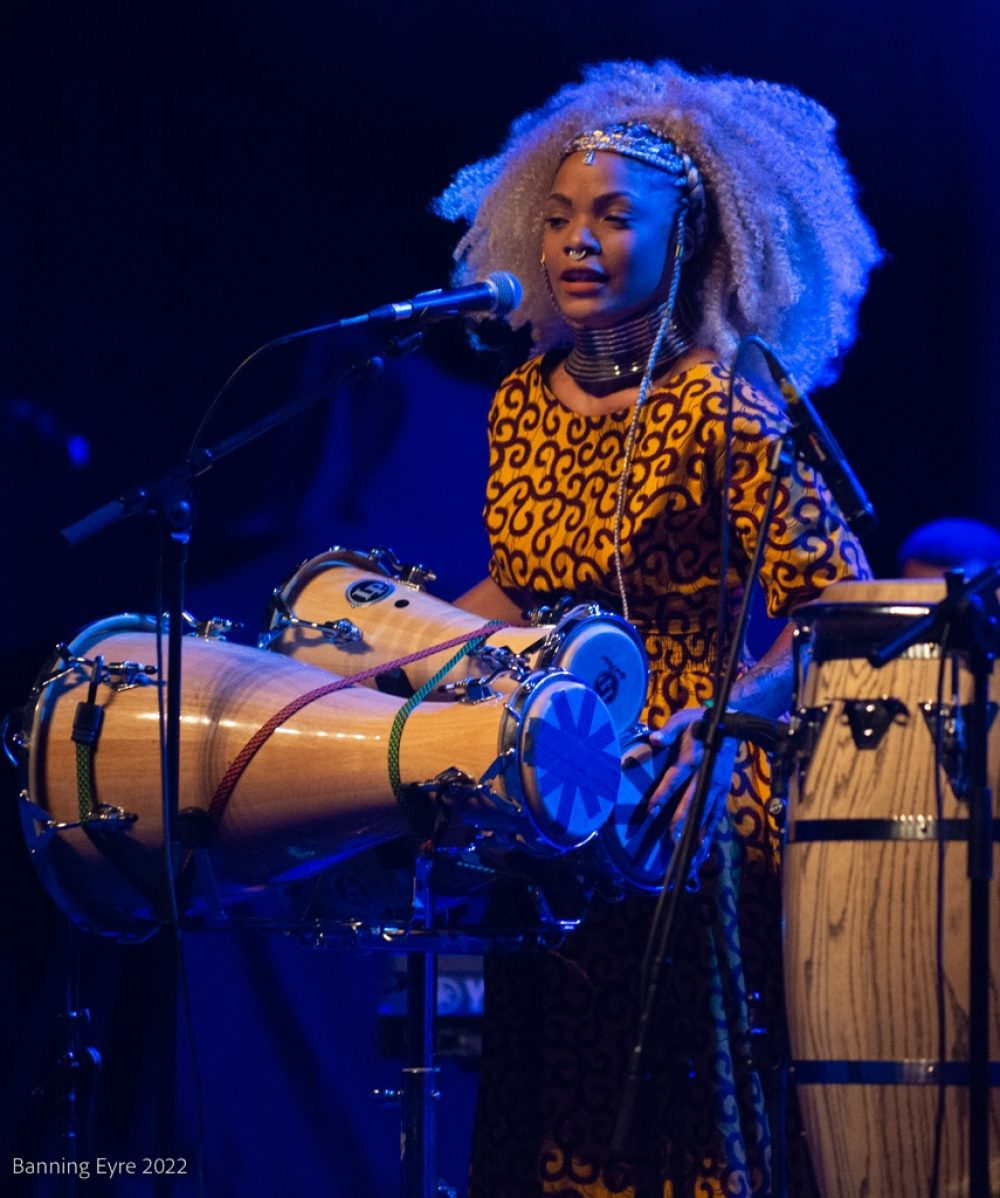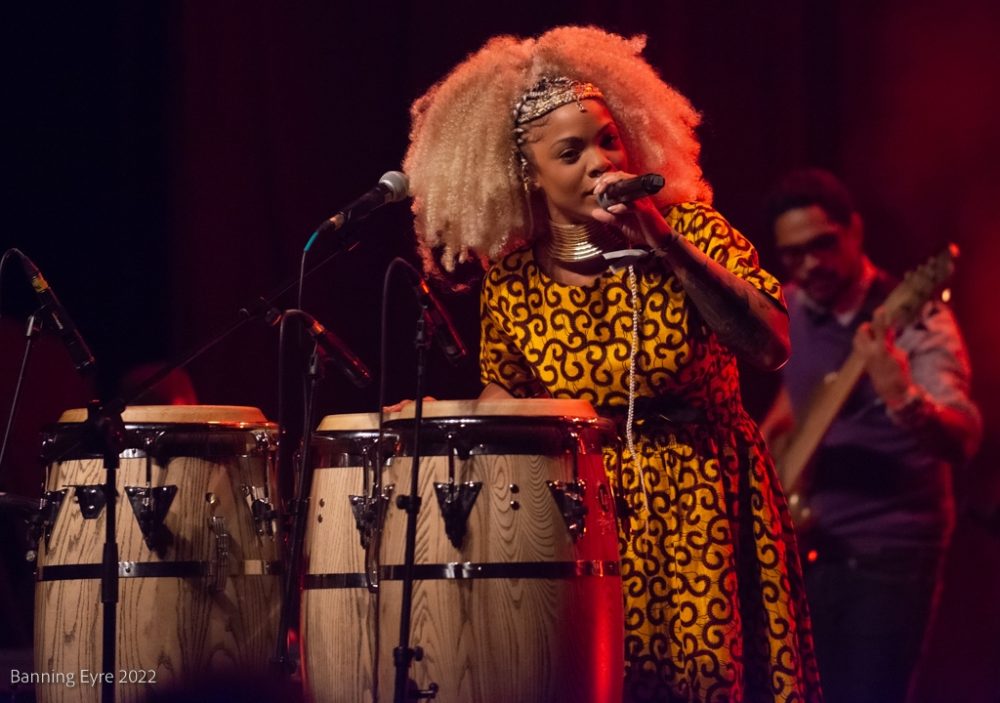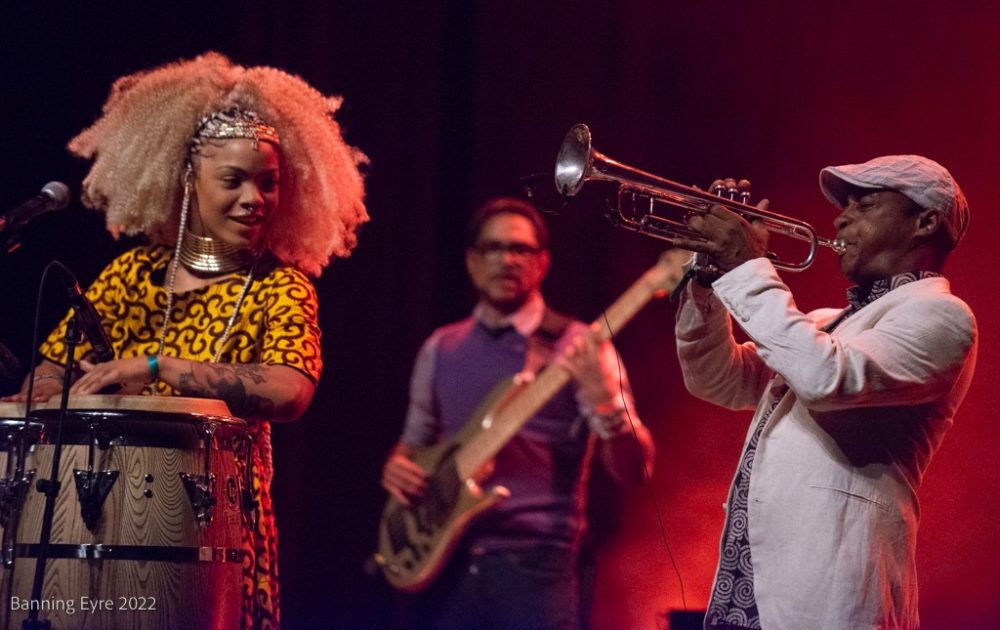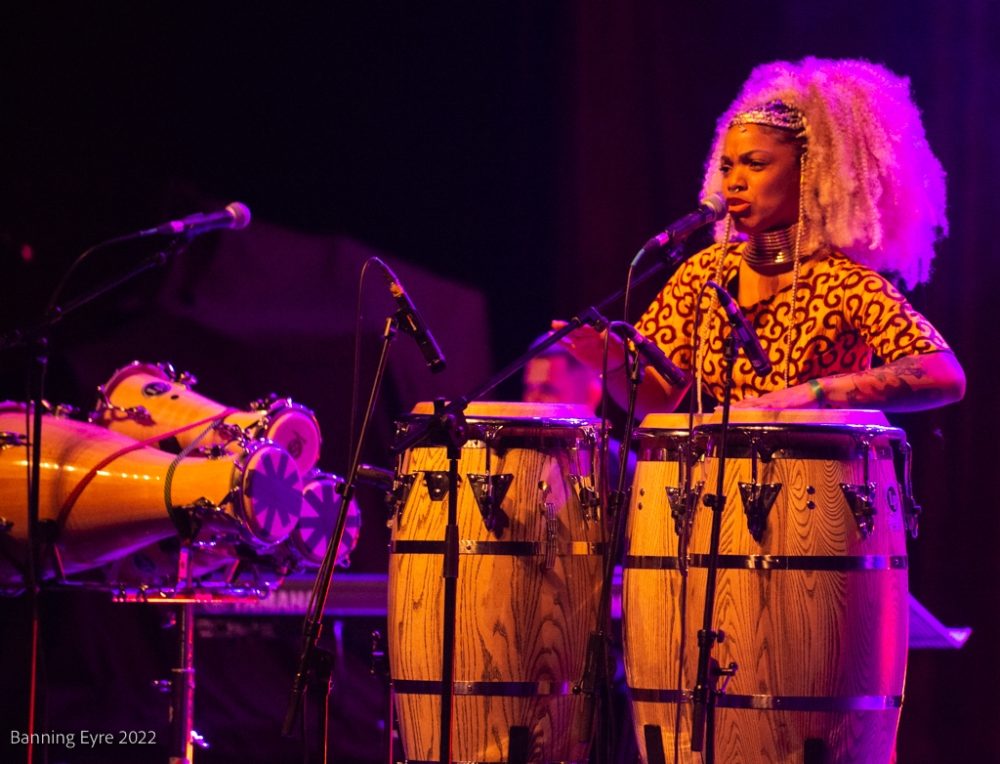 Karyna Gomes (Guinea-Bissau/Portugal)
The spirit of Guinea-Bissau gumbe music animated this joyous set from a new artist to Afropop Worldwide. Backed by a strong Portuguese band, Karyna charmed the crowd at the Lusofónica stage with buoyant grooves and warm liquid vocals.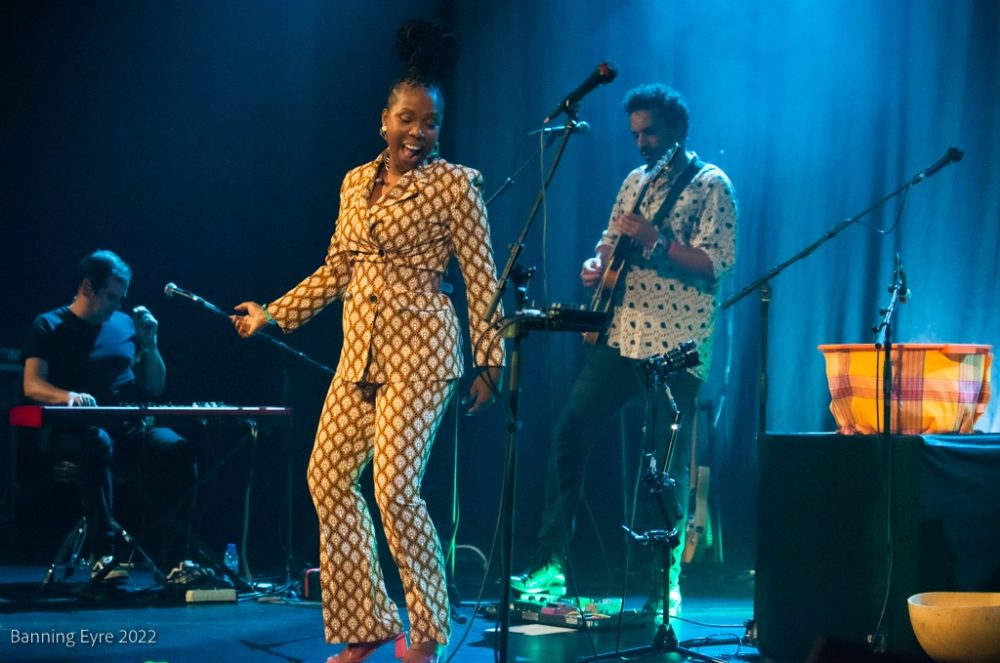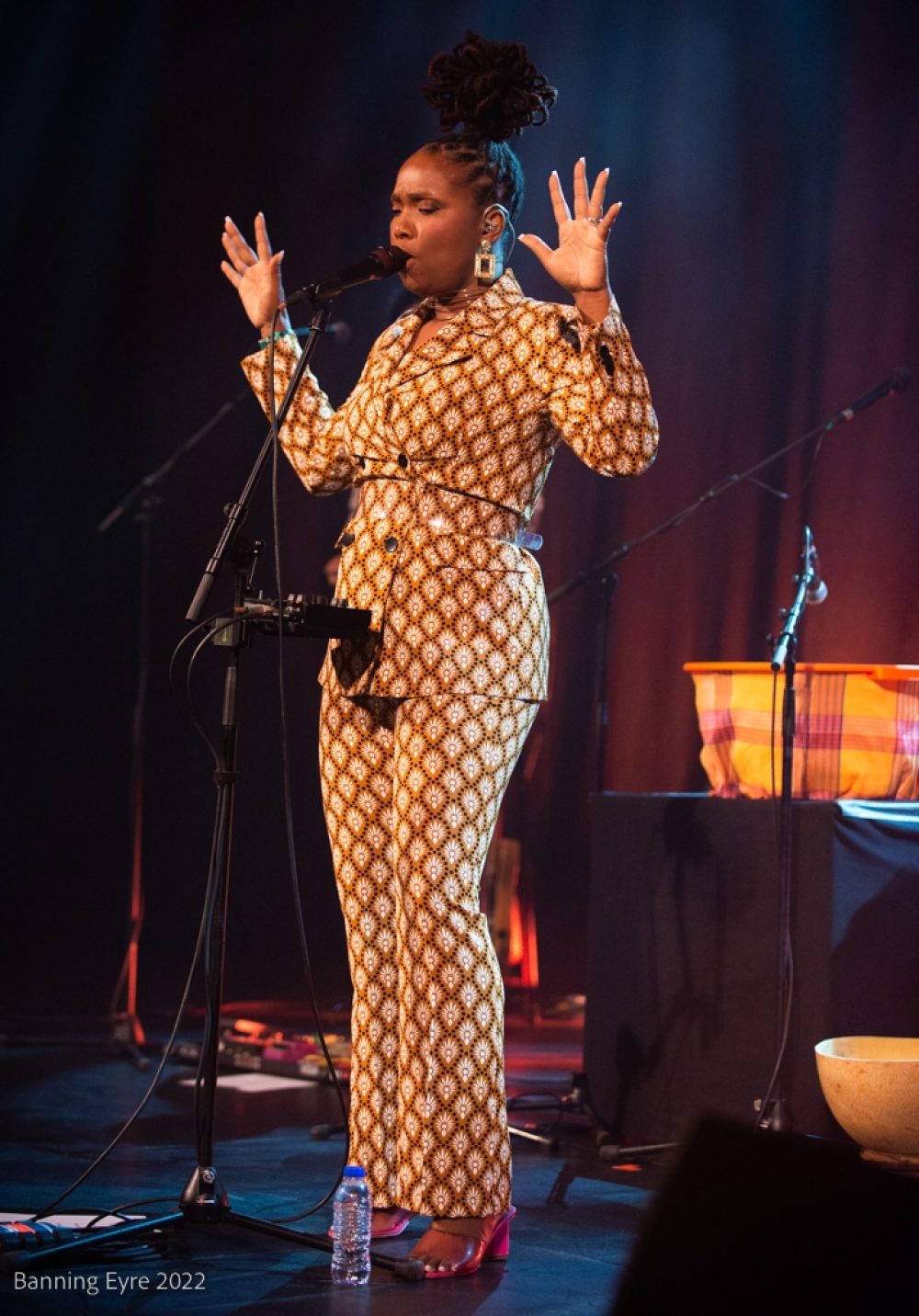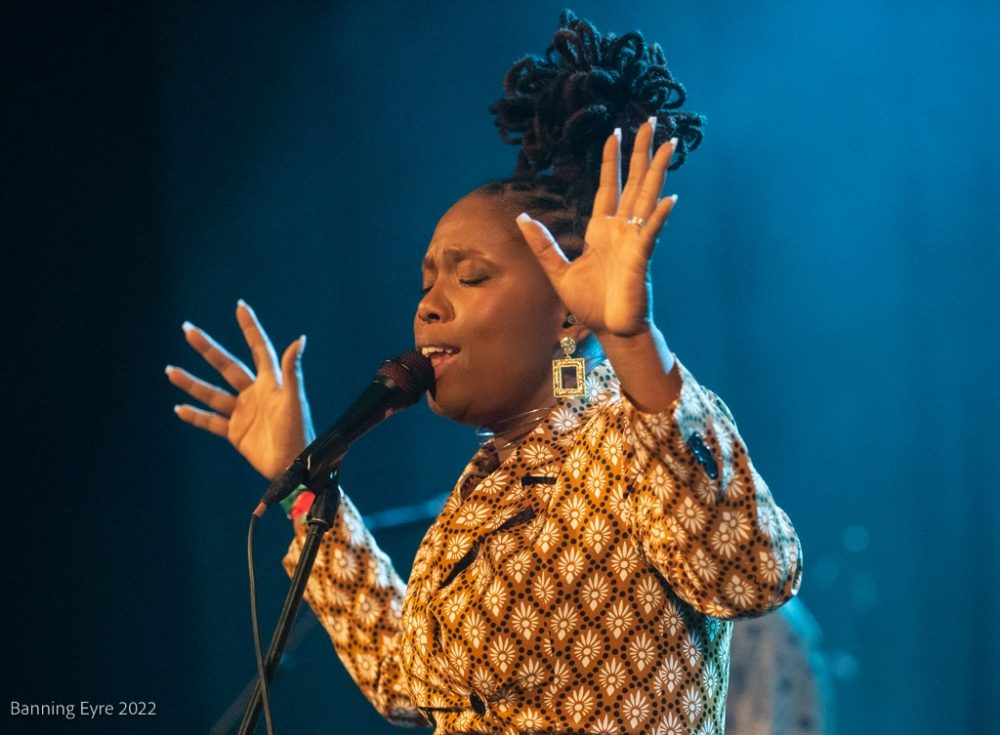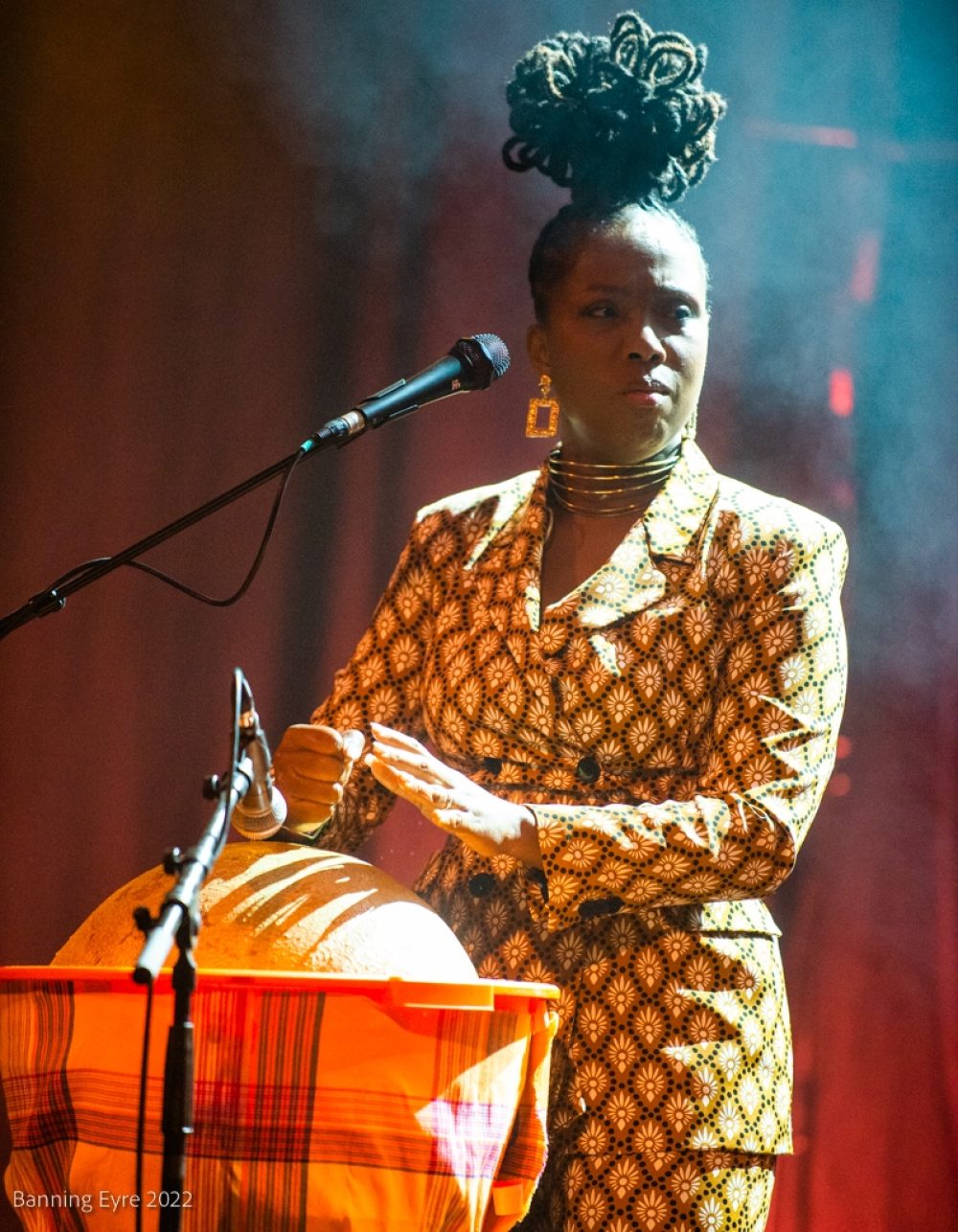 Aywa (Morocco/France)
Aywa was a particularly satisfying surprise for us. Based in France, fronted by Moroccan vocalist and ngoni (lute) player Adil Smaali, the ensemble churned out pure energy. Despite the techno trappings, the grooves were rootsy and hot. Smaali's politically engaged vocals and restless charisma on stage had the Capitólion Stage rocking start to finish.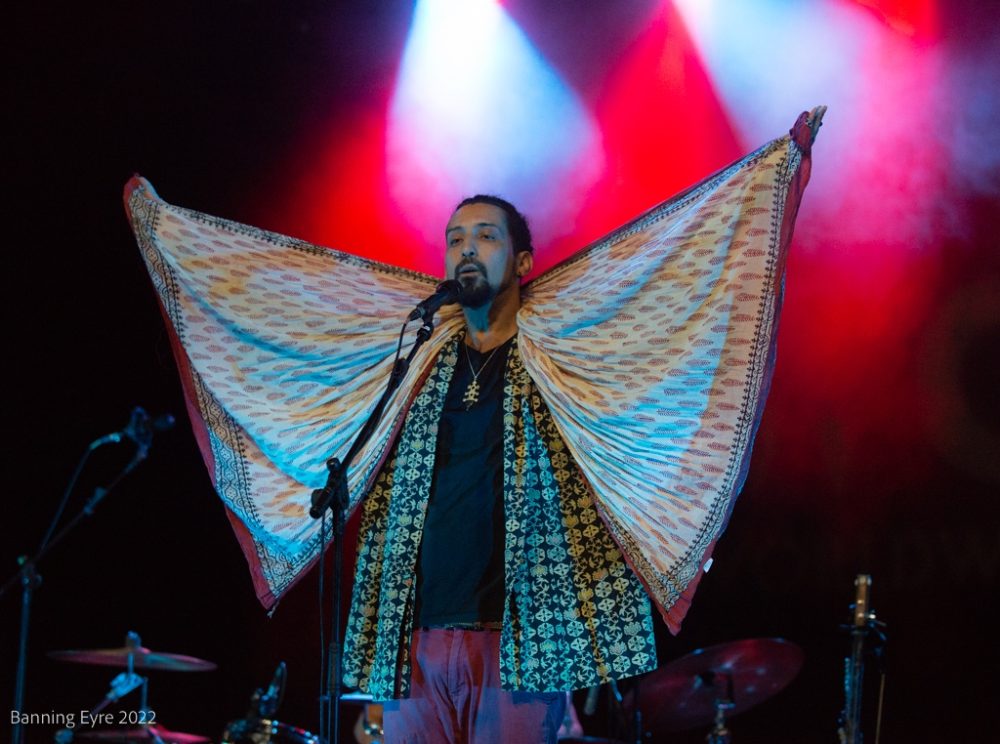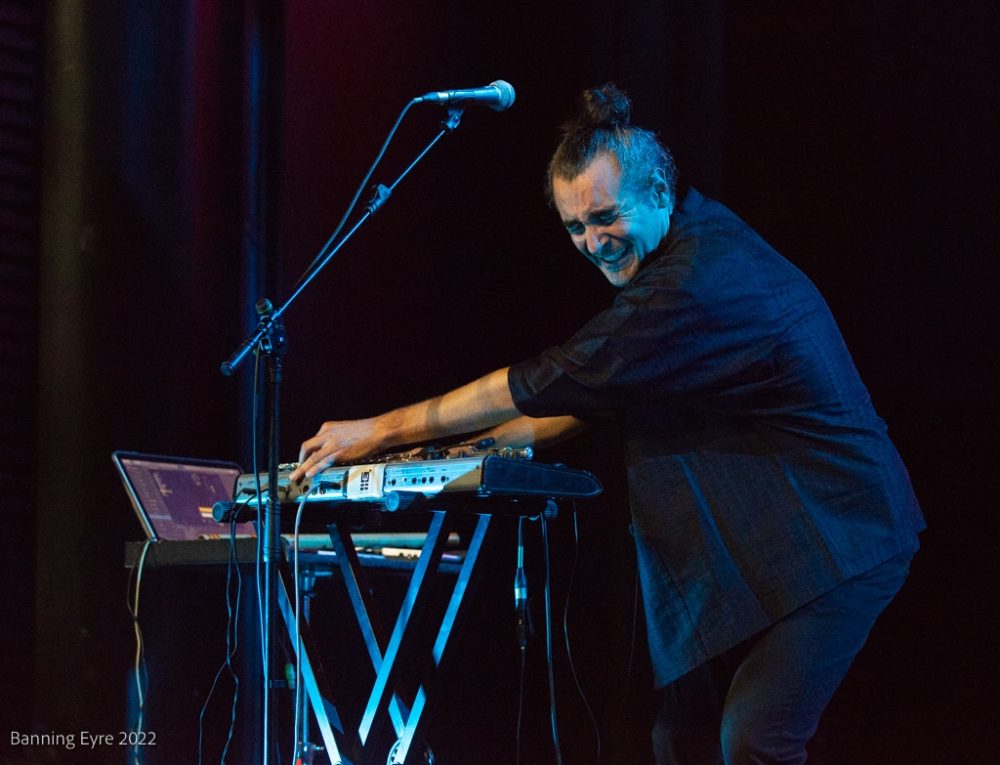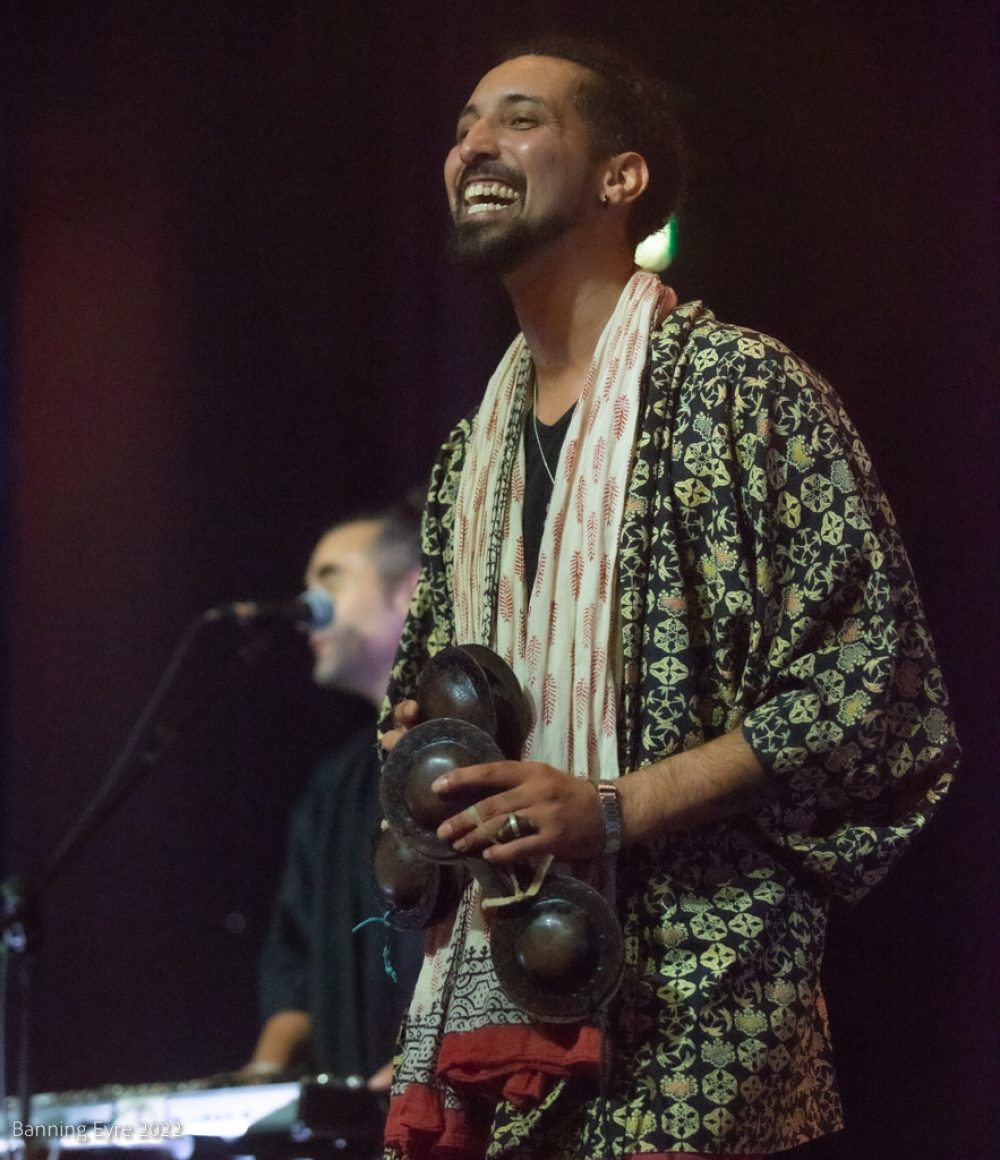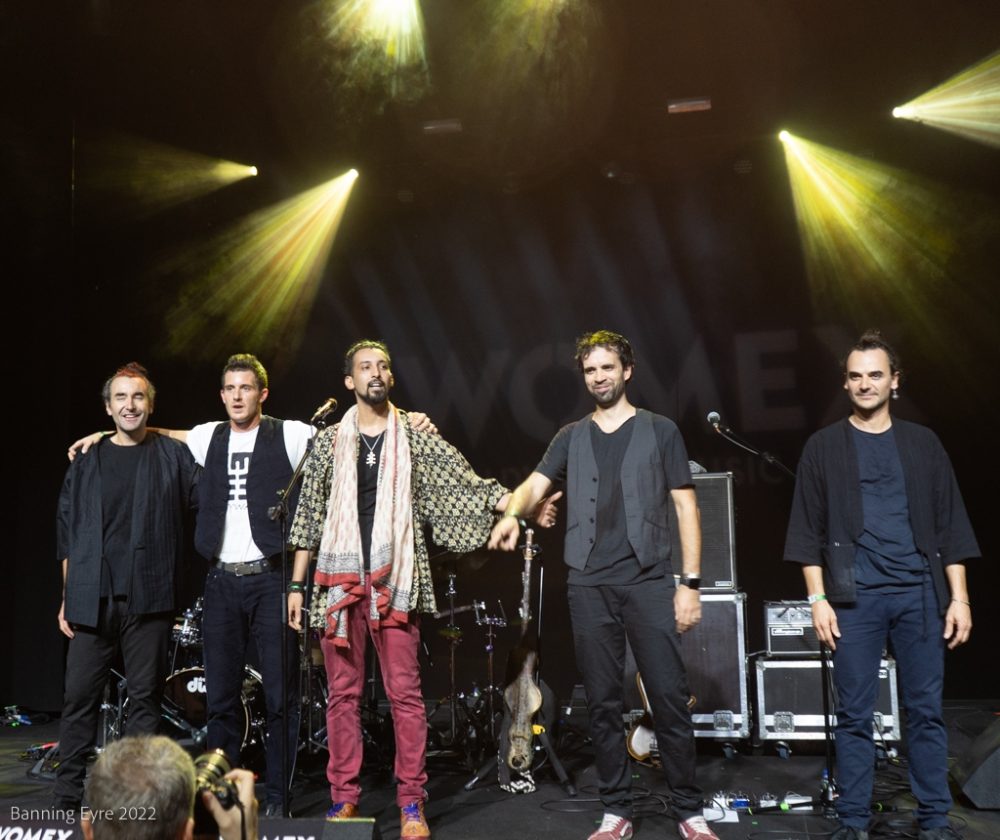 Fra! (Ghana)
This young ensemble from Accra Ghana—self-described "church boys"—are breathing new life into highlife and Afro-funk. Soul, funk and Afrobeat all show up in their mix (Fra actually means "mix.") But the root of it all is clearly highlife. The exuberance of youth proved irresistible for the crowd, and Afropop was treated to a brief, but wonderful, studio session with the band. In Ghana, Fra! often has to play covers to get gigs, but these guys are clearly headed for bigger things on the international stage. Also, the dayglow glasses were a cool touch, and a gift to photographers!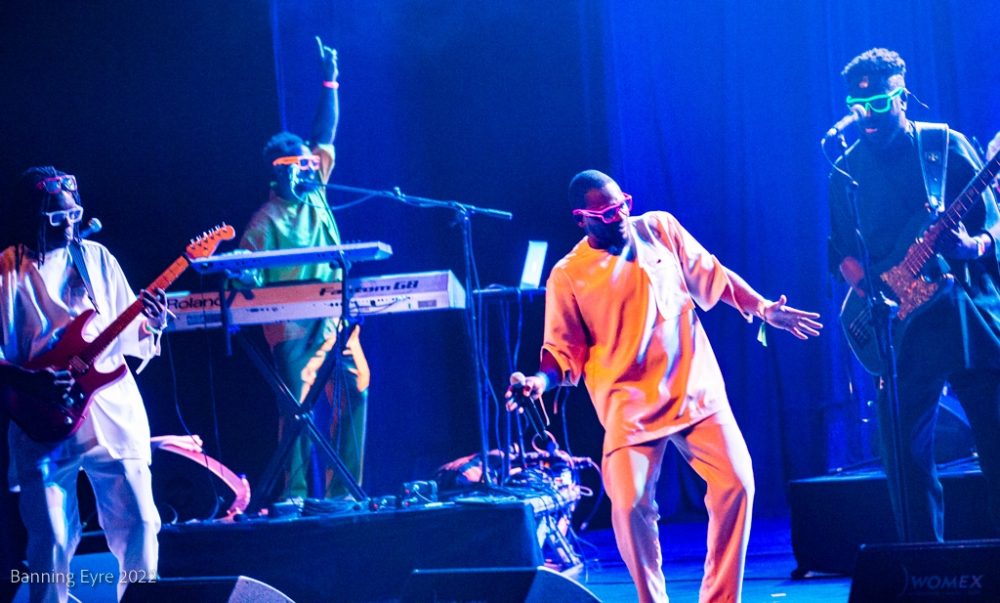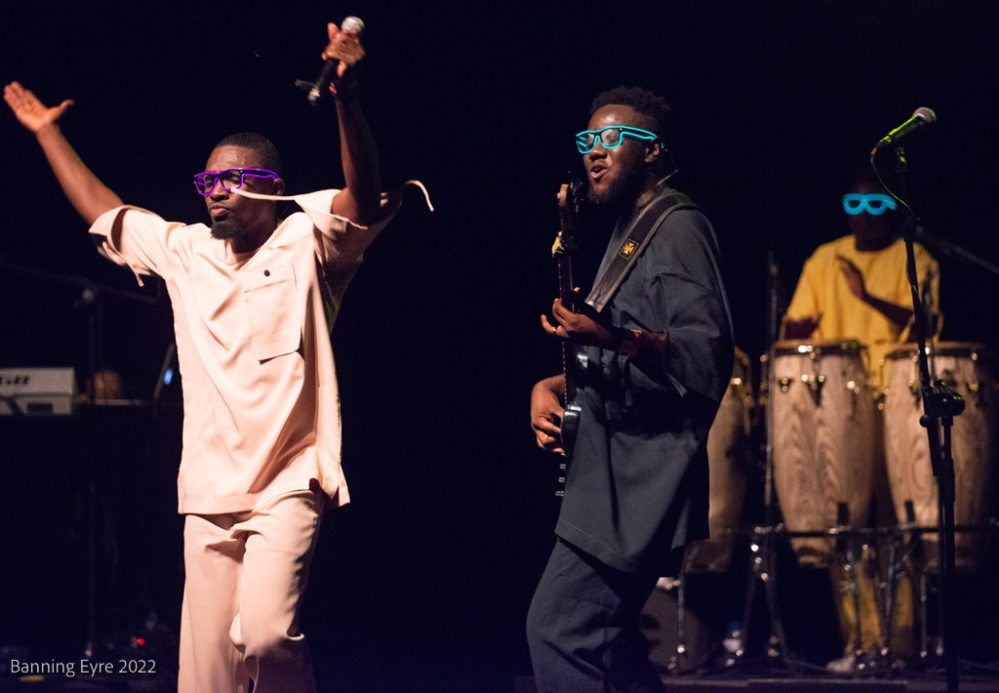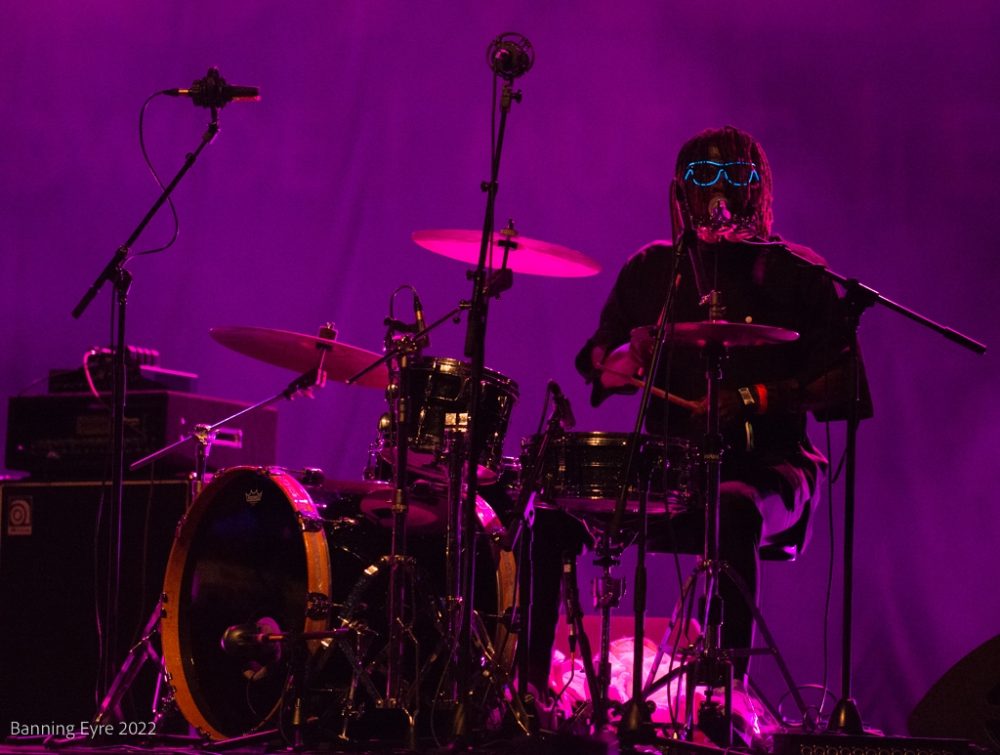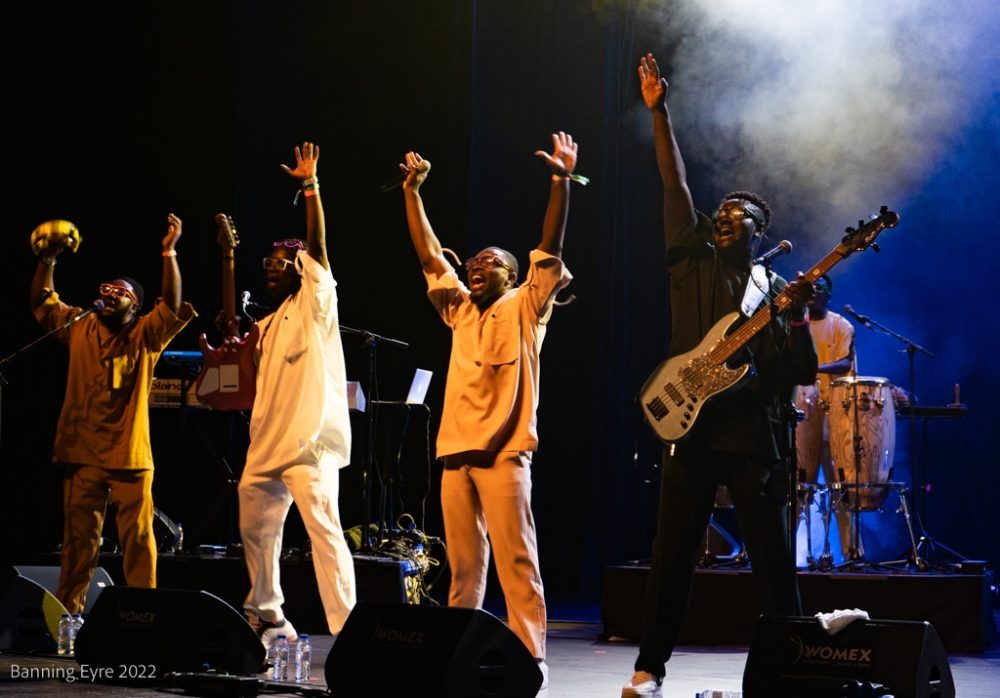 La Brigida Orquesta (Chile)
We finished the night with a remarkable act from Chile. This collective includes musicians from Newen Afrobeat, an excellent band we met at an earlier WOMEX. The idea here is a mashup of big band noir music—think Count Basie meets Billy Wilder at his darkest—with hip-hop. A full brass section directed by an animated rapper made for a fascinating set.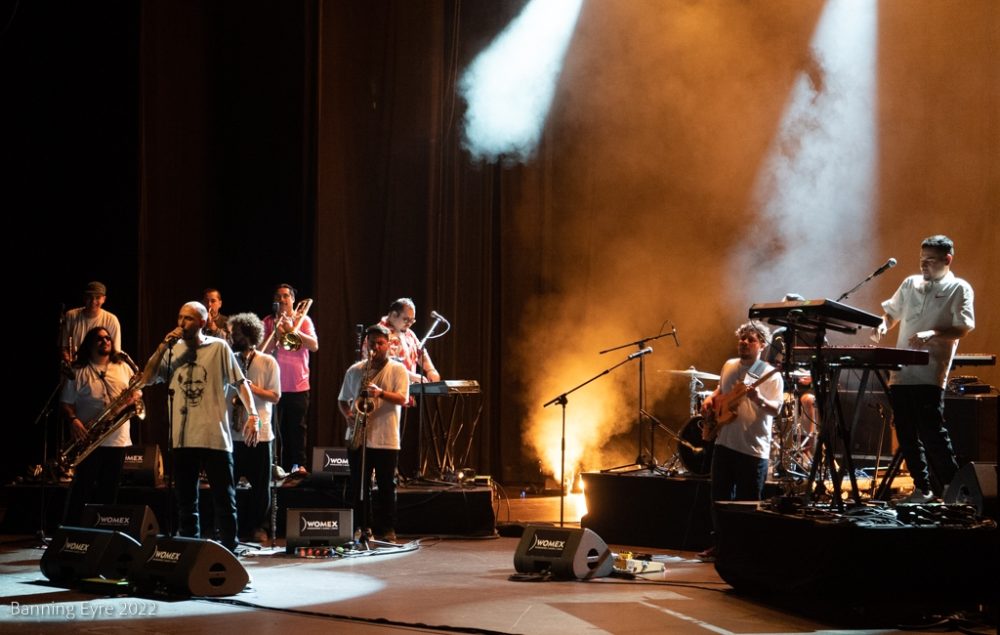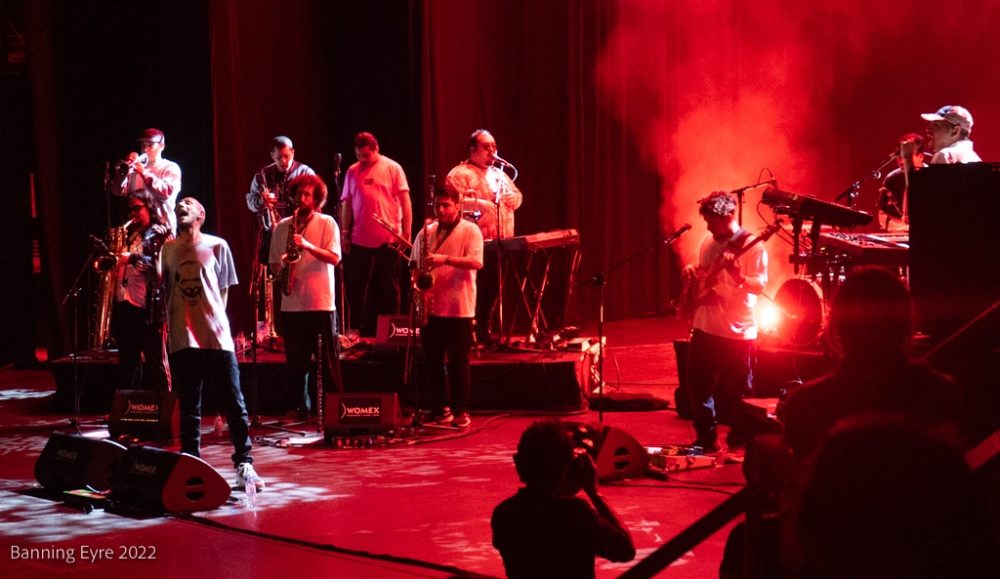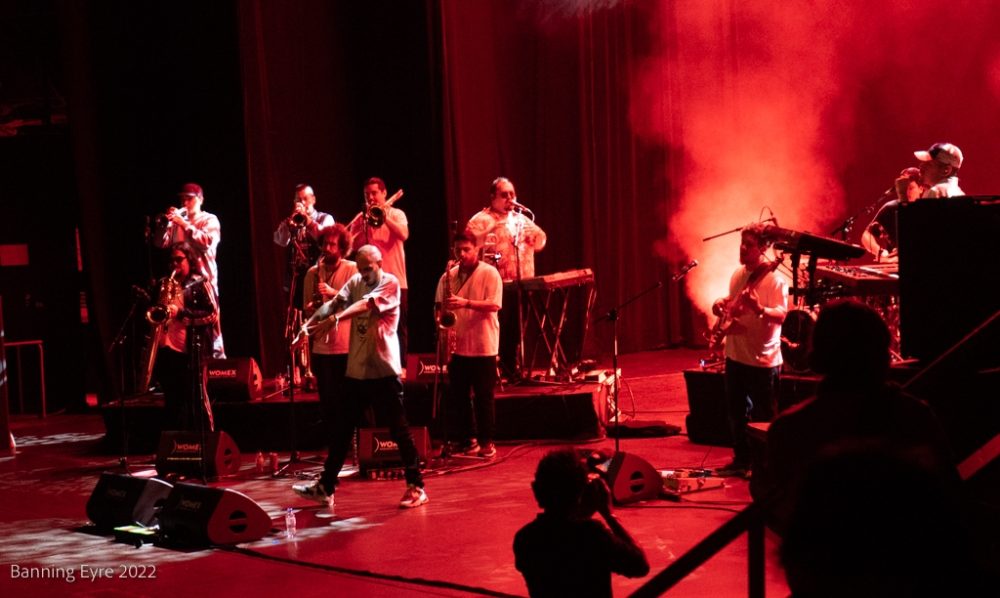 This is but a brief introduction. We have a lot of music and interviews to sort through, so look forward to a deeper dive into the WOMEX musical sea in the coming weeks.