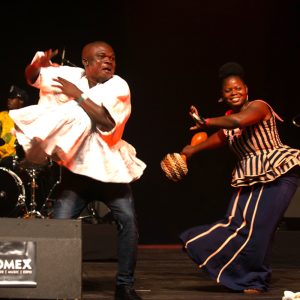 After the pandemic forced it to go virtual for a year, the WOMEX world music expo was back in 2021 for its 27th edition in Porto, Portugal. In this program we hear live performances and interviews from key showcase artists, including Gnawa innovations from Bab l'Bluz, Uganda's Nakibembe Xylophone Troupe, brassy Ghanaian gospel from Algote Oho & His Sounds of Joy, Afro-funk bass virtuoso Manou Gallo, Egypt's Mazahar, and Sudan's Ebo Krdum, plus the world's hottest fusion of Afro-Cuban music and funk from the one and only Cimafunk. Produced by Banning Eyre and Sean Barlow.
Transcript
WINDOW/BED: M01_BabL_Intro.wav (up to crowd reaction at 00:17. Then to bed. Blend this crowd into the one that starts M02, the next bed)
GEORGES: WOW! YOU HEAR THAT? THE WONDERFUL, UNMISTAKABLE SOUND OF AN ECSTATIC AUDIENCE APPLAUDING A LIVE BAND, IN THIS CASE THE FRENCH/MOROCCAN FUSION BAND BAB L'BLUZ. AND NO, THIS IS NOT A BLAST FROM THE PAST FROM THE AFROPOP ARCHIVE. THIS PERFORMANCE AND MANY LIKE IT TOOK PLACE IN OCTOBER, 2021, AT THE WOMEX TRADE FAIR AND EXPOSITION IN PORTO, PORTUGAL.
WINDOW/BED: M02_BabL_Ila_Mata.wav (just a short bit of the guembri intro)
GEORGES: HELLO, GEORGES COLLINET WITH YOU ON AFROPOP WORLDWIDE FROM PRX. THE ANNUAL GATHERING OF GLOBAL MUSIC MOVERS AND SHAKERS WAS AN ONLINE EVENT IN 2020, BUT IN 2021, WEEKS BEFORE ANYONE HAD HEARD THE WORD OMICRON, THE SHOW WENT ON. THAT'S WHY WE'RE CALLING THIS EDITION WOMEX RISES! WE'RE GOING TO HEAR CUBAN FUNK, GHANAIAN GOSPEL, TRANCE MUSIC FROM EGYPT, AND MUCH, MUCH MORE.
BUT FIRST, BAB l'BLUZ IS A FOUR-PIECE JUGGERNAUT, LED BY A MOROCCAN VOCALIST AND GUIMBRI PLAYER YOUSSRA MANSOUR, AND FRENCH GUITARIST AND GUIMBRI PLAYER BRICE BOTTIN. AND IF YOU THINK IT WAS EASY FOR A YOUNG MOROCCAN WOMAN TO START A GNAWA-ROCK BAND, THINK AGAIN.
ACTY: 01_Babl_women.wav: It was very difficult at the beginning because you don't have support. You are nobody. You really feel very sad about the situation of women, and I lived with mom and four sisters. So only females in the house. So the pressure made by the society was very strong and we were all struggling only to survive. That's why now we all sing and we all play music.
GEORGES: YOUSSRA MANSOUR WAS ALREADY FASCINATED BY THE GNAWA TRADITION WHEN SHE MET BRICE BOTTIN. AND TOGETHER THEY LEARNED HOW TO PLAY THE GNAWA'S SIGNATURE BASS LUTE, THE GUIMBRI.
ACTY: 02_Babl_guitar.wav: I am not a Moroccan, but before as a guitarist, I used to play with different kinds of bands in Morocco, with a guimbri player, and I was playing guitar. But after we met with Youssra we decided together to learn this instrument, so we learned like jazz standards, but from gnawa music, the repertoire. I am not a gnawa master. I respect them a lot. I have a lot of influences. I can play bass and guitar. We try to make a sound that people from Morocco will like. But even people who come from the US or I don't know where. The young generation, they like a beat. We too. And we just want people to move their heads and be happy.
13, 14 GEORGES: AND THE MAALEMS? THE GNAWA MASTERS? THEY WERE OKAY WITH THAT KIND OF EXPERIMENTATION?
ACTY: 03_Babl_open.wav: Yes, they were very encouraging towards our music. When you play and you're not used to this traditional music, you are not limited. You have more possibilities for creativity. Sometimes you can have people, very traditional. They would say, "No, we don't play with tradition like that. You're changing it. It's not good." But very few people think like that.
GEORGES: CERTAINLY NOONE IN THIS WOMEX CROWD WAS THINKING LIKE THAT!
WINDOW: edit, if needed to emerge at 3:24-4:01. Then to bed.
GEORGES: BAB L'BLUZ LIVE AT THE COLISEU DE PORTO AGEAS, ONE OF FIVE NIGHT TIME VENUES AT WOMEX 2021. AT A SMALL STUDIO NEAR THE TRADEFARE, WE WERE TREATED TO AN EXCLUSIVE ACOUSTIC PERFORMANCE BY BAB L'BLUZ. THE SONG IS "GNAWA BEAT."
MUSIC: M03_BabL_GnawaBeat.wav (you can use the false start under GC if you like. Or not.) [4:16]
GEORGES: BAB L'BLUZ IN A SPECIAL STUDIO PERFORMANCE FROM WOMEX 2021 IN PORTUGAL.
WINDOW/BED/MUSIC: M04_Algote_Medley.wav (just a phrase or so, a teaser)
GEORGES: NEXT UP, FROM KUMASI GHANA, ALGOTE OHO & HIS SOUNDS OF JOY. MAN, THIS ACT KICKS OUT GOSPEL MUSIC WITH A MIGHTY BLAST OF BRASS AND RHYTHM. HERE'S A MASHUP OF FOUR SELECTIONS FROM THEIR RIVETING WOMEX SHOWCASE.
MUSIC: The rest of M04 [5:52]
GEORGES: ALGOTE OHO AND HIS SOUNDS OF JOY, RAISING THE SPIRITUAL RAFTERS AT WOMEX, 2021. NOW CHECK THIS OUT…
WINDOW/BED: M05_ManouGallo_Flote-BED.wav (26 seconds, then to bed)
GEORGES: THAT'S IVOIRIAN BASS PLAYER, BANDLEADER AND COMPOSER MANOU GALLO, SHOWING OFF HER VOCAL MASTERY WITH A LOOPING PEDAL. WE FIRST MET MANOU IN 1996, WHEN SHE WAS A YOUNG STAR IN THE BAND KIYI MBOCK, FROM VILLAGE KIYI NEAR ABIDJAN. VILLAGE KIYI IS A MULTI-CULTURAL ARTS COMMUNITY UNDER THE DIRECTION OF THE VISIONARY WERE WERE LIKING.
ACTY: 04_Manou_tambour.wav: (French)
ACTY: 04A.wav: I come from the south west of Cote D'Ivoire in the Djiboua tradition, where women did not have the right to play drums. I lived with my grandmother and when I slept at night, I would tap on the bed and tap with my feet. My grandmother didn't understand why I was so agitated, but she came to see that I wanted to play the drum, and she accepted that. She said, "Among us, the Djiboua, women don't have that right, but if that's your destiny, go for it. Good luck, my little girl." So I began playing the tambour drum at eight years old.
ACTY: 04_Manou_tambour.wav: (French) (just the very end if you can)
GEORGES: IN THE TOWN OF DIVO, MANOU FIRST HEARD MODERN INSTRUMENTS, BASS AND GUITAR. SHE WAS DRAWN TO THE BASS, AND SOON FOUND HERSELF PERFORMING WITH THE GROUP WOYA, VERY POPULAR IN SOUTH WEST AFRICA IN THE 1980S. MANOU DEBUTED IN A STADIUM IN BURKINA FASO BEFORE 15,000 PEOPLE. SHE MOVED TO VILLAGE KIYI AT AGE 17, AND IT BECAME HER SCHOOL
ACTY: 05_Manou_school.wav: (French)
ACTY: 05A.wav: "For me, Village Kiyi was my school."This was a pan-African project. Were Were Liking was a Cameroonean who moved to Cote D'Ivoire. She was a woman with a vision, and I think that if politicians had the vision of Were Were Liking, Africa would be doing far better. Because she believed that we must all be together.
GEORGES: VILLAGE KIYI WAS HOME TO ARTISTS FROM ALL OVER AFRICA, AND MANOU SAYS THE KEY TO EVERYTHING WAS HARD WORK AND DISCIPLINE! IN 1997, SHE MOVED TO BELGIUM AND BEGAN A SEVEN-YEAR RUN WITH MARIE DAULNE THE FOUNDER OF ZAP MAMA.
ACTY: 06_Manou_world.wav: (French)
GEORGES: MANOU SAYS, "WITH ZAP MAMA, I DISCORVED THE WORLD." SINCE THEN, SHE'S RECORDED FOUR ALBUMS UNDER HER OWN NAME, WITH A NEW ONE COMING IN 2022. MANOU ALSO PRODUCED THE DEBUT ALBUM FROM THE FABULOUS ZIMBABWEAN GROUP MOKOOMBA. AFTER THAT SHE TOOK A BREAK FOR EIGHT YEARS TO REFLECT ON HER PATH FORWARD.
ACTY: 07_Manou_bass.wav: (French)
ACTY: 07A.wav: "Is it with my voice I want to talk, or with the bass? I reflected and decided that it was with the bass I wanted to speak. On the African continent there are many geat singers, many women with very beautiful voices. Why not play my instrument, but in a different way. I play rhythmic bass. I reflect the drums, the percussion from our place."
WINDOW: M06_ManouGallo_bass solo.wav
GEORGES: WOW! YOU GET THE IDEA. LET'S HEAR MANOU AND HER GROUP LIVE AT WOMEX 2021 WITH THE SONG "MANU LUCA" FROM HER ALBUM AFRO GROOVE QUEEN.
MUSIC: M07_ManouGallo_Manu Luca.wav [5:11]
GEORGES: FROM COTE D'IVOIRE MAESTRO MANOU GALLO. FANTASTIC! NOW, HERE'S SOMETHING YOU DON'T HEAR EVERY DAY, SIX UGANDAN MEN PLAYING ONE ENORMOUS WOODEN XYLOPHONE!
WINDOW: M08_Nakibembe_Nte.wav (play a minute or so, then to bed)
GEORGES: WOAH! THAT'S A LOT OF SOUND FROM ONE INSTRUMENT. WE MET THE NAKIBEMBE XYLOPHONE TROUPE AT A WOMEX STUDIO SET UP BY OUR FRIENDS AT THE EUROPEAN BROADCAST UNION. WE ASKED EACH OF THE SIX MUSICIANS TO PLAY HIS PART ALONE, AND HERE THEY ARE.
MUSIC: M09_Nakibembe_Nte-parts.wav (Mike I shortened these, but they're still kind of long. Feel free to trim them down more if you like.)
GEORGES: REMARKABLE. AND PUTTING THAT ALL TOGETHER…
WINDOW: M08_Nakibembe_Nte.wav (pick up near where we left off above. Just a bit then to bed…)
GEORGES: NORMALLY, THIS GIANT XYLPHONE WOULD BE DUG INTO THE GROUND AND PLAYED MOSTLY FOR CELEBRATIONS. BUT TO TAKE THEIR MUSIC ON THE ROAD, THE GROUP HAD TO CONSTRUCT A RESONATING BOX FOR THE INSTRUMENT, AND WHEN THEY PERFORMED THEIR SHOWCASE AT THE PRACA DE JOAO STAGE, THEY WERE AN INSTANT HIT!
MUSIC: M10_Nakibembe_Bani-Gabana.wav [3:49, including opening ambiance and crowd reaction. Edit accordingly]
GEORGES: NAKIBEMBE XYLOPHONE ORCHESTRA FROM UGANDA. COMING UP, MORE LIVE SOUNDS FROM WOMEX 2021. AND BE SURE TO VISIT AFROPOP.ORG TO SEE A PHOTO ESSAY OF THESE SENSATIONAL PERFORMANCES. I'M GEORGES COLLINET WITH WOMEX RISES, ON AFROPOP WORLDWIDE FROM PRX.
WINDOW: 20-second break M11_SPD_MahurHiudiMughour.wav, Sahib Pashazade Duo.
WINDOW/BED: M12_Mazahar-YaQamar.wav (first 57 seconds, then fade to bed)
GEORGES: ONE HIGHLIGHT OF WOMEX 2021 WAS A REUNION WITH A GROUP OF ARTISTS WE MET TEN YEARS EARLIER IN CAIRO. BANNING EYRE WAS THE LEAD PRODUCER ON OUR "HIP DEEP IN EGYPT"PROJECT AT THE TIME, AND HE REPORTS.
BANNING: 08_BE1.wav: Georges, when we were in Cairo in the wake of the Tahrir Square uprising and before any of the subsequent elections, we enjoyed a number of traditional performances at a cultural space called Makan, including with the group that we met again this fall at WOMEX, Mazahar. I spoke with the group's manager and the proprietor of Makan, Ahmed El-Maghraby. Given all the political turmoil that has undermined the goals of the Egyptian revolution since our visit, I wondered how Makan was faring.
ACTY: 09_Mazahar_Makan.wav: Makan is doing well, considering the situation with Covid and all the political and social issues. We are trying to resists, at least. We are resisting.
WINDOW: brief emerge
ACTY: 10_Mazahar_COVID.wav: Especially with COVID, it was a real disaster for musicians all over Egypt, especially independent musicians who work in the night world: weddings, nightclubs and the popular and traditional scene. And now there is much more taxes, much more control, COVID control and all this.
BANNING: 11_BE2.wav: I also spoke with the principle singer of Mazahar, Umm Sameh, literally "Mother Sameh."
ACTY: 12_Mazahar_UmSameh.wav
BANNING: 13_BE3.wav: Umm Sameh mentioned zar, one of three styles presented at Makan. All of these styles have to do with healing, but zar is the oldest, the one featuring the ancient Egyptian lyre called tamboura. In 2011, we were privileged to attend a private zar ceremony in a neighborhood of Cairo, and Mazahar's WOMEX performance evoked the experience.
WINDOW/BED: M12_Mazahar-YaGammal.wav (top to 0:28 then to bed)
ACTY: 14_Mazahar_zar-songs.wav: Zar in general is talking about love, about spirituality, not in direct words, but in indirect words. And invoking, calling the good spirits to create a kind of reconciliation between the human being and itself. It's not exorcism but it's inorcism. It's how to reconcile yourself with the others of yourself.
ACTY: 15_Mazahar_zar.wav:
BANNING: 16_BE4.wav: Um Sameh says they still hold zar ceremonies in Cairo, but they are becoming more and more rare. Ahmed El-Maghraby says this goes beyond the political changes in Egypt.
ACTY: 17_Mazahar_West.wav: I think it's bigger than that. It's a question of how society is changing to be globalized. We are forced to play the same music and are absorbed by the same music all over the world. So all these kinds of traditional, popular, human expressions are vanishing, are dying all over the world. In Egypt is worse because we have, unfortunately, this kind of schizophrenia because we are always looking to the West as the example and the model that we should follow. They want that Egypt should be represented by orchestras and ballet and hip-hop and rap and all these kinds of Westernized expressions.
WINDOW: M12_Mazahar-YaGammal.wav (up to 3:00, then to bed)
GEORGES: FROM CAIRO, EGYPT, MAZAHAR PRESENTING A STAGE VERSION OF A ZAR RITUAL AT WOMEX 2021, IN PORTO, PORTUGAL. AT WOMEX WE MET FOR THE FIRST TIME AN EXTRAORDINARY MUSICIAN FROM DARFUR, SUDAN, NOW BASED IN SWEDEN. HIS NAME IS EBO KRDUM, AND HIS SHOWCASE WAS MESERIZING.

WINDOW/BED: M13_EboKrdum_Dabaywah.wav (start under Georges and emerge on vocal at 00:27-1:05 then to bed.)
ACTY: 18_Ebo_youth.wav: I grew up with my grandmother. We had a big farm with lots of cattle that I used to take care of. And when I get bored taking the animals to eat, I would build flutes, and I would listen to the radio a lot, only waiting when the music part comes. When the music comes, I would listen to it. That was in the little village where I was raised up. The channel that I fell in love with was Radio Chad, and they used to play mostly Ali Farka Toure. So Ali Farka Toure through the radio is the only teacher I had.
GEORGES: AND YOU CAN HEAR THAT IN EBO KRDUM'S SOUND. BUT IMAGINE. THE SONRAI VIBE OF NORTHERN MALI REACHING ALL THE WAY TO SUDAN IN EAST AFRICA, VIA RADIO CHAD. WELL, THAT'S HOW IT STARTED, BUT EBO HAS COME A LONG WAY SINCE THOSE DAYS.
ACTY: 19_Ebo_Diversity.wav: Today I'm experimenting in different projects. The current project I have today, Diversity, is an experiment between music where I come from—Sudanese, but at the same time entire sub-Saharan area, and Scandanavian fiddle music.
GEORGES: SCANDANAVIAN FIDDLE MUSIC. WHY NOT? EBO SAYS THAT TO GET BY IN HIS VILLAGE, YOU HAD TO SPEAK FOUR DIFFERENT LANGUAGES, AND HE'S BEEN ADDING NEW ONES TO HIS REPERTOIRE EVER SINCE.
ACTY: 20_Ebo_languages.wav: If you take Diversity, there is Fula, Zagawa, Masali, Arabic, English and Beija.
GEORGES: AMAZING. LET'S HEAR A SELECTION FROM EBO'S WOMEX SHOWCASE. THIS IS "REVOLUTION CALL."

MUSIC: M14_EboKrdum_RevolutionCall.wav [6:12, may need editing for time]
GEORGES: EDO KRDUM FROM SUDAN BY WAY OF SWEDEN. WHAT A BEAUTIFUL MUSICIAN!
WINDOW/BED: M15_Amiga.m4a, Amiga, Yarima Blanco, Pa Mi Tres (Egrem.Soundware productions, EP1) (first 10 seconds, then to bed)
GEORGES: ONE THING WE NOTED AT WOMEX WAS HOW MANY OF THE SHOWCASE ACTS WERE FRONTED BY A WOMAN PLAYING AN INSTRUMENT. IN THIS PROGRAM, WE'VE HEARD YOUSSRA MANSOUR WITH BAB L'BLUZ AND MANOU GALLO OF COURSE. AND WE'LL HEAR MORE IN OUR UPCOMING, LUSOPHONE WOMEX PROGRAM. WELL, HERE'S ANOTHER: FROM CUBA, SINGER, BANDLEADER AND TRES PLAYER YARIMA BLANCO.
WINDOW: M15 (Emerge 0:37—0:57)
ACTY: 21_YarimaBlanco_born.wav (Spanish)
ACTY: 21A_Yarima-VO.wav: She was born in Baiamo. That is a region close to Santiago de Cuba.
ACTY: 22_YarimaBlanco_tres.wav (Spanish)
ACTY: 22A_Yarima-VO.wav: She started with the guitar, the classical guitar, and then at 14, she went to the tres. By the school system in Cuba, you go through different stages: junior high, high school… She had to make another level, and they recommended, "Why you don't take tres? Because there are no females playing tres." She made the decision.
ACTY: 23_YarimaBlanco_Havana.wav (Spanish)
ACTY: 23A_Yarima-VO.wav: She already thought, "Well, it would be nice, a female…" She was born like that, great character, strong character, with love. It was clear where she was going, so she made the decision and she went for it. Then she moved to Havana to pursue the studies at the university level. And she was the first female tres player to graduate from the school. 2006.
GEORGES: YARIMA GAVE US OUR VERY OWN SOLO RENDITION OF HER 2021 ALBUM'S TITLE SONG, "PA MI TRES."
MUSIC: M16_YarimaBlanco_Pa-Mi-Tres.wav, [2:33, fade to bed during tres solo at end]
GEORGES: DON'T YOU LOVE IT. FROM CUBA, YARIMA BLANCO. WE'VE GOT TIME FOR ONE MORE WOMEX ARTIST, AND WE'RE GOING TO STAY WITH CUBA.
WINDOW/BED: M17_Caramelo.m4a, Cimafunk, El Alimento (Cimafunk/Terapia Productions, 7 93888 43480 6) (short window, then to bed)
ACTY: 24_Cimafunk_mix.wav: I'm Cimafunk. I am a Cuban artist, and I am a funk lover and an Afro-Cuban music lover, and that's what I do. I try to mix the Afro-Cuban with the funk.
GEORGES: YOU HEARD RIGHT. MIXING AFRO-CUBAN WITH FUNK! CIMAFUNK IS CUBA'S HOTTEST MUSICAL EXPORT IN 2021, PERFORMING TENS OF THOUSANDS OF FANS THROUGHOUT EUROPE AND NORTH AMERICA. DURING THE PANDEMIC, EVERYTHING IN CUBA SHUT DOWN. WHILE HE WAS LAYING LOW, CIMAFUNK TOOK TIME TO COLLABORATE WITH THE LIKES OF CHUCHO VALDEZ, CEELO GREEN, CHOQUIB TOWN, AND EVEN FUNK LEGEND GEORGE CLINTON, ALL ON AN ALBUM CALLED EL ALIMENTO. WE CAUGHT UP WITH CIMAFUNK THE DAY AFTER HIS SPECTACULAR WOMEX SHOWCASE AND HE SHARED HIS STORY.
ACTY: 25_Cimafunk_church.wav: I grew up in the church since I was really, really, really small. And there was the first moment when I start to sing in front of people. People start to tell me that I was singing good. So I keep doing it, keep doing it, and then I start to go out to the street to move around to another environment. Me and a friend, we make this small band of reggaeton and we start to play in the school. That was super fun. And after that I get inside the trova. That is the most calm, sounds like Bob Dylan stuff, but was really famous and really popular, the trova, in my home town. That was the moment when I start to write, to compose and play the song with the guitar. That was the first moment.
GEORGES: AND THE NEXT MOMENT WAS DISCOVERING FUNK, STARTING, OF COURSE, WITH MR JAMES BROWN!
ACTY: 26_Cimafunk_funk.wav: When I found James, okay, this is funk, funk, funk. So I start to get into the fanatic guy who is looking for funk music. Of course, George Clinton, Ohio Players, and Sly also. And Sam and Dave (sings), and I was like, "Yo, this is tight!" And when I saw the first video with Funkadelic, that blew my mind. When I see Funkadelic in a live video, "Yo, these guys are aliens. I didn't know that this song I was hearing was this character." Also with Ohio Players. The first thing I saw was with Ohio Players was the show on Soul Train. He was singing "Fire." (sings) The voice of this guy and the clothes they were dressing, and the horns. It was a big show. Once I looked at that, I decided that I want to make funk and I want to have this kind of party on stage.
WINDOW: M18_Como Te Descargo.m4a El Alimento (see how much time there is. More important to get all of the last song, but nice to get a bit of a window here if we can.)
GEORGES: CIMAFUNK HAS A LOT TO SAY ABOUT THE CONNECTIONS BETWEEN AFRO CUBAN MUSIC AND FUNK.
ACTY: 27_Cimafunk_Africa.wav For me, my appreciation is the tempo, the groove. The grooves have a couple o things that are super similar and that are really different. The funk is always beating on the one. (sings) And with the Cuban stuff, you have the syncopation, and you can lay back the tempo a little bit. (sings) So I realized that it's perfect to mix. When I start to mix that, I realize, "Yo, this works perfectly, because it came from the same place, Africa." It's one groove, just different interpretations, but it's the same. When you look down, down, down in the deep. At some point the people understand the Afro-Cuban so well. And the people understand the funk so well also. It's black roots. Black people were doing cotton in the US, working in the field with cotton. And in Cuba, they were working with the sugar. They were singing guaguanco. (sings) And in the US they were, like (sings). They grow up at the same time, in different ways but from the same root. And it's incredible because you can see it m. You get the rumba, guanguanco, the son, cha cha cha and mambo. All these roots that grow up and go to America and then go to all the world. And then you've got the gospel, the soul, the funk. Rock n roll . So this connection, the Afro-Cuban with funk. All this African reunion has been going on since long.
MUSIC: M19_Sal De Lo Malo.m4a, El Alimento (Let's play the whole song, inserting GC as you like, and ending with the actual song end) [3:44]
GEORGES: CIMAFUNK, WRAPPING UP OUR ROUNDUP OF WOMEX 2021. MORE TO COME ON THE LUSOPHONE ACTS AT WOMEX ON A FUTURE PROGRAM. FUNDING FOR AFROPOP WORLDWIDE COMES FROM THE NATIONAL ENDOWMENT FOR THE ARTS, WHICH BELIEVES A GREAT NATION DESERVES GREAT ART, AND FROM PRX AFFILIATE STATIONS AROUND THE U.S. AND THANK YOU FOR SUPPORTING YOUR PUBLIC RADIO STATION.
THANKS TO GAURAV NARULA, CAMILA DIZY, CHRISTOPHE BORKOWSKY AND ALL THE HARD-WORKING FOLKS AT WOMEX FOR DOING WHAT YOU DO SO WELL, ONCE AGAIN. AND THANKS TO THE EUROPEAN BROADCAST UNION, DAREK MAZONE AND KEXP FOR HELP WITH THE ACOUSTIC SESSIONS. THANKS ALSO TO BROTHER NED SUBLETTE FOR HIS HELP WITH OUR CIMAFUNK INTERVIEW.
VISIT AFROPOP.ORG TO SEE PHOTOS OF WOMEX 2021. YOU CAN ALSO FIND US ON FACEBOOK AND FOLLOW US ON TWITTER AT "AFROPOPWW." MY AFROPOP PARTNER IS SEAN BARLOW. SEAN PRODUCES OUR PROGRAM FOR WORLD MUSIC PRODUCTIONS. RESEARCH AND PRODUCTION FOR THIS PROGRAM BY BANNING EYRE AND SEAN BARLOW. AND, BE SURE TO SUBSCRIBE TO OUR PODCAST, INCLUDING RADIO PROGRAMS AND OUR AFROPOP CLOSEUP PODCAST SERIES.
JOIN US NEXT WEEK FOR ANOTHER EDITION OF AFROPOP WORLDWIDE. OUR CHIEF AUDIO ENGINEER IS MICHAEL JONES. THIS PROGRAM WAS MIXED AT STUDIO 44 IN BROOKLYN BY MICHAEL JONES. ADDITIONAL ENGINEERING BY GC FROM THE SYNCOPATED LAIR IN WASHINGTON, DC. BANNING EYRE AND CC SMITH EDIT OUR WEBSITE, AFROPOP.ORG. OUR DIRECTOR OF NEW MEDIA IS BEN RICHMOND. AND I'M GEORGES COLLINET.