The 27th edition of the world's biggest global music trade fair and exhibition—WOMEX—took place in Porto, Portugal, Oct. 27-31. After an online pandemic edition in 2020, there was a kind of ecstatic energy surrounding the whole event this year, and as ever, it delivered a feast of musical discoveries, new alliances, reconnections and stimulating ideas. First the obligatory statistics:
More than 2,600 registered participants (including 290 performing artists) from 102 countries
More than 60 showcases spread across seven stages
24 music-based documentary films from 24 countries
110 speakers and mentors participated in the conference sessions
A bustling trade fair with 620 exhibiting companies at 200 stands
Afropop last attended WOMEX in 2018, but we go back to the early years of the event, so we had many seasoned relationships to rekindle this time around. Equally impressive, though, is the constant replenishing of young artists and delegates. No stats on this, but there is no mistaking the event's multi-generational character. As it honors traditions of the past, WOMEX is always looking to the future.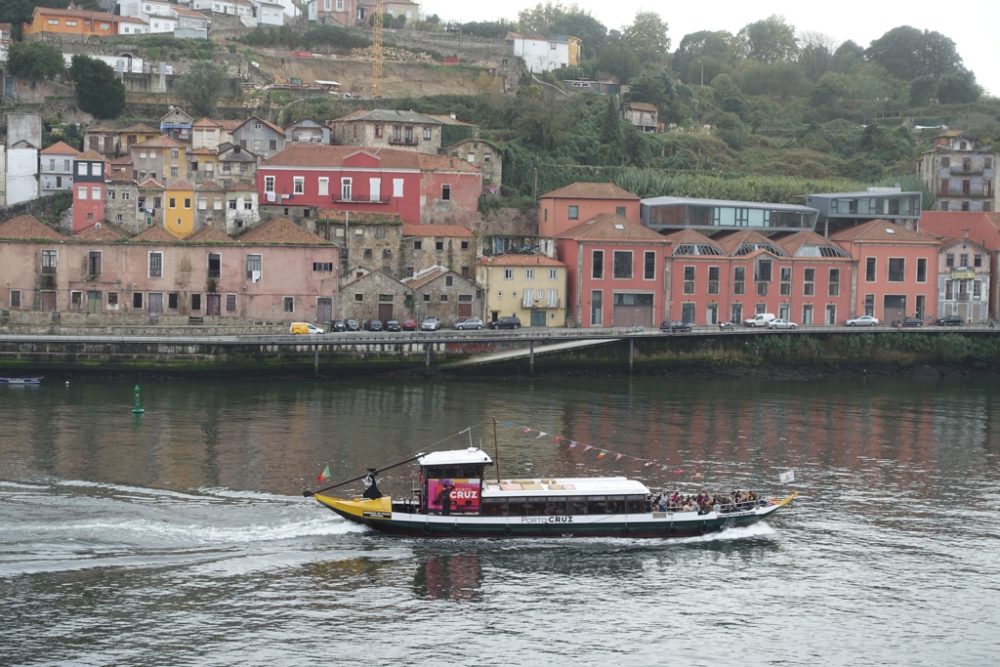 Porto is a beautiful, easy old town. Thursday through Sunday, music emanated from five well-worn showcase venues from 9 p.m. until 1:30 a.m. The stages were all within a roughly 10 block area, which made it a little harder to dip in and out of shows. Persistent rain and COVID precautions further complicated the flow. This meant making hard choices; there was just no way to catch all 15 acts each night. But such is the nature of WOMEX. It is overwhelming by design. And while mobility was limited, the sound quality was excellent in all venues, and there were no problems of overlapping sound—things that have been issues in the past.

On COVID, the protocol was intense. Your recent negative test result was programmed into a wristband, and scanned each time you entered and left a venue. This minor inconvenience paid off in a sense of safety within the venues, and some inevitable confusion about masking. As the night wore on, one saw less and less of them…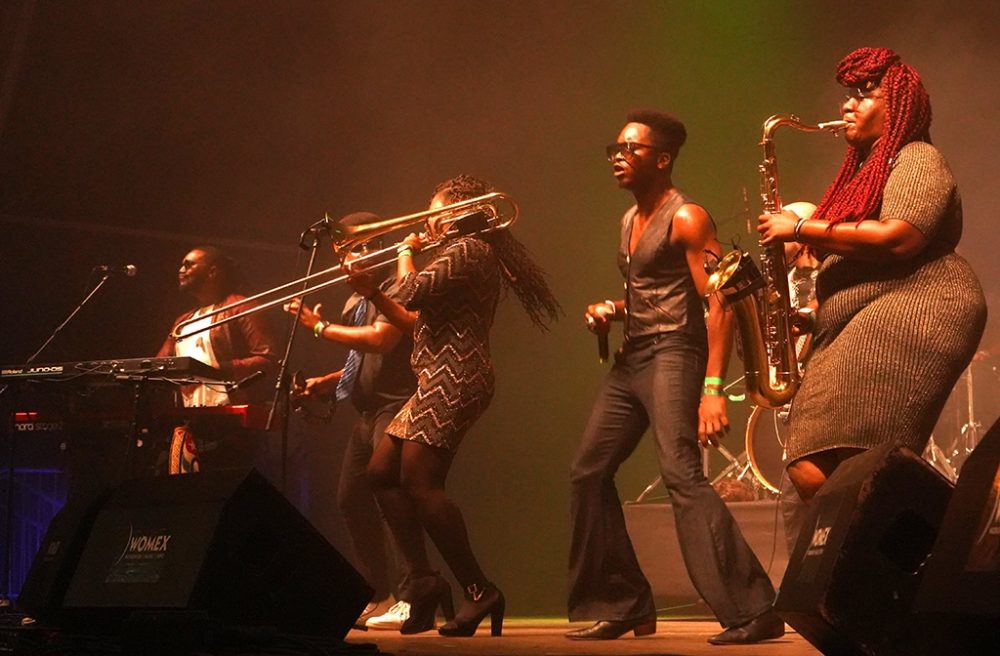 Now to highlights. Many agreed that Cuba's Cimafunk delivered the most thrilling showcase of the lot on Friday night at the Praça Stage, an open-air venue encased in a giant plastic bubble to keep the rain out. It was like seeing a merger of James Brown's and Tito Puente's bands, except with a lithe, youthful, joyous front man easily in control of everything. Afropop's Sean Barlow managed a relaxed interview with Cimafunk at his nearby residence the day after the show, and of course that will be featured on an upcoming Afropop program, along with portions of Cimafunk's electrifying set.
Afropop conducted a studio session and interview with Uganda's Nakibembe Xylophone Troupe. This group presents an awesome spectacle with six musicians playing a single, giant 21-slat xylophone, three to a side. Normally this instrument would be dug into the ground, but they had constructed a custom-made wood and foam facsimile just for this occasion. The music is dense, but when we asked each player to play his part all alone, the richness and variety of melodic and rhythmic elements was nothing short of mind-blowing. Nakibembe delivered the first set on Thursday night, and it was a massive hit, setting a high bar for all to come.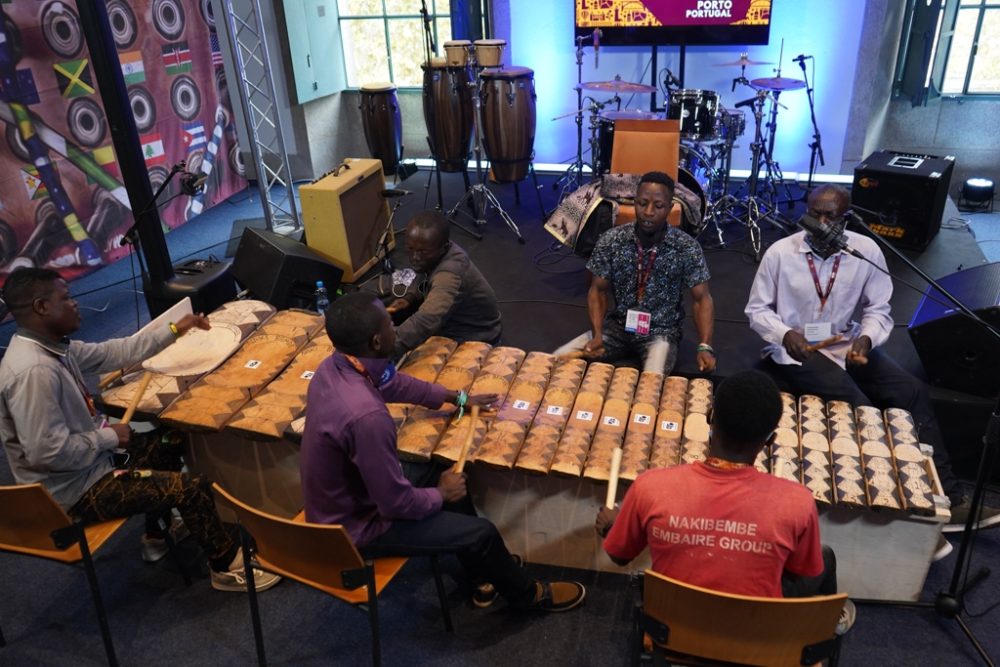 Fittingly, Lusophone music was a major theme in the artist lineup, and we focused there, catching Angolan kuduro from the effervescent Pongo, formerly of Buraka Sound System; Neuza, a powerful singer from Cape Verde; Lucas Santtana, a troubadour from Bahia, Brazil; and perhaps most memorably, Bandé-Gamboa, a collaboration between musicians from Guinea Bissau, Cape Verde and Portugal exploring the Latin-tinged Guinea Bissau formulation of gumbe music. We conducted great interviews with all of these artists, and they will be heard in a special Lusophone edition of our WOMEX radio program coverage. Unfortunately a rain-delayed flight made us miss the opening night of Portuguese acts, but with a feast like this ahead, it was hard to complain.
Other high points included a rowdy nouveau-calypso set from Kobo Town; Bab L'Bluz with retooled Gnawa music out of Morocco and France; Yarima Blanco, a très-wielding trova artist from Cuba; Mazaher, a mesmerizing traditional ensemble from Egypt who we reunited with 10 years after our Hip Deep in Egypt research in Cairo; and Manu Gallo, as funky, percussive and thrilling a bass player you'll likely find anywhere. There was an unmistakable pattern of front-women playing instruments, which also included Naïssam Jalal who led her Syrian-French band Rhythms of Resistance on flute and ney.
The WOMEX audience is notoriously hard to impress. With so many genres from all over the world, and so many listeners used to ferreting out the very best exemplars in each one, their discerning nature is not surprising. This can be a challenge for artists accustomed to more responsive audiences, but it also tends to bring out the best in performers, who generally know the unique nature of the crowd.
As I write, we are just home, shagged but happy—flying ain't what it used to be, especially masked through three long flights and layovers. We now begin the task of creating distillations for you to enjoy. We have access to recordings of all the showcases, so the discoveries will continue after a good night's sleep—hard to come by in the midst of so much activity. And as ever, we have collected enough CDs and download links to keep us—and you, dear listeners—absorbing new sounds for months to come.
For now, we leave you with a few images of the Porto experience. Long live WOMEX!