Afro Roots Virtual Fest 2020 in Miami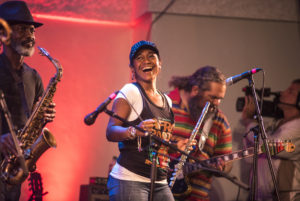 Miami is still in lockdown mode for large gatherings but we don't let that stop us as we travel, virtually, to Miami's beautiful open air, art deco North Beach Bandshell right across from the Atlantic Ocean. Enjoy highlights from the just completed Afro Roots Virtual Fest featuring the city's leading globally grooving artists. Crank it up! Johnny Dread of Cuban/Rasta heritage opens up with his original mix of classic reggae, rock and international sounds. Cortadito, called the best Latin act by the Miami New Times in 2019, offers an updated version of 19th century son montuno from the mountainous region of northeastern Cuba while its two lead singers--one from Havana and one from Santiago de Cuba in the east--take turns performing originals from these two distinct traditions. The Spam All Stars stretch out with quirky spoken word, Latin and eclectic combinations. Venezonix perform Venezuelan roots music enlivened by electronic textures. And Alsarah of the Nubatones beams in a soulful duet from Brooklyn of her songs in Nubian and Arabic, reflections on diaspora and displacement, with her oud player Brendan Terzig. Remember the joy of dancing to live music ?! Ah yes. Catch tips from Banning Eyre on how to enjoy virtual festivals in his "Fresh Eyre" column.
For more info on Afro Roots Fest 2020 artists, visit their sites.