Oromo Music: Historical Memory and Competing Visions in Ethiopia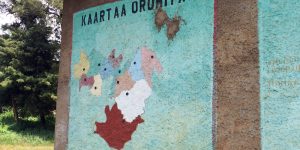 The Oromo are the largest ethnic group in the Horn of Africa, but were relatively little known outside of the region until recently. This episode "Oromo Music: Historical Memory and Competing Nationalisms in Ethiopia" looks into the history of the Oromo people and how music became an integral part of Oromo early Oromo nationalism movement in the 20th century.
Georges speaks with Kumera Zekarias, a PhD student in ethnomusicology who is working on an oral history project of the 1977 Oromo Cultural Showcase in Finfinne (Addis Abeba), a landmark two-day event which brought together Oromo musicians and listeners from across the diverse regions of the nation. The showcase was a statement of ethnic unity, which has since influenced how Oromo music is created, performed, and received.
Professor Marta Kuwee Kumsa covered the event as a journalist and Damsho Ali, who was the event the MC, provide first-hand accounts of how this show was organized and executed. They are joined by other Oromo academics, musicians, and music fans who relate the story of this event to larger themes of colonialism, multiculturalism, and how music continues to serve as an important source of oral history and historical memory.