Afropop Worldwide
São Paulo Mutations: Hybrid Musical Resistance in Brazil's Alpha City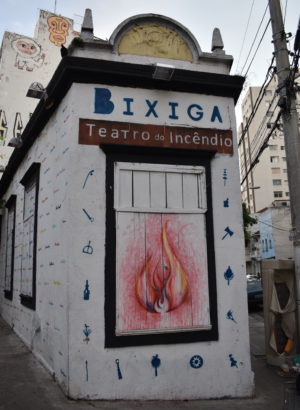 Brazil's economic and artistic powerhouse, São Paulo is a true megapolis, being the largest city in Latin America and fourth largest city in the world. Built on successive waves of immigration, it's a melting pot of cultures, viewpoints and musical beats with a flourishing alternate arts scene that includes vibrant poetry slams, renowned street art and an incredible array of music forms that push against established hierarchies of race, class, gender and sexual orientation. In this dramatically unequal city, hybrid cultural expression happens spontaneously, fusing ancient and modern, local and foreign, traditional and avant-garde.
Produced in São Paulo by David Katz (and completed remotely following travel bans), this program surveys the São Paulo soundscape to explore dynamic facets of its musical resistance. Beginning with some background information provided by historian Rodrigo Bonciani, we hear songs from northeast migrants that tried to make sense of their adopted city in the 1950s, 60s and 70s, including Tom Zé and Caetano Veloso, as well as Itamar Assumpção of the resident Vanguarda Paulista movement. Then, committed hip-hop specialist DJ Dandan guides us through the rap scene of the 80s, 90s and beyond, before acclaimed artists explore the influence of soul, funk and other global forms on their work, including the producer BiD and singers Aricia Mess and Curumin, the latter taking a closer work at the challenges and rewards of living and working in such a place. The reggae underground is revealed through testimony from Yellow P of Dub Versão sound system, Dani Pimenta of Feminine Hi-Fi and Lys Ventura of Fresh Dancehall, along with producer/bassist Victor Rice and drummer/producer Bruno Buarque. Then, the rich avant-garde scene is illuminated by words and music from Anelis Assumpção and members of Bixiga 70 and Metá Metá, and there are musings on the Covid-19 pandemic, as well as the city's hopeful future.
Overall, the listener is immersed in the broad diversity of São Paulo's intense music scene, making it entirely clear that the city has become the most important site of contemporary music culture in Brazil during the new millennium.
Produced by David Katz.
All images copyright ©David Katz.
Playlist:
Thiago França, "Jacutá"
Jhony, Thiago & Mike E Buddy, "Untitled"
Aghata Saan encontra Yellow P na Toca do Leão, "Untitled"
Metá Metá, "Tristeza Não," live at Festival Batuque
Luiza Lian & Bixiga 70, "Alumiô (Cai Na Terra)"
Demônios da Garoa, "Saudosa Maloca"
Tom Zé, "São São Paulo"
Caetano Veloso, "Sampa"
Itamar Assumpção, "Fico Louco"
Thaide & DJ Hum, "Homens Da Lei"
Criolo, "Grajauex"
Iozó vs Emicida, "Untitled"
Funk Como Le Gusta, "Funk De Bamba"
BiD feat Chico Science & Du Peixe, "Roda Rodete Rodiano"
Aricia Mess, "Bate Folha Jurema"
Curumin, "Guerreiro"
Curumin, "Boca Pequena (Parte 1)"
Giba Nascimento & Rockers Control, "Plugging Out Dub"
Afetos, "NaçãoAmeaçada"
Rockers Control, "Untitled"
Laylah Arruda encontra Yellow P, "Untitled"
Laylah Arruda, "Loba Leoa"
Monkey Jhayam, "Eu Já Sei"
Anelis Assumpção, "Not Falling"
DonaZica, "DonaZica"
Anelis Assumpção, "Song To Rosa"
Anelis Assumpção, feat Liniker, "Mortal A Toa"
Serena Assumpção, "Exu"
Metá Metá, "Obá Iná"
Metá Metá, "Angouleme"
Bixiga 70, "Primeiramente"
Bia Ferreira "Boto Fé"