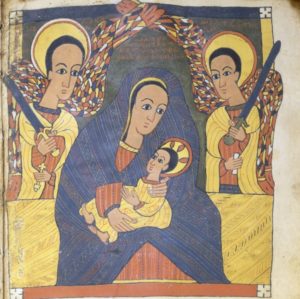 We're hopeless at making Top-10 lists—or even top-40s—so you'll have to settle for this: a whole hour of some of our favorite tunes of 2018. Casting the net deep and wide, Banning and Georges spin new records by our old favorites, the freshest cuts from new artists and reissues that have gone unheard for years. If you're looking for gifts for the African-music lover in your life—even if that's you!—you'll find something to love here. From Parisian Afro-trap to Angelique Kidjo's reimagined Talking Heads record, from buzzing Saharan blues to swaying Cape Verdean song, 2018 is leaving us richer in music.
Produced by Banning Eyre
BONUS: Check out our list of all the albums we talked about on the show!
Transcript
Stocking Stuffers 2018
<1> 1
WINDOW: 01_Aboa Kyirbin.m4a, Ebo Taylor, Yen Ara (Mr Bongo, MRBCD155) (first 10 seconds, then to bed)
GEORGES: IT'S THAT TIME AGAIN…
BANNING: Yes, it is. Holidays approaching. Cold winds blowing…
GEORGES: WELL, NOT EVERYWHERE.
BANNING: Families gathering…
GEORGES: YEAH, THAT'S EVERYWHERE
BANNING: Time to take stock of the year and find the right music to share with those you love, and those you must tolerate over the holidays…
GEORGES: AND WHAT BETTER WAY TO DO THAT THAN TO SPEND AN HOUR LISTENING TO SOME OF THE BEST AFRICAN AND AFRICAN DIASPORA MUSIC 2018 HAS PRODUCED. HELLO, I'M GEORGES COLLINET.
BANNING: And I'm Banning Eyre
GEORGES: AND WE'RE HERE WITH YOU ONCE AGAIN FROM STUDIO COLLINET IN WASHINGTON, DC, FOR OUR ANNUAL RITUAL: "STOCKING STUFFERS 2018" ON AFROPOP WORLDWIDE FROM PRI, PUBLIC RADIO INTERNATIONAL.
BANNING: We start out with a new recording from Ghanaian Afro-Funk legend Ebo Taylor
GEORGES: BANNING, CAN YOU BELIEVE THIS GUY IS 82 YEARS OLD?
BANNING: Yeah, almost as old as us.
GEORGES: HEY! LET'S NOT PUSH IT. WE JUST TURNED 30.
BANNING: Okay, okay. Our SHOW just turned 30. That's enough to reveal here. But back to Ebo, the release is Yen Ara, and it finds him and his band—which by the way now includes two of his sons—in fine form.
GEORGES: MAN, NOBODY ARRANGES BRASS THE WAY EBO DOES. LET'S LISTEN.
WINDOW: 01_Aboa Kyirbin.m4a (Emerge on vocal at 1:15—2:39)
<2> 3 <4> 5 <6>
GEORGES: I LOVE IT. GHANAIAN LEGEND EBO TAYLOR FROM HIS 2018 RELEASE YEN ARA.
BANNING: Ebo Aye! And here's a good Afro-funk segue. Benin's Angelique Kidjo broke new ground this year with an Africanized reimagining of the Talking Heads album Remain in Light.
WINDOW: 02_Crosseyed and Painless.wav, Angelique Kidjo, Remain in Light (Kravenworks Records, B07GW4FD48) (time to next emerge. Steph, if we went on too long, this window may not happen)
5
GEORGES: THAT'S RIGHT. A SONG-BY-SONG REMAKE, AND IT'S TRULY BOLD AND ORIGINAL.
BANNING: If you get a chance to see this show live, count yourself lucky. It only happens a handful of times.
GEORGES: BUT IF YOU MISS IT CHECK OUT OUR RECENT PROGRAM "WOMEN OF THE WEST," FEATURING OUR INTERVIEW WITH ANGELIQUE ABOUT THE PROJECT. HERE'S "CROSSEYED AND PAINLESS."
WINDOW: 02_Crosseyed and Painless.wav, Angelique Kidjo, Remain in Light (Kravenworks Records, B07GW4FD48) (emerge on vocal at 0:16-1:27)
7 8 <9>
BANNING: Angelique Kidjo from her Africanized take on Talking Heads Remain in Light.
WINDOW: 03_Fanm.m4a, Bokanté & Metropole Orkest & Jules Buckley, What Heat, (RealWorld, 8 84108 00740 2) (from top, short)
GEORGES: HERE'S SOMETHING UNUSUAL: BOKANTÉ AND THE METROPOLE ORKEST.
BANNING: That's right. Bokanté is Michael League's spinoff from the Texas-born musical collective Snarky Puppy. And the Metropole Orkest, based in the Netherlands and conducted by Jules Buckley, are about the most adventurous jazz orchestra on the scene these days.
GEORGES: ON THIS COLLABORATION, THEY WORK WITH GUADELOUPEAN VOCALIST MALIKA TIROLIEN. THE ALBUM IS CALLED WHAT HEAT.
BANNING: You know, Georges, both Bokanté and Metropole have Grammys under their belts, and I bet this album will be a contender next year.
GEORGES: HERE'S THE SONG "FANM."
WINDOW: 03_Fanm.m4a, (crossfade under prior talk to emerge at 2:03—2:40)
10 <11>
GEORGES: BOKANTÉ AND THE METROPOLE ORKEST FROM THEIR 2018 COLLABORATION, WHAT HEAT. GEORGES COLLINET HERE WITH MY COLLEAGUE BANNING EYRE, AND WE'RE SAMPLING SOME OF THE GREAT MUSIC WE'VE HEARD IN 2018. WHAT'S NEXT BANNING?
BANNING: Let's go roots. You know, one of the crazy things going on these days is the old CD, perfectly sized to slip into a Christmas stocking, is being undermined from two sides—mp3 downloads, and an amazing resurgence of vinyl.
GEORGES: BANNING, DO YOU THINK WE HAVE TO RENAME OUR TRADITIONAL STOCKING STUFFERS PROGRAM.
BANNING: Maybe. But for now, call it a nostalgic anachronism.
GEORGES: TODAY, WE'RE GOING TO HEAR A FEW ESPECIALLY CHOICE VINYL RELEASES, STARTING WITH THIS COLLECTION OF MUSIC RECORDED IN BOTSWANA: I'M NOT HERE TO HUNT RABBITS.
BANNING: We featured this one on our program "More African Guitars," and it is a beautiful gift for the roots music fan in your life. Here's guitarist Ronnie Moipolai, the YouTube star who inspired this release.
GEORGES: ONLY WE LEARNED RECENTLY THAT RONNIE PASSED AWAY THIS FALL. STILL A YOUNG MAN. VERY SAD END FOR A MAN WHO CREATED SUCH JOYOUS MUSIC.
WINDOW: 04_Dikakaneng.mp3, Ronnie Moipolai, I'm Not Hear to Hunt Rabbits, (thevitalrecord, Piranha, 8 26863 31651 1) (emerge 1:23-2:12, then to bed)
12 <13>
BANNING: Ronnie Moipolai, Botswana guitar from the vinyl release I'm Not Here to Hunt Rabbits.
GEORGES: AND HERE'S ANOTHER GREAT GIFT ITEM ON THE ROOTSY SIDE. "LISTEN ALL AROUND" IS A GORGEOUS DOUBLE CD COMPILATION OF PRE-INDEPENDENCE MUSIC FROM CENTRAL AND EAST AFRICA, MUSIC FROM THE COLLECTION OF SOUTH AFRICAN FIELD RECORDIST HUGH TRACEY. AND IT COMES IN A GORGEOUS HARDCOVER BOOK FULL OF PHOTOS, MAPS AND ESSAYS ABOUT THE SONGS.
BANNING: Here's one from Congo. The song is "Stanleyville Putulu" Stanleyville is Dusty. A lot of folks claim to have invented the Congolese "seben," but here it is shouted out by Henri "De Bon Coeur" Bembele back in the 1950s.
WINDOW: 05 Stanleyville Putulú (Stanleyville Is Dusty).mp3, Henri Bembele, Listen All Around (Dust to Digital, DTD 52) (emerge 1:47—end)
WINDOW: 06_Oulhin (My Heart Burns).wav, Bombino, Deran (Partisan Records, 7 2084 21542 4) (top to 1:12, could cut out some of intro before singing to shorten)
14 15 16 17 <18>
GEORGES: AH, THE UNMISTAKABLE VOICE AND GUITAR WORK OF NIGER'S BOMBINO.
BANNING: That's from his new rockin' new release Deran. And let's go to another rockin' album, the debut of the Paris-based trio, Delgres, making a connection between Creole roots from Guadeloupe and Louisiana.
GEORGES: THE SONG IS "MR PRESIDENT." AND WE UNDERSTAND IT IS A COMPLAINT LODGED AT SELF-SERVING PRESIDENTS EVERYWHERE—NO ONE IN PARTICULAR…
WINDOW: 07_Mr_President.wav, Delgres, Mo Jodi, (PIAS, 3 149020 933169) (emerge on vocal 0:15—0:58)
19 <20>
BANNING: Delgres, from their debut album, Mo Jodi.
GEORGES: LET'S HEAD SOUTH TO ZIMBABWE. THERE'S A NEW RELEASE FROM MBIRA ARTIST STELLA CHIWESHE.
BANNING: Only it's not really new. These are singles she recorded in the late '70s and early '80s. The album is Kasahwa: Early Singles, and the track is "Nhemamusasa."
WINDOW: 08_Nhemamusasa.m4a, Stella Chiweshe, Kasahwa: Early Singles (Glitterbeat, 4030433 606124) (first 50 seconds)
21 <22>
GEORGES: ZIMBABWE'S STELLA CHIWESHE CIRCA 1980 FROM A NEW COLLECTION OF EARLY SINGLES. BANNING, WE'VE GOT TWO GREAT NEW RELEASES FROM MADAGASCAR, DO WE NOT?
BANNING: That's right, Georges. Starting with Toko Telo, the trio featuring D'Gary on guitar and Monika Njava on vocals. Originally, the trio was completed by Regis Gizavo on accordion. Sadly, Regis died last year, and they've replaced him with a versatile young guitarist named Joel Rabesolo. Here's a track from Toko Telo's 2018 release Diavola.
WINDOW: 09_Oka Niny.wav, Toko Telo, Diavola (Anio Records, 192914098546)
23 <24>
GEORGES: MAN, THAT IS SOMETHING. THESE THREE ARE SO DEEPLY IN SYNCH.
BANNING: So true, Georges. And we made a terrific recording of this group at WOMEX this year, which we'll hear on a future program.
GEORGES: ALSO FROM MADAGASCAR, A NEW ALBUM FROM OUR GOOD FRIEND AND A PRINCE, IF NOT A KING, OF TSAPIKY MUSIC, DAMILY. THE ALBUM IS CALLED VALIMBILO.
WINDOW: 10_Malay Nama.m4a, Damily, Valimbilo (Bongo Joe, BJR 031) (up to 1:30)
25 26 <27>
BANNING: THE GREAT TSAPIKY GUITARIST/BANDLEADER OF SOUTHWEST MADAGASCAR, DAMILY, FROM HIS FOURTH INTERNATIONAL RELEASE, VALIMBILO.
GEORGES: AND HERE'S SOMETHING NEW AND DIFFERENT, MUSIC FROM A MAYAN RAPPER/SINGER FROM GUATEMALA. DR. NATIVO IS A CHAMPION OF INDIGENOUS RESISTANCE IN CENTRAL AMERICA, A STRUGGLE BEGUN BY HIS ANCESTORS. DR. NATIVO RECORDED HIS ALBUM GUATEMAYA WITH OUR FRIENDS AT STONETREE RECORDS IN BELIZE. THIS TRACK MERGES REGGAE AND CUMBIA.
WINDOW: 11_El 20.mp3, Doctor Nativo, Guatemaya (Stonetree) (2:02-end)
28 <29>
BANNING: From Guatemalan reggae-cumbia to Colombian techno-cumbia. Here's King Koya from his new album Tierra de King Coya.
WINDOW: 12_Tierra de King Coya (Feat La Walichera).wav, King Koya, Tierra de King Coya (ZZT Records) (emerge 2:24—3:26)
1 1 1 2 <3>
GEORGES: LA TIERRA DE KING COYA—THE LAND OF KING KOYA. THAT'S THE SECOND RELEASE FROM THIS COLOMBIAN TRAILBLAZER. OKAY, LET'S SHIFT GEARS AND HEAR A HIGH-ENERGY TAKE ON ETHIOPIAN POP FROM AN ISRAELI ENSEMBLE BASED IN BROOKLYN! CHECK OUT ANBESSA ORCHESTRA FROM THEIR 2018 ALBUM NEGESTAT.
WINDOW: 13_Gurage.mp3. Anbessa Orchestra, Negestat (Anbessa Orchestra, B07C8FTZVB) (top to 0:57)
4 <5>
BANNING: Anbessa Orchestra. Here's something special. Ethiopian keyboardist Hailu Mergia was a pillar of the legendary Walias Band. But after the golden age passed in Addis Ababa, he wound up as a taxi driver here in DC.
GEORGES: BUT, IN RECENT YEARS OUR FRIENDS AT AWESOME TAPES FROM AFRICA HAVE BEEN RELEASING HIS PAST WORK, AND THESE DAYS, HAILU IS TOURING THE WORLD WITH A NEW BAND.
BANNING: And Awesome Tapes has just released his first new album in 15 years.
GEORGES: IT'S CALLED LALA BELU, AND THIS TRACK IS "ADDIS NAT."
WINDOW: 14_Addis Nat.wav, Hailu Mergia, Lala Belu (Awesome Tapes From Africa, B077HNS2F4) (top to 1:09)
6 <7>
BANNING: New music from Ethiopian keyboard legend Hailu Mergia. Well, Georges, we've come to that inevitable moment we face every year.
GEORGES: OH BOY, LET ME GUESS. MALI?
BANNING: You guessed it. Once again, we're facing down a blizzard of very cool new releases from this musical powerhouse of West Africa.
GEORGES: THERE ARE TOO MANY MALIAN RELEASES EVEN TO SAMPLE IN OUR WHIRLWIND TOUR OF 2018 MUSIC. BUT WE'LL DO OUR BEST, STARTING UP NORTH WITH SIDI TOURE OF GAO, FROM HIS NEW ALBUM TOUBALBERO.
WINDOW: 15_Tchirey.mp3, Sidi Touré, Toubalbero (Thrill Jockey, 7903 7704 4225) (up to 0:10)
8 <9>
BANNING: This song, "Tchirey," is linked with a Songhai ritual summoning a powerful spirit. And you can feel the intensity in Sidi's performance. This album really cooks, Georges.
WINDOW: 15_Tchirey.mp3 (emerge on vocal at 0:29-1:30)
10 <11>
GEORGES: WOW! "TCHIREY" FROM SIDI TOURE'S TOUBALBERO. NEXT UP, THE LATEST FROM FATOUMATA DIAWARA, WHO WAS FEATURED ON OUR RECENT "WOMEN OF THE WEST" PROGRAM. FATOUMATA IS TOURING THE WORLD TO HUGE ACCLAIM THESE DAYS, PROMOTING HER NEW ALBUM, FENFO.
WINDOW: 16_Nterini.m4a, Fatoumata Diawara, Fenfo (Shanachie, 0 16351 66462 4) (emerge 2:02—2:45)
12 13 <14>
BANNING: What a voice! Fatoumata Diawara from Fenfo. Here's one I've been waiting for a long time. The first album from kamelengoni maestro Harouna Samake under his own name.
15 <16>
GEORGES: HAROUNA HAS PLAYED WITH SALI SIDIBE AND SALIF KEITA AMONG OTHERS. HERE HE IS CUTTING LOOSE WITH HIS OWN BAND FROM THE JUST-RELEASED ALBUM, KAMELE BLUES!
WINDOW: 17_Dissan Konon_FM.wav, Harouna Samake, Kamele Blues (The Danish Arts Foundation, 5707471032794) (emerge 2:41—3:37)
GEORGES: HAROUNA SAMAKE! MAN, THAT IS SOMETHING ELSE.
BANNING: And more to come in a special session with the band we recorded at WOMEX and will feature on an upcoming program.
GEORGES: BUT RIGHT NOW ANOTHER MALIAN SIDEMAN WHO HAS STEPPED INTO THE LIMELIGHT WITH HIS OWN ALBUM.
BANNING: That's right. Hama Sankare accompanied Ali Farka Toure on calabash and vocals throughout his career, and has anchored the groove for any number of top acts from northern Mali. But as he proves on his sensational solo debut, Ballébé, Calling All Africans, the guy can sing as well.
WINDOW: 18_Banda Laborou.m4a, Hama Sankere, Ballébé - Caling All Africans (Clermont Music 711574 82102 0) (top to 0:50)
17 <18>
GEORGES: THE GREAT HAMA SANKARE FROM NORTHERN MALI. COMING UP, NEW SOUNDS FROM SOUTH AFRICA, HAITI, CUBA, CONGO AND MORE. I'M GEORGES COLLINET…
BANNING: And I'm Banning Eyre. Visit afropop.org for a complete list of all the music flying by on our whirlwind tour of 2018 releases.
GEORGES: YOU'RE LISTENING TO AFROPOP WORLDWIDE, FROM PRI, PUBLIC RADIO INTERNATIONAL.
WINDOW: 20-second break: 19_Zéna Diabaté.mp3, Invisible System, Bamako Sessions (Riverboat Records, B07BFRDSNZ)
WINDOW: 20_Makhaza (feat. Mazambane).mp3, Irene Mawela, Ari Pembele - Let's Rejoice (Umsakazo Records, B078SGHRGN)
19 <20>
GEORGES: AH, THE SWEET SWING OF VINTAGE SOUTH AFRICAN MBAQANGA. NEW WORK FROM VETERAN IRENE MAWELA.
BANNING: That's right, Georges. Irene sang with the Dark City Sisters, one formation of the Mahotella Queens and a number of other township acts going back to the 1960s.
GEORGES: AND HERE SHE IS WITH A NEW ALBUM, ARI PEMBELE: LET'S REJOICE.
BANNING: Sounds like Irene got religion along the way.
GEORGES: MAYBE THAT'S WHAT IS KEEPING HER YOUNG! HERE SHE IS PERFORMING WITH THE GROANER MAZAMBANE.
WINDOW: 20_Makhaza (up to around 1:25)
21 <22>
BANNING: Irene Mawele. And here's a literal blast from the South African past. Professor Rhythm on a reissue from Awesome Tapes from Africa. This comes from 1991, as mbaqanga was morphing into kwaito.
GEORGES: THE ALBUM IS SIMPLY CALLED PROFESSOR 3.
WINDOW: 21_Via Zimbabwe.mp3, Professor Rhythm, Professor 3 (Awesome Tapes from Africa, B07BQNQJMP) (up to 0:35)
23 <24>
BANNING: Professor Rhythm. Fast forward to the sound of South African pop today.
GEORGES: AND YOU GET THIS, GQOM!
WINDOW: 22_Vosho.mp3, Qhizzo, Gqom Plug, (Akwaaba Music, B07DJD46PQ) (15 seconds should do it)
25 <26>
BANNING: That's Qhizzo from the album Gqom Plug. As we said in our program about Gqom—Did I say that right?—this was music made by Durban kids in their bedroom studios, and it just blew up.
GEORGES: WELL, MORE POWER TO THEM, BUT I'M MORE KEEN ON THIS NEW ALBUM FROM THABANG TABANE, SON OF THE LATE PHILLIP TABANE.
BANNING: Yes! Philip Tabane and Malombo created a totally original fusion of Venda roots and jazz. And Thabang has stepped out of the shadow with a wonderful debut album called Matjale.
WINDOW: 23_Nyanda Yeni.wav, Thabang Tabane, Matjale (Mushroom Hour Half Hour, B07G5MRD7G) (emerge 0:12—0:42)
27 28 <29>
GEORGES: OH, I LIKE THAT. ROOTS MUSIC LIVES IN SOUTH AFRICA.
BANNING: That's true, Georges. As Thabang told us, it's at the margins, but very much alive.
GEORGES: SAY, BANNING, HOW ABOUT A LITTLE ISLAND HOPPING, STARTING WITH ONE OF THE SWEETEST ALBUMS WE'VE HEARD ALL YEAR, THE DEBUT FROM CAPE VERDEAN SINGER LUCIBELA.
WINDOW: 24_Chica di Nha Maninha.m4a, Lucibela, Laço Umbilical (Lusafrica, 3 567257 6225624) (emerge 0:24-1:07)
30 <31> 1
BANNING: Man, I just love this album, maybe my favorite of the year. That voice just puts me in a trance.
<1>
GEORGES: I HEAR YOU, BANNING. AND YOU CAN HEAR A LOT MORE OF LUCIBELA ON OUR RECENT PROGRAM "CAPE VERDE: SOUNDS HEARD AND UNHEARD," AVAILABLE ON AFROPOP.ORG.
BANNING: Let's hop over to Cuba for some awesome rumba music from Los Rumberos de la Bahia. The album is called Mabagwe.
WINDOW: 25_Siempre Viviran.m4a, Los Rumberos De La Bahia, Mabagwe (Eguin Eje Records, 8 88295 65071 7) (emerge 1:22-2:04)
2 <3> <4>
GEORGES: WOW, WHAT A GREAT RECORDING. IT'S AS IF YOU ARE THERE. LOS RUMBEROS DE LA BAHIA FROM CUBA. MEANWHILE, ACROSS THE WATER IN HAITI, THERE'S A NEW ALBUM FROM RAM.
BANNING: It's called RAM 7, August 1791. There's plenty of great rara pop, and some deep history here. But we're king of fond of this sweet number with our old friend Richard Morse on Kreole lead vocal.
WINDOW: 26_Dominkani.mp3, RAM, RAM 7 - August 1791 (Willibelle P & S, B07FNGW4Z5) (0:22—1:04)
5 <6> (7 is a mystery. MIA?)
GEORGES: RICHARD MORSE AND RAM FROM HAITI. AND HERE'S SOMETHING UNUSUAL, A COLLABORATION BETWEEN DOMINICAN BACHATA MUSICIANS, INCLUDING THE GREAT JOAN SORIANO, AND MUSICIANS FORM HAITI.
<8>
BANNING: Haiti and the DR inhabit the same island, but they haven't always been best of friends as you know from our program "An Island Divided." And that makes this brand new release from Bachata Haiti, even more special.
WINDOW: 27_Necessite (Featuring El Zorro Negro & Martires De Leon).m4a, Bachata Haiti, Bachata Haiti () (emerge 0:39-1:43)
9 <10>
GEORGES: "NECESSITE" IT'S NECESSARY, THE LEAD TRACK ON BACHATA HAITI. CLASSIC BACHATA IN COLLABORATION WITH ARTISTS FROM HAITI. SO, BANNING, HOW ABOUT SOMETHING A LITTLE MORE CONTEMPORARY?
BANNING: I've got just the thing, Georges.
WINDOW: 28_La Frecuencia (Featuring Sandflower).m4a, Sarazino, Mama Funny Day (Cumbancha, ) (very short, time to next emerge)
11 12 <13>
BANNING: Paris-based Algerian singer Sarazino has a terrific new release called Mama Funny Day, a mix of reggae, funk, and rap. This track features Brooklyn's own Sandflower!
WINDOW: 28_La Frecuencia (Featuring Sandflower).m4a (0:10-0:54)
14 15 <16>
GEORGES: SARAZINO FROM MAMA FUNNY DAY. AND HERE'S A SOUND THAT IS ROCKING AFRO-PARIS THESE DAYS. RAPPER MHD FROM HIS ALBUM 19, "AFRO TRAP PT. 10, MOULA GANG."
WINDOW: 29_Afro Trap Pt. 10 (Moula Gang).m4a, MHD, 19 (Universal France, B079B8X819) (top – 0:55)
17 18 <19>
BANNING: MHD with a big hit this year, "Afro Trap Pt. 10, Moula Gang."
GEORGES: AND FROM MOULA GANG, TO MOULAY MASTERS, HEALING MUSIC FROM THE ATLAS MOUNTAINS OF MOROCCO. HOW'S THAT FOR A SEGUE?
BANNING: Pretty slick, Georges. Prepare to go into trance with Atlas Electric by Moulay Ahmed El Hassani.
WINDOW: 30_Lgaro Ya Ould Lhram.wav Moulay Masters, Moulay Ahmed El Hassani, Atlas Electric (Hivemind, ) (emerge 0:30—1:28)
20 <21>
GEORGES: OOO, I LIKE THE VIBE. ATLAS ELECTRIC BY MOULAY MASTER AHMED EL HASSANI.
BANNING: And let's keep vibe going, from the Atlas mountains to the Sahara desert, here's electric takamba music from the Malian desert. This is one of a number of raw, rootsy releases from our friends at Sahelsounds.com. The album is Hali Dialo by Tallawit Timbouctou.

WINDOW: 31_Hali Diallo.mp3, Tallawit Timbouctou, Hali Diallo (Sahel Sounds, B07GW4FBNW) (first 45-seconds, then crossfade into next track)
WINDOW: 32_Joceyl Mirahiis (Vocals By Sahra Dawa).m4a, Dur-Dur Band, Dur-Dur Of Somalia (Analog Africa, B07G2PK4PZ) (top to 0:08)
22 <23>
GEORGES: HERE'S A FIND, AN ALBUM OF PREVIOUSLY UNRELEASED TRACKS BY SOMALIA'S DUR-DUR BAND.
BANNING: That's right, Georges. Dur Dur Band was a sensation in Somalia in the 1980s. They combined local roots and funk and soul in much the way the Ethiopian bands of the early '70s did. This two-volume collection from Analog Africa is called Dur Dur of Somalia.
<LAST PICK UP>
GEORGES: FUNKY STUFF, I TELL YOU. CHECK OUT SAHRA DAWA'S VOCAL ON THIS TRACK.
WINDOW: 32_Joceyl Mirahiis (Vocals By Sahra Dawa).m4a, (emerge 0:55—1:38)
24 <24>
GEORGES: DUR DUR OF SOMALIA. AND THERE'S ANOTHER GREAT REISSUE OF VINTAGE EAST AFRICAN POP OUT THIS YEAR. THIS TIME FROM SUDAN.
BANNING: It's called Two Niles to Make a Melody, the Violins and Synths of Sudan. The selections are superb. Let's hear this classic from the late Mohamed Wardi, 'Al Mursal, The Messenger."
WINDOW: 33_Al Mursal (The Messenger).m4a, Mohamed Wardi, Two Niles to Make a Melody (Ostinato Records, 8 43563 10601 3) (emerge 1:32-2:10)
25 26 <27>
GEORGES: THAT'S A VOICE YOU DON'T FORGET, THE GREAT MOHAMED WARDI FROM THE NEW SUDANESE REISSUE COMPILATION TWO NILES TO MAKE A MELODY.
BANNING: And that is truly a great stocking stuffer. It's a double CD packaged into a hardcover booklet with terrific essays and photos.
GEORGES: AND SPEAKING OF GIFTS, WE SAID WE'D GET BACK TO VINYL. HERE ARE THREE MORE REISSUES OUT THIS YEAR IN BEAUTIFUL VINYL PACKAGES. BEGINNING WITH SENEGAL'S CHEIKH LO AND A NEW VINYL RELEASE OF HIS DEBUT INTERNATIONAL ALBUM NE LA THIASS.
WINDOW: 34_Boul_di_Tagale.wav, Cheikh Lô, Ne La Thiass (0:18—0:47)
28 <29>
BANNING: So smooth! This vinyl reissue from Cheikh Lo comes from World Circuit, which also put out vinyl versions of classics from Ali Farka Toure and Cachaito this year.
GEORGES: NEXT UP, A NEW COLLECTION OF FUNKY TRACKS FROM BENIN. IT'S AFRICAN SCREAM CONTEST 2 ! ALSO AVAILABLE IN AN ELEGANT VINYL PACKAGE.
WINDOW: 35_Nounignon Ma Klon Midji.mp3, Ignace de Souza and Gnonnas Pedro, African Scream Contest 2 (Analog Africa ) (emerge 0:14—0:58)
30 <1>
BANNING: Ignace de Souza and Gnonnas Pedro from the extra funky African Scream Contest 2. And one more great vinyl reissue, this time from Congo back in the day.
GEORGES: YES! A DOUBLE VINYL RELEASE OF CONGOLESE GUITAR LEGEND NICOLAS KASANDA, AKA DR. NICO. THE TITLE IS "DIEU DE LA GUITAR." GOD OF THE GUITAR.!
WINDOW: 36_Limbisa ngai.mp3 Dr. Nico, Dieu De La Guitare (Planet Ilunga) (top to 0:48)
2 <3> (LAST TAKE)
BANNING: Dr. Nico on lap steel guitar from the new compilation Dieu de la Guitare. Georges, we're running out of time here, but there are a couple more Congo releases we need to mention. Starting with Bumba Massa, a veteran singer of the band Kekele, out with an all-new album called V70.
WINDOW: 37_Souvenirs Vicky Longomba.mp3, Bumba Massa, V70 (Cantos, B076MMN6KX) (top to 0:58)
4 5 <6>
GEORGES: I LOVE IT! CONGOLESE VOCAL LEGEND BUMBA MASSA FROM HIS NEW ALBUM V70, ALSO AVAILABLE ON VINYL, BY THE WAY.
BANNING: One more from Congo, Georges. Anyone who heard our program "Congo Music: The Fifth Generation," will remember Jupiter and Okwess, a rocking, non-rumba group that's also been tearing up stages across the United States in 2018.
GEORGES: NOW, TECHNICALLY JUPITER AND OKWESS'S ALBUM KIN SONIC, CAME OUT LAST YEAR.
BANNING: But it was only released in the US this year, so in honor of their tireless touring, we're including it.
WINDOW: 38_Benanga.m4a, Jupiter and Okwess, Kin Sonic (Zamora, 3 521383 442241) (top to 1:00)
7 <8> 9 <10>
GEORGES: HOT STUFF FROM JUPITER AND OKWESS FROM THE ALBUM KIN SONIC. BANNING, THIS HAS BEEN A BLAST. AND THERE'S SO MUCH MUSIC THAT CAME OUT IN 2018 THAT WE COULDN'T GET TO.
BANNING: I know. We're hopeless at top 10. Even top 40 isn't enough for us.
GEORGES: JUST A TESTIMONY TO THE UNBELIEVABLE RICHNESS OF THE MUSIC WE ARE PRIVILEGED TO SHARE WITH ALL OF YOU. SO AS YOU HEAD INTO THE HOLIDAYS, VISIT AFROPOP.ORG FOR A COMPLETE LIST OF THE ALBUMS WE SAMPLED ON THIS PROGRAM. BANNING, WHAT HAVE YOU GOT TO TAKE US OUT?
BANNING: Just the thing, Georges. Brassy, kicking, instrumental Afrobeat music from Brazil. It's the latest from Bixiga 70. The album is called Quebra Cabeça.
WINDOW: 39_Quebra Cabeça.m4a, Bixiga 70, Quebra Cabeça (Glitterbeat, B07G7HYN6B) (top or 0:19—0:45)
11 <12> <13>
GEORGES: BRAZIL'S BIXIGA 70 ROUNDING OUT OUR STOCKING STUFFERS EDITION FOR 2018. FUNDING FOR AFROPOP WORLDWIDE COMES FROM THE NATIONAL ENDOWMENT FOR THE ARTS, WHICH BELIEVES A GREAT NATION DESERVES GREAT ART, AND PRI PUBLIC RADIO INTERNATIONAL AFFILIATE STATIONS AROUND THE U.S. AND THANK YOU FOR SUPPORTING YOUR PUBLIC RADIO STATION.
BANNING: Thanks to Sean Barlow, Ben Richmond and the entire Afropop team for their help with this program. And remember to visit afropop.org for a list of all the great music we heard today. You can also find us on Facebook and follow us on Twitter at "AFROPOPWW."
GEORGES: MY AFROPOP PARTNER IS SEAN BARLOW. SEAN PRODUCES OUR PROGRAM FOR WORLD MUSIC PRODUCTIONS. AND, BE SURE TO SUBSCRIBE TO OUR PODCAST, INCLUDING RADIO PROGRAMS AND OUR AFROPOP CLOSEUP PODCAST SERIES.
<14>
JOIN US NEXT WEEK FOR ANOTHER EDITION OF AFROPOP WORLDWIDE. THIS PROGRAM WAS MIXED AT STUDIO 44 IN BROOKLYN BY STEPHANIE LEBOW. ADDITIONAL ENGINEERING BY YOURS TRULY. BANNING EYRE AND CC SMITH EDIT OUR WEBSITE, AFROPOP.ORG. OUR DIRECTOR OF NEW MEDIA IS BEN RICHMOND.
BANNING: I'm Banning Eyre
GEORGES: AND I'M GEORGES COLLINET.
TOGETHER: HAPPY HOLIDAYS!
PROMO TEXT (THIS PROGRAM)
15 <16>
WELL, YOU MIGHT THINK THE WORLD IS GOING TO PIECES IN 2018, BUT IT SURE DIDN'T STOP THE MUSIC! I'M GEORGES COLLINET.
And I'm Banning Eyre. Join us for our annual stocking stuffers program.
A WHIRLWIND TOUR OF THE YEAR'S BEST AFRICAN-INSPIRED MUSIC, NEXT TIME ON AFROPOP WORLDWIDE FROM PRI, PUBLIC RADIO INTERNATIONAL.
PROMO (NEXT PROGRAM)
<17> 18
EVERY YEAR THE WOMEX WORLD MUSIC EXPO BRINGS TOGETHER ARTISTS FROM AROUND THE WORLD, AND THE FOLKS WHO MAKE THEIR CAREERS TICK. HELLO, I'M GEORGES COLLINET. JOIN ME FOR INTIMATE SESSIONS OF MUSIC AND CONVERSATION WITH THE ARTISTS. "LIVE FROM THE WOMEX STUDIO" NEXT TIME ON AFROPOP WORLDWIDE FROM PRI, PUBLIC RADIO INTERNATIONAL.