The Gorgon, The Originator, and The Dub Master: Reggae Pioneers Bunny Lee, U Roy, and King Tubby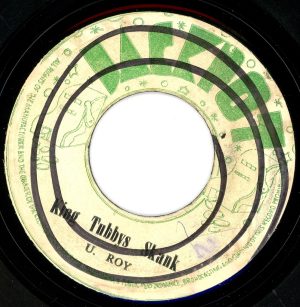 Photo: ©David Katz
During the last 60 years, Jamaican music has constantly reinvented itself, a handful of innovators pioneering distinct musical genres such as ska, rock steady, reggae and dancehall, as well as shorter-lived subgenres.
But Jamaica's musical trendsetters did much more than just shake up the island's music scene. At crucial intervals, their inventiveness has dramatically changed or even spawned a range of popular forms overseas—sowing seeds for rap via the deejay style and stimulating remix culture through dub.
In "The Gorgon, The Originator and The Dub Master," producer David Katz leads a tour of indelible changes brought about by producer Bunny "Striker" Lee, DJ U Roy and engineer and sound system owner, King Tubby, to demonstrate how they changed popular music worldwide.
All photos ©David Katz.
Produced by David Katz.

The Gorgon, the Originator, and the Dub Master Playlist
U Roy, "King Tubby's Skank"
Roy Shirley, "Music Field"
Stranger Cole and Lester Sterling, "Bangarang"
Slim Smith, "Everybody Needs Love"
Roland Alphonso, "1000 Tons Of Megaton"
Derrick Morgan, "Hold You Jack"
Max Romeo, "Wet Dream"
The Wailers, "Jailhouse"
Roy Richards, "Green Collie"
Count Machuki, "Movements"
Skatalites, "Guns Of Navarone"
Sir Lord Comic, "The Great Wuga Wuga"
U Roy, "Non-Violence"
Lester Sterling, "Reggae In The Wind"
Tommy McCook, "Inez"
Ken Boothe, "Old Fashioned Way"
U Roy, "Dynamic Fashion Way"
Alton Ellis, "Girl I've Got A Date"
U Roy, "Wake The Town"
U Roy, "This Station Rule The Nation"
U Roy, "Wear You To The Ball"
U Roy, "Untitled Version"
Slim Smith, "Ain't Too Proud To Beg"
U Roy, "Love I Bring"
God Sons, "Merry Up"
Lloyd & Kerry, "Tubbys In Full Swing"
Lee Perry, "Bathroom Skank"
Dillinger, "Dub Organiser"
Leo Graham [Upsetters], "Flashing Echo"
Lee Perry, "Black Panta"
King Tubby, "King Tubby's Rock"
Augustus Pablo, "King Tubby Meets Rockers Uptown"
Cornel Campbell, "Never Found A Girl"
Cornel Campbell, "The Gorgon"
U Roy, "Gorgon Wise"
Cornell Campbell, "Dance In A Greenwich Farm"
U Roy, "Chalice In The Palace"
King Tubby, "Dub Magnificent"
Derrick Harriott, "More Scrubbing The Dub"
Pat Kelly, "Fair Lady"
Bunny Lee [Philip Smart], "Skanking Dub"
Horace Andy [Prince Jammy], "Dub There"
Niney the Observer [King Tubby], "Kingsgate Version"
Scientist, "The Corpse Rises"
Charlie Chaplin, "Untitled" [Lose Respect]
Anthony Red Rose, "Tempo"
Courtney Melody, "Tribute To King Tubbys"
Beenie Man, "Try Some Hustling"
U Roy & Santigold, "Man Next Door"