The Gqom Generation of Durban, South Africa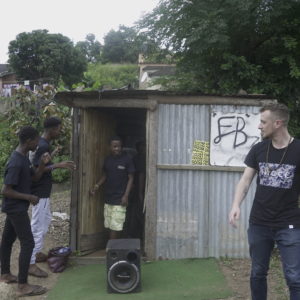 The latest music craze to hit South African dance floors is a dark, pulsating and energetic sound called gqom. For the past seven years, a young and technologically skilled generation in Durban, KwaZulu Natal, has created and finessed a sound that has the world hooked and wanting more. It is an entire cultural movement complete with distinctive dance moves and styles. We talk to some of the deejays and young producers of this genre, like DJ Lag, Citizen Boy and Distruction Boyz, as well as Gqom Oh record label owner Francesco Nan Kolé to understand where gqom originated, how it's made and where it's going. We also look at how this rough and raw party music has evolved to accommodate a more commercial market.
Music from this program:
"Woza Taxi - Gqom Secret Stash Out Of The Locations." A Documentary presented by Crudo Volta and GQOM OH!.
Transcript
AKORNEFA AKYEA: You know, I was listening to some of your music on the Gqom-Oh label--
CITIZEN BOY: Oh, that's perfect yeah!
AA: Did I do it?
CB: Yeah you said it.
AA: Yes!
CB: Did you practice or, or what happened?
AA: Listen, I've been practicing for weeks now O.K., because I don't want to sound a mess on the radio!
CB: Yeah I know [Laughs].
AA: I appreciate you saying that I did it correctly.
CB: Yeah it was perfect, perfect, perfect.
AA: Thank you!
CB: I wonder who taught you. No one taught you?
AA: No one taught me. You know, I've been listening…
CB: I'm proud! [Laughs]
Music: Sbucardo da DJ- "IPhoyisa" feat. Abnormal, The Originators
DJ LAG: For me, how I see gqom, it's a genre that makes people happy. Either you're black, white, colored, it's the same. You can dance to gqom and everybody enjoys when I'm playing gqom. It's fun music actually, that's what I can say.
GEORGES COLLINET: HELLO, I'M GEORGES COLLINET WITH YOU ON AFROPOP WORLDWIDE FROM PRI PUBLIC RADIO INTERNATIONAL. YOU JUST HEARD CITIZEN BOY AND DJ LAG A.K.A GQOM KING, GQOM PRODUCERS AND DJS FROM DURBAN, SOUTH AFRICA IN CONVERSATION WITH AFROPOP PRODUCER AKORNEFA AKYEA. TODAY ON "THE GQOM GENERATION OF DURBAN, SOUTH AFRICA" WE WILL BE EXPLORING THE ORIGINS AND EVOLUTION OF THE ENERGETIC, DARK, AND PULSATING HOUSE MUSIC THAT IS TAKING OVER THE AFRICAN CONTINENT AND THE WORLD. WE'LL SPEAK WITH MORE ARTISTS LIKE THE DISTRUCTION BOYZ, WHO HAVE TAKEN THIS MUSIC AND MADE IT MORE COMMERCIAL. WE ALSO TALK TO FRANCESCO NAN KOLE, A.K.A. MALUMZ, THE ITALIAN RECORD LABEL OWNER OF GQOM-OH, WHICH WAS ONE OF THE FIRST LABELS TO DISTRIBUTE GQOM INTERNATIONALLY.
CB: It's my theory though, I was thinking that the word gqom, maybe someone was making some music in their room and someone's mother or grandmother was inside and said "Who's that making that noise! That gqom- gqom-gqom sound!" And maybe that's how the name came about. Because the mother was complaining about "that gqom-gqom noise!" And people started calling it gqom because it was banging, saying gqom-gqom-gqom. I guess that's how it came.
GC: BUT THIS MUSIC IS FAR FROM MEANINGLESS NOISE. GQOM HAS GARNERED ATTENTION FROM PRODUCERS AND RECORD LABELS ABROAD. IN FACT, YOU MIGHT SAY AN ENTIRE CULTURAL MOVEMENT STARTED FROM THE BEDROOMS OF TEENAGERS IN DURBAN, SOUTH AFRICA WHO JUST WANTED TO MAKE THEIR FRIENDS DANCE. THE GENRE THEY HAVE SO CREATIVELY INVENTED IS A RESULT OF ACCESSIBLE MUSIC PRODUCTION TECHNOLOGY AND DEMOCRATIZED METHODS OF SELF PROMOTION WITH THE HELP OF SOCIAL MEDIA AND TAXIS. THAT'S RIGHT, AS WE'LL SEE LATER, TAXIS WERE ONE OF THE MOST IMPORTANT VENUES TO PROMOTE EARLY GQOM MUSIC.
Music: DJ Lag- "DAISES," The Originators
GC: THIS IS DJ LAG'S SONG "DAISES." NOW LETS HEAR FROM THE DJ WHO IS SPEAKING WITH AFROPOP PRODUCER, AKORNEFA AKYEA, ABOUT THE EARLY DAYS OF GQOM.
DJ Lag: My name is DJ Lag. Basically I'm a producer of gqom music and a DJ. I started producing when I was 16 years old. Back in the days I was doing hip-hop before I started doing gqom. But most of the influences of my music comes from hip-hop. So I started doing gqom... I think it was around 2012, yeah, 2012.
AA: How old are you now?
DL: 23
AA: You're so young!
DL: Yeah, there is a guy, two guys called Naked Boyz, they are the ones that started the movement. It was Naked Boyz and then me and Rude Boyz and Spoukado and the Lucy Man. So like the five of us in the whole of Durban, in the whole of South Africa who were making gqom music.
AA: How would you describe gqom?
DL: There's a little bit of hip-hop in it, there's a little bit of kwaito, a little bit of house and some traditional music which is Maskandi that we use on making gqom. Like the drumming comes from Maskandi and the guitars. And then we just change it a little bit, with like a hard house kick on it and some African trance. Yeah.
GC: LET'S BACK UP A BIT BECAUSE DJ LAG MENTIONED QUITE A FEW GENRES: KWAITO, HOUSE, HIP-HOP, TRADITIONAL, AFRICAN TRANCE, AND MASKANDI MUSIC.
Music: Phuzekemisi- "Imbizo," Imbizo
GC: DURBAN IS LOCATED IN KWAZULU NATAL, RIGHT ON THE EASTERN COAST OF THE COUNTRY. KWAZULU NATAL IS HOME TO THE ZULU PEOPLE WHO MAKE UP THE LARGEST ETHNIC GROUP IN SOUTH AFRICA AND HAVE RICH CULTURAL TRADITIONS. THOSE TRADITIONS, INCLUDING POWERFUL MUSIC AND DANCE, HAVE CONTINUED TO EVOLVE IN THE FACE OF BRITISH COLONIZATION AND THE LONG-LASTING APARTHEID ERA. WHAT WE ARE HEARING NOW IS MASKANDA MUSIC BY PHUZEKEMISI. DJ LAG USES THE TERM MASKANDI, WHICH DESCRIBES THE PEOPLE WHO PLAY THE MUSIC. IN THIS PROGRAM, WE'LL FOLLOW DJ LAG'S LEAD AND CALL IT MASKANDI. THIS MUSIC ORIGINATED IN THE EARLY 20TH CENTURY DURING THE TIME OF FORCED LABOR AND MIGRATION. FOR MORE ON MASKANDI, CHECK OUT OUR HIP DEEP PROGRAM "THE ZULU FACTOR" ON AFROPOP.ORG. IT'S A CLASSIC. MASKANDI REMAINS A VERY POPULAR FOLK, NEO-TRADITIONAL GENRE OF THE REGION WHICH ADOPTS EUROPEAN INSTRUMENTS LIKE A CONCERTINA AND PLAYS THEM IN A LOCAL STYLE.
GC: THE SPIRIT OF MASKANDI REMAINS EVEN AS TECHNOLOGY HAS TRANSFORMED SOUTH AFRICAN POP MUSIC INTO NEW STYLES THAT FIT THE ERA. FROM THE MBAQANGA OF MATHLATHINI AND THE MAHOTELLA QUEENS TO BUBBLEGUM IN THE '80s FROM ARTISTS LIKE YVONNE CHAKA CHAKA.
Music: Yvonne Chaka Chaka "Umqombothi" Thank you Mr. DJ
GC: AS WE HEARD IN THE AFROPOP PROGRAM, "AFRO-TECH: STORIES OF SYNTHS IN AFRICAN MUSIC," TECHNOLOGY AND SYNTHESIZERS ALLOWED MUSICIANS TO PRODUCE THEIR OWN MUSIC WITH A WIDER PALETTE OF MELODIES AND RHYTHMS. FROM THE LARGELY APOLITICAL BUBBLEGUM MUSIC, WE GO TO KWAITO, A MORE OUTSPOKEN GENRE THAT BECAME POPULAR IN THE 1990'S, POST APARTHEID.
Music: Malaika "2 Bob" The Essential
GC: KWAITO CONTINUED TO USE TECHNOLOGY TO DEVELOP THE SOUND AND INCLUDE ELEMENTS OF HIP-HOP, HOUSE, R&B AND OTHER SOUTH AFRICAN GENRES. BUT ALL THROUGHOUT THESE EVOLUTIONS, THE UPBEAT DRIVING SPIRIT OF THE SONGS AND SIGNATURE SYNCOPATED KICK HAS BECOME A DEFINING THREAD THROUGH THESE POPULAR GENRES.
GC: KWAITO IS A SLOWER KIND OF HOUSE GENRE. WE HEAR LOOPS IN KWAITO GENERATED BY DIGITAL SAMPLERS, SYNTHESIZER, DRUM MACHINES AND COMPUTER SOFTWARE. TAKE A LISTEN.
Music: TKZEE- "Dlala Mapantsula" Guz Hits
GC: THAT WAS "DLALA MAPANTSULA," A KWAITO HIT BY TKZEE.
GC: KWAITO EMERGED FROM JOHANNESBURG BUT MORPHED INTO SOMETHING MORE ENERGETIC IN DURBAN AND IS KNOWN SIMPLY AS DURBAN KWAITO.
Music: Big Nuz "Tsege Tsege" For The Fans
GC: ARTISTS LIKE BIG NUZ WHO WE ARE HEARING NOW AND BABES WODUMO PROPELLED THE GENRE UNDER AFROTAINMENT, WHICH IS A RECORD LABEL AND CULTURAL MOVEMENT LED BY DJ TIRA AND FOUNDED IN 2007. ONCE KWAITO WAS SITUATED IN DURBAN WITH A YOUNG GROUP OF ARTISTS, THAT ENERGY STEAMROLLED INTO GQOM.
DL: I was listening to Kwaito, then it changed to Durban kwaito and then gqom came and changed everything. [laughs].
Music: Griffit Vigo "GQOMU 5" The Originators
GC: HERE IS PRODUCER AKORNEFA AKYEA
AA: THE GQOM PRODUCERS I SPOKE WITH ARE NOW IN THEIR LATE TEENS AND EARLY TWENTIES AND BEGAN MAKING THE MUSIC IN 2011 AND 2012 WHEN THEY WERE IN THEIR EARLY- MID TEENS. THE EMPOWERING TOOL IN THIS MUSICAL STORY IS FRUITYLOOPS. FRUITYLOOPS IS A DIGITAL AUDIO WORKSTATION WHICH IS AN APPLICATION SOFTWARE USED TO PRODUCE MUSIC. IT CAN BE EASILY ACQUIRED AND IS QUITE SIMPLE TO USE.
CB: My name is Sboniso Brandon Luthuli. I am also known as Citizen Boy. A South African, DJ, producer, sound engineer, record label owner. Yeah. I live in Durban South Africa. That's me, yeah. Right now I'm at home, I was about to make music, not that I was about to make music, I am making music right now. I'm in my bedroom. So called studio… bedroom studio. I just got like monitors, laptop, the basic studio stuff, the start off studio equipment, like my monitors sound card, microphone… most importantly, it's my laptop. It's what I use to make music.
AA: Are you making music on FruityLoops?
CB: Most of the time I just use FruityLoops because that's where I started and that's my comfort zone. It's quite simple and easy. Everything is easy on FruityLoops.
AA: FRUITYLOOPS LETS ANY WOULD-BE PRODUCER ASSEMBLE SYNTH SOUNDS, SAMPLES, DRUM RHYTHMS AND BEATS TO CREATE A UNIQUE GQOM TRACK IN A MATTER OF HOURS. DJ LAG SAYS THAT IT TAKES HIM AN HOUR OR TWO TO MAKE A TRACK. HERE IS CITIZEN BOY TALKING ABOUT HIS TRACK MAKING PROCESS.
Music: Citizen Boy "Woza" Tribute To Malumz Kolè
CB: The first thing I do, I usually start with samples, like vocals and stuff. Feel it. And then, put my usual dark strings. That's what sets the tone of the song and sets the mood of the song. And then, I put some, maybe some snares, some claps and then end off with the kick. Most of the time I usually end off with the kick. 'Cause I don't focus on the kick, I focus more on the sounds and stuff and then yeah I save! I'm done!
AA: When you add the kick, can you describe what that is? What that sounds like?
CB: The kick? The kick, it sounds more of the hard stuff like: (vocalizes the sound). That's the kick. (Vocalizes again). That's why we call it gqom. It has that gqom-gqom sound. It has to cut. It has to dig deep. Yeah, that's why we call it gqom.
AA: So that's the fundamental part.
CB:Yes, that's the fundamental part, yes. Perfect word.
GC: WE'RE HEARING "WOZA" BY CITIZEN BOY. FROM THE PRODUCER'S BEDROOMS, CATCHY GQOM TRACKS FIRST SAW THE LIGHT OF DAY VIA SOCIAL MEDIA WHERE PRODUCERS AND FANS WOULD SHARE IT ON TWITTER, FACEBOOK AND ALSO IN THE UNLIKELIEST OF PLACES: TAXIS.

DL: The taxi culture is really big here in Durban. They play like a really pretty good role on pushing our music around the city because we wait for the taxi that has the biggest sound and then we just give them CDs for free just to play our music. And that's how music got popular and spread out all over Durban.
CB: Where I heard about gqom. I first started taking buses. Our buses this side, they have sound systems in them. And they play music just to attract people. So I heard this genre called gqom in the bus. Back then I didn't know what it was. The first song I heard that made me lose my mind was DJ Lag's song called 'blast'. And I started losing my mind. It was so nice. And then after that, it influenced me to make music.
GC: THE 2017 DOCUMENTARY FILM "WOZA TAXI" WAS PRODUCED BY THE ITALIAN COLLECTIVE, CRUDO VOLTA IN COLLABORATION WITH NAN KOLE, OWNER OF GQOM- OH, AN INTERNATIONAL GQOM RECORD LABEL. "WOZA TAXI" SHEDS A LIGHT ON HOW GQOM MUSIC WAS POPULARIZED BY TAXI BUSES IN DURBAN SHUTTLING PASSENGERS AROUND THE CITY AND EXPOSING THEM TO HYPNOTIC, DANCEABLE BEATS. HERE'S FRANCESCO NAN KOLE EXPLAINING HOW TAXIS ARE THE REAL TASTEMAKERS.
Music: TLC FAM- "Baleka" Isbethelo seGqom
Francesco Nan Kolè: If the taxi driver would play the track it means it's O.K. It's a good track. It's a banger. Because the taxi usually are connecting the township to the city center. Also the taxi drivers sharing the tracks between them. If I play a track from Umlazi township to the taxi rank in South Beach the track is traveling in the space of the city. So it was really important for them. I remember one time I was talking with the Formation Boyz's moms. Yeah and they were telling me this story. The first time they recognized the guys were doing well, because the mom was going to work and she got a taxi and they were playing the track of one of their songs. They always put the boys' track in the song. And she was like "Oh, is that my son?"
GC: THE IMPORTANCE OF THE TAXIS WAS NOT LOST ON THE GQOM ARTISTS THEMSELVES. TLC FAM, A COLLECTIVE OF 23 PRODUCERS, DEEJAYS, DANCERS AND EMCEES FROM NEWLANDS WEST, DURBAN, TOOK ON THE JOB OF PROMOTING THE TAXI BUSINESS IN ORDER TO INCREASE THEIR EXPOSURE. THEY SHOWCASED THEIR ZULU CULTURE IN THEIR LYRICS, SOUND AND TITLES. THEY ALSO CREATED AND POPULARIZED THE DISTINCT "TAXI KICK" SOUND, A DISTORTED HARD KICK CREATED IN FRUITYLOOPS. THE SOUND IS LOUD AND LOCAL AND ATTRACTS CUSTOMERS TO TAXIS.
FNK: We had these artists signed on our label called TLC FAM. They have a taxi business and they have their own taxis. And so yeah, I had been with them on a Saturday night and it was crazy because we were going around Durban and we stop in the taxi rank where there was a lot of taxis playing gqom. It was crazy. The energy was like on a another level. All these young kids on a Saturday night. It was amazing, amazing. And sometimes they put lights, like disco lights inside the taxi so it's like, proper mini club. You need to enjoy. For all the people to understand gqom need to go to Durban because you can understand that very well, what is gqom for real.
GC: LET'S HERE SOME MUSIC from THE TAXI KICK ROYALTY, TLC FAM.
Music: TLC Fam- "Da Power" Isbethelo seGqom
GC: YOU ARE LISTENING TO "THE GQOM GENERATION OF DURBAN." COMING UP, WE WILL SEE WHAT IT MEANS TO UNDERSTAND GQOM FOR REAL. TO UNDERSTAND HOW PEOPLE MOVE TO THE MUSIC AND THE ENVIRONMENT IT WAS CREATED IN. WE ALSO TALK TO THE DISTRUCTION BOYZ ABOUT THEIR VIRAL TRACK "OMUNYE." FOR A FULL TRANSCRIPT OF THIS PROGRAM AND PLAYLISTS OF THE MUSIC YOU HEARD, AND LINKS TO VIDEOS, INCLUDING THE DOCUMENTARY WOZA TAXI, VISIT AFROPOP.ORG . I'M GEORGES COLLINET, AND YOU'RE LISTENING TO AFROPOP WORLDWIDE, FROM PRI, PUBLIC RADIO INTERNATIONAL.
WINDOW: 20-second break "Midnight Starring" DJ Maphorisa, Rude Boyz, Distruction Boyz, DJ Tira Busiswa, Moonchild Sanelly
Music: DJ Lag "Trip To New York" Trip to New York- EP
GC: TO UNDERSTAND GQOM ALSO MEANS UNDERSTANDING HOW SOUTH AFRICANS MOVE THEIR BODIES TO THE SOUND. IF YOU CAN'T VISIT DURBAN, DO YOURSELF A FAVOR AND VISIT YOUTUBE AND TYPE IN BHENGA DANCES. B-H-E-N-G-A. THIS SEARCH WILL BRING UP MANY YOUTUBE VIDEOS OF YOUNG PEOPLE DANCING TO GQOM. HERE IS AKORNEFA.
AA: THE WAY MUSIC TRAVELS ACROSS THE DIASPORA IS OFTEN THROUGH DANCE. THERE IS A DEEP COMMUNICATION THAT HAPPENS AMONG PEOPLE OF AFRICAN DESCENT WHEN MOVEMENT OCCURS AS A RESULT OF A FAMILIAR RHYTHM. THAT MUST HAVE BEEN WHY SLAVE OWNERS WERE SO ADAMANT ABOUT BANNING DRUMMING ON THE PLANTATIONS.
Music: DJ Khaled, Rihanna, Bryson Tiller- "Wild Thoughts" Grateful
AA: EARLIER THIS YEAR, BARBADIAN SINGER, RIHANNA GOT ON ONE OF THE BIGGEST STAGES IN THE WORLD, THE GRAMMYS, AND PERFORMED HER CHART TOPPING HIT "WILD THOUGHTS" ALONG SIDE DJ KHALED AND BRYSON TILLER. THE MOMENT THE PERFORMANCE ENDED, IT WASN'T THE PHENOMENAL STAGING OR RADIANT OUTFITS PEOPLE ON TWITTER WERE GUSHING ABOUT, BUT RATHER IT WAS THAT DANCE SHE DID AT THE END. PEOPLE TWEETED "DID YOU SEE RIHANNA HIT THAT STANKY LEG AT THE END?" STANKY LEG IS AN AFRICAN AMERICAN DANCE THAT ISOLATES THE MOVEMENT OF ONE LEG WHILE LEANING TO ONE SIDE.
Music: DJ Lag "Trip To New York" Trip to New York- EP
AA: SOUTH AFRICANS AND OTHERS FAMILIAR WITH THE DANCE SWIFTLY CORRECTED THIS MISTAKEN IMPRESSION. THE DANCE WAS ACTUALLY GWARA GWARA, A VIRAL STEP INVENTED BY DJ BONGZ, A SOUTH AFRICAN DJ FROM DURBAN. IT IS A DANCE THAT ACCOMPANIES GQOM MUSIC. AND FOR A LOT OF PEOPLE WATCHING THE GRAMMYS IN AMERICA, THIS IS HOW THEY BECAME ACQUAINTED WITH GQOM. HERE IS FRANCESCO TALKING ABOUT HIS FIRST TRIP TO DURBAN.
FNK: One aspect I was missing and which was really interesting was the dance aspect of gqom. When I was listening the first gqom around 2013/ 2014, it sounds very dark. It has this kind of different imagery. But then I discovered that it was just a party music. It was a music produced to dance. I mean, it's like fundamental. When they are building the track they start to dance when they are making the track because they need to understand if it's working. That is the main aim of a gqom track, you know?
AA: Did you learn any dances while you were there?
FNK: [Laughs]. The guys were really caring about me. They said "Malumz, you have to learn how to do ivosho or other kind of moves." I'm not a really good dancer but I'm trying to do my best.
AA: What did they call you? Malumz?
FNK: Malume. Malume which means uncle. I'm older.
CB: Yeah, Malume [laughs]. I couldn't call him bro because he's old. Not exactly old. He's older than me. That's why I said I can't call you bro. We used to call each other bro and I said nah, I can't call you bro. I prefer I call you malume. Meaning uncle. And then he asked me what does nephew mean and I told him it's umshana. Ever since then he's been my malume and I've been his umshana.
GC: CITIZEN BOY IS PART OF FRANCESCO'S GQOM-OH RECORD LABEL AND UNDERSTANDS WHAT IT MEANS FOR THE MUSIC AND DANCES FROM DURBAN TO REACH AN INTERNATIONAL LEVEL.
CB: Being a part of Gqom-Oh is really amazing. Because the people this side, they start to know gqom-oh and it's something big! They want T-shirts and stuff and it's nice to be a member of something that's big because you get to flex. You feel important and stuff. So yeah, I feel special. Gqom-Oh helped me to gain recognition like all around the world. It helped me to be in magazines like Chicago Reader, Fader, Mixed Mag, Rolling Stone. Gqom-Oh has done a lot for me. It has taken me from Durban to Europe.
GC: LET'S HEAR ONE OF THE DANCEABLE TRACKS. THIS IS "OUTSIDE THE CLUB" BY FORMATION BOYZ.
MUSIC: Formation Boyz- "Outside The Club" Gqom Oh! X Crudo Volta- Washa Mixtape
GC: IN ADDITION TO SEEING THE DANCES TO UNDERSTAND GQOM, IT IS ALSO IMPORTANT TO UNDERSTAND THE ENVIRONMENT THAT PRODUCED THIS JOYFUL YET DARK MUSIC. HERE IS QUE, HE IS ONE HALF OF THE POPULAR GROUP DISTRUCTION BOYZ.
AA: Is there something about Durban with that sound that makes the music so dark? Is there something about what people are experiencing that gets reflected into the music?
QUE: There's always people going through some problems of their own. With us it had to be finding something to eat at night, poverty. All those problems going around in each and every society. So I think us, doing what we did with the sound was a way for us to make moves, get food, to get money for our families. It's all the problems that the youth is facing. That's why the sound is so dark. I mean crime is also a big factor. It's like that. We took our upbringing and put it in the song and magic came out.
GC: HERE'S FRANCESCO
FNK: I think, first of all the party aspect is fundamental. At the same time, sometimes it's not easy to live in the township. The dark aspect is coming from that.The interesting aspects in Durban is these kids have these capacity and these talents to express these intelligent emotions. For example, "Ghetto Mafia" it was just so dark and gloomy. And hypnotic and very slow crescendo. And Citizen Boy at the time was 15 years old. I was like oh my gosh, 15 years old, he could express all these emotions. I was really impressed. Africa's Cry from Dominowe. Africa's Cry. Already the title was giving me some images. That track is amazing. It's like some struggle…. I think you have to listen and tell me what you think because there are a lot of emotions in those tracks.
Music: Dominowe- "Africa's Cry" Gqom Oh! The sound of Durban Vol.1
GC: THAT WAS "AFRICA'S CRY" BY DOMINOWE. ALTHOUGH TAXIS WERE BLASTING GQOM ALL THROUGHOUT DURBAN AND IT WAS HEARD AT ALL THE GOOD PARTIES, RADIO STATIONS WERE NOT AT FIRST FOND OF THE HARD-HITTING MUSIC. IT WAS A PARTY MUSIC AND PEOPLE ACCUSED IT OF ENCOURAGING PEOPLE TO TAKE QOH, Q-O-H, WHICH IS THE isiZULU WORD FOR THE DRUG, ECSTASY.
Music: Citizen Boy "Ghetto Mafia" Sounds of Durban Vol. 1
CB: I've seen people using them and they used to lose their minds and stuff. It was so weird. People sweating, listening to the songs, screaming and stuff "Oh this song! Oh it's making me lose my mind!" And I was like whoa. That's heavy. They used to take it back then because I think it was fun and it boosted the energy around the people.
AA: So taking it, it makes the music sound a certain way?
CB: Yes, I'm not sure how.
AA: That's what people say.
CB: Yeah.
GC: AND SOME RADIO STATIONS JUST THOUGHT GQOM SOUNDED A LITTLE TOO ROUGH. HERE'S DJ LAG.
DL: The whole of South Africa didn't like the genre. They said it was too underground, it's too rough, all the gqom tracks are not mastered, it's not good for radio. There were a lot of things being told about gqom you know. But we tried and pushed the sound to where it is now. Like the scene got stronger in 2012. That's when gqom was getting recognized like all over South Africa… 2012/2013.
AA: So do you remember what happened in 2012 and 2013 that changed it from being something that nobody liked?
DL: I think it was this huge group called Big Nuz, they're like a kwaito group, so they started rapping on gqom. And people started picking it and started getting like airplays. And then Babes Wodumo came. She also did like a track. It was called "Wololo."
Music: Babes Wodumo ft. Mampintsha- "Wololo" Wololo- Single
GC: THIS IS BABES WODUMO SINGING "WOLOLO," THE TRACK THAT DJ LAG SAYS WAS THE TURNING POINT OF GQOM ACCEPTANCE IN SOUTH AFRICA. WOLOLO WAS OFFICIALLY RELEASED IN 2016. IT GARNERED INTERNATIONAL ATTENTION AND WAS ACTUALLY FEATURED IN THE MEGA BLOCKBUSTER MOVIE, BLACK PANTHER. THIS IS ALSO THE POINT WHERE TERMINOLOGY STARTED TO CHANGE.
FNK: For me, my point of view, I think 2013 was the golden era of gqom. Because they were more free in terms of expression. Because after that, all the international hype, you know the guys just wanna make it. They want to become famous and go overseas and play. So the sound has changed now. It's more catchier. So in 2016, the sgubhu was taking over all over Durban. And they were calling it sgubhu. Many people were coming to me and saying "hey Malumz you are pushing the wrong sound." Because gqom is really hard. And they were calling gqom the trash house, the music of the kids all this kind of stuff. They were saying to me "oh sgubhu, sgubhu, sgubhu is the new sound."
GC: THIS NEW, LIGHTER, CATCHIER SOUND CALLED SGUBHU WAS TAKING OVER. SO HOW DOES ONE TELL GQOM AND SGUBHU APART?
CB: Sgubhu sounds lighter and then gqom is darker.
GC: HERE'S CITIZEN BOY.
CB It's just that, we are trying to get people to understand what is gqom and sgubhu but now people are confused and stuff, but it's O.K., it's fine.
AA: If you were to clarify, what is what…
CB: It would be nice to clarify and get people to understand what is what because it's the same thing as hip-hop and trap. People call trap, hip-hop so that's the same thing to us. People call sgubhu, gqom. It's sgubhu because you can hear the synthesizers. If it has synthesizers and stuff and four-four step kick, it's usually sgubhu. The four-four step is usually like (vocalizes beat). And the other four-step is like (vocalizes beat). And gqom includes samples a lot. Sgubhu sounds the same. It has like a three-step kick and then it's like (vocalizes synthesizer sound). All of the sgubhu songs have that (vocalizes synthesizer). And then gqom it's quite different. Most of the women, the gqom queens are in the sgubhu category.
AA: HERE ARE SOME EXAMPLES OF SGUBHU AND GQOM. YOU'LL NOTICE, THE WOMEN THAT CITIZEN REFERS TO AS GQOM QUEENS, SHO MADJOZI AND MOONCHILD SANELLEY ARE FEATURED ON THE SGUBHU TRACKS. HERE IS SGUBHU:
Music: DJ Maphorisa, DJ Shimza, Moonchild Sanelly "Makhe" Blaqboy Music Presents Gqom Wave
AA: AND HERE IS GQOM:
Music: Citizen Boy- "Tribute to DSB" The Sound of Durban Vol. 1
AA: HERE IS SGUBHU:
Music: Sho Madjozi "Huku" Huku- Single
AA: AND AGAIN HERE IS GQOM:
Music: Emo Kid- "Table Funk" The Sound of Durban Vol. 1
AA: YOU'LL HEAR THE MAIN DIFFERENCE IS THE LACK OF DRIVING FOUR-FOUR BEAT IN GQOM AND THE ABSENCE OF THE SYNTHESIZER.
CB: So wait, can I ask you something?
AA: Yeah, absolutely.
CB: So what do you enjoy? Do you enjoy sgubhu or gqom?
AA: So I'll say, what got me into gqom was initially listening to sgubhu.
GC: HE PUT YOU ON THE SPOT THERE! [LAUGHS] ! WHAT SAY YOU, AKORNEFA?
AA: OK, HERE'S WHAT HAPPENED. I HEARD TLC FAM'S GQOM RELEASE ON GQOM-OH RECORDS INITIALLY. I THOUGHT IT WAS GREAT. THEN BLACK PANTHER CAME OUT AND IT WAS OF COURSE A DEFINING MOMENT FOR THE CULTURE. DURING THE SOCIAL MEDIA CRAZE OF BLACK PANTHER, A VIRAL VIDEO EMERGED OF A GROUP OF ABOUT 10 DANCERS DANCING IN FRONT OF A BLACK PANTHER SCREEN IN THEIR AFROCENTRIC OUTFITS AND IT WAS BEAUTIFUL. THEY WERE DANCING TO THE SONG "OMUNYE" BY DISTRUCTION BOYS.
Music: Distruction Boyz- "Omunye" Gqom Is The Future
AA: THEY WERE DOING THE GWARA GWARA AND OTHER DANCES AND IT WAS MESMERIZING. AND AS WE DISCUSSED EARLIER, THERE'S SOMETHING ABOUT SEEING THE DANCES WITH THE MUSIC THAT BRINGS GQOM TO LIFE. ANYWAY, I THOUGHT THIS SONG "OMUNYE" WAS GQOM BUT IT TURNS OUT IT WAS SGUBHU, AND IT WAS MY GATEWAY SONG TO THE TOTAL APPRECIATION OF THE GENRE. AND I KNOW THAT I'M NOT ALONE BECAUSE DISTRUCTION BOYZ ARE NOW VERY BUSY TOURING THE WORLD. BUT QUE, ONE HALF OF THE DISTRUCTION BOYZ, HAD TIME TO SPEAK TO US.

AA: So how do you feel about people calling your music sgubhu instead of gqom?

QUE: I think the perception that the difference is large, it's really not. For me, I consider what I do to be gqom. What we did with the genre was we made it more edible to the human ear. We commercialized it. That was a major, major breakthrough for the gqom movement. Us taking the sound and making it something you can jam to even on a Sunday morning not just when you're going out to a party. Us taking the sound and cleaning it up a bit, putting it together, making it something solid, and not have sounds going astray, everything being in order and pacing. Because it was so hard to understand the sound and actually try and learn about the sound. We took the sound and we did what we did to it so that other people could get the chance to shine as well. Because if we didn't do that, I'm sure by now people would still be only playing gqom in taxis. It wouldn't be on radio and TV commercials and movies and stuff like that. I feel like we're a bit ahead of our time when we did this thing.
GC: QUE TOLD US ABOUT HIS HIT SONG "OMUNYE" FEATURING BENNY MAVERICK AND DLALA MSHUNQISI.
QUE: Dlala Mshunqisi, his ad-libs are so amazing! He's a super, super cool vocalist. Actually he was made for gqom. And it's so easy for people to sing along. You don't have to know any language. You just say "ye-ye, ye-ye!"
GC: QUE GOES ON TO EXPLAIN THE MEANING OF "OMUNYE" AND WHY PEOPLE WANTED TO BAN THE SONG IN SOUTH AFRICA BECAUSE OF THE PRESUMED SEXUAL INNUENDO.
QUE: "Omunye prez omunye" means someone on top of someone. It actually speaks about a packed party. All the lyrics are "Kwagcwala kangaka lana akuhambeki" Why is it so full here? It's packed. They actually wanted to ban it but when I explained it to the whole nation, they understood. And they made it song of the year and then we went to the awards and we got record of the year.
GC: LET'S HEAR "OMUNYE!"
Music: Distruction Boyz- "Omunye" Gqom Is The Future
AA: What do you hope for gqom in the future? Where do you want to see it go from here?
QUE: We still wanna get it to all the 4 corners of the world. People are warming up to it but we feel like they haven't heard the sounds enough to understand it. They've heard and we want them to understand it as we do. So they can appreciate it more. It's world domination from here.
GC: WORLD DOMINATION FROM HERE! AND FROM THE LOOKS OF THINGS, THE GQOM GENERATION OF DURBAN IS WELL ON ITS WAY!
Music: Emo Kid featuring Dj Bradolz- " Iyona" - The Sound of Durban Vol.1
GC: FUNDING FOR AFROPOP WORLDWIDE COMES FROM THE NATIONAL ENDOWMENT FOR THE HUMANITIES, THE NATIONAL ENDOWMENT FOR THE ARTS, WHICH BELIEVES A GREAT NATION DESERVES GREAT ART, AND PRI PUBLIC RADIO INTERNATIONAL AFFILIATE STATIONS AROUND THE U.S. AND THANK YOU FOR SUPPORTING YOUR PUBLIC RADIO STATION.
AA: ADDITIONAL SUPPORT FOR AFROPOP WORLDWIDE COMES FROM WOMEX, THE EXPO, SHOWCASE AND SEMINAR ON WORLD AND ROOTS MUSIC, IN LAS PALMAS DE LA GRAN CANARIA, CANARY ISLANDS, SPAIN, OCTOBER 24 TO THE 28. FOR MORE INFO, VISIT WOMEX.COM

AA: THANKS TO MALUMZ, FRANCESCO NAN KOLE OF GQOM-OH FOR ALL YOUR HELP. THIS PROGRAM WOULD NOT HAVE BEEN POSSIBLE WITHOUT YOU. MAKE SURE TO CHECK OUT GQOM-OH'S LATESTS RELEASES ON GQOMOH.BANDCAMP.COM. THANK YOU ALSO TO CITIZEN BOY, DJ LAG, DISTRUCTION BOYZ, GRIFFIT VIGO. TO FIND A FULL LISTING OF ALL THE MUSIC YOU HEARD IN THIS PROGRAM, PLEASE VISIT AFROPOP.ORG. ALSO CHECK OUT THE WEBSITE FOR FULL TRANSCRIPTS OF INTERVIEWS AND VIDEOS TO LEARN ALL THE DANCES LIKE THE GWARA GWARA AND IVOSHO.
GC: YOU CAN FIND US ON FACEBOOK AND FOLLOW US ON TWITTER AT "AFROPOPWW." MY AFROPOP PARTNER IS SEAN BARLOW. SEAN PRODUCES OUR PROGRAM FOR WORLD MUSIC PRODUCTIONS.
GC: RESEARCH AND PRODUCTION FOR THIS PROGRAM BY MY COHOST, AKORNEFA AKYEA.
AA: FOR MORE MUSIC AND CONVERSATION ABOUT ALL THINGS AFROPOP BE SURE TO SUBSCRIBE TO OUR PODCAST SERIES, AFROPOP CLOSEUP, NOW IN ITS THIRD SEASON, FROM THE PRODUCERS OF AFROPOP WORLDWIDE.
GC: AND DON'T FORGET TO JOIN US NEXT WEEK FOR ANOTHER EDITION OF AFROPOP WORLDWIDE. OUR CHIEF AUDIO ENGINEER AND CO-PRODUCER IS MICHAEL JONES. ADDITIONAL ENGINEERING BY MIKE CAPLAN AND STEPHANIE LEBOW. BANNING EYRE AND CC SMITH EDIT OUR WEBSITE, AFROPOP.ORG. OUR DIRECTOR OF OPERATIONS IS BEN RICHMOND, AND I'M GEORGES COLLINET.