The Hidden Blackness of Flamenco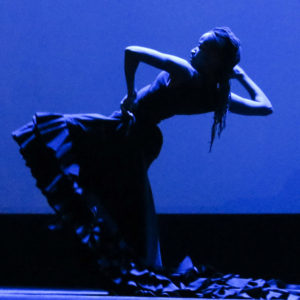 Flamenco as we know it was "born" in Spain in the mid-19th century. But for centuries before that, Roma (Gitanos, Gypsies) had been living in Spanish cities, often rubbing shoulders with the descendants of Africans (Moors), who had been there as both citizens and slaves going back to Medieval times and earlier. This overlooked pre-history of flamenco is explored in Miguel Angel Rosales's groundbreaking film Gurumbé: Afro-Andalusian Memories. In this program, we meet Rosales, flamenco dancer and scholar Meira Goldberg, and dancer Yinka Esi Graves and learn to hear flamenco in a new way. We also meet maverick flamenco artist Raul Rodriguez, inventor and master of the tres flamenco. Rodriquez's solo concert, sampled in this program, is a tour de force and an anthropology master class, all in one.
Produced by Banning Eyre.
Originally aired in 2018.
Transcript
The Hidden Blackness of Flamenco

WINDOW: m01_Jarabi.m4a, Ketama, Toumani Diabaté & Danny Thompson, Songhai (Hannibal, 5 016071 132323) (first 17 seconds)
GEORGES: THE YEAR IS 1988. A YOUNG KORA PLAYER AND RISING HOTSHOT ON THE MALIAN SCENE, TOUMANI DIABATE, GOES INTO A STUDIO IN MADRID, SPAIN, WITH THE FLAMENCO BAND KETAMA AND BASS PLAYER DANNY THOMPSON. TOGETHER, THEY CREATE A LANDMARK ALBUM CALLED SONGHAI, A BLEND OF FLAMENCO AND WEST AFRICAN MUSIC THAT TURNS OUT TO BE WAY AHEAD OF ITS TIME.
WINDOW: Jarabi (edit to emerge on kora at 0:48-1:17)
GEORGES: HELLO, GEORGES COLLINET WITH YOU ON AFROPOP WORLDWIDE FROM PRI PUBLIC RADIO INTERNATIONAL. TODAY WE TAKE A DEEP DIVE INTO THE MYSTERIOUS ORIGINS OF FLAMENCO MUSIC AND DANCE, SPECIFICALLY INTO THE ROLE THAT AFRICAN DESCENDED SPANIARDS—AFRO-ANDALUSIANS—PLAYED IN THE PRE-HISTORY OF FLAMENCO. OUR PROGRAM TODAY IS "THE HIDDEN BLACKNESS OF FLAMENCO." AND TO TELL THIS STORY, WE'RE GOING TO RELY ON FOUR FASCINATING PEOPLE. FIRST, A BRILLIANT SPANISH MUSICIAN.
ACTY: 01_Raul_intro.wav: I am Raul Rodriguez. I am a musician and cultural anthropologist. I play some flamenco mixed with African roots and blues and jazz and rock. My mother is Martirio, a very, very good singer from Spain. My father was the first generation who mixed flamenco and blues and flamenco with African and jazz. So I grew up in this fusion.
[NOTE: Upon hearing the program, Raul offered this clarification of the above: "Since the 60´s, my father always played and wrote his songs mixing Dylan, Creedence, J.J.Cale influences with flamenco rhythms, and he was always around music, but he wasn't the one who really made the first fusions between blues and flamenco, I should have said 'my parent´s generation,' that is, Kiko Veneno, Raimundo and Rafael Amador (Pata Negra), Ketama, Smash... and all those bands and, of course, my mother and father.]
GEORGES: THEN, A FLAMENCO DANCER
ACTY: 02_Yinka_intro.wav: My name is Yinka Esi Graves. I'm a dance artist, originally from London, but now based in Spain for the last 10 years, and more specifically Seville.
GEORGES: THEN, A DOCUMENTARIAN WHOSE FILM "GURUMBÉ: AFRO-ANDALUSIAN MEMORIES" HAS SHAKEN UP THE FLAMENCO WORLD.
ACTY: 03_Miguel_intro.wav: I am Miguel Angel Rosales, anthropologist, the director of Gurumbe: Afro-Andalusian Memories. I am involved in a kind of search, not for the origins of flamenco, but the kind of performativity at the around African feelings inside Flamenco.
GEORGES: AND FINALLY, ANOTHER FLAMENCO DANCER, AND A SCHOLAR, WHOSE WORK INSPIRED TODAY'S PROGRAM.
ACTY: 04_Meira_intro.wav: My name is Meira Goldberg and I am a flamenco dancer, and I've also done choreography and a lot of teaching. And for the last 10 years or so I be doing a bunch of scholarship about flamenco. So I have a book coming out, called "Sonidos Negros: On the Blackness of Flamenco." It's coming out from Oxford this fall, 2018.
GEORGES: RAUL, YINKA, MIGUEL AND MEIRA ARE GOING TO TAKE US ON FASCINATING JOURNEY. LET'S START OUT WITH MUSIC FROM A BAND MADE UP OF MUSICIANS FROM SPAIN AND WEST AFRICA. HERE'S SIDY SAMB AND AFROFLAMENCO WITH "NJITT."
MUSIC: m02_Njitt.m4a, Sidy Samb and Afroflamenco, Demm Dikk (Afroflamenco, unreleased) [top to 2:26]
GEORGES: THE BAND AFROFLAMENCO, MERGING SPANISH AND WEST AFRICAN SOUNDS IN A FUSION THAT TURNS OUT TO HAVE DEEP ROOTS. GEORGES COLLINET WITH YOU ON AFROPOP WORLDWIDE WHERE TODAY, WE'RE CONSIDERING THE HIDDEN BLACKNESS OF FLAMENCO.
WINDOW/BED: m03_La Tarara.m4a, Radio Tarifa, Temporal (World Circuit/Nonesuch 07559 79499 2 6) (very short!)
GEORGES: TO UNDERSTAND OUR STORY TODAY, YOU HAVE TO REMEMBER THAT THE IBERIAN PENINSULA WAS RULED FOR CENTURIES BY MOORS: ARABS AND NORTH AFRICANS IN THE LAND ONCE KNOWN AS AL ANDALUS. SO BY THE TIME KING FERDINAND AND QUEEN ISABELLA EXPELLED NON-CHRISTIANS FROM SPAIN IN 1492, AFRICANS HAD BEEN A PRESENCE THERE FOR A LONG TIME. HERE'S FILM MAKER MIGUEL ANGEL ROSALES, WITH YINKA ESI GRAVES TRANSLATING.
ACTY: 05_Miguel_slaves.wav: (Spanish)
ACTY: 06_Miguel_slaves_VO.wav: Before the conquest of the Americas, there was already a large black population in the southern parts of Spain, so that population was already there before we come to speak about the trans-Atlantic slave trade. When the Spanish start extracting the resources from the Americas, Seville and Lisbon are pretty much the main centers. And in those places, we have a population of between 10 and 15% that is of African descent. Really, this is the first considerable population of black people in Europe ever. Here were talking about the 15th and 16th century, where Spain and Portugal were developing this huge trade, but it then extends all the way into the 19th century, because once Saville lost its weight in the slave trade, Cadiz becomes the new center, and up to the mid-19th century, you still have slaves in Cadiz. So really this is something that extended over 4 1/2 centuries.
One thing that was really important to mark is that, unlike slavery in the Caribbean or the Americas, we are not talking about people who are on plantations. We're talking about something that is almost more complex, because you have free slaves. You have people who work in a domestic setting, but then there are allowed out to do other work. And so over the centuries, this culture that's coming from the African continent is being like eating into the fabrics of society.
GEORGES: AND HERE'S MEIRA GOLDBERG
ACTY: 07_Meira_slavery.wav: Afro descendants who had been Christianized were not expelled. And in terms of the history of slavery in Spain, what happened with the Atlantic slave trade amping up is that everyday people stopped having the wealth to buy slaves. And the great weight of people that were captured and enslaved went to the Americas directly. They stopped passing through Seville. They stop passing through Cadiz. Also, another thing about slavery in Spain is that slaves were permitted to buy back their freedom. And those people that were able to buy their "freedom," were still very much marginalized and they lived in these kind of marginalized neighborhoods. There is some evidence of black people, working as choreographers for example in like 17th-century. But black people were just fewer and farther between, to the point where by the 1980s, you would not see black people walking down the street. That's why Spain doesn't realize about its history of slavery, because they just never thought they even had a black population.
WINDOW/BED: m04_Raul_Live_house.wav + m04_Raul_Live_board.wav (improv. Afropop field recording) [40 seconds]
GEORGES: THAT'S RAUL RODRIGUEZ OPENING HIS PERFORMANCE AT A RECENT FLAMENCO CONFERENCE IN NEW YORK CITY. RAUL WAS BORN AND RAISED IN ANDALUSIA AND HE'S SEEN FOR HIMSELF HOW QUICKLY BLACKNESS CAN BLEND INTO MAINSTREAM SPANISH SOCIETY.
ACTY: 08_Raul_daughter.wav: You know, my wife is from Mozambique. And I am Andalusian. We have two daughters. My second daughter is white. It's an African face, but it's white. So in one century, you have three or four generations. So you cannot see black people in Andalusia. But you can see these mouths. You can see these bottoms. You can see this way of dancing. And you can see in the music so many things. The black people from Andalusia they never wrote their own history. And nobody wrote that history.
ACTY: 09_Yinka_Afro-Spanish.wav: The black Spanish population, as in the descendants from the Afro Spaniards who lived there up to the 19th century, are no longer visible. Let's say there no longer visible in the way in England you see the black population. In the United States will see a black population. So there isn't a line of people who identify as Afro Spanish, despite the fact that for me, I find it quite funny, because I see so many people who I can see would have a black grandparent, but they probably don't even know it.
WINDOW: m05_Blues De La Frontera.wav, Pata Negra, The Best of Pata Negra, (Milestone, B000007S8Z) (up to 0:17)
GEORGES: RAUL MENTIONED THAT HIS FATHER WAS ONE OF THE FIRST MUSICIANS IN ANDALUSIA TO MAKE A CONNECTION BETWEEN FLAMENCO AND BLUES. YOU HEAR THAT IN THIS TRACK FROM THE 1980S ANDALUSIAN BAND PATA NEGRA. THIS IS "BLUES DE LA FRONTERA."
WINDOW/BED: (more, up to 2:05, then to bed)
ACTY: 10_Raul_slavery.wav: I think I was looking for a way to explain to me that my father is not so crazy, that there was something in common between blues and flamenco. So when I studied in University history and anthropology, I started to know the history about slavery in Spain, and it was a history that nobody talks about. Afro Andalusian people were almost 15% in the 16th century. So in my experience, you can feel the rhythms of sarabanda, tango, fandango, that starts with the African people basically in the 16th century, 17th century, 18th century. And then comes the Gypsy people, and we have flamenco.
MUSIC/BED: m06_Bronce Gitano.m4a, Sabicas, Flamenco Puro, (Warner Music, 0 724353 780128) (top to 1:49, then to bed)
GEORGES: LEGENDARY FLAMENCO GUITAR VIRTUOSO SABICAS FROM HIS CLASSIC ALBUM FLAMENCO PURO! LIKE RAUL RODRIGUEZ, ANTHROPOLOGIST MIGUEL ANGEL ROSALES BECAME FASCINATED BY THE HISTORY THE AFRO-ANDALUSIANS, AND THAT UNDERSTANDING BEGAN TO CHANGE THE WAY HE HEARD FLAMENCO MUSIC.
ACTY: 11_Miguel_afro.wav: (Spanish)
ACTY: 11a_Miguel_afro_VO.wav: From there, I was able to come back to flamenco with more strength and more basis, this kind of historical basis which explains the Afro Spaniards, their role in flamenco.
WINDOW: (short, just enough to make the Sabicas piece end with ACTY 12a)
GEORGES: SABICAS. FLAMENCO PURO. MIGUEL'S RESEARCH CULMINATED IN HIS 2016 FILM GURUMBÉ, AFRO-ANDALUSIAN MEMORIES. WE ASKED HIM ABOUT THAT TITLE.
ACTY: 12_Miguel_Gurumbe.wav: (Spanish)
ACTY: 12a_Miguel_Gurumbe_VO.wav: Gurumbe is a type of song, well, a collection of songs by Mateo Fletcher in this case. We're talking about the 15th century. It was like a compilation of the songs that were sung, either from Spain, but also from the new colonies, and they would be put together in a kind of book album for people to listen to at Christmas. So in this potpourri of songs, we find for the first time a song that is called "La Negrita," the black girl, which speaks of, "Gurumbe, Gurumbe," and in a way, is part of a tradition that somehow emulates, but also is making fun of the way the black population spoke. So this is the very first time we actually see that being represented in song. So it's almost like the beginning of an archive, a recognition of this black presence.
WINDOW: m07_Gurumbé.mp3, Ballena Gurumbé y la Mojiganga, AfroAndaluz (emerge briefly on chorus at 1:22—1:35)
ACTY: 13_Miguel_Gurumbe_VO2.wav: At that time, there were dances that were called Gurumbe. And in fact to this day in Nigeria, you will find tests that have that root, guru, gurumbe. And La Nina de los Penas, a very well known flamenco singer from the 20s and 30s, sings a tangos, which is a style, where she sings, "Guru, guru." The actual lyric is about a husband who goes off with his mixed-race lover. So even into the 20th century, we have this kind of remnant of the gurumbe.
GEORGES: WE'LL COME BACK THE FILM GURUMBÉ, AND ITS IMPACT ON THE FLAMENCO COMMUNITY. BUT FIRST, SOME MUSIC FROM A GENRE-BENDING FLAMENCO ARTIST. BUIKA WAS BORN IN SPAIN, BUT TO PARENTS FROM EQUATORIAL GUINEA. SHE MERGES ELEMENTS OF FLAMENCO, JAZZ AND POP TO CREATE AN ORIGINAL, AND FRANKLY, SENSATIONAL SOUND. HERE'S A TRACK FROM BUIKA'S GRAMMY-NOMINATED 2008 ALBUM, NINA DE FUEGO.
MUSIC: m08_Culpa Mía.m4a, Buika, Niña De Fuego, (Warner Music Latina, 8 24646 95477 3) [4:11]
GEORGES: THE AMAZING VOCALIST BUIKA MERGING FLAMENCO AND JAZZ ON HER 2008 SONG "CULPA MIA." "IT'S MY FAULT." WELL, WITH A VOICE LIKE THAT, BUIKA, I THINK WE CAN FORGIVE YOU.
WINDOW/BED: m09_Sevilla (Sevillanas).m4a, Gerardo Núñez, Calima (Alula, 6 46498 10072 8)
GEORGES: WE ARE HEARING TODAY FROM ANOTHER FLAMENCO ARTIST WITH AFRICAN HERITAGE. DANCER YINKA ESI GRAVES GREW UP IN LONDON, BUT SHE WAS SEDUCED BY FLAMENCO AND MOVED TO ANDALUSIA IN SPAIN TEN YEARS AGO.
ACTY: 14_Yinka_huge.wav: Flamenco has this very specific aesthetic. I think what really grabbed me was the act of doing it that felt very right. I think there's a mixture of partly the complexity of it, because it's something that you see from the outside and it looks like people are doing one thing, and the minute you start learning, there's just so much detail involved. There's so much knowledge needed around all the different styles. Technically it's very difficult. So I think that once you start, you realize, oh my goodness, this is huge!
GEORGES: YINKA APPEARS IN THE FILM GURUMBÉ, WHICH REVEALS THE DEEP HISTORY OF AFRICANS IN SPAIN, AS WE'VE SAID, A HISTORY MANY SPANIARDS HAVE IGNORED. YINKA SAYS THE FILM HAS MADE THIS HISTORY UNDENIABLE.
ACTY: 15_Yinka_before-after.wav: A lot of people have seen the film, and there's almost the sense that there's a before and after, that now it's hard for people to try and negate that that is a reality. Without anybody really saying it, there's a consensus that, "Yes, okay, we understand it" And for me, in a very similar way--this might sound a bit extreme--but in a way, after something like apartheid, the day after, everybody says, "Oh yeah, it's fine. We don't believe those ideas anymore." And so there's no real process of actually looking at why, or how this has been ignored, but suddenly now it's just like, "Oh yeah, we knew this." That's interesting and I definitely feel that now, as a dancer somehow, there's more of a sense that there's a place for me. Whereas before, had the film had not come out and I had gone around saying that, I think nobody would've wanted to listen. So I think the film has kind of made it very difficult for anybody to say otherwise.
GEORGES: JUST THE SAME, THE WORLD OF FLAMENCO IS VERY CONFIDENT IN ITS VERSION OF HISTORY, AND NOT ALWAYS OPEN TO NEW IDEAS AND INNOVATIONS. HERE'S ETHNOMUSICOLOGST JOSHUA BROWN.
ACTY: 16_JBrown_tradition.wav: So many of the artists are named either after their family or in relation to the place that they're from. So Paco de Lucia for instance. Lucia was his mother. Manolo San Luca is from San Luca. And so the music itself is so closely linked with heritage and also location. That's part of the reason why it's so difficult to move forward is because they feel like it's almost turning your back on these resources that are there for you, these melodies, these rhythms. You can take them and create new things, but to do something drastic, to have a new instrument, or even link up with more cosmopolitan influences, can be seen as anathema.
ACTY: 17_JBrown_return.wav: For instance, the cantos de ida y vuelta, songs that went to Cuba and came back, they are seen as worth less. They are not seen as deep or is profound, because they are not from and elusive. So they are not ours.
WINDOW: m10_Son mi martirio. Tangos de Cadiz.m4a, Fosforito & Paco De Lucia, Selección Antológica Del Cante Flamenco (Iris Music, 3 464630 018472)
GEORGES: THE LATE GREAT PACO DE LUCIA ON GUITAR AND FLAMENCO VOCALIST FOSFORITO WITH A TANGO FROM CADIZ. THIS IS TRADITIONAL FLAMENCO THE SORT YOU WOULD HEAR IN A TABLAO, A TAVERN IN SEVILLE. DANCER YINKA ESI GRAVES SAYS SHE WORKS IN A DIFFERENT WORLD, A KIND OF PARALLEL FLAMENCO UNIVERSE.
ACTY: 18_Yinka_film.wav: Since the film, I've had a lot more interest from the general public, been called more to do gigs and stuff. However, the traditional flamenco world, let's say the world of the tablao, which very much relies on perpetuating an image of who is a flamenco dancer. I mean, obviously I'm the extreme case because of a black women. But I know of women who are fair-haired and have been told to either put a wig on or dye their hair if they want to perform in certain spaces.
ACTY: 19_JBrown_flamenco.wav: So it shows you that there are all these different ideas ideas about what it is, what it should be. People get in fights, and people argue about this all the time.
GEORGES: WELL, WE'LL TRY TO KEEP THINGS CIVIL AS WE EXPLORE THE BLACKNESS OF FLAMENCO. COMING UP, THE BIRTH OF FLAMENCO, AND RAUL RODRIGUEZ'S UNIQUE JOURNEY TO CREATING THE TRES FLAMENCO. VISIT AFROPOP.ORG TO READ OUR FASCINATING INTERVIEW WITH MEIRA GOLDBERG AND SO MUCH MORE. I'M GEORGES COLLINET, AND YOU'RE LISTENING TO AFROPOP WORLDWIDE, FROM PRI, PUBLIC RADIO INTERNATIONAL.
WINDOW: 20-second break: m11_Tangos De La Sultana.m4a, Maria Santiago & Adalberto Alvarez, Flamenco Son (Circular Moves, 0 016728 700221)
WINDOW/BED: m12_Canción Sefardí.m4a, Radio Tarifa, Temporal (World Circuit/Nonesuch 07559 79499 2 6)
GEORGES: ON THIS PROGRAM WE'VE BEEN TALKING ABOUT A HISTORY THAT GOES BACK TO THE 15TH CENTURY IN SPAIN. SO IT MIGHT SURPRISE YOU TO KNOW THAT THE MUSIC AND DANCE WE KNOW AS FLAMENCO ONLY CAME INTO BEING IN THE MIDDLE OF THE 19TH CENTURY. HERE'S MIGUEL ANGEL ROSALES.
ACTY: 20_Miguel_flamenco.wav: (Spanish)
ACTY: 21_Miguel_flamenco_VO.wav: Flamenco is created at a specific time, in the 19th century, where people who are taking a tradition and really thinking, really cutting rhythms and putting things together in a certain way to create a very new form of expression, but totally from traditional forms, which are steeped in African expression.
ACTY: 22_Miguel_audience.wav: (Spanish)
ACTY: 23_Miguel_audience_VO.wav: Suddenly you have a new audience for this music in a kind of music, and it kind of flows out into society almost like a boom. In the south of Spain, there's this very specific urban identity of these characters who are like semi criminals, bands that are identifying themselves against the kind of French, bourgeois and Italian bourgeois culture. And in a way, this music is part of that identity.
GEORGES: MIGUEL SAYS THAT THIS NEW EMERGING AUDIENCE GATHERED IN TAVERNS AND OTHER INTIMATE VENUES IN THE CITIES AND TOWNS OF ANDALUSIA. AND COMPETITION SET A HIGH STANDARD FOR THE PERFORMERS. HERE'S MEIRA GOLDBERG.
ACTY: 24_Meira_cafes.wav: He's talking about the cafes cantantes. The cafes cantantes were basically music halls. Spain was invaded by Napoleon in 1808. So all through the 18th century, Spain was fighting against the influence of the French, but the Italians are also problematic. And so in the beginning of the 19th century, Italian bel canto was the big rage and there were all of these dilettantes that would sing, and they know all these songs and they get together as amateurs and sing these songs. And in Andalusia, these dilettantes became aficionados. And they began singing what were their own national songs, which turned out to be, ironically, flamenco songs, which are really Roma songs. It's identified with that culture. So we get this kind of: "We are outlaws because we are oppressed by the French monarchy."
WINDOW/BED: m13_Me Valgo De Mi Saber.m4a, Perla De Cadiz, The Story Of Flamenco (Hemisphere 7243 8 55680 2 2)
ACTY: 25_Miguel_boom.wav: (Spanish)
ACTY: 26_Miguel_boom_VO.wav: Really, from the 30s and 40s till now, there's been this other boom, and in a way what were listening to now probably has very little to do with what was actually being played in the 19th century. Technically, not only in terms of the music but also the dancing, this is me, adding in here. The dancing has evolved so much. And new styles that were to dance before our suddenly danced. So it's actually a constantly evolving art form, based on the creativity of a lot of artists and families.
WINDOW: m14_Fandango De Huelva.m4a, Flamenco Artists, Les Riches Heures Du Flamenco (Le Chant du Monde, 3 149025 039194) (crossfade under previous speech to emerge around 0:50 on dancing, short)
GEORGES: MIGUEL'S FILM GURUMBÉ IS NOT OUT TO DEBUNK FLAMENCO HISTORY, BUT RATHER TO HELP IT EVOLVE, TO FILL IN AN IMPORTANT PIECE THAT'S BEEN MISSING.
ACTY: 27_Miguel_memory.wav: (Spanish)
ACTY: 28_Miguel_memory_VO.wav: What has interested me in Flamenco is that it's this incredible container of memory that is held in people's bodies and people's voices, and in that, one that was never given its place is the memory of the black presence there. And so in a sense, making this film is really about appreciating that part of this huge structure that holds so much.
MUSIC/BED: 15_La Sandunga.m4a, Martirio & Raúl Rodríguez, De Un Mundo Raro (Cantes Por Chavela) (Universal, 0 602537 605569) (top to 1:09, then to bed)
GEORGES: THAT'S THE UNMISTAKABLE VOICE OF MARTIRIO, ACCOMPANIED ON GUITAR BY HER SON, RAUL RODRIGUEZ
ACTY: 29_Raul_Martirio.wav: My mother is a very, very good singer of copla, the traditional way of singing in Spanish, also flamenco. Also Bolero, tango. And she is a very important singer in Spain. Martirio. The first woman to sing the actual problems of the women in the modern world.
GEORGES: MARTIRIO IS THE PICTURE OF THE OLD MEETING THE NEW. SHE WEARS A COMB IN HER HAIR, THE MARK OF A TRADITIONAL FEMALE SINGER. BUT ALSO, SHE NEVER REMOVES HER DARK GLASSES IN PUBLIC. SINCE HER RISE IN THE 1970S, HER FANS HAVE NEVER SEEN HER EYES.
ACTY: 30_Raul_DarkGlasses.wav: Dark glasses as a rock star, but she has the comb as a traditional singer. And in these first years of Spain after Franco's time, was a very open time. So I grew up in this magical world.
GEORGES: A MAGICAL WORLD INDEED. TWO BRILLIANT MUSICIANS AS PARENTS AND ALL THE EXCITEMENT OF POST FRANCO SPAIN.
WINDOW: m16_Sute Monebo.m4a, Ketama, Toumani Diabaté & José Soto, Songhai, Vol. 2 (Rykodisc/Nuevos Medios, SA, 0 31257 13832 1) (top to 14)
GEORGES: WE OPENED THIS PROGRAM WITH A TRACK FROM SONGHAI, THE GROUNDBREAKING ENCOUNTER BETWEEN MALIAN KORA MAESTRO TOUMANI DIABATE AND THE FLAMENCO BAND KETAMA. IT TURNS OUT RAUL RODRIGUEZ WAS THERE!
ACTY: 31_Raul_Songhai.wav: I was a boy. I was 14 years, and I was in Madrid with my mother. My mother was recording her second album, and Toumani was recording in Madrid.
GEORGES: DURING THOSE SONGHAI SESSIONS, TOUMANI PLAYED KORA ON A TRACK FOR MARTIRIO'S ALBUM. IT WAS A SONG SHE HAD WRITTEN FOR RAUL, "EXCALIBUR," BASED ON THE LEGEND OF KING ARTHUR AND THE SWORD IN THE STONE.
ACTY: 32_Raul_Excalibur1.wav: I was fascinated with the story of Excalibur when I was a boy. So my mother wrote that song for me, and Toumani plays SINGS…
WINDOW: m17_Excalibur.mp3, Martirio [con Toumani Diabaté], Christalitos Machacaos (unknown) (emerge on riff at 0:35—1:02, maybe crossfade to kora at 2:10)
ACTY: 33_Raul_Excalibur2.wav: And then, now in these last years, in May, I was in Bamako playing with Toumani. And I said, "Oh, Toumani, I am the son of Martirio." "Martirio! Excalibur! Yeah!" He gave me a hug. And it was funny for me because my mother wrote that song for me almost 30 years ago to take the sword to make a battle. And now, I make Afro flamenco music, that is a battle. It's a war.
WINDOW/BED: m18_Juliancito (Con Martirio & Raimundo Amador).wav, Compay Segundo, Lo Mejor de la Vida (Nonesuch, 0 7559 79517 2 1) (top to 0:37, then to bed)
ACTY: 34_Raul_tres.wav: You know, my mother recorded with Compay Segundo after the Buena Vista Social Club. She went to Havana to sing with him on his 90th birthday. And I said, "Oh, take me a Cuban tres to play." So she gave me the tres. I took the tres to go to the places where flamenco is alive. Not only Seville or Cadiz. In the village. I'm playing with the old people, playing the old style of flamenco. So would made a band, Son de la Frontera, a guy playing guitar and me playing the Cuban tres.
MUSIC: m19_Bulería menor.m4a, Son De La Frontera, Cal, (Nuevos Medios SA/ World Village, 7 13746 80692 7) (first 50 seconds, then to bed)
GEORGES: SON DE LA FRONTERA WITH "BULERIA MENOR". CUBAN TRES AND FLAMENCO GUITAR. THIS COMBINATION GAVE RAUL A NEW IDEA.
BED: m20_La Caña (Intro).wav, Raul Rodriquez, Cubierto (Do Fol (Galileo Music Communication GmbH) (bring this in under next speech as he describes instrument)
ACTY: 35_Raul_tres_flamenco.wav: I realized I must do one instrument that mixes flamenco guitar Cuban tres, so I made the tres-flamenco, flamenco tres, taking strings from the oud and the flamenco guitar, and build it like a flamenco old guitar from the 19th century...
WINDOW: brief emerge
…. So it's a new instrument. I can mix all the music without problems now. Because there is nobody before, so I can feel I am the best one, and I can feel also I am the worst. So there's no problem, and no ego and no competition with another guitar player or another Cuban. It's like a discovery. So my feeling is I am coming back to the past to go to the future. Back to the future.
GEORGES: THE TRES FLAMENCO HAS A PEAR-SHAPED BODY. IT WAS MADE BY A FLAMENCO LUTHIER, JUST SIX YEARS AGO, SO IT'S A VERY YOUNG INSTRUMENT.
ACTY: 36_Raul_NegroCurro.wav: My first song was "El Negro Curro." It's like the first black people who came to Havana didn't come as slaves from Africa. They came from Seville as free people, people looking for life, looking for the New World in the 16th century and 17th century. So in Cuba, they were called curros. Because curros was the name for Andalusian people to make the distinction from Canarian people or Catalonian people, or Galician people, other Iberian immigrants who came to Cuba.
ACTY: 37_Raul_son-buleria.wav: So, to sing the history, I made my first song mixing the son and the buleria. When you make the song, you anticipate the bass. SINGS. And when you make the buleria, you make SINGS. So I wanted to make this buleria into a danceable rhythm for everyone. So I make. SINGS
MUSIC: m21_El Negro Curro (Sonería).wav, Raul Rodriquez, Cubierto (Do Fol (Galileo Music Communication GmbH) (emerge at 0:40, match to his singing—2:02 or 2:43)
ACTY: 38_Raul_soneria.wav: It's like a new traditional style from the future. That's my way of working, mixing the patterns of history and making a new thing. Soneria.
ACTY: 39_Raul_dance.wav: I think that if you can dance, everything is truth. Your body says, okay, this is real. So I want to make these histories danceable.
WINDOW: m22_Llévame a la mar (Fandango Yndiano).wav, Raul Rodriquez, Cubierto (Do Fol (Galileo Music Communication GmbH)
ACTY: 40_Raul_fandango.wav: "Lleveme a la mar" is another song. I am talking about the travels of the fandango rhythm. It's an Afro Caribbean, Afro Mexican rhythm that came to Spain in the 17th century, and then mixed with other styles in Spain to make the flamenco fandango.
MUSIC: m22_Llévame a la mar (edit to emerge at 0:50-1:35 or 2:23)
GEORGES: WOW. RAUL RODRIGUEZ, A TRUE ORIGINAL. RAUL CALLS HIMSELF THE FIRST PERSON TO CHAMPION THE IDEA OF AFRO-FLAMENCO. BUT THESE DAYS IT'S BECOMING A TREND, ALTHOUGH WITH A FEW CAVIATS. HERE'S DANCE ARTIST YINKA ESI GRAVES.
BED: m23_Los Pies.mp3, Ballena Gurumbé y la Mojiganga, AfroAndaluz (??)
ACTY: 41_Yinka_afro.wav: That's very interesting. I was recently in Columbia, and they named the whole tour this sort of Afro flamenco. And I have to say that on one level I was actually reluctant for them to use that, because whilst for me it's very important that we recognize the part that the Spanish Africans population have played in creating what we know as flamenco, however, particularly me--obviously I'm a black woman--I was also, I don't know if I want to call it Afro-flamenco because putting that name on it. You know, I am born in England. I don't have a direct connection to [let's say] a specific dance form from Ghana, for example. My mother is from Ghana. It's almost like I don't want to belittle that. We can't just name it that because I'm black so therefore I'm doing Afro flamenco. [Whatever Afro means it almost belittles whatever that real influence could be with somebody who might be a great master in a specific African dance that comes to Flamenco, if that makes sense.]
GEORGES: AND HERE'S MEIRA GOLDBERG.
ACTY: 42_Meira_voices.wav: People are trying to bring out the other voices that contribute to Flamenco, the African voices, the voices of many other people that contribute to flamenco, and that needs to happen. But at the same time, it can't happen at the expense of erasing Roma people. It can't happen in competition. What I argue in my book is that the image or the stereotype of the Gypsy is the image of blackness for Spain. All of those things--the confusion, the noisiness, the subversiveness, the speaking truth to power– all of that stuff is what signifies blackness, and that is what Flamenco is.
WINDOW/BED: m24_Nana De La Cebollas.m4a. Enrique Morente, Perico el del lunar guitar, The Story Of Flamenco (Hemisphere 7243 8 55680 2 2) (time to next emerge)
GEORGES: MEIRA GOLDBERG. AND WATCH FOR HER BOOK "SONIDOS NEGROS: ON THE BLACKNESS OF FLAMENCO." THERE'S SOMETHING WE HAVEN'T MENTIONED YET. THAT'S FLAMENCO'S ROUGH, PASSIONATE, ANGUISHED VOCAL STYLE.
WINDOW/BED: m24_Nana De La Cebollas.m4a. (emerge 0:25-1:19, then to bed)
GEORGES: VOCALIST ENRIQUE MORENTE. SAY WHAT YOU WILL. THIS IS NOT EUROPEAN!
ACTY: Meira_old .wav: It's just old. I just know it's old. It's like when you practice flamenco, it's such a complicated system of rhythmic interaction and melodic interactions, and aesthetics. There's so much culture in it. So I think those are rhythms are old, and uses of the voice that are old. And I don't know where they come from, but they certainly don't sound European to me either. I think it's something deep and kind of ancient.
ACTY: Meira_flamenco .wav: What's true about flamenco is that it expresses humanity, it expresses personhood in a way that was denied to many of the people we're talking about here. Afro descendants, Jews and Muslims, Roma people were all outcasts of society. They were not eligible for advancement in society. And why this flamenco figure has become a national symbol in Spain is because this figure speaks to the Spanish people as a whole in wanting to be human. Wanting to be people. There's something about that kind of expression of emotion that, yeah, the Modernists and Lorca and everybody mythologized it. But I think it's also real.
GEORGES: THANK YOU, MEIRA. WE TAKE YOU OUT WITH MORE OF RAUL RODRIGUEZ'S RECENT SOLO CONCERT IN NEW YORK CITY
MUSIC: m25_RaulLive_YoYoy_house.wav + m25_RaulLive_YoYoy_board.wav "Yo voy vendiendo candela"
GEORGES: FUNDING FOR AFROPOP WORLDWIDE COMES FROM THE NATIONAL ENDOWMENT FOR THE ARTS, WHICH BELIEVES A GREAT NATION DESERVES GREAT ART, AND PRI PUBLIC RADIO INTERNATIONAL AFFILIATE STATIONS AROUND THE U.S. AND THANK YOU FOR SUPPORTING YOUR PUBLIC RADIO STATION.
WINDOW: more
GEORGES: THANKS TO MEIRA GODBERG, RAUL RODRIGUEZ, JOSHUSA BROWN, MIGUEL ANGEL ROSALES AND YINKA ESI GRAVES FOR THEIR HELP WITH THIS PROGRAM. VISIT AFROPOP.ORG TO READ OUR INTERVIEW WITH MEIDA AND SO MUCH MORE. YOU CAN ALSO FIND US ON FACEBOOK AND FOLLOW US ON TWITTER AT "AFROPOPWW." MY AFROPOP PARTNER IS SEAN BARLOW. SEAN PRODUCES OUR PROGRAM FOR WORLD MUSIC PRODUCTIONS. RESEARCH AND PRODUCTION FOR THIS PROGRAM BY BANNING EYRE. AND BE SURE TO SUBSCRIBE TO OUR PODCAST, INCLUDING RADIO PROGRAMS AND OUR AFROPOP CLOSEUP PODCAST SERIES.
JOIN US NEXT WEEK FOR ANOTHER EDITION OF AFROPOP WORLDWIDE. THIS PROGRAM WAS MIXED AT STUDIO 44 IN BROOKLYN BY STEPHANIE LEBOW. ADDITIONAL ENGINEERING BY GREG HARTMAN. BANNING EYRE AND CC SMITH EDIT OUR WEBSITE, AFROPOP.ORG. OUR DIRECTOR OF NEW MEDIA IS BEN RICHMOND. AND I'M GEORGES COLLINET.