Best of The Beat on Afropop: Celia Cruz, Queen of Salsa
Arguably Cuba's most famous export alongside rum and cigars, Celia Cruz, the First Lady of Latin Music, enjoyed a long and prolific career as a major superstar and one of the first Cuban women to front an orchestra. Born Ursula Hilaria Celia de la Caridad Cruz Alfonso in 1925, she left Cuba in 1959 following Castro's revolution: first to Mexico, and then the U.S. where her career took off. She passed away July 16, 2003 at the age of 77.
Winner of seven Grammy awards and recipient of dozens of other tributes, her very full life was honored with a posthumous exhibit in 2012 at the National Museum of American History in Washington, D.C. (not to mention a Google Doodle marking her 88th birthdate in 2013).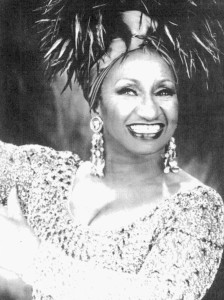 For this "Best of The Beat" feature from 1995, author Derek Rath interviewed the legendary artist, who was in Los Angeles for an appearance at the Hollywood Bowl. As she recounts highlights of her life and debunks some myths, the article reprises the storied career that encompassed much of the history of Cuban music itself.
The generous, ebullient spirit of the Queen of Salsa is evident in every aspect of her music, and she was deeply aware of the source of her talent: "When I sing I put everything I have inside me into it, a lot of love. Music is the only gift I have that was given to me by God. Unless He takes it away I will continue to share my gift with everyone. It is what gives me pleasure. It is what brings me happiness. And that is my purpose in life."
READ OR DOWNLOAD PDF Beat14#6CeliaCruz
Part one of a four-part official biography, featuring archival footage and photos of her career highlights. It is narrated in Spanish but the music speaks for itself. Any number of YouTube clips and Soundcloud mixes are readily available online for more information and enjoyment.
YOU WILL ALSO ENJOY the Afropop program, "The Golden Age of Cuban Music"