Best of The Beat on Afropop: Emeline Michel and Women Artists of Haiti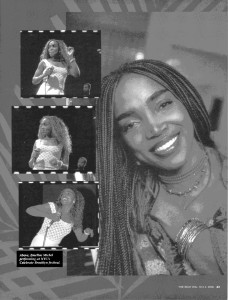 In recognition of Women's History Month, and also noting the recent appearance of Haitian singer Emeline Michel in Brooklyn at the
globalFEST Creole Carnival
, this edition of "Best of The Beat" brings you a feature from 2000 on Ms. Michel, at that time just beginning to make her mark on the international stage. Brian Dring, author of
The Bea
t's regular column "The Other Caribbean," interviewed the rising star, known as the "Goddess of Mizik Kweyol," on the cusp of the release of her album
Cordes et Ame.
READ OR DOWNLOAD PDF HERE:
Beat19#2Emeline copy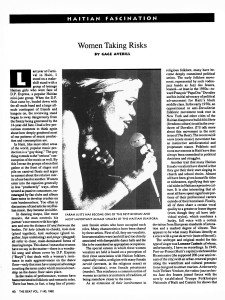 In addition, we have an excellent overview from 1992, entitled "Women Taking Risks," by musicologist Gage Averill,
The Beat
's "Haitian Fascination" columnist at that time. He outlines the music and messages of Farah Juste, Lumane Casimir, Martha Jean-Claude, Toto Bissainthe, Carole "Maroule" Demesmin, Myriam Dorismé, Fédia Laguerre, along with the significant emergence of Riské, an all-female band, and discusses the role of women in Haitian culture and tradition as bearers of the folkloric-political heritage.
READ OR DOWNLOAD PDF HERE: Beat11#3WomenHaiti
Also included is a sidebar review of the album
Caribbean Revels: Haitian Rara and Dominican Gaga (Smithsonian/Folkways)
ABOUT BEST OF THE BEAT ON AFROPOP