Best of The Beat on Afropop: Wyclef Jean
In this week's feature, "Best of The Beat" focuses on the Haitian-American hip-hop star Wyclef Jean, who rose to fame in the mid-'90s as part of the widely popular group called the Fugees, which included Lauryn Hill and Pras Michel. In this cover feature from 2005, The Beat's dancehall columnist Marlon Regis interviewed Jean, who had by then gone solo, and had recently released his own project called Welcome to Haiti: Creole 101.
This outspoken, often-controversial artist is proud of his roots and speaks on what it means to him to be Haitian. In his vision to improve his frequently embattled country, he insists: "For Haiti to move forward, light skin and dark skin must become one skin. As long as there's a separation of skin, there will always be great walls and barriers. … so whoever becomes the president… they need to make everyone work together… to kill that separation of light skin and dark skin immediately," sage advice that applies to the whole world, not just Haiti.
Jean would go on to recreate himself as an activist for social change, and even attempted to run for president of Haiti in 2010, although he was disqualified for not fulfilling residency requirements for candidacy.
As a sidebar, Jean Pierre Petit reviews the Welcome to Haiti: Creole 101 album, which was released to coincide with the 200th anniversary of Haitian independence. It is a musical tribute not only to his homeland but a musical tour of the Caribbean islands, mixing his own hip-hop style with Haitian flavors like kompa and rara, but also with a good dose of zouk, ragga, r&b, soca and Latin music sung in French, Creole and English, with the intent of introducing his devoted hip-hop audience to the rich variety of styles and genres of the Caribbean.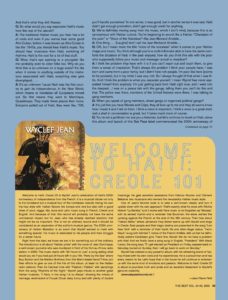 READ OR DOWNLOAD PDF: Beat24#2Wyclef
LISTEN: Afropop Worldwide program "Music and the Story of Haiti"
Afropop interview with Wyclef Jean at Bahamas Junkanoo Carnival in 2016