And Just Like That, Mugabe Disappeared
What a time to be alive! In a peaceful coup d'état, Zimbabwe's second president Robert Mugabe has stepped down as leader of the ruling ZANU-PF party. For 37 years, the African nationalist's firm grasp on power saw him through the end of white minority rule in Rhodesia, participation in the Second Congo War, famine, violent and fraudulent re-elections, mass killings (Gukurahundi), record-high literacy rates and an incredibly turbulent economy to name a few. Tension has been rising for Zimbabweans suffering under Mugabe's rule as unemployment skyrocketed and the country experienced hyperinflation which resulted in 90 percent of transactions being conducted in U.S. dollars as of 2016.
As we saw last September at the U.N. in New York City, Zimbabweans and their allies came out to protest President Mugabe with legendary Zimbabwean musician Thomas Mapfumo and Pastor Evan Mawarire in the mix. Thomas Mapfumo has been an outspoken critic of Mugabe's which cost him his homeland where he's been exiled from since 2004. In 2013 documentary Thomas Mapfumo: The Path to Exile by Banning Eyre, Mapfumo says:
"We supported them during the liberation struggle. We thought they were going to develop the country and make people's lives good. But this wasn't to be because people are still suffering. So we cannot support a wrong system. So I pointed to him and said Mr. President, this is not right for the people. You have to do the right thing for the people."
Unfortunately, Mugabe was not able to do the right thing for his country's people and after one week since the coup began, Mugabe handed in his resignation on Nov. 21.
The world has been able to witness the unfolding of events at the start of the coup mainly on Twitter even when journalists were barred from entering the country. On Nov.19, the Zimbabwe Broadcasting Corporation (ZBC) aired Mugabe's speech where he initially declined to resign and during this, tweets with the same song mentioned along with ZBC began to appear.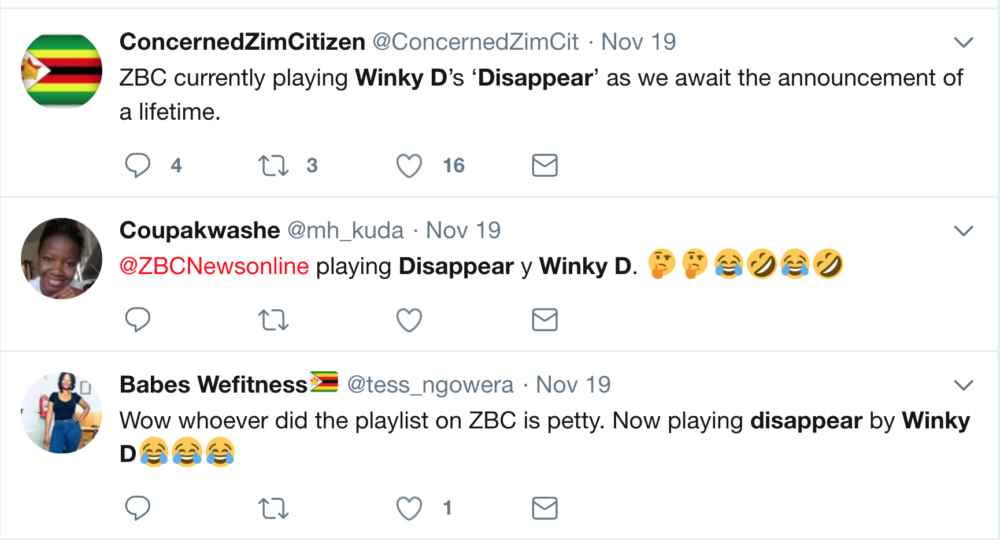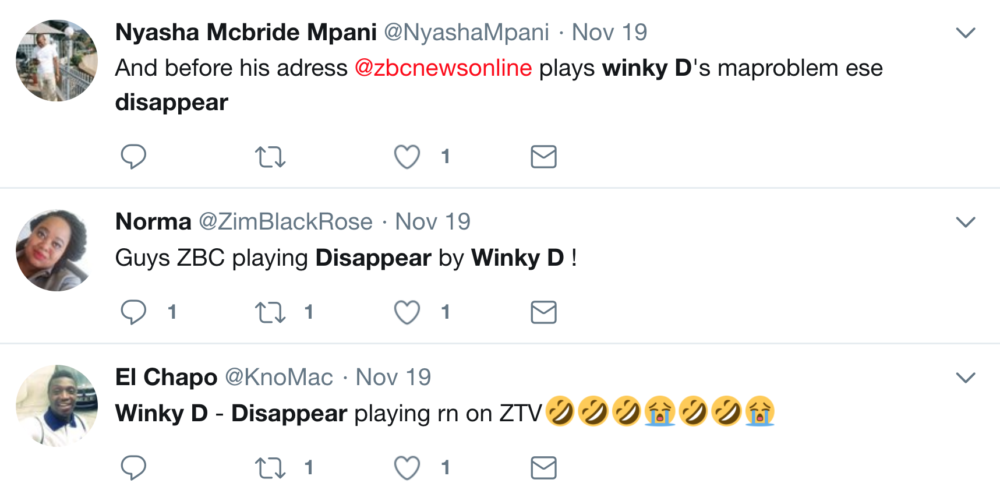 Winky D is a Zimbabwean reggae-dancehall artist who has worked with other notable artists in the genre like Beenie Man from Jamaica. The single in question, "Disappear" was released in 2015 and was not intended to be political/ protest song.
Yet the catchy chorus which repeats "Disappear" and calls for "all the problems to disappear" in the first line, gets right to heart of the matter when it comes to the only action Mugabe needed to take. This infectious and danceable song has resonated with so many and one even declares that this song is now the national anthem.

In addition to a powerful manifesto, Winky D's song is now a celebratory anthem.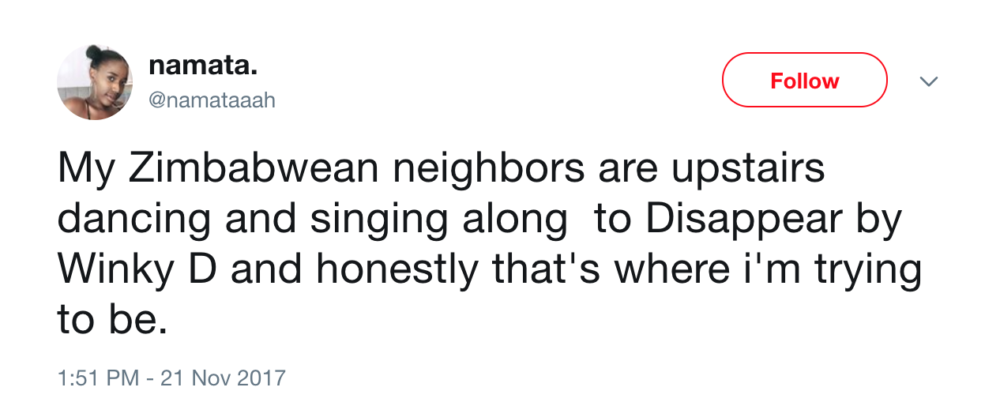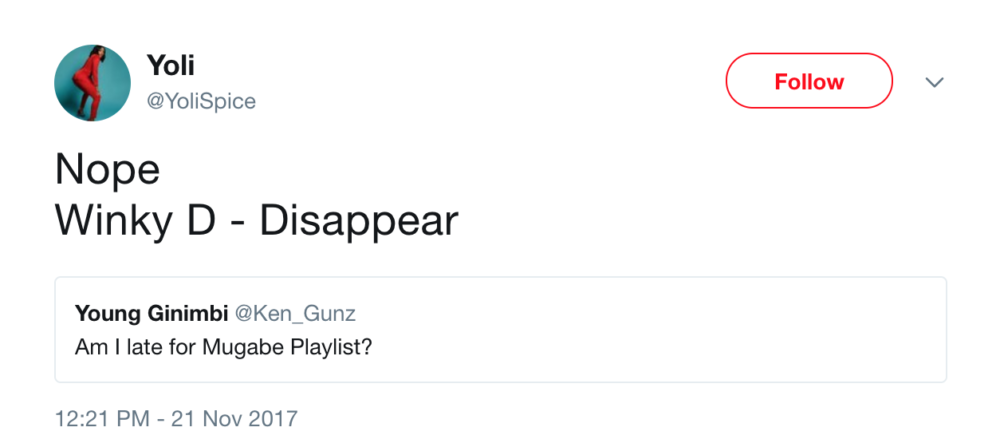 We'll be on the lookout for the next Zimdancehall song about prosperity and stability.