Field Report: Gnawa World Music Festival in Essaouira, Part Two
The sun rose on Essaouira, ready for its busiest weekend of the year. Multitudes of Gnawa devotees walked the streets, patronizing Essaouira's thriving handicraft stores (leather, silver, rugs, spices and such) and the profusion of street vendors doing brisk business in phone accessories and imported Senegalese clothes. Plenty of others took to the big, beautiful Essaouira beach (though the water is cold, the weekend was blessed with precious little of the city's famously harsh winds).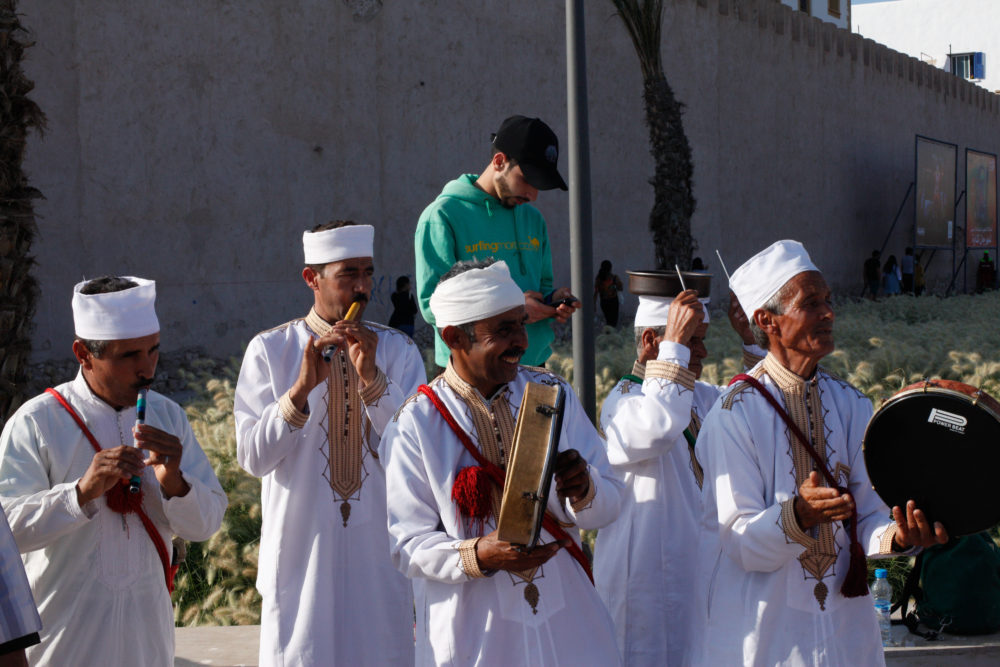 That afternoon, a group of ahwach musicians from Essaouira played. Ahwach is a Berber, or Amazigh, music, traditionally made communally as more of a celebration than a performance, with sometimes over 100 players.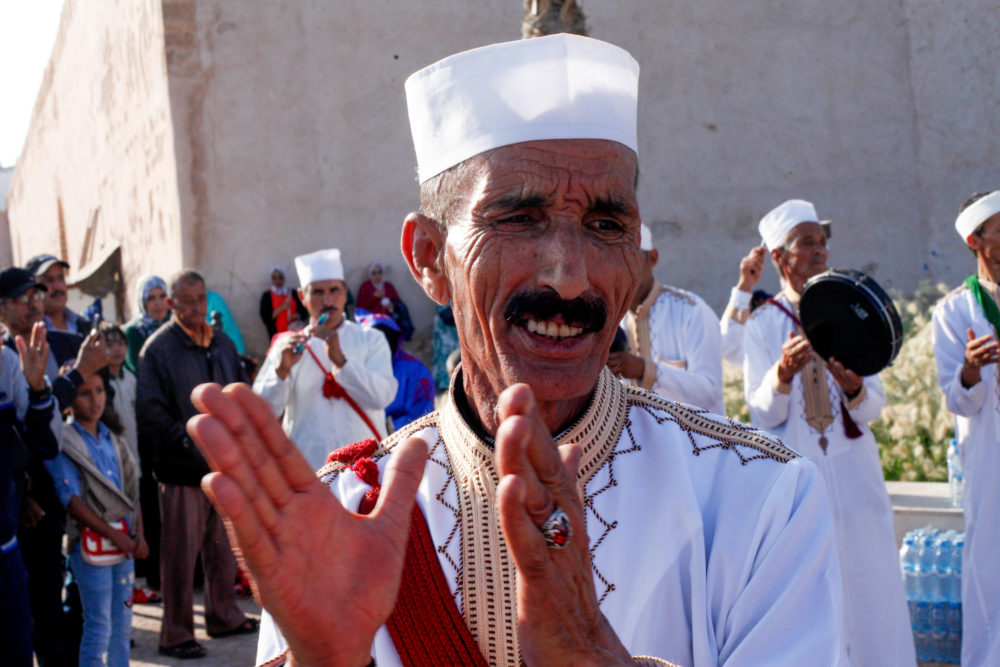 It's a whole lot of loud, chanting voices, frame drums, handclaps and an occasional high-pitched flute. Three of the 10 musicians in Essaouira danced on the cut-off tops of oil drums, almost like tap dancers.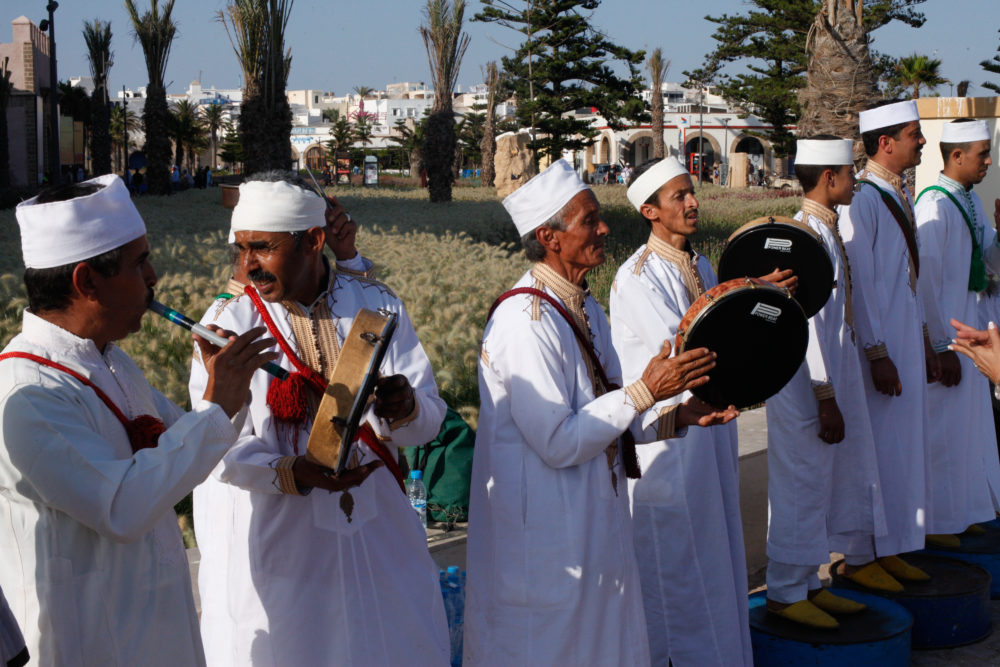 Dance, focused in the shoulders, is a big part of ahwach. The musicians used it to turn the music into a performative spectacle; the group leader would pull in bystanders, drape a decorative knife around them and show them how to dance, making sure their friends got plenty of pictures.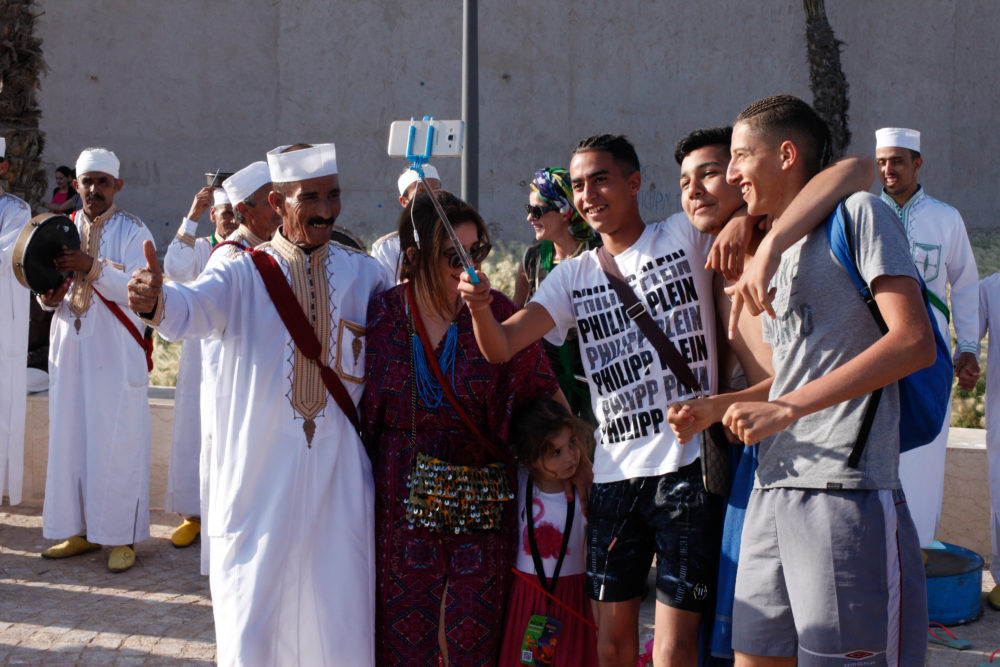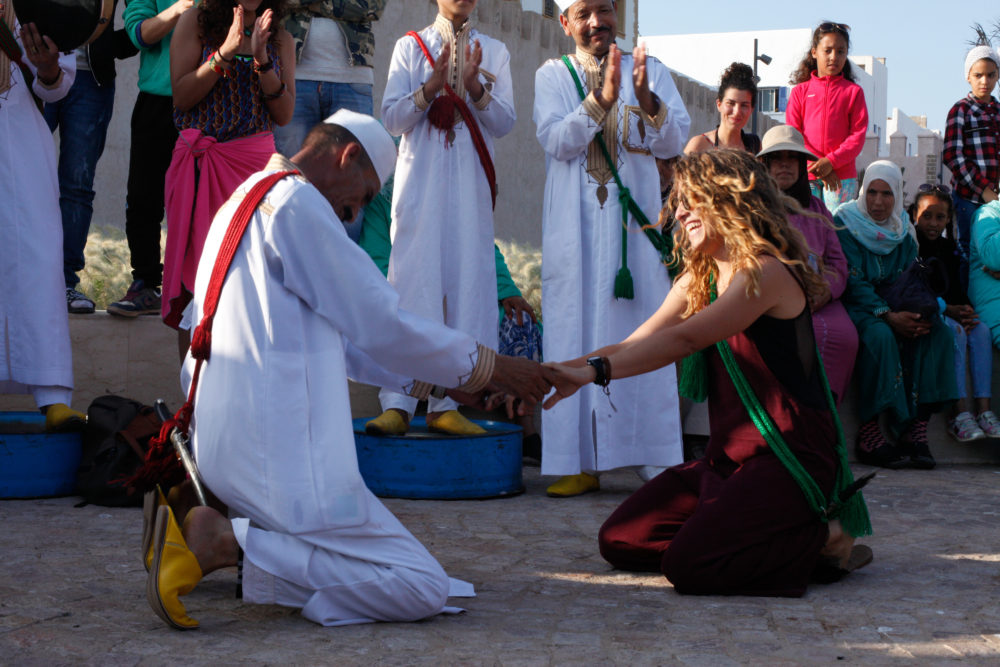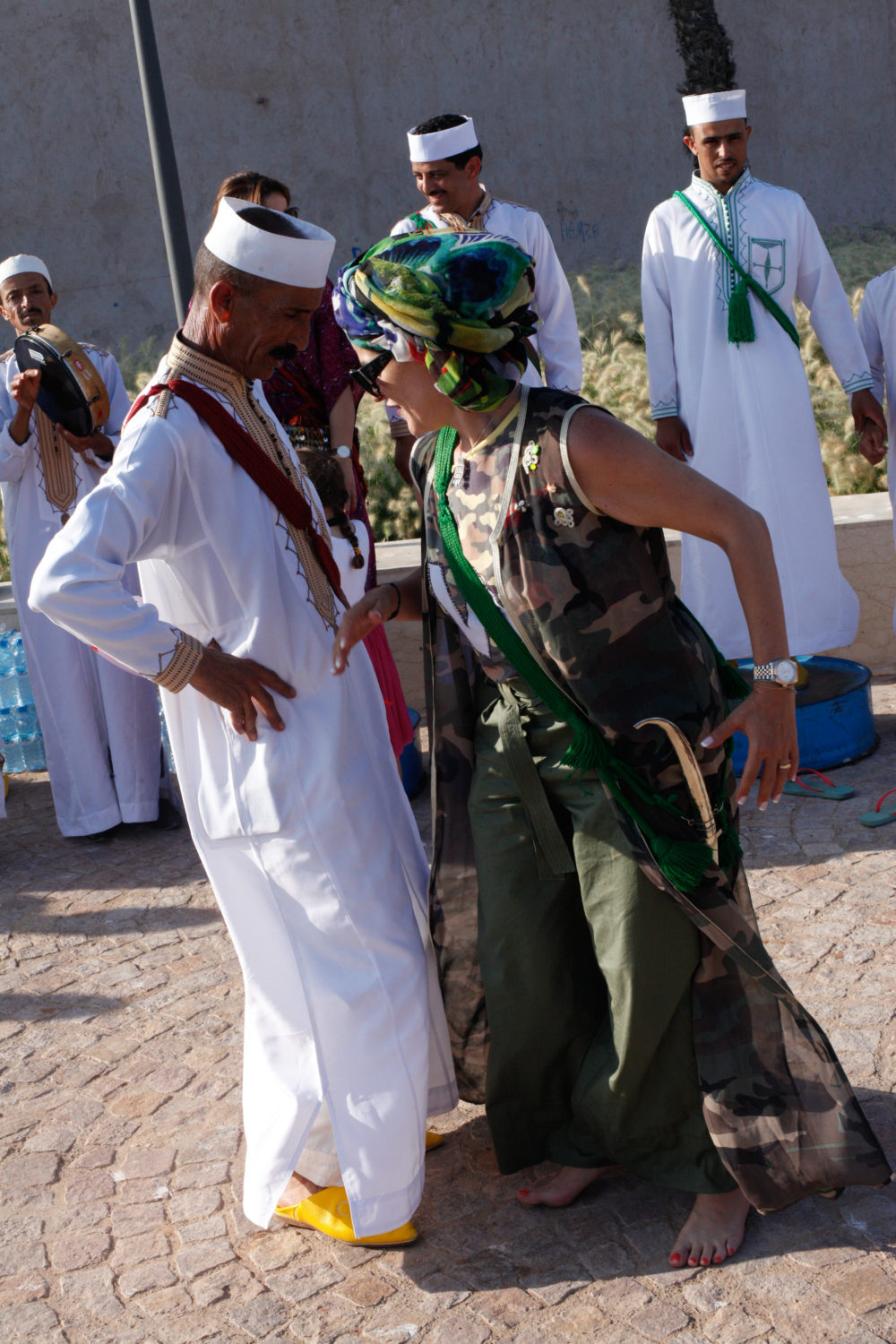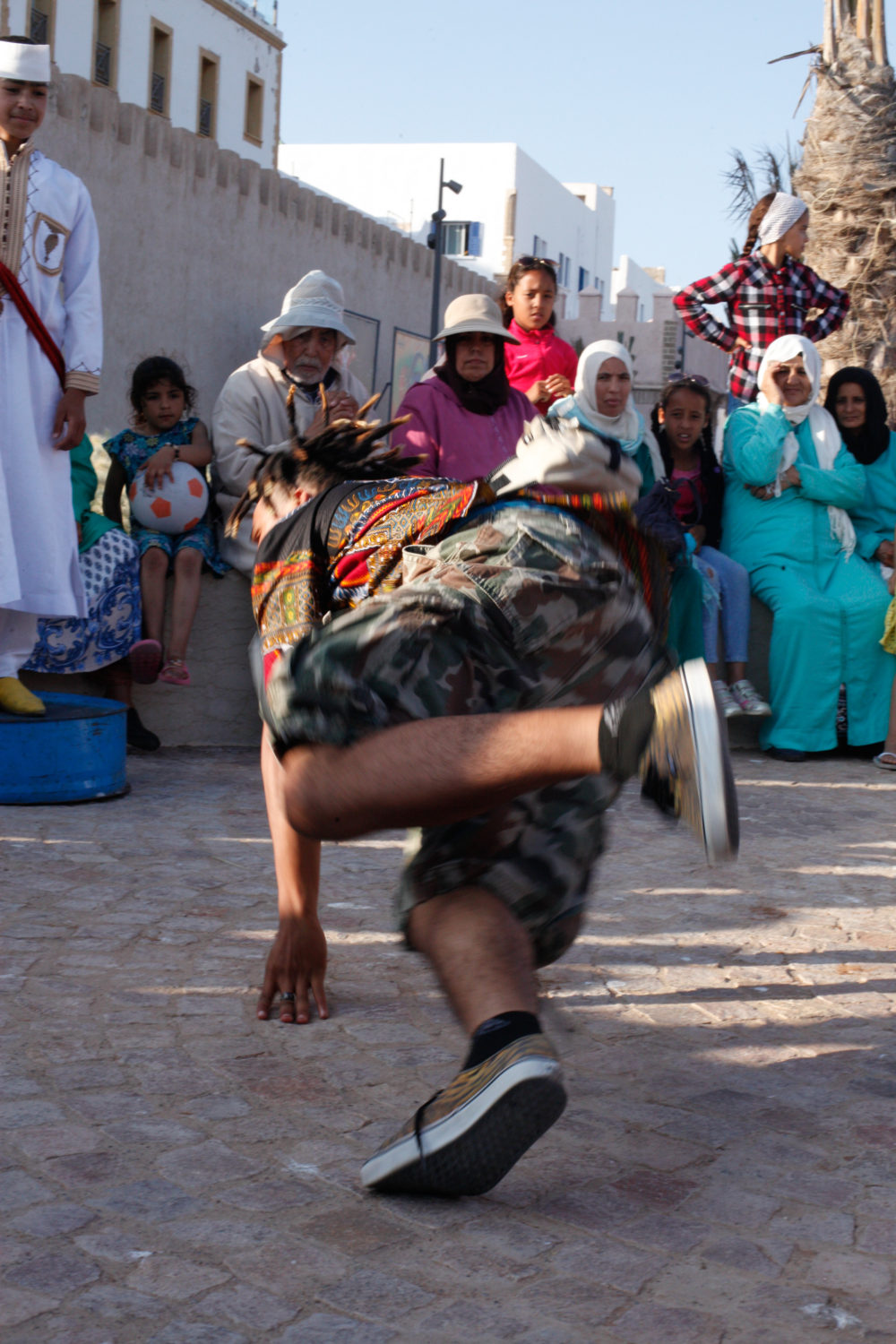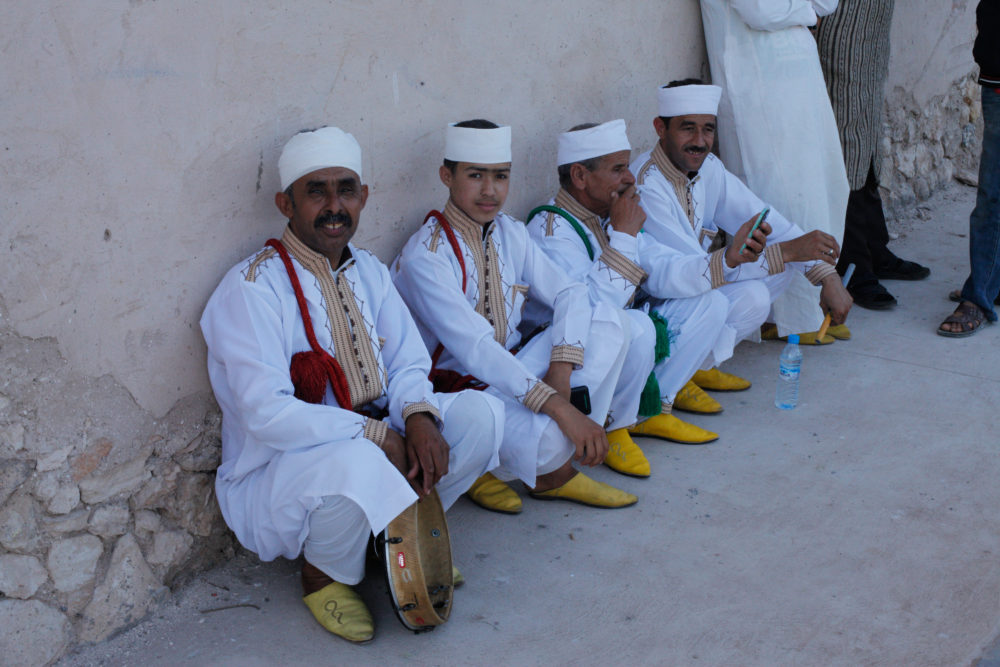 Two concerts coincided at sunset: Maalem Hamid Lksri's solo set on the gorgeous rooftop stage of Borj Marrakech, and the Algerian Tuareg rock band Imarhan on the beachfront stage. I saw Maalem Lksri, but word is that Imarhan rocked hard. Lksri is considered to be the top of the Gnawa scene for good reason. Not only does he have a beautiful, clarion voice and stunning skill on guembri, but he is also well attuned to the dynamics and flow of energy needed to truly bring Gnawa to life. As the sun turned the sky into a warm palette of blue and orange, Lksri worked his magic.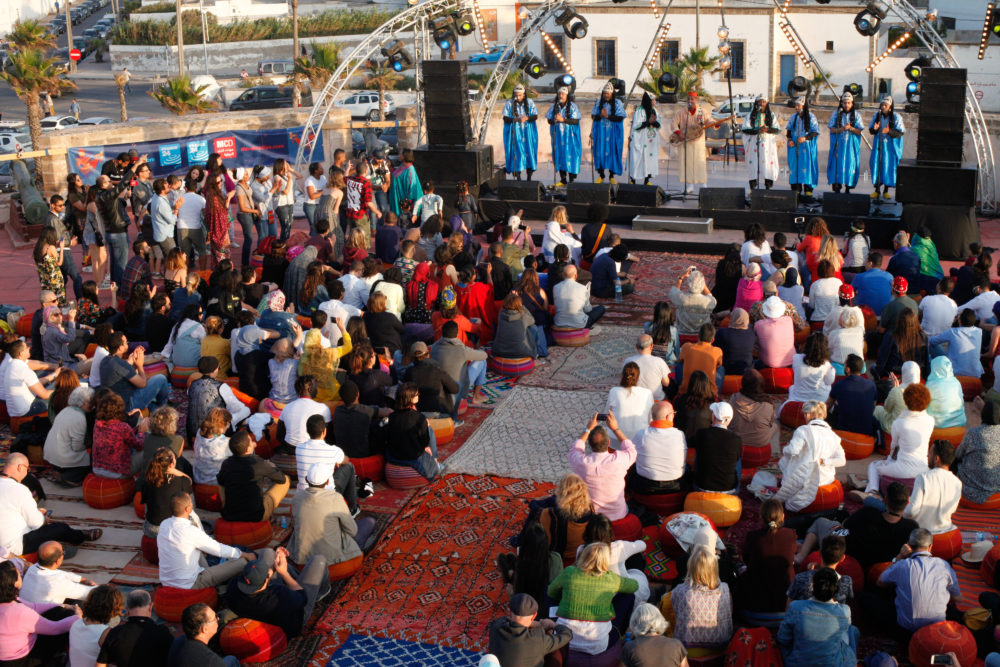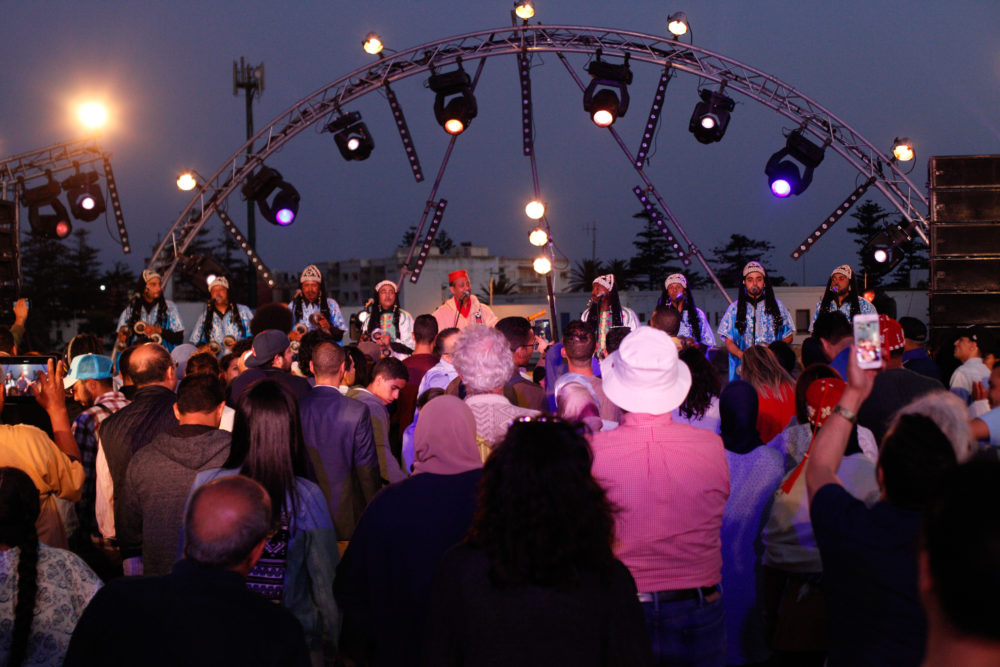 On the big Moulay Hassan stage, a jazz trio, made up of British bassist Dave Holland, American saxophonist Chris Potter, and Indian tabla player Zakir Hussain, performed. The three are all masters of their crafts, and together they made some next-level jazz.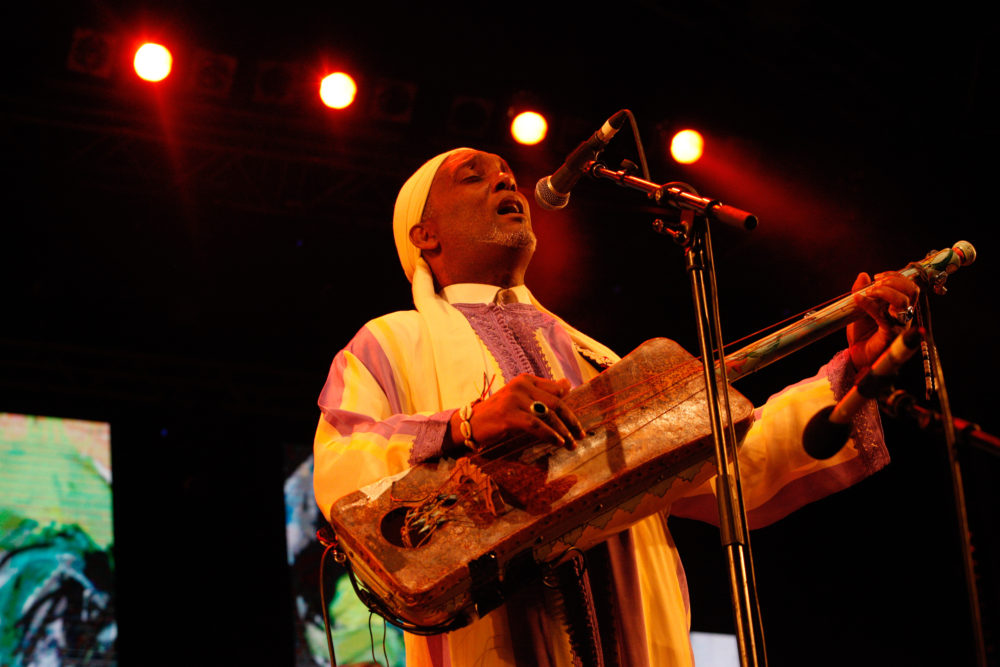 For a couple of pieces, the excellent Marcus Gilmore joined the trio on drums, meshing beautifully with Hussain's tabla. Casablanca-born Maalem Said Oughessal and his dancing kouyous teamed up with the trio for a fun set that was largely straight-ahead Gnawa, accented with saxophone solos and tabla flourishes.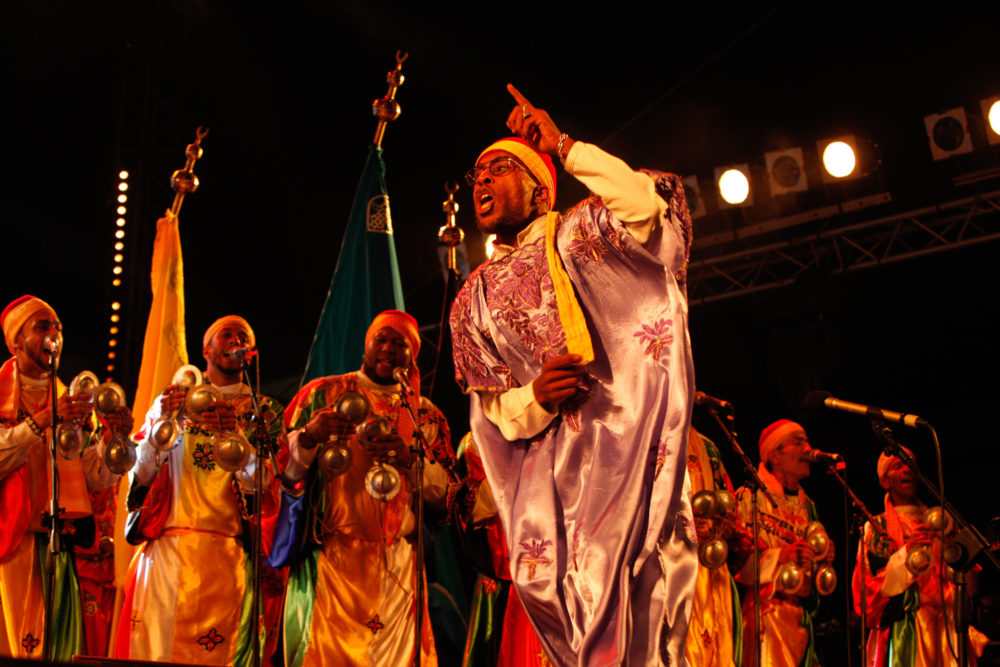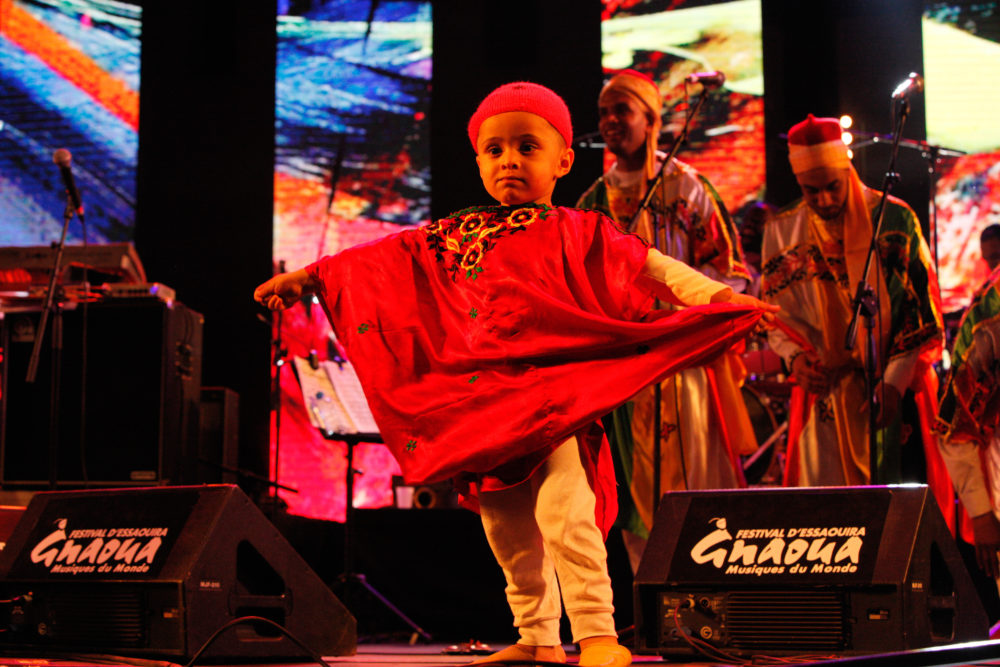 I heard several anecdotal reports that the festival attendance has declined over the past few years, but the crowds that filled the city and packed the stages made that hard to believe. There were many visitors from abroad but also many Moroccans, especially young ones. The Gnawa-loving Moroccan youth dressed to impress: There were '70s hippie types, metalheads, urban hipsters, Rastas, surfers and punk rockers. Many, carrying big backpacks, had hitchhiked from across the country and were sleeping on the beach or in campsites out of town.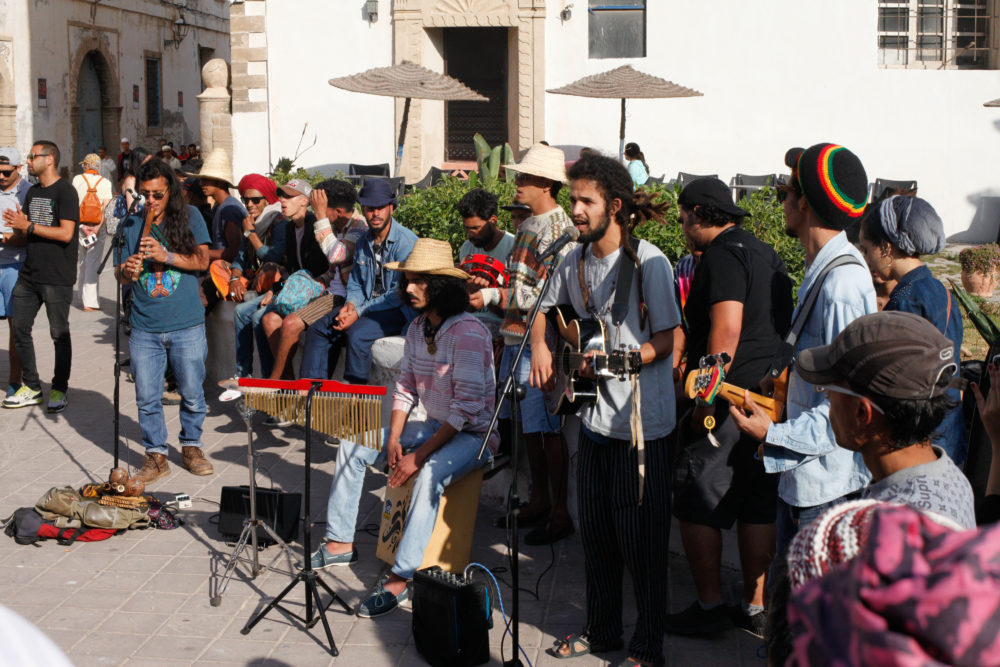 Gnawa, and this festival, have become a celebrated common language, a revered cultural heritage, and gathering place for Moroccan youth. Gnawa is taken as a distinctly "African" dimension of Moroccan culture by a generation that is increasingly leaning away from the colonial residue of Eurocentrism toward their continental neighbors. Many Moroccans continue to conceive of their country as something distinct from "Africa," a word that they often use to mean only sub-Saharan Africa. This, of course, is born of a very convoluted national history, carries all kinds of racist and colonialist undertones, and has been subject to huge amounts of debate and cultural commentary.
Although the concept may be more idealistic than literal, fans see Gnawa as a bridge to the rest of the continent. And, importantly, the Moroccan cultural establishment has begun to strategically employ Gnawa in this way, recognizing the global ascendancy of the idea of "African-ness." (Coincidentally, or not, Morocco rejoined the African Union last year after 33 years away. In his first AU speech, King Mohamed VI said, "It is so good to be back home, after having been away for too long.") All of these ideas are too convoluted and deeply textured to fully do justice to here, but I suggest you read this article on the subject.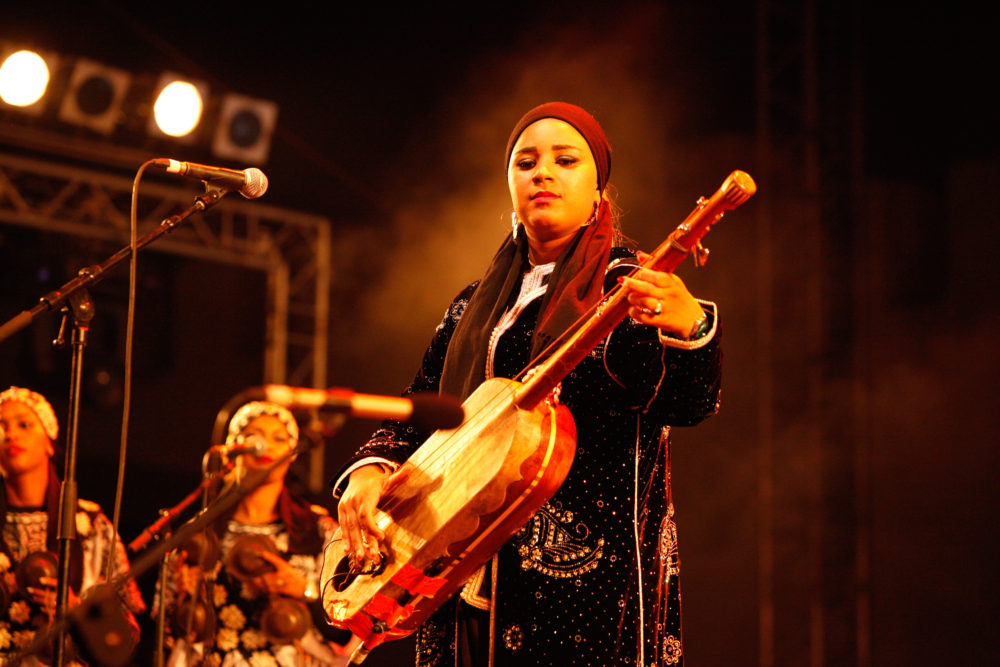 In this vein, the main event of the second day of the festival was a collaboration between the inimitable Malian singer Fatoumata Diawara and 20-year old Asma Hamzaoui, one of the very few women publicly performing Gnawa music. The Casablanca-born Hamzaoui fronts an all-female band of kouyous called Bnat Tombouctou (Daughters of Timbuktu), whose name clearly draws the oft-drawn link between Gnawa and Mali. She is often lauded as the first female guembri player but, according to her, the innovation is more her public stature than her being a Gnawi: "It's not really that strange. It was not really very common … but a long time ago, women used to play the instrument." Her father, Maalem Rachid Hamzaoui, began to teach her the guembri at the age of 7. Thirteen years later, she's headlining the Gnawa Festival.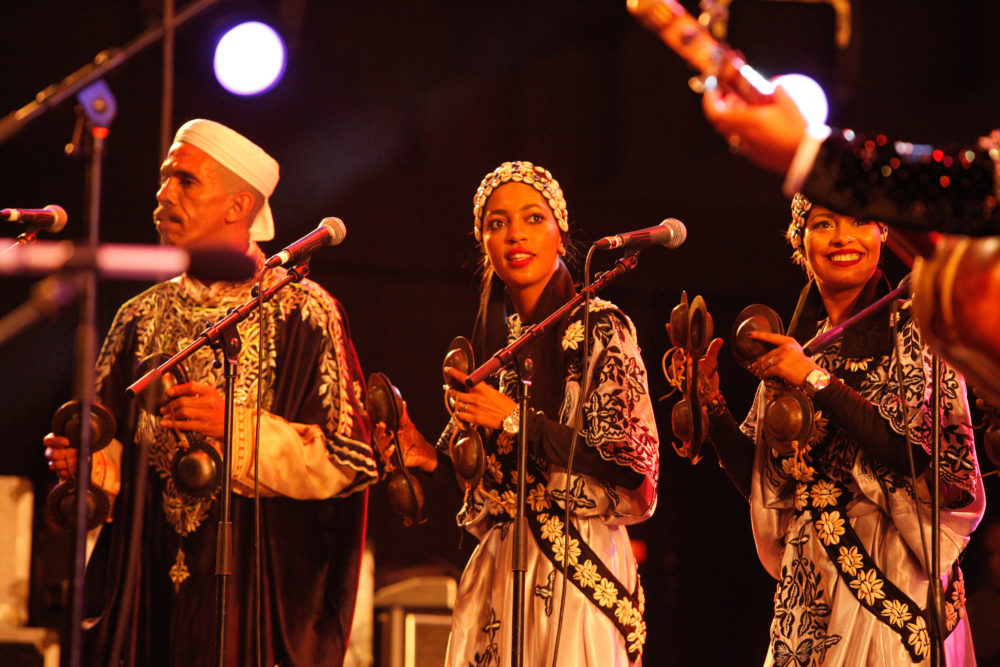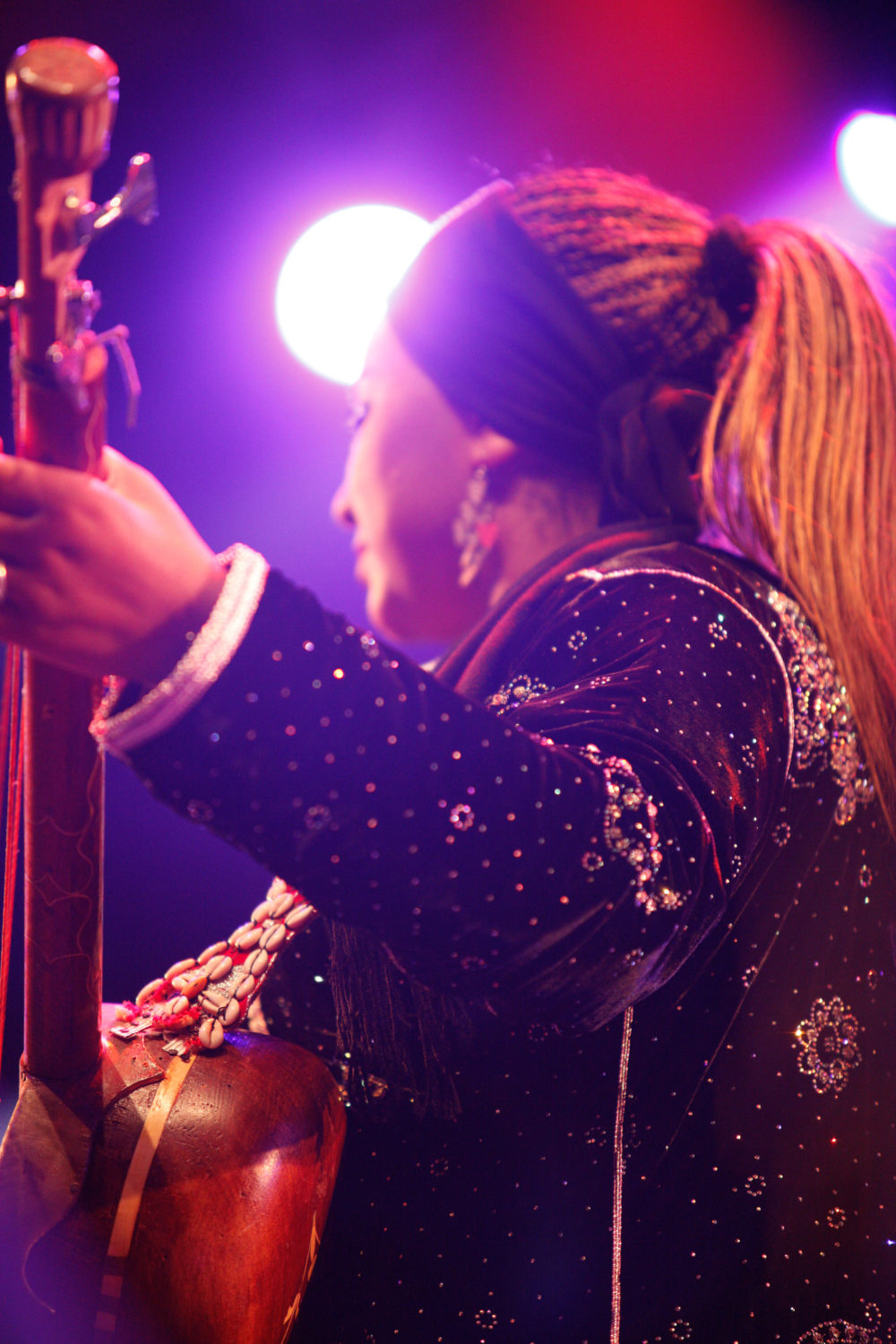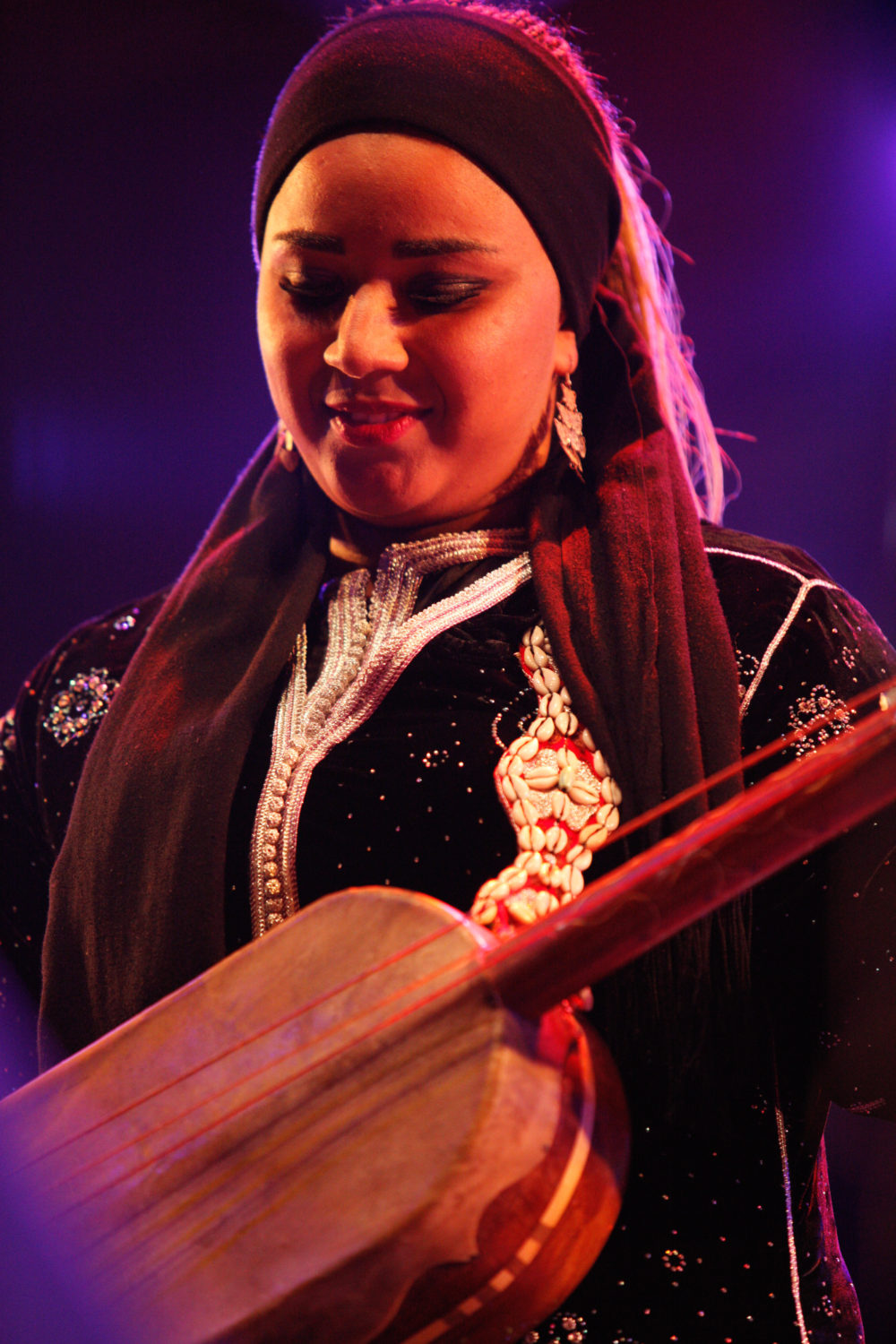 Opening for Diawara with Bnat Tombouctou (plus a few male kouyous), Hamzaoui was well at ease on stage; even her guembri seems to have a tranquil attitude about it. Her voice is deep, with honeyed edges. It's ornamented with clear, quick but unhurried vibrato and soars high easily. It's striking and exciting how different Gnawa can sound when performed by all-female voices. Even for such a young Gnawi, Hamzaoui's guembri playing is crisp and skillful. When I asked her if she considers herself a maalema (the female version of the word maalem, which literally means master), she laughed and said, "I don't know! I can't judge, I'll leave it to the grand maalems to judge." If her exuberant audience could have a say, she'd absolutely deserve the title.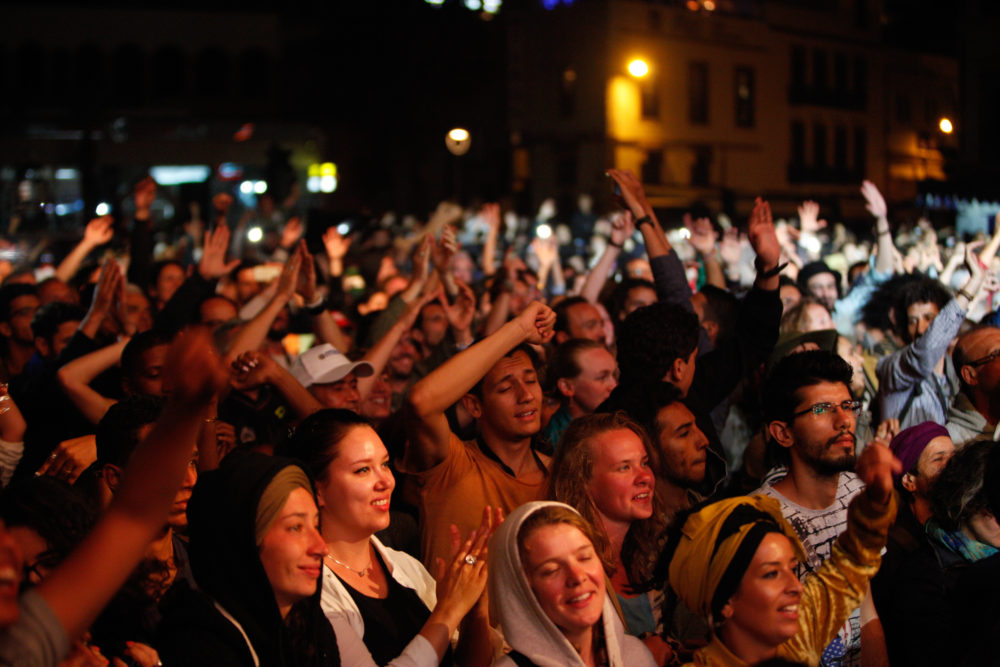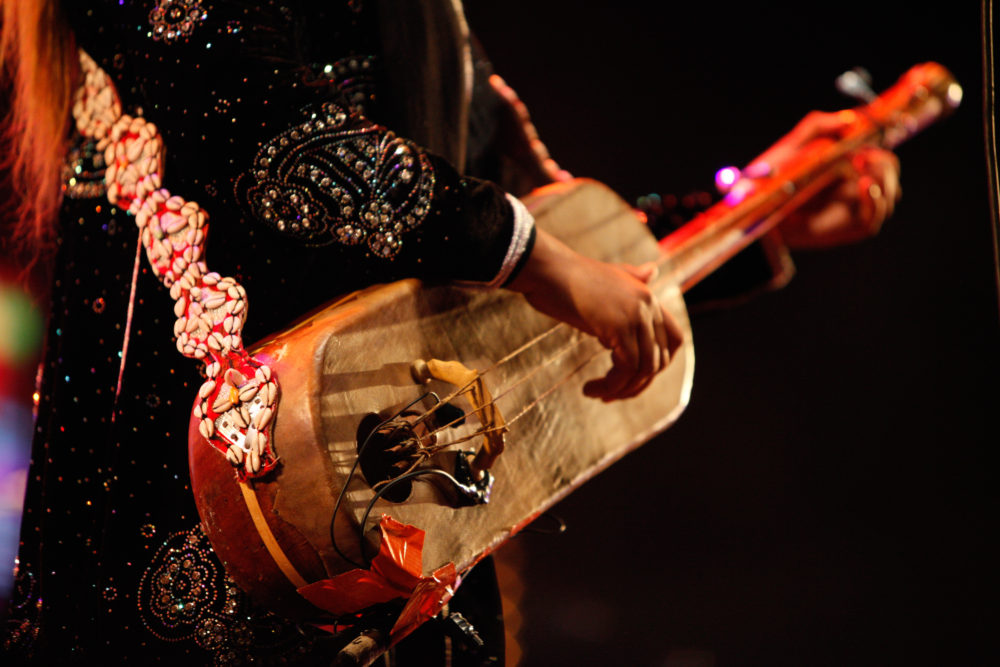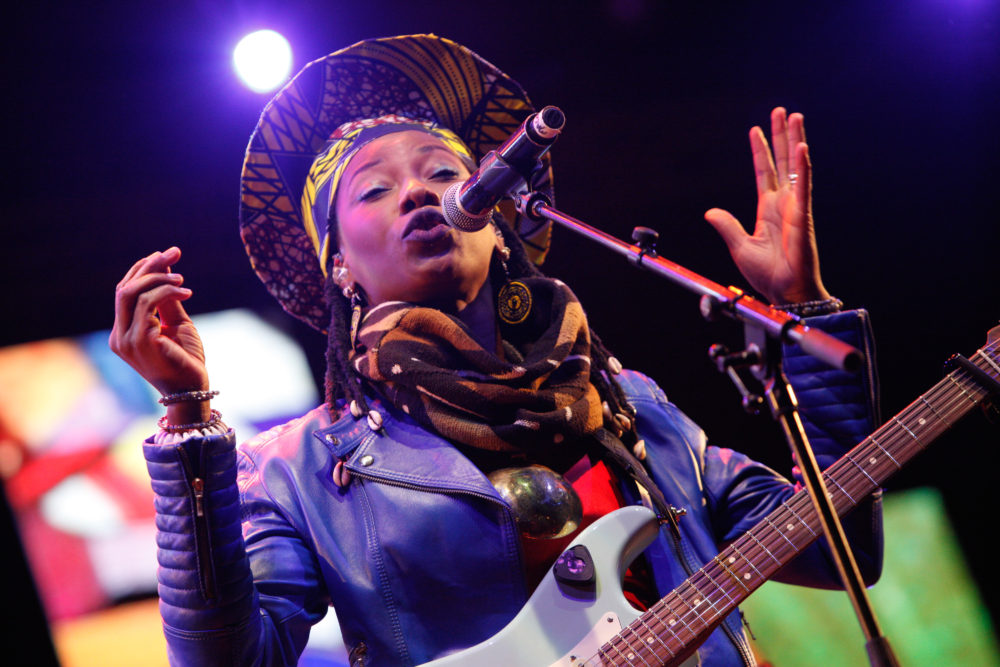 Hamzaoui told me that she dreams of collaborating with Oumou Sangaré, the legendary Malian singer. She got close with Fatoumata Diawara. Although Diawara has lived for most of her life outside of Mali, she brims over with the sound and spirit of Mali's Wassoulou south. We know her well here at Afropop, going back to her 2011 debut album Fatou. Since then we, and the rest of the world, have fallen in love with what Banning Eyre described as her "mellifluous voice [that] rises to take on a ragged edge."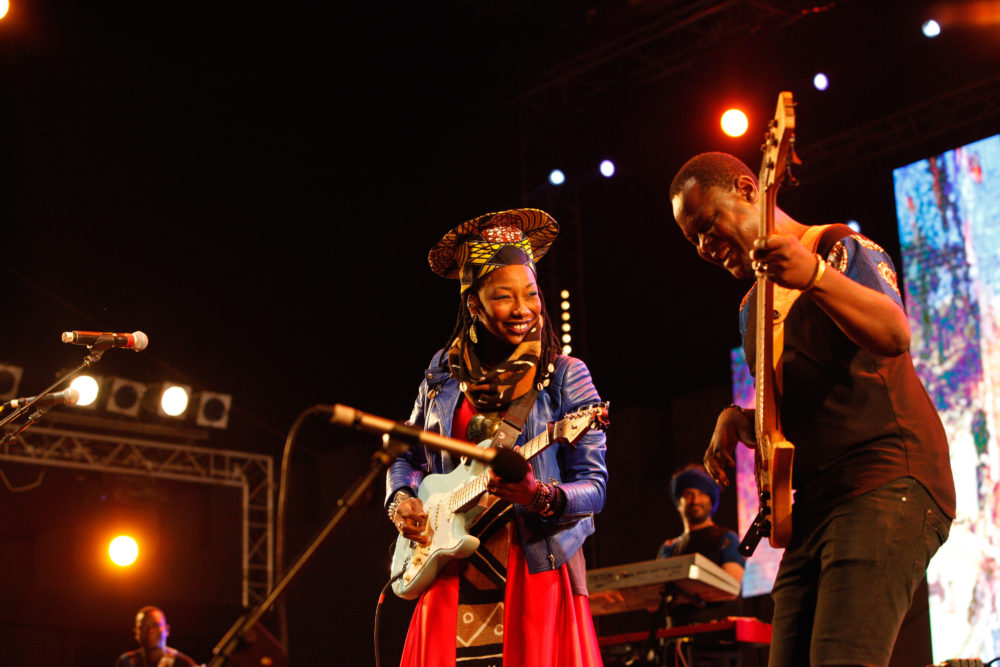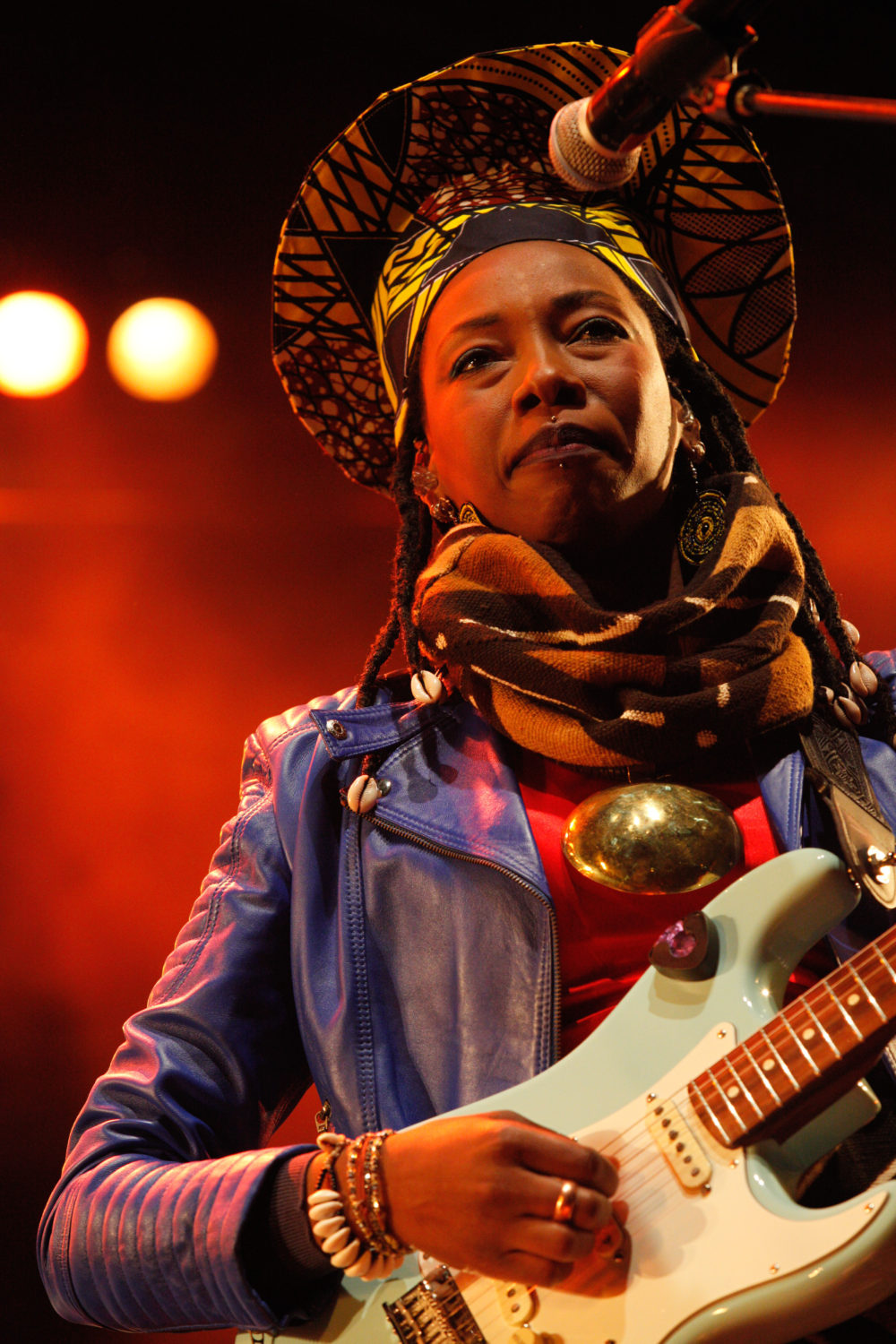 Diawara is an innovator deeply rooted in her homeland, marrying the blue Wassoulou sound with rock, and these days, even punk and funk. Her music has matured over the years into something ferociously exciting to hear. She has become a full-on diva, matching her masterful songwriting ability with a dazzling, almost acrobatic stage presence. Diawara is so hyped to be playing her music.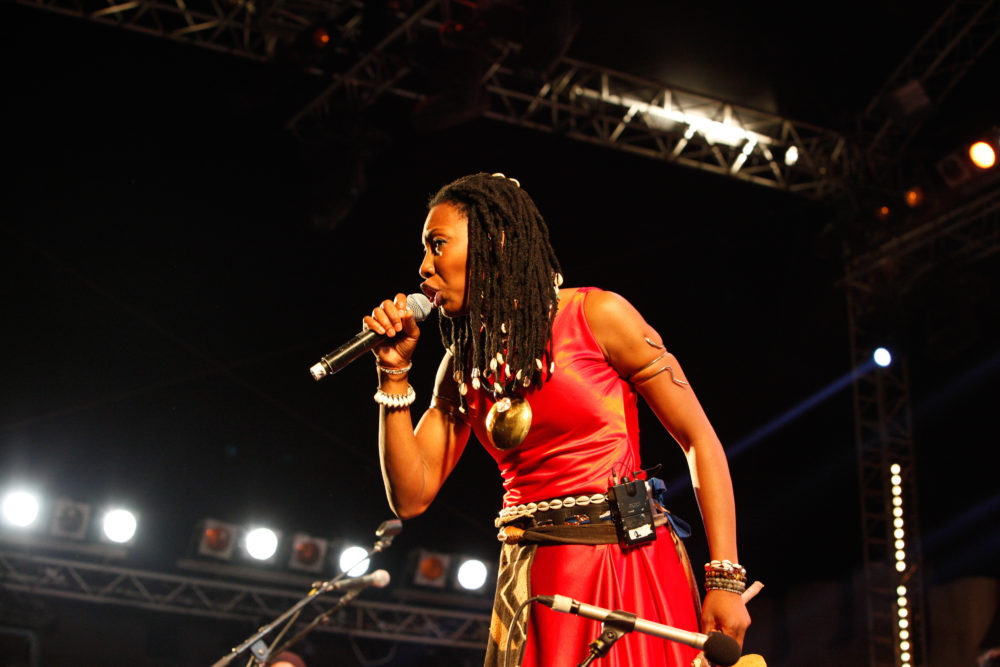 She and her four-piece band pulled out all the stops with plenty of lengthy solos and her entrancing dancing with a big, horsetail fly whisk. In the midst of all of her songs, they got deep into a Stevie Wonder cover. Diawara never ceases to push things forward. Her words are fierce too, singing directly at the injustices suffered by women, migrants, people trapped in slavery, others trapped by oppressive social structures. To introduce one of her newer songs, "Nterini," she cried out, "Ouvrez les frontières pour mes frères!" (Open the borders for my brothers).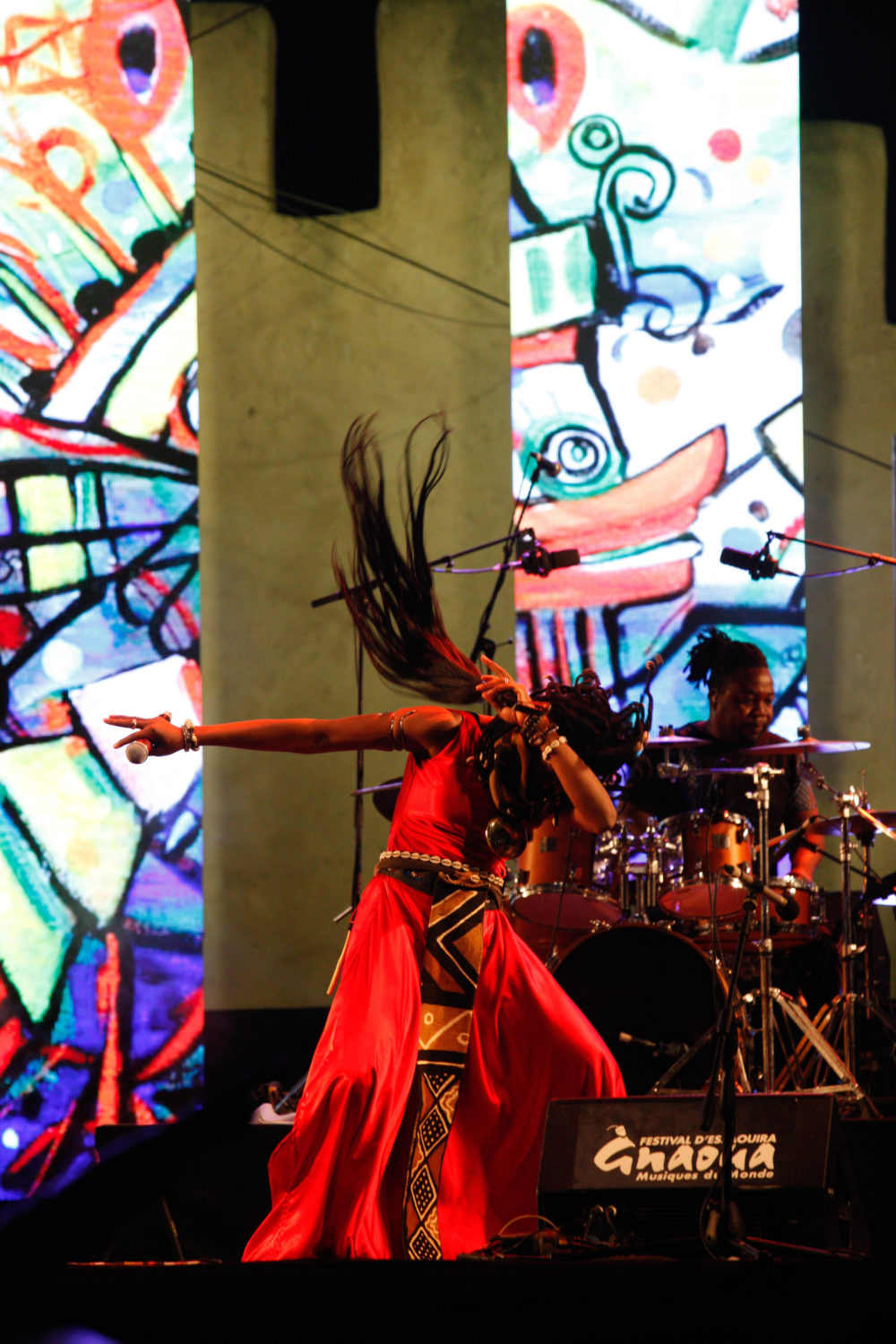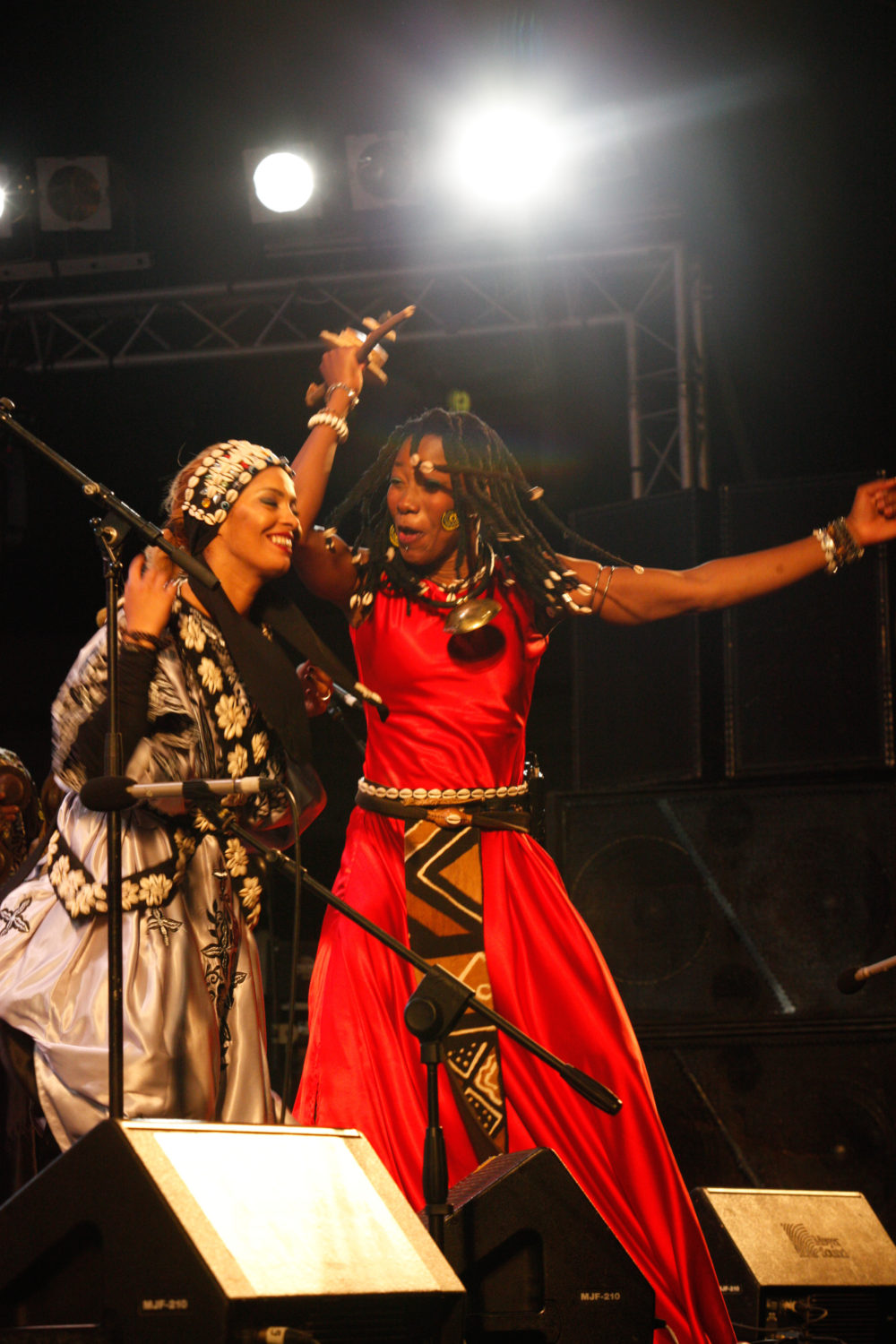 Together, Hamzaoui and Diawara have a great rapport. Their collaboration was one of the most enjoyable shows of the festival, bringing together the maalema's relaxed artistry and Diawara's high-octane drive. The two began the set by layering vamps on their instruments and trading the mic fluidly. Then things got raucous as it dove into a breakneck mash-up of northern Malian desert blues and Gnawa.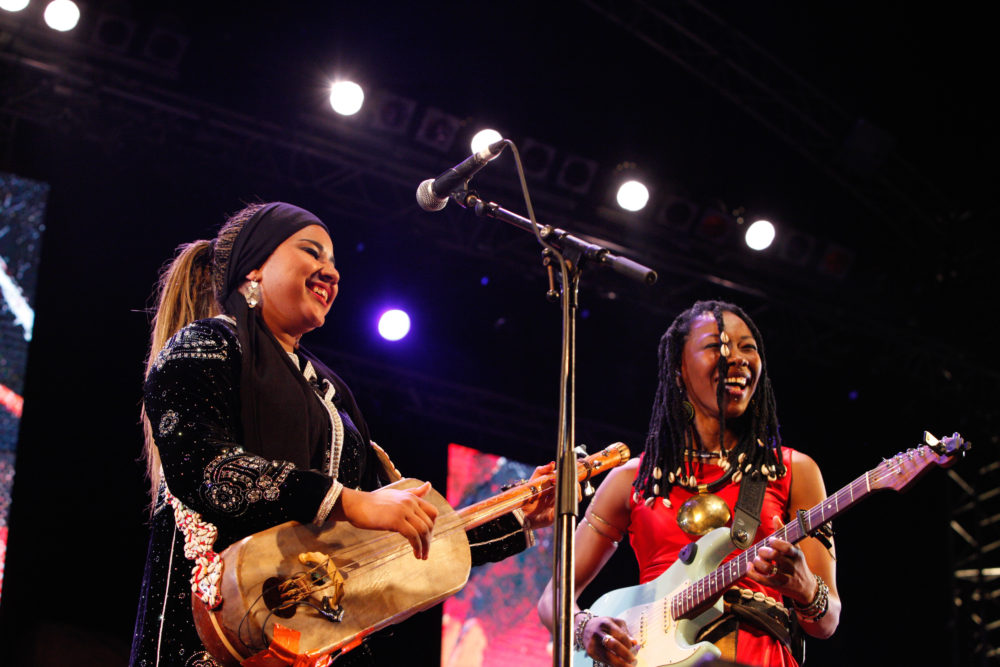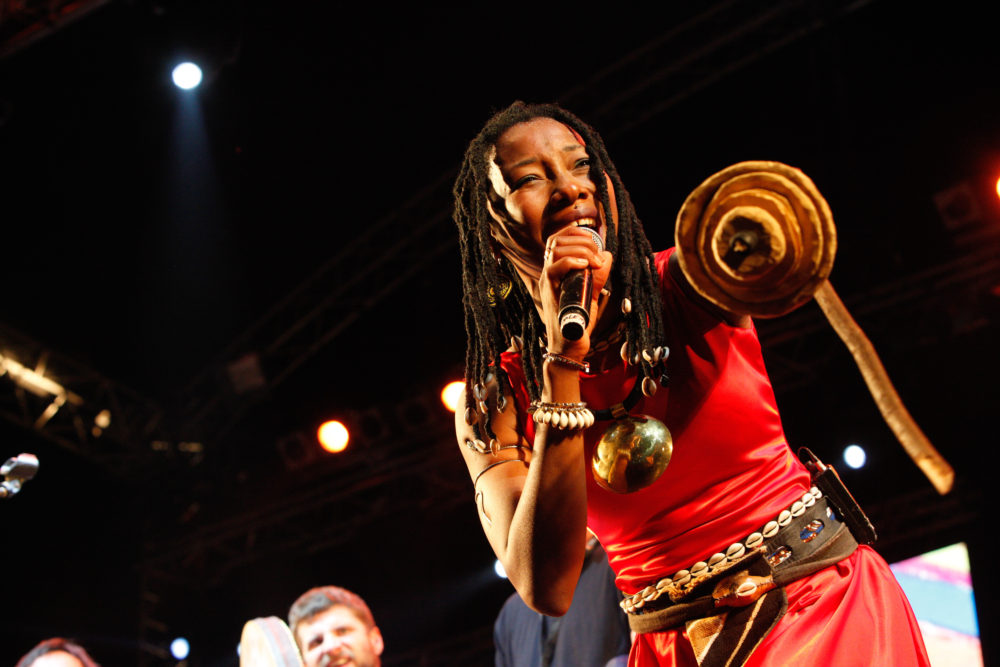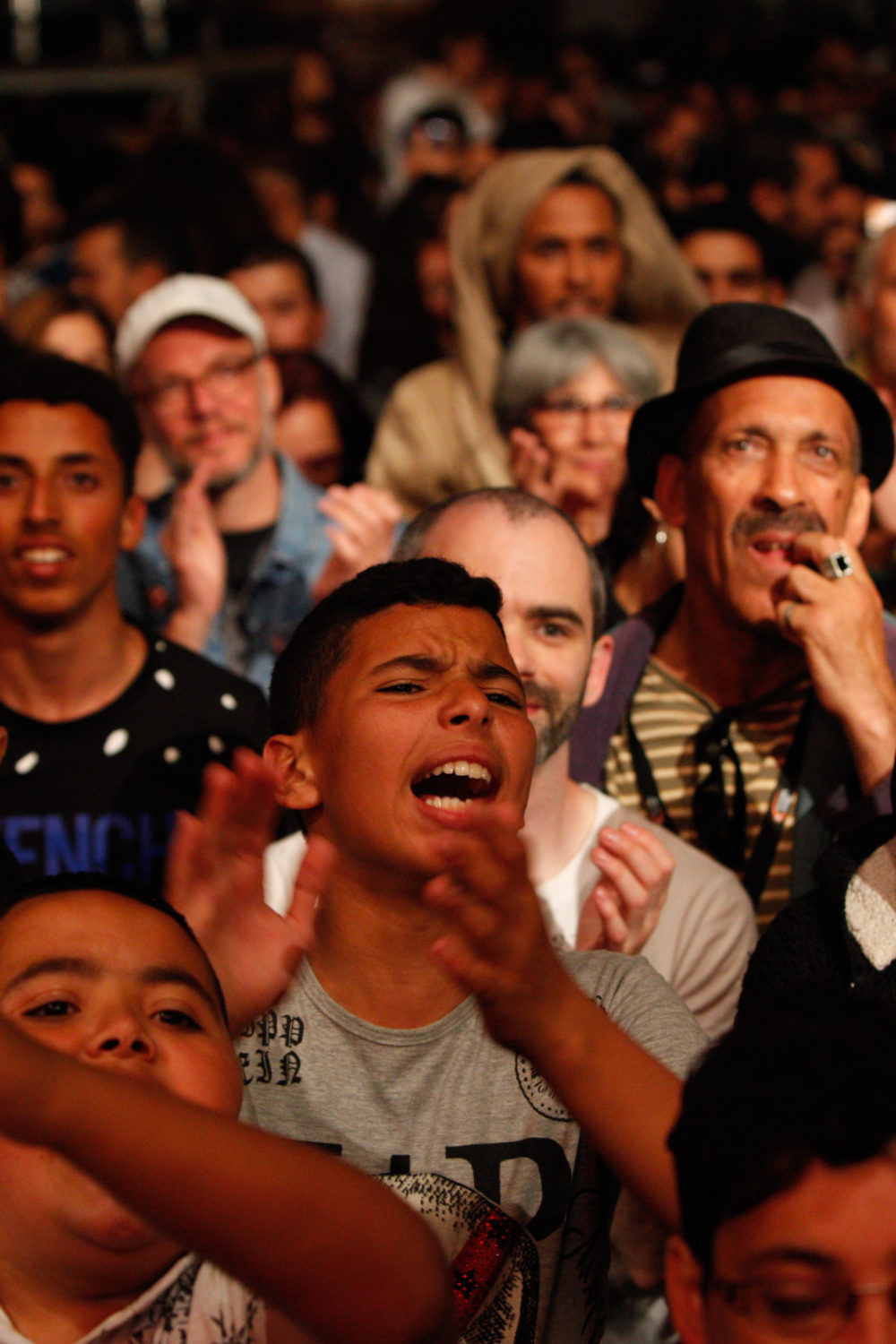 They turned the energy up to 11 for the rest of the set. Diawara, almost delirious with excitement, danced and sang, bringing out three of the members of Snarky Puppy for a frenzied, ecstatic closing jam.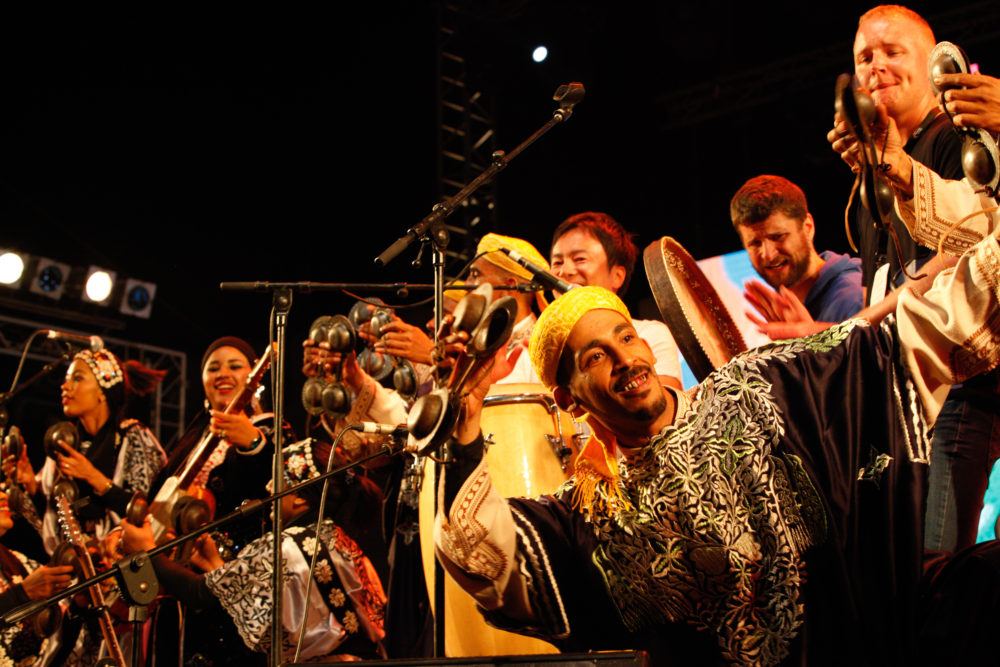 While this was happening, more maalems, namely our friend Maalem Abdelkader Amlil (featured in our "Festival in Fes" program), performed at the intimate Dar Loubane and Zaouia Issaoua venues. By 3 a.m., everyone was back out on the streets, either wading back home through the buzzing post-concert energy or heading out into the medina in search of a spontaneous Gnawa jam. Day two done. More to come.
All photos by Sebastian Bouknight.