2022 globalFEST Tiny Desk Extravaganza now online
For the second year running, the annual NYC world music January showcase globalFEST has been a virtual event, and once again, presented in partnership with NPR's Tiny Desk Concerts. Hosted by Angelique Kidjo, running over three nights, the event unfolded Jan. 18-20, and now all the concerts are available on YouTube.
This year's selection of nine acts was vibrant, varied and consistently rewarding. As someone who has always enjoyed clawing through dense crowds, or crawling and crouching at stage side with my camera to get fab photos of the artists, I have to say that photographing the TV is not quite as much fun. (I could have gone for screenshots, but that would be still less fun.) However, one distinct advantage of the online version of globalFEST is subtitles translating most of the lyrics, adding an often-fascinating dimension you don't get in the live version.
Here's a quick rundown and links to the concerts. Each evening's offering is just an hour long, time well spent! So hook up the big screen and the sound system, prepare your favorite celebratory toast and enjoy the show.
By the way, Afropop Worldwide has been honored with the 2022 globalFEST Impact Award. The award ceremony occurs on Jan. 27, at 4 p.m. as part of the virtual Wavelengths Conference. You can register here. There's a suggested donation of $20 for a ticket to the whole day's events, but if you just want to attend the ceremony, you don't need to pay.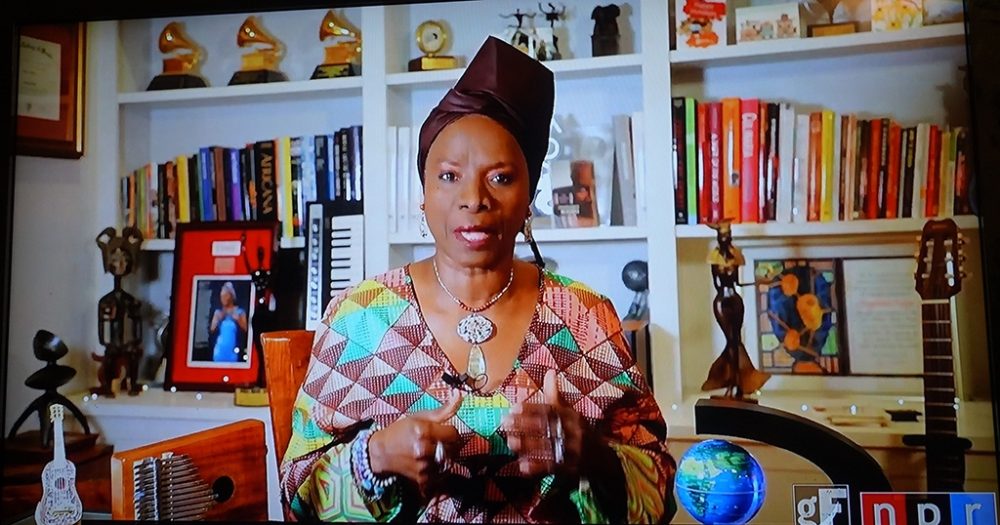 Day 1

The first set features three acts that cannot be classed in any specific genre—true originals.
Suistamon Sähkö from Finland is described as Arctic etnotekno, and I can't do much better. The outfits and moves are trancey and borderline bizarre, and the lyrics reveal a darkness you may not associate with the purported "happiest country in the world."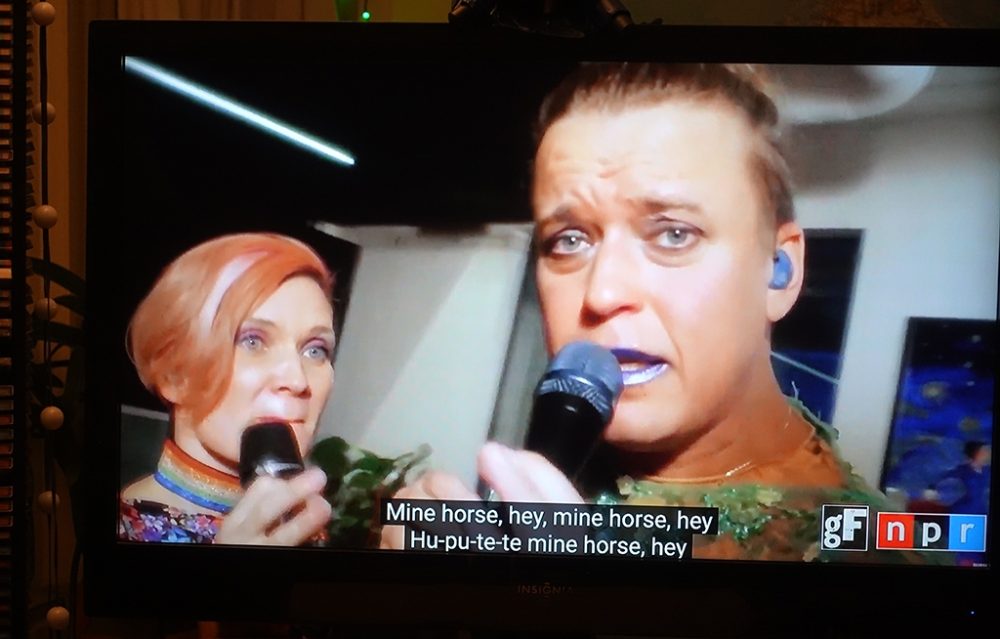 Bedouin Burger is a collaboration between Lebanese underground music veteran Zeid Hamden and Syrian vocalist Lynn Abid. Their blend of live instrumental, looping and programming is minimalist, moody and deep, featuring Abid's liquid and luminous voice. By the way, for more on Hamden's fascinating past, check out our 2013 program on Beirut.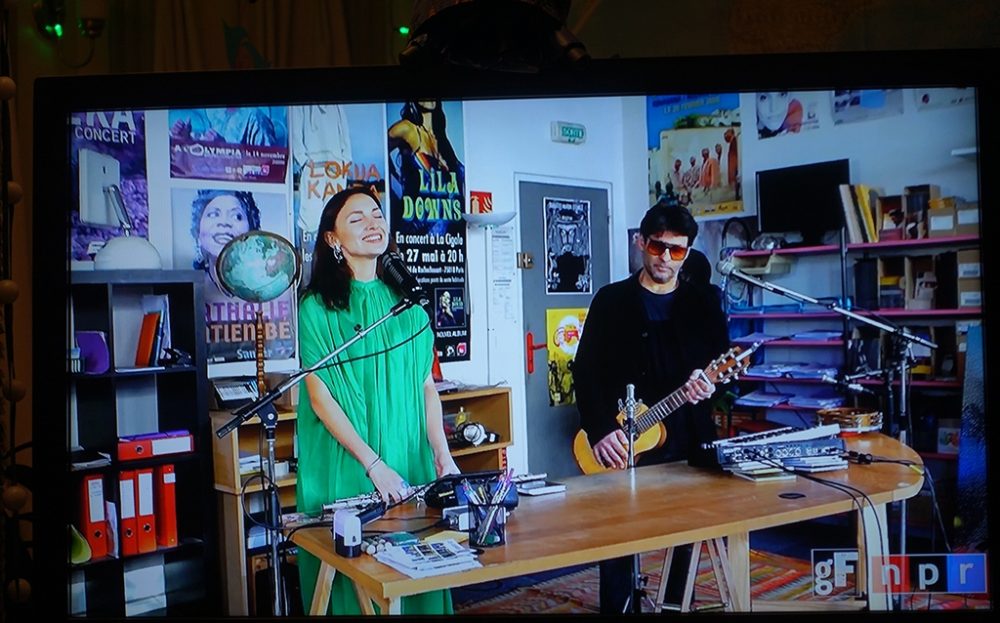 Ak Dan Gwang Chil/ADG7 from South Korea is an utterly delightful ensemble blending North Korean folkloric music with a playful pop sensibility. The inverse of the Finland group, this act exudes merriness we do not tend to associate with North Korea.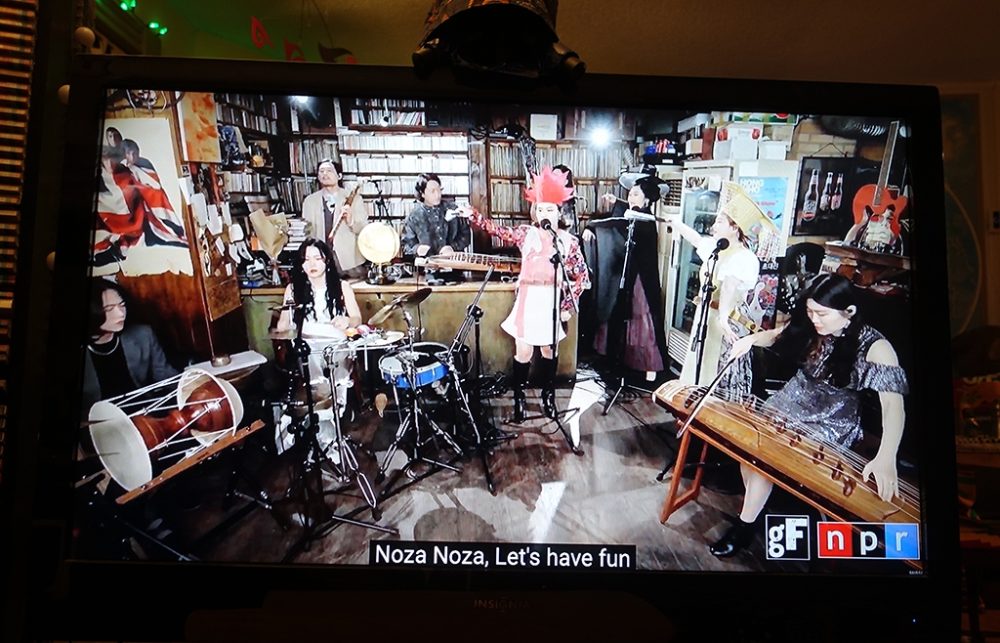 Day 2
The second set is more folkloric in character with three strong, totally different acts.
Kombilesa Mí delivers the full-on percussive/vocal impact of Colombia's Afro-Pacific coast. Despite overt references to the legacy of slavery, the performance exudes power and positivity.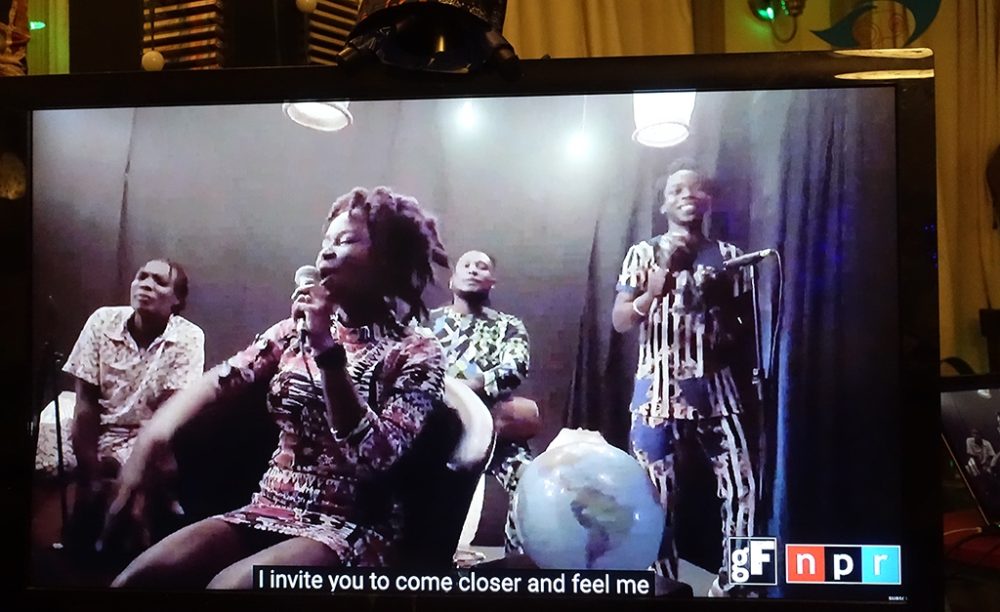 Northern Cree from Alberta, Canada, performs ancestral pow-wow music and dance. Heavy beats and gut-cry vocals tell a story of subjugation and resilience.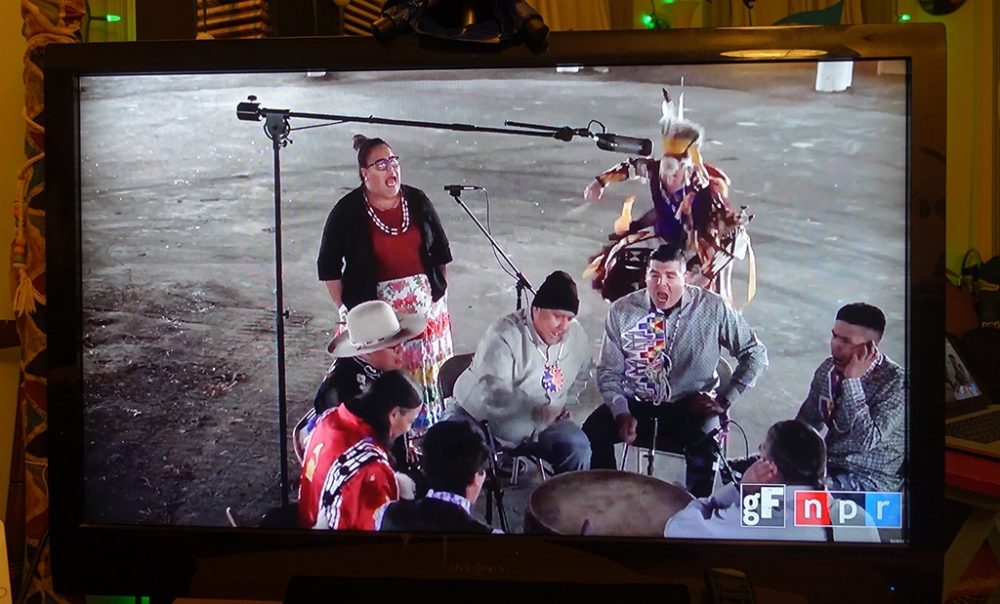 Som Rompe Pera from Mexico cranks out an exuberant take on cumbia and pop. Get ready to dance around your living room!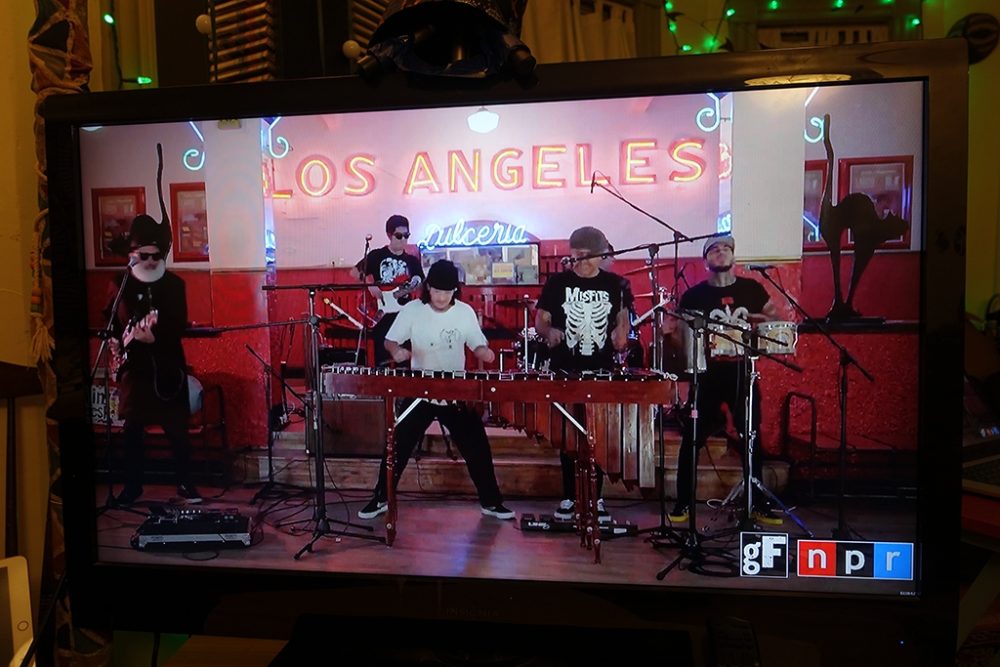 Day 3
From roots to jazz, the final set features some wicked shredding on a variety of string instruments and more.
Al Bilali Soudan is a mesmerizing tehardent ensemble from northern Mali. The spirit of the desert pervades this performance, with virtuoso tehardent lute solos and seductive takamba grooves.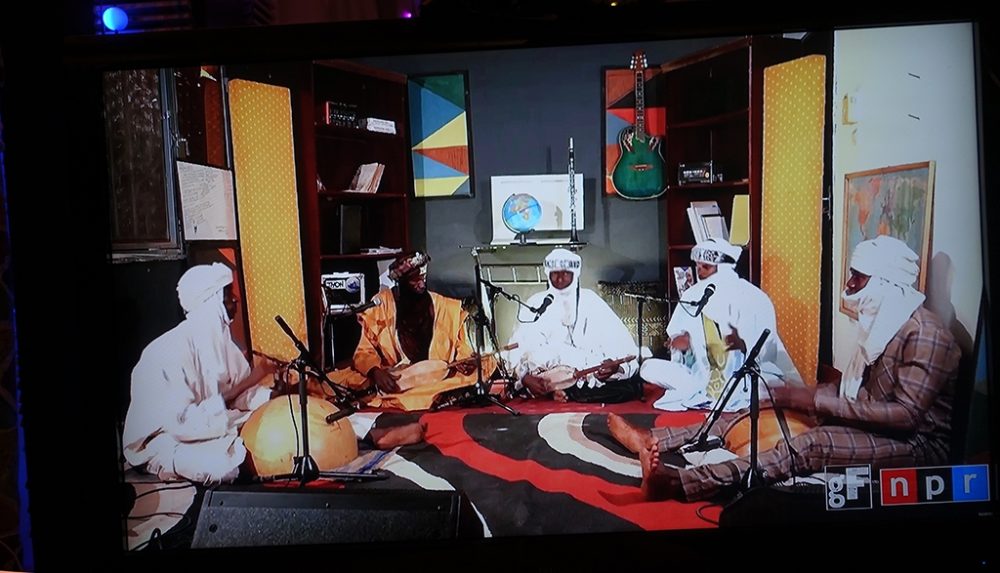 Kiran Ahluwalia's unique blend is based with the Indian music that began her transnational journey. Her ventures into northern Malian music and jazz feature strongly in her wise songs, rich with feminist themes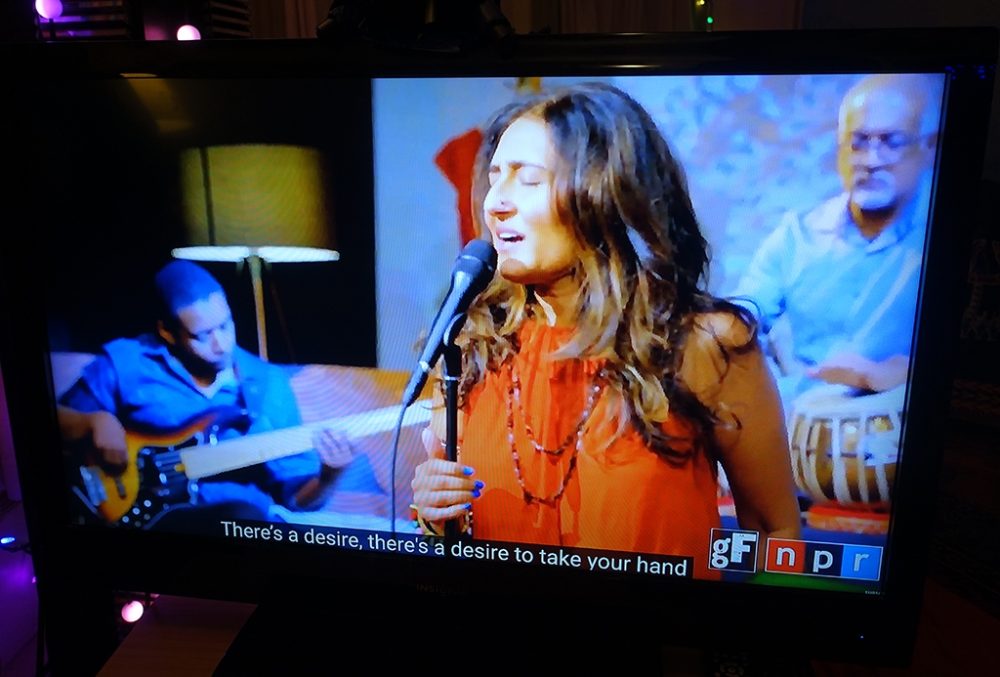 Tufan Derince's Kurdish wedding music is rowdy and electrifying, owing to his Hendrix-worthy chops and tone on the long-necked electric baglama, and his kamancheh (upright bowed fiddle) player is no slouch either. And check out the reggaeton back-track on the second number.