Afropop in Tanzania Blog: Third Dispatch: Sauti Za Busara
Now that the radio program on this adventure has been produced, you can enjoy an audiovisual experience. Grab a beer, and spend an hour in Zanzibar!
All photos by Banning Eyre.
(Swahili Encounters) See our second dispatch for more on the trip!

We arrived in Stone Town, Zanzibar the night before the opening of our tour focus, the 20th edition of the Sauti za Busara Festival: Swahili Sounds of Wisdom. We attended the first edition in 2004 and were very excited to return. We had a preview of two acts our final night in Dar Es Salaam, at the Alliance Francaise, an evening that included a fascinating panel discussion about modern East African music and its origins. Most of it was in Swahili (John Kitime has promised to translate), but one person, Tabu Osusa of Ketabul Productions in Nairobi, spoke English, and every word was golden. More on that in a future program…
The night before the festival opened, we were invited to a rehearsal of the world renowned classic taarab group, the Culture Musical Club. What a delight! Some 15 musicians played violins, oud, kanun, accordion stand-up bass and percussion. Two female singers and one male each sang one song, backed by the ensemble chorus. Singers regaled us with melody, and communicated meanings with graceful arm gestures. The second part of the performance featured the style known as kidumbak, a genre generally performed by and for women. Kidumbak is faster, with more percussion, including a one-string box bass. Four women stepped forward and danced suggestively, with moves focused on amazing waist action.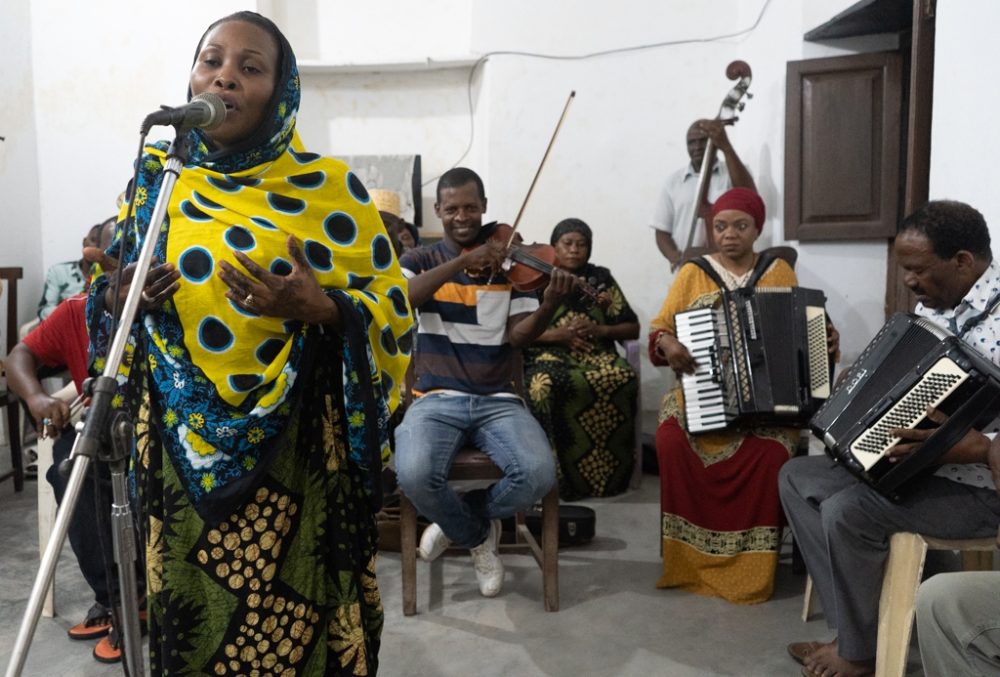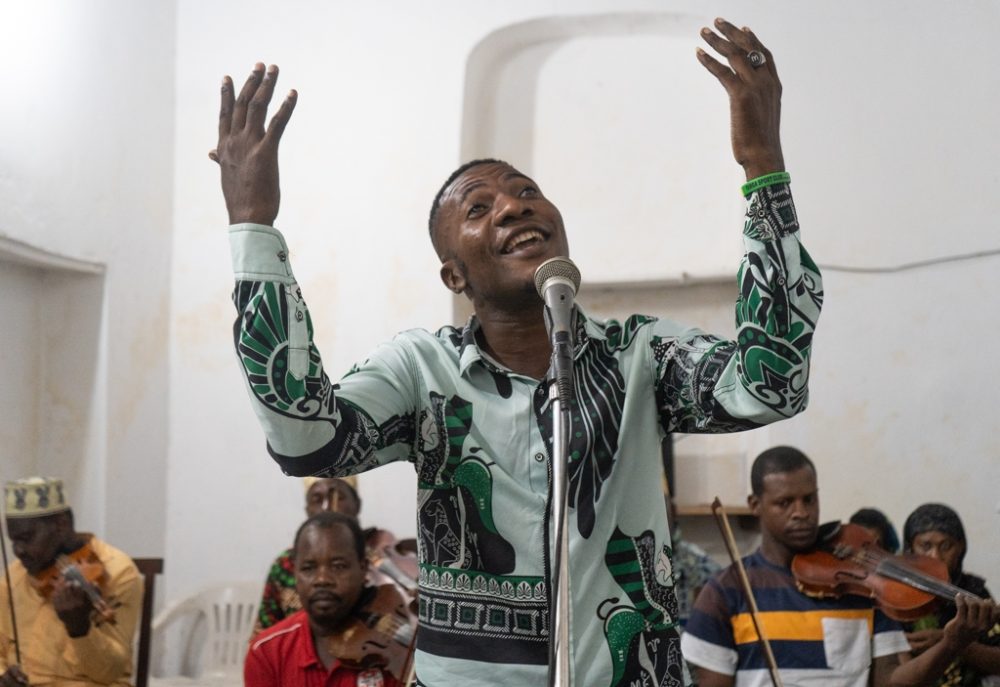 Opening night at Sauti za Busara was full of welcome surprises. Music for the first two nights went on the main stage and in an adjacent circular amphitheater. So much music! Among the highlights was the Waungwana Band from Zanzibar, offering a lively mix of local coastal Swahilil sounds featuring oud, violins, tabla and a singularly charming accordionist who spoke to us about the importance of young Zanzibar musicians embracing and updating local tradition.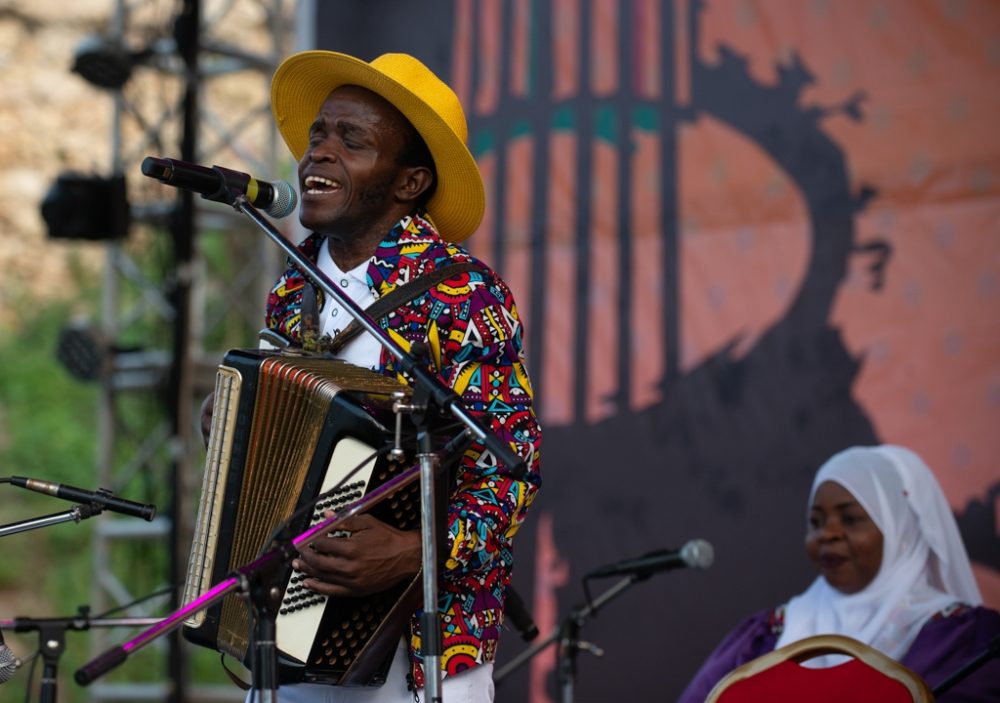 Asia Madani of Sudan thrilled the crowd with her pan-Sudanese sound. Asia is a singer, composer, percussionist, and bandleader based in Cairo where she is well known on the scene. Her repertoire is based on traditional Sudanese folklore, a huge country, from traditions from throughout Sudan, she told us proudly. Rhythms and grooves shifted from song to song, centered around her robust, at times raw, vocals. Naxx Bitota, a Congolese singer based in Montreal, began slyly with international grooves but worked her way up to full-on Congo dance music which really got the crowd going.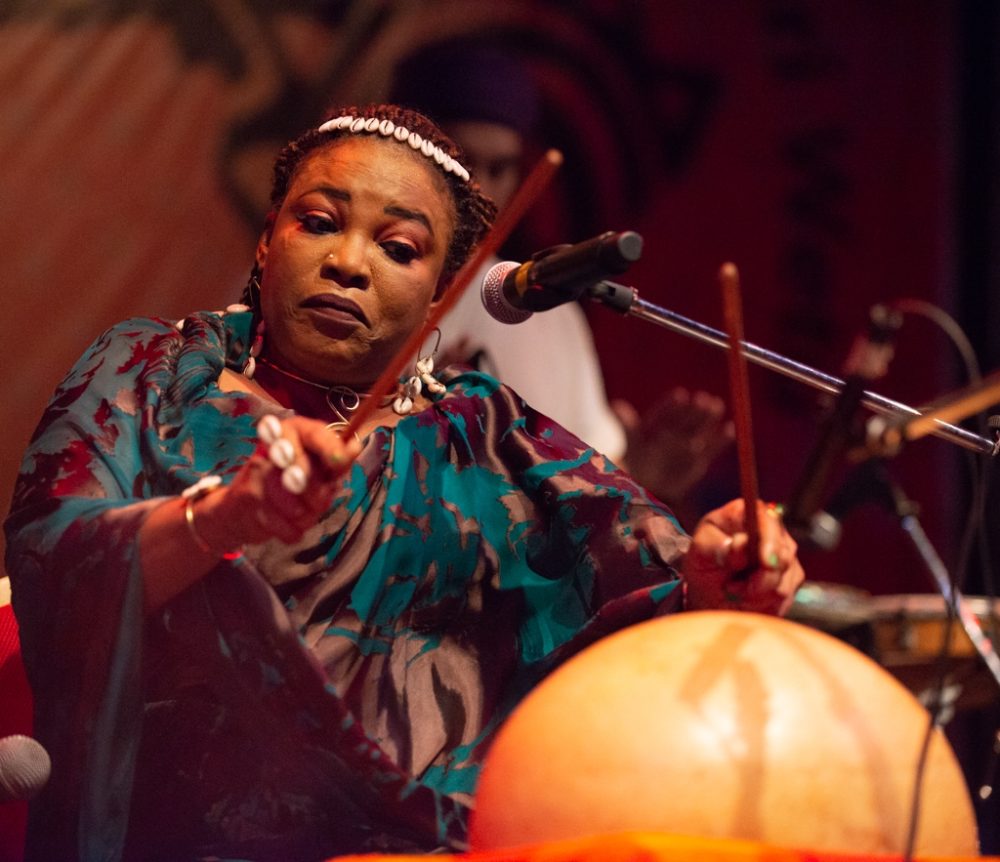 Mzee wa Bwax closed the night with singeli (see dispatch one). This is one of the groups we had seen at the Alliance Francaise in Dar. But at Sauti za Busara the act took them a quantum leap up with frenetic rhythms, joyful chanting, singing and super-animated dancers whose moves were completely original. Banning called them "insane." This group's sound veered towards Congolese seben quite often, largely because they had added an ace guitarist for these big-stage shows. At the apex of this closing act, well past one a.m., they got the whole crowd moving, left, right, forward, back, like a huge human wave.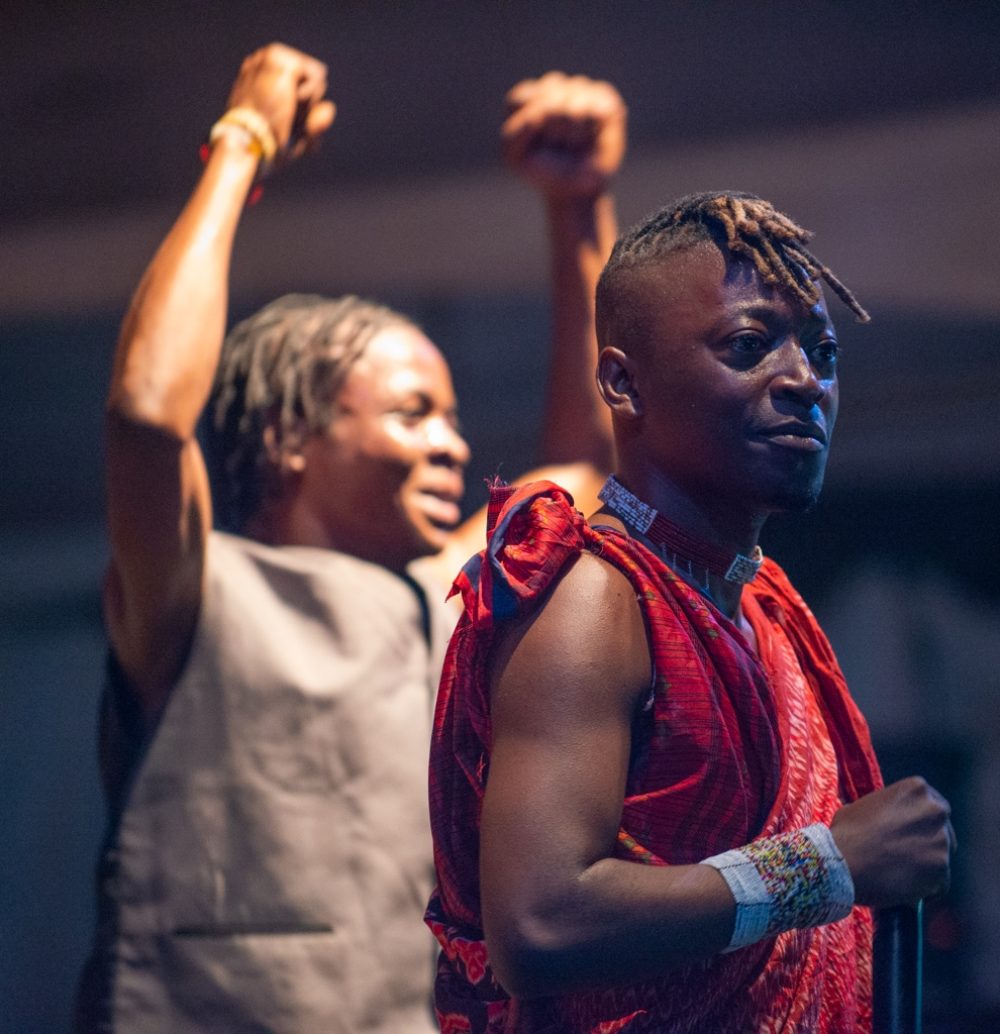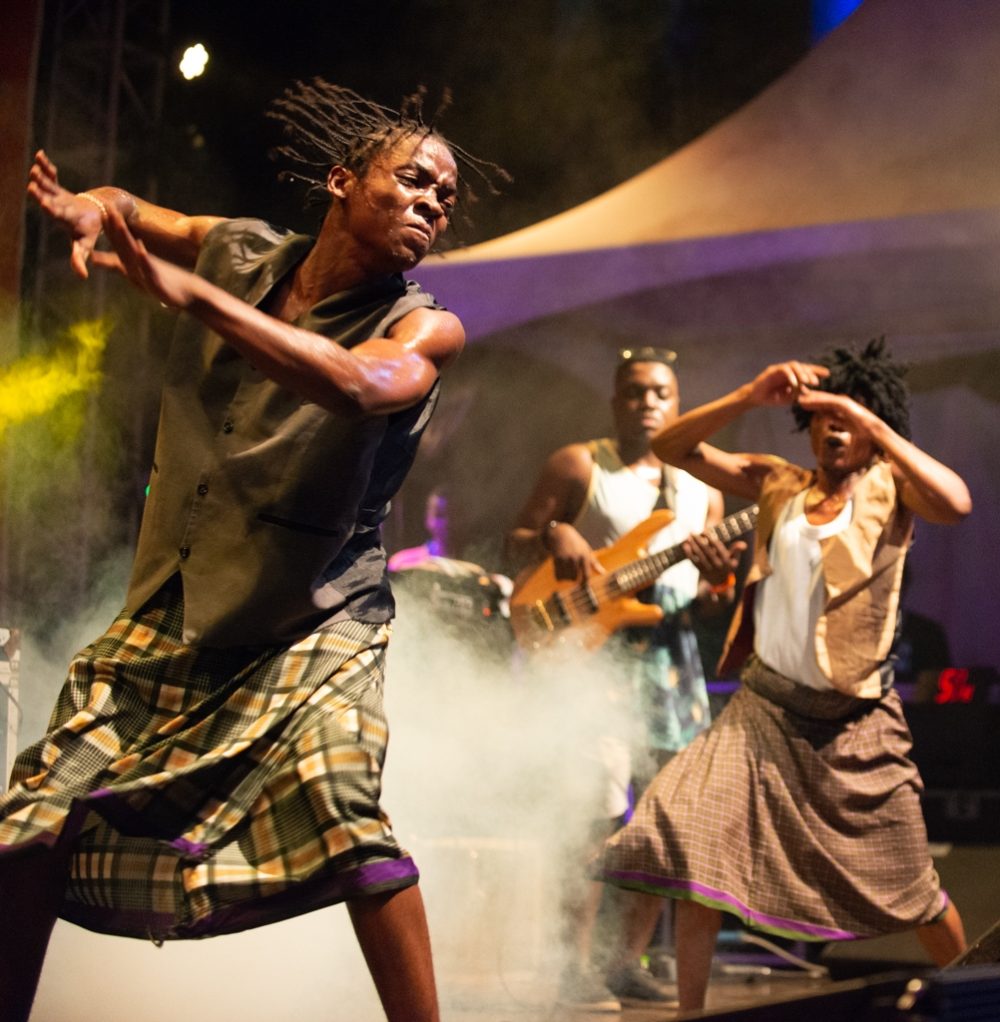 Saturday night took off early with Swahili Encounters, an annual Sauti za Busara tradition, an opportunity for artists from several countries to meet and collaborate. This edition featured women artists from Zanzibar, Tanzaniza, Zimbabwe, Sudan and the DRC. They had only four days to meet and co-compose material they pulled off most convincingly.
Zily represented the Indian Ocean Island of Mayotte, an Indian Ocean Island of some 100,000 souls, and a French department. Zily sings mainly in Creole French backed by accordion and local percussion. There was a strong flavor of northern Malagasy salegy in the set, naturally understood and well received by this crowd. The night ended once again with frenzy, this time from the young Afrofuturist group BCUC from South Africa.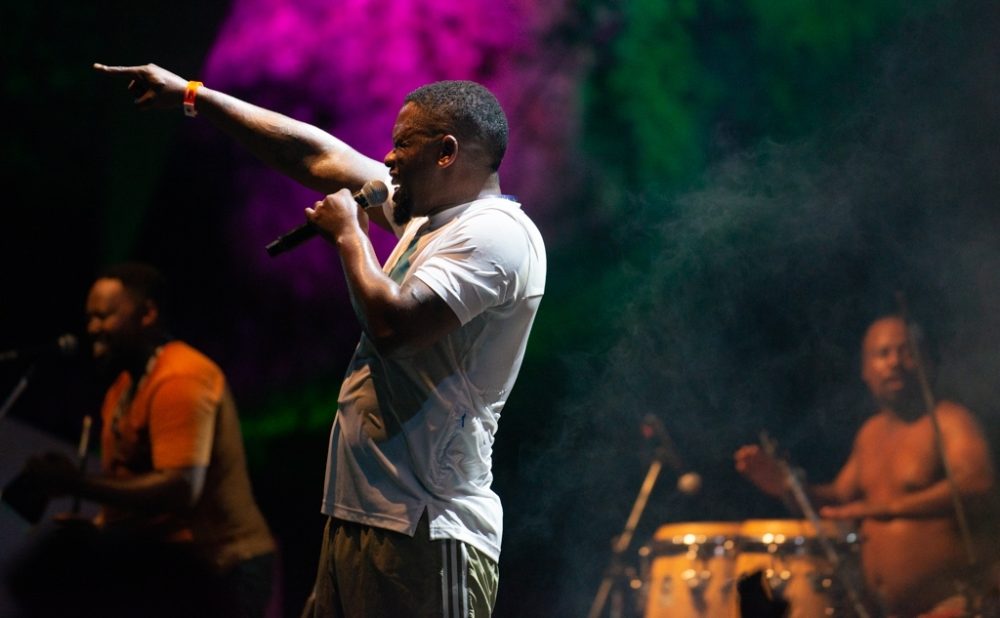 The final night delivered once again, including Kikundi cha Idara ya Utamaduni, a group of Zanzibar-based drummers, singer and dancers featuring an entrancing coronet-type horn. They play styles of ngoma (traditional) musics from across Zanzibar. The dancing was especially beautiful.
Next came the Zawose Family Reunion which we've described in a previous dispatch about our visit to their rehearsal at their family compound in Bagamoyo. On the big Sauti stage, they cast a trance and built gradually to an ecstatic, percussive-driven close, the crowd with them all the way.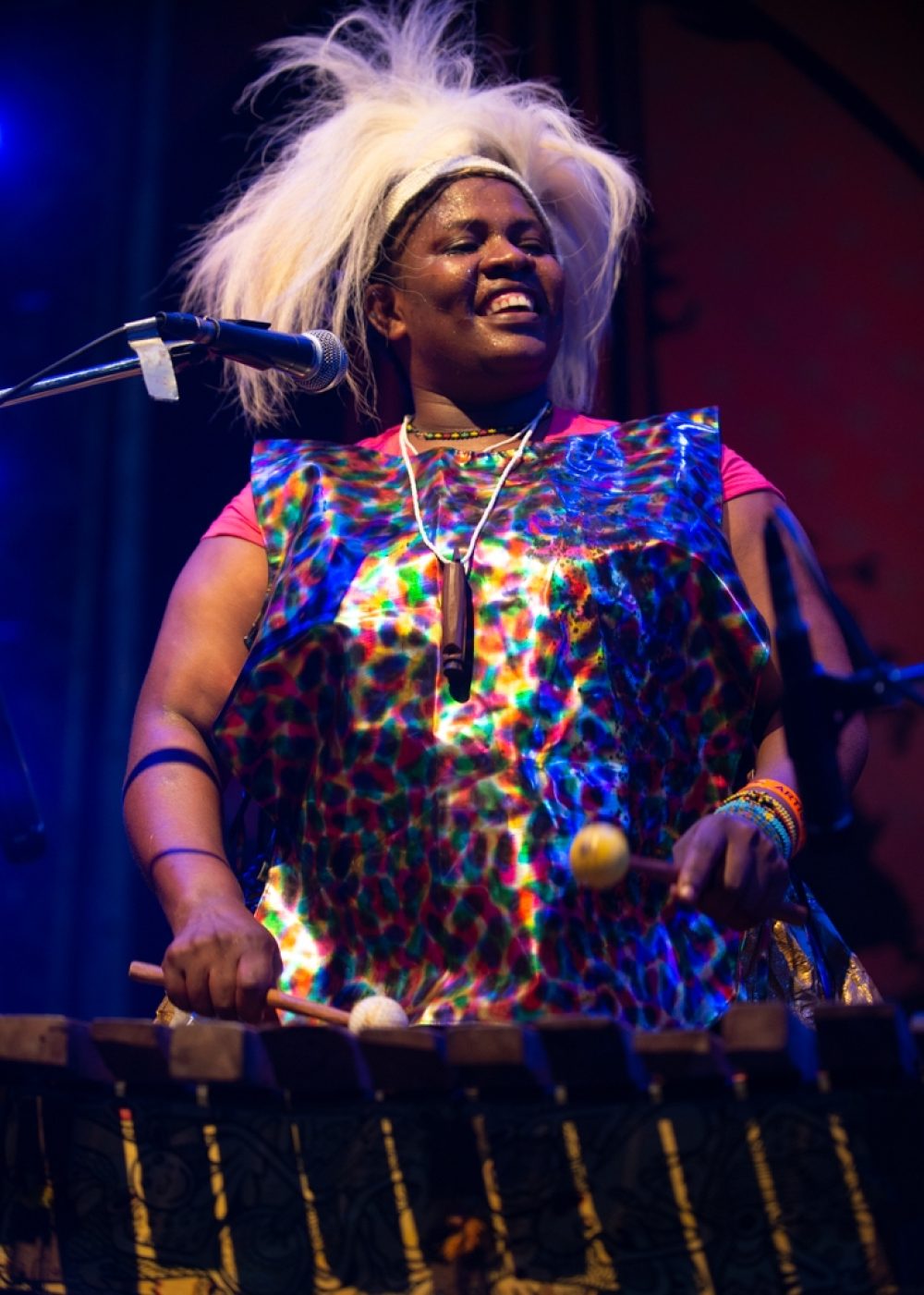 Nasibo, a young singer and mbira player from Zimbabwe, carried the torch for a new take on mbira pop. It was refreshing to see Zimbabweans picking up on the trad sounds of Thomas Mapfumo and others, despite the country's sharp focus on Zim dancehall these days.
Kaloubadya brought more welcome Indian Ocean energy to the Sauti stage. This time the island of Reunion which reminds us of Daniel Waro, who won the highly sought-after WOMEX Prize some years ago. Kaloubadya have their own take on the island nation's maloya style, and they lit up the stage with dynamic grooves and dancing.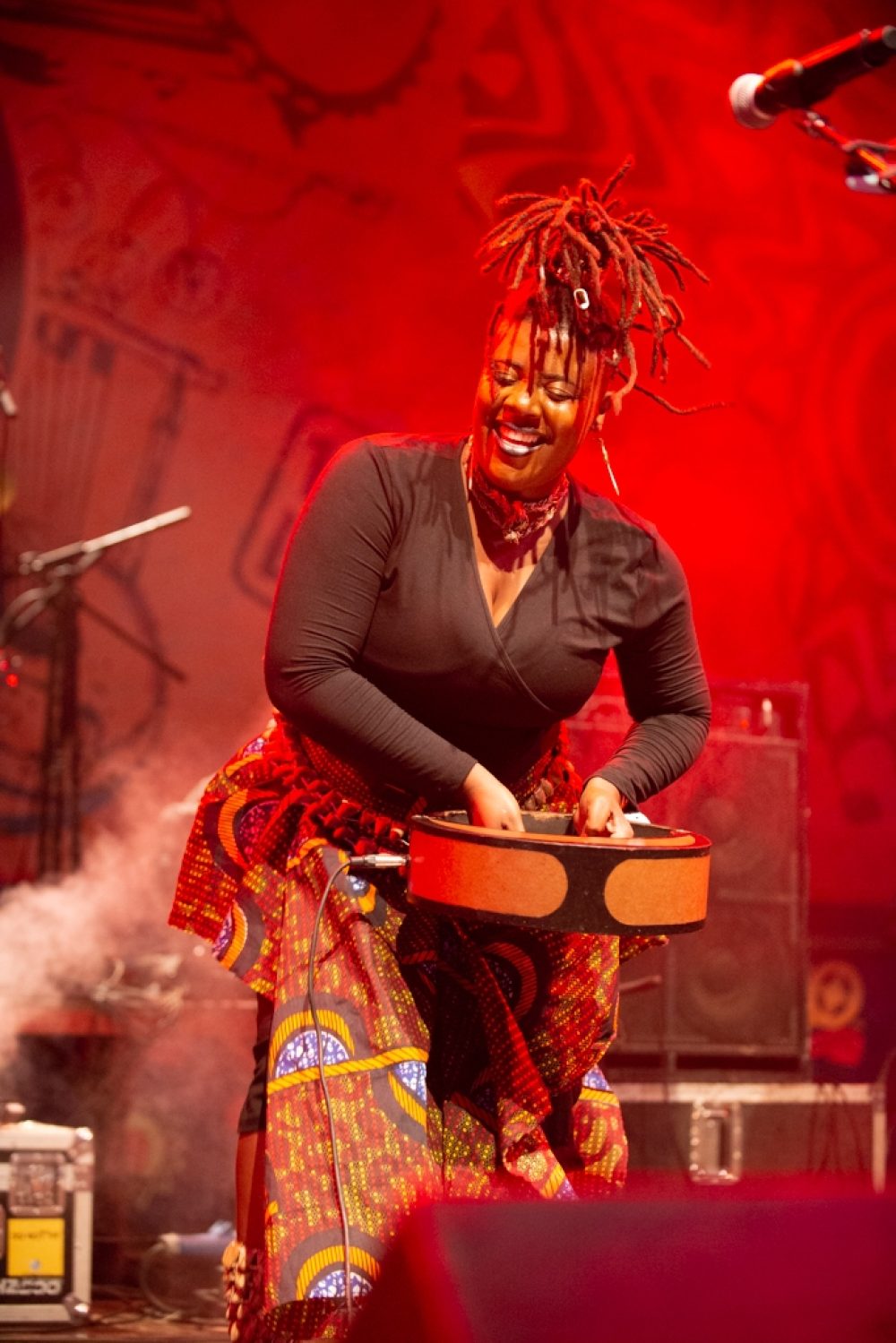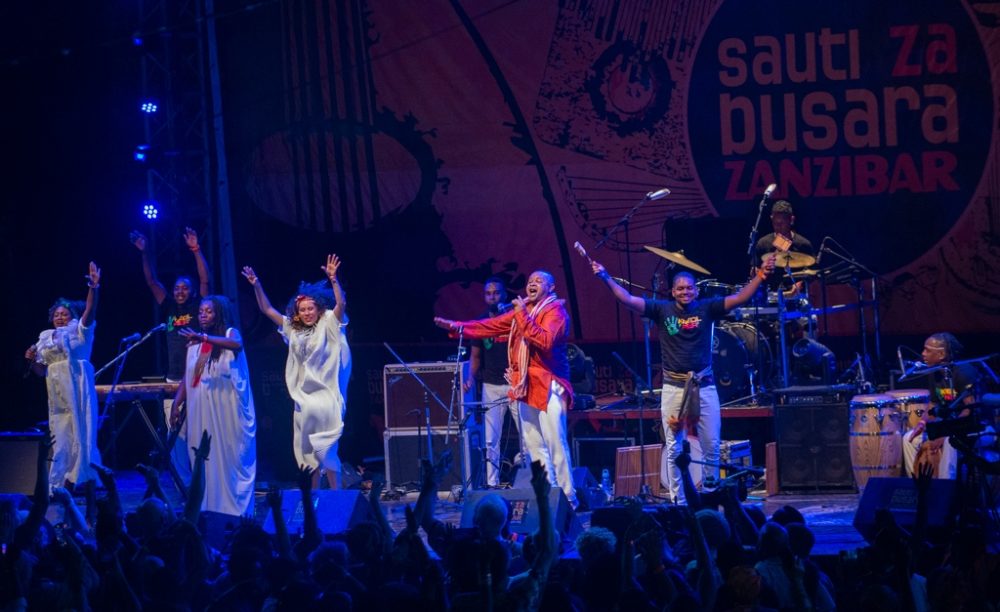 Damian Soul came next, a young singer, composer and bandleader from Dar. We interviewed Damian in Dar. He calls his music "Afro-fusion" and the influences are wide and varied. He's a fine singer and a charismatic front man. We know from our interview with him that he has global ambitions. He'd like to be that breakthrough East African star, everyone is waiting for. So keep your ears open!
Ivoirian reggae star Tiken Jah Fakoly was the festival closer. Now based in Mali, Tiken flavors his austere roots reggae with Malian ngoni. Clearly he was a crowd favorite, and provided a satisfying finale to the festival, his austere, wise old man stage presence lending a note of gravitas to the event.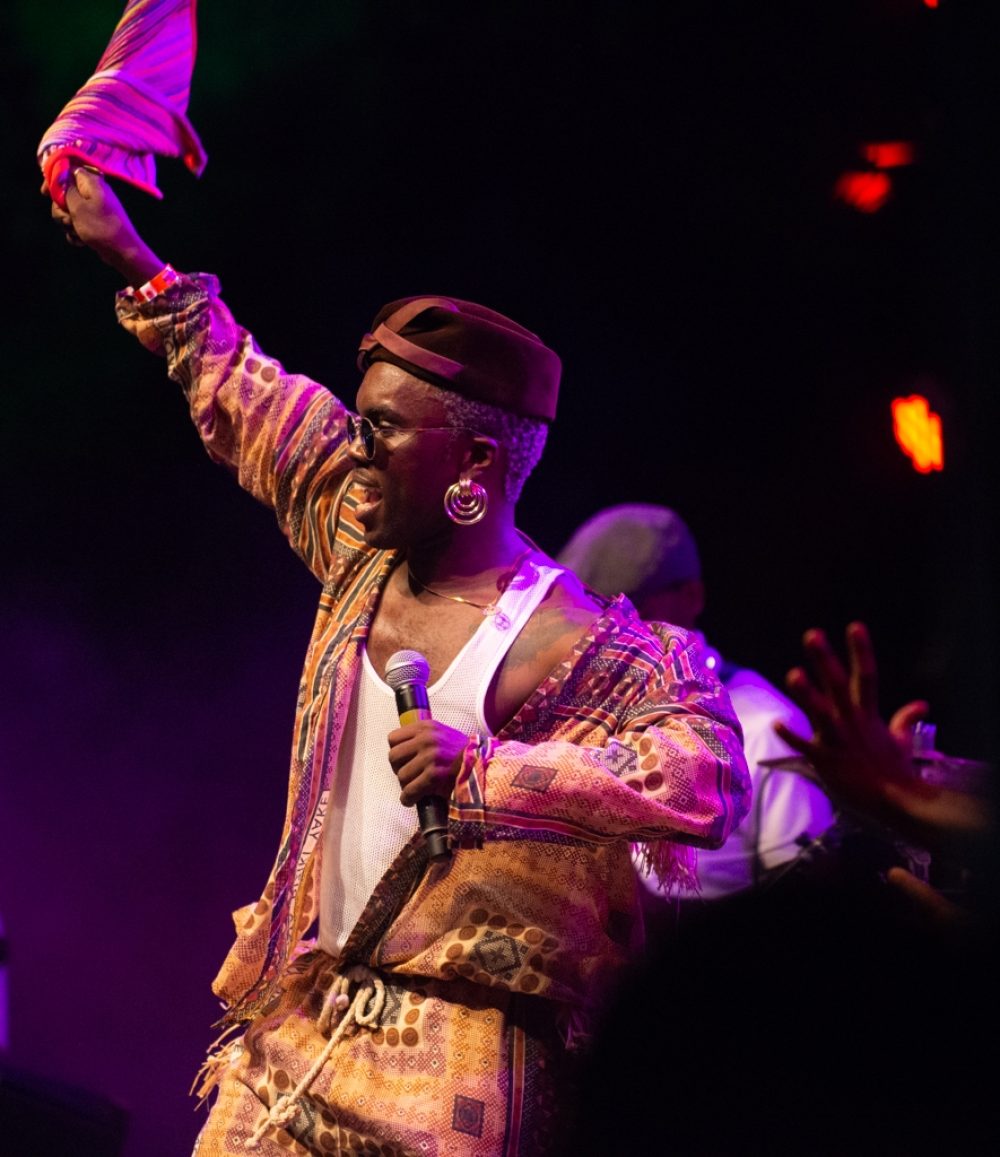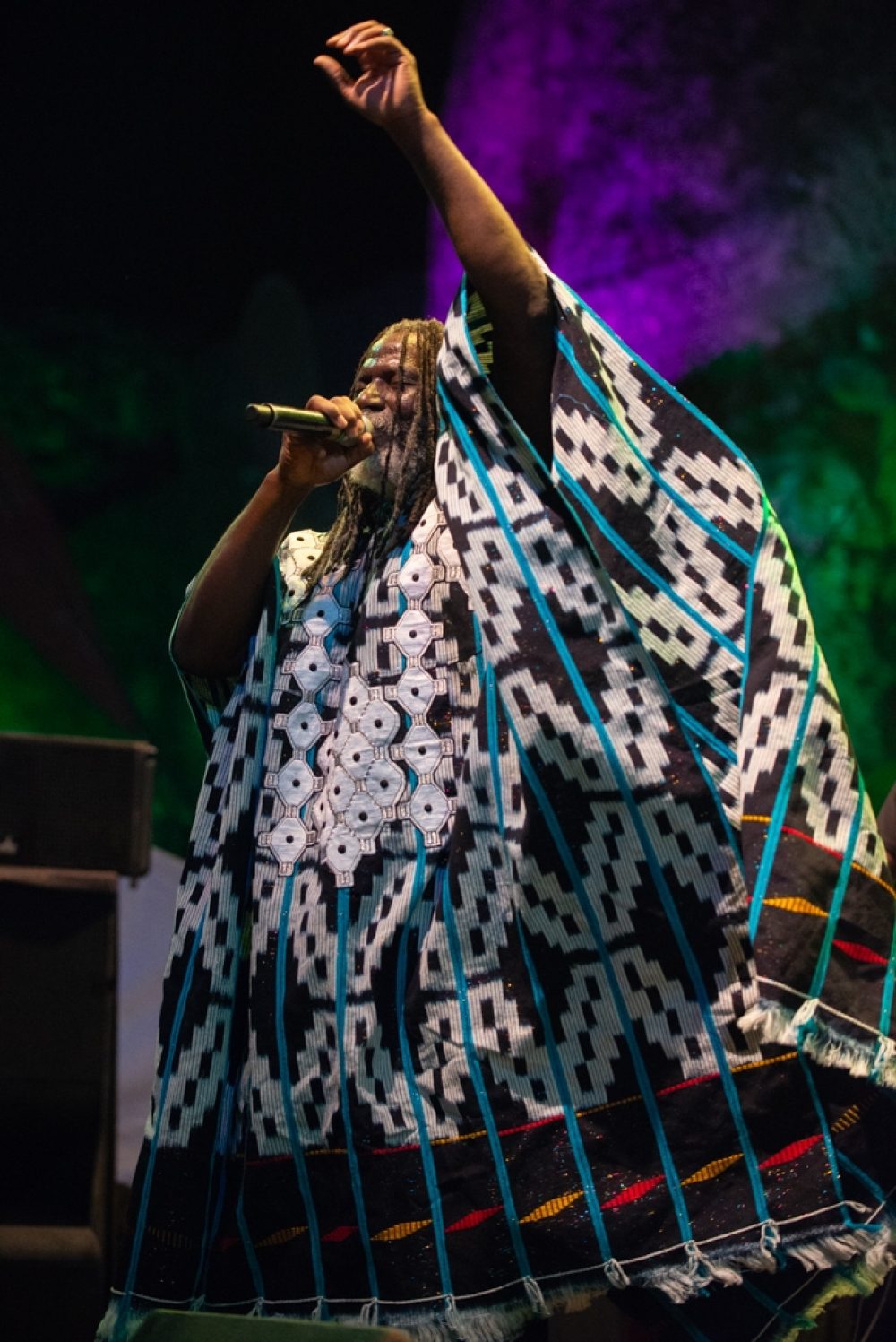 We should mention a couple of the acts we caught the first two nights at the amphitheater.
Majestad Negra (Black Majesty) represented the diaspora–presented Afro-religious music and pageantry of Puerto Rico. You have to be exceptional to get the Atlantic diaspora slot at Sauti za Busara, and this group was. A multi-generational ensemble with powerful rhythms and vocals, and dazzling costumery, they actually performed three times at the festival, including an off-site show at a new development south of Stonetown called Fumba Town. Notable were two starfish-masked AfroFuturistic dancers decked out Puerto Rican colors. No one in the crowd seemed to speak Spanish but that didn't matter at all.
Also on the amphitheater stage was Patricia Hillary, a taarab icon from the coastal city of Tanga, Tanzania. She has a strong following across East Africa after 40 years on stage. It was a treat to hear the modern taarab sound of Tanga, quite distinct from what we heard in Dar or here in Zanzibar.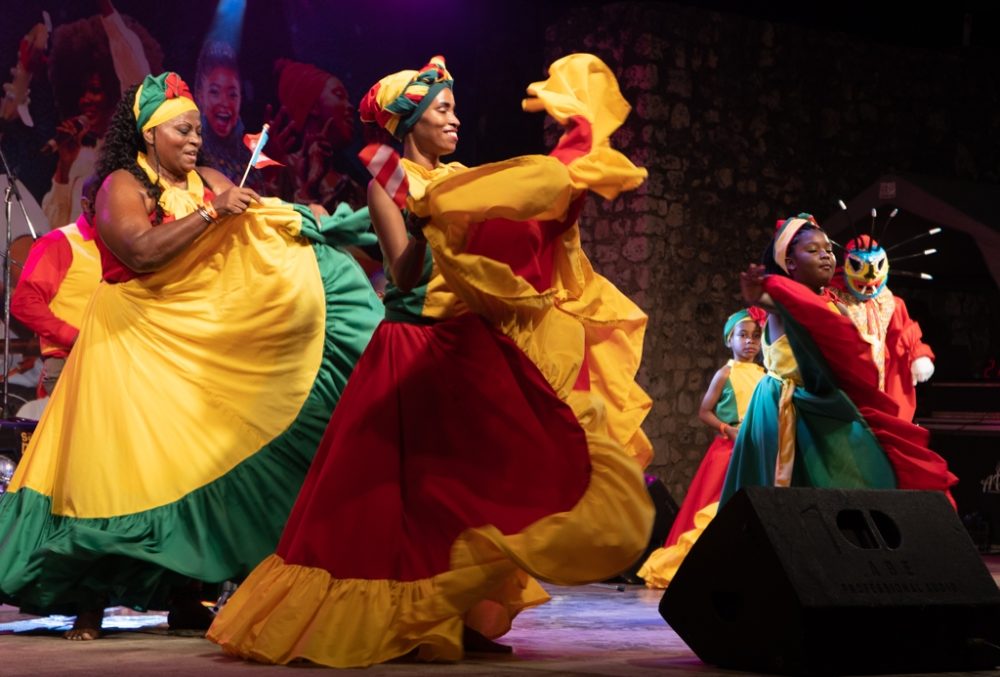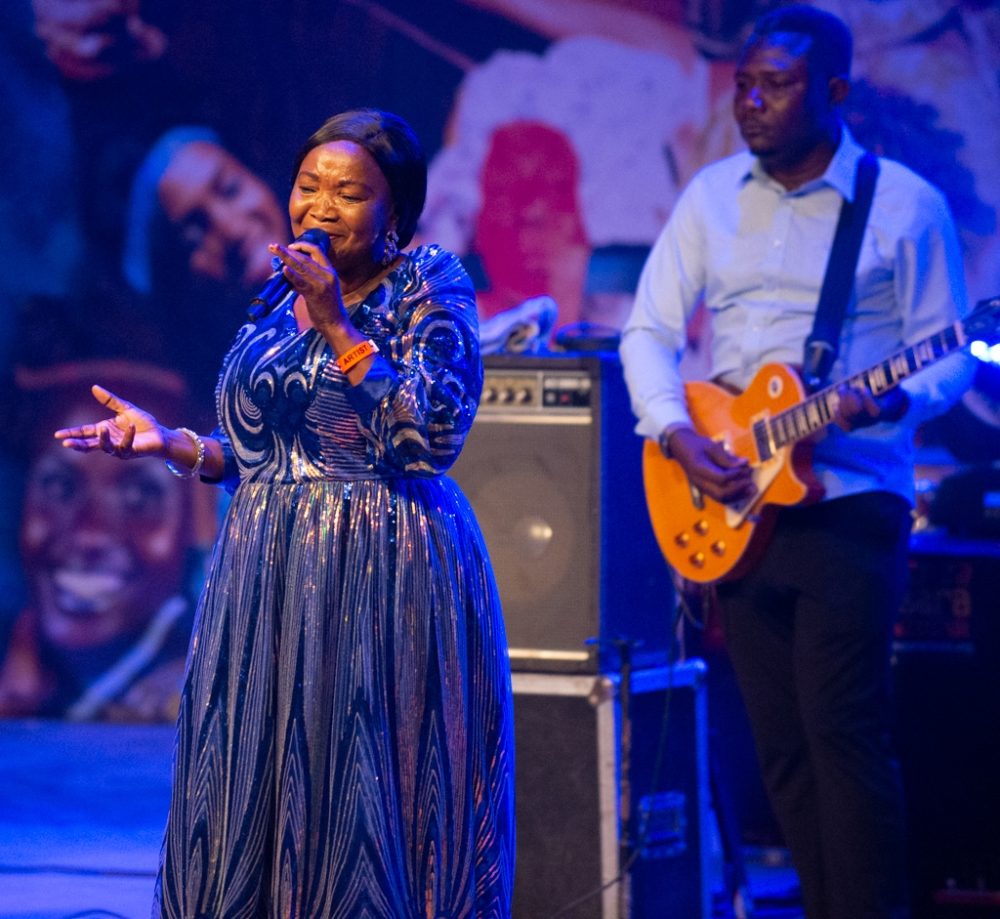 With a VIP pass for the three days of Sauti za Busara you can sit comfortably in the back bleachers with a fine view. But better still is to move up close to the stage and dance with the fans, then relax in your seat when you need a rest. Eyeballing the audience, there were about 35 percent international visitors—mainly Europeans—and 65 percent locals. Tourism is a major foreign exchange earner for Tanzania, and this festival is clearly doing its part to support it. Ticket prices are kept very low for locals, and there's definitely a strong Zanzibari stamp on the whole proceeding.
Finally, a big asante sana ("thank you very much") and kudos to Yusuf Mahmoud, the festival's director, and the whole awesome Sauti za Busara crew. Great job on your 20th anniversary edition! We loved the music, met wonderful people, and enjoyed the whole Stone Town ambience. We had time to wander the narrow streets, get lost, visit the Dhow Countries Music Academy—a major driver for talent development here—eat delicious Swahili food, and enjoy the nightly spectacle of boys flying off the stone walls into the sea in ever more creative poses.
Finally, special thanks to the festival's attention to superior production values. The sound system was excellent, clear as a bell, and the artists performed right on time as promised on the schedule with 100 percent music, no playback allowed. And lastly you lived up to your mission of featuring women-led bands as evidenced in this dispatch and previous dispatches. Afropop Worldwide is proud to have a media partner this year. We'll be back next year for Sauti za Busara 2024. Insh'Allah… And we'll be bringing some lucky Afropop music lovers with us, fresh from the lively music scene in Dar es Salaam. Stay tuned for details!