Ballaké Sissoko's Kora Found Dismantled Following American T.S.A. Inspection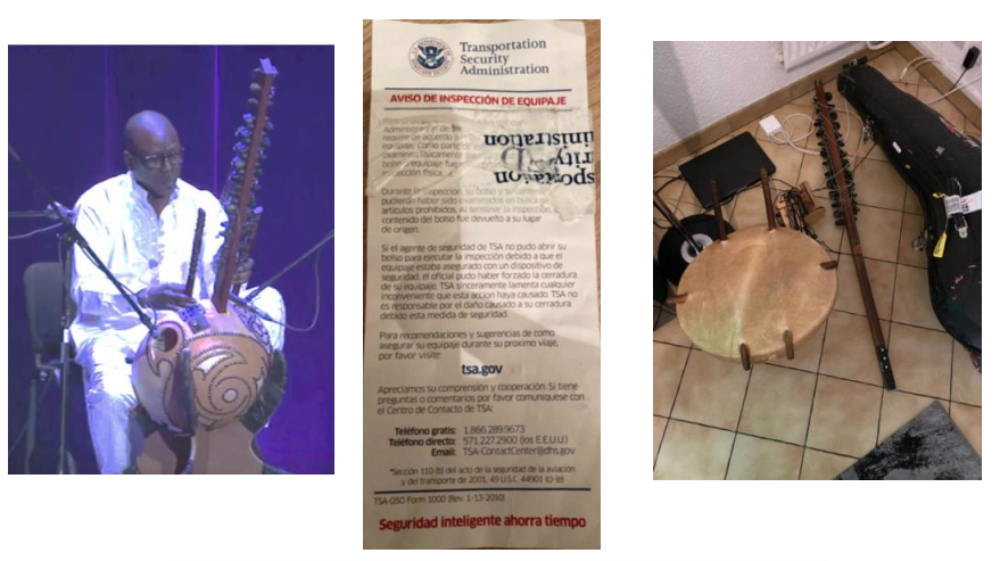 No sooner had we posted an interview with the African string trio 3MA, in which Malian musician Ballaké Sissoko praised his kora, that he returned home to France to discover his beloved instrument in pieces after an encounter with U.S. Customs.
In an interview with Banning Eyre, Sissoko explained how his custom-built instrument made the 3MA project possible.
"The thing is it used to be such a hassle to change tunings. There were many songs we couldn't play in concert because I couldn't retune quickly enough," he said. "But with the switches on this kora, I can change notes to flat and sharp quickly. So it was through this kora that I was really able to master this project."
Very cool! Custom built to allow him to tour; everything you could want out of an instrument.
But then today we got this update.
"Ballaké had just finished a two-week successful tour of the U.S. (L.A., Berkeley, Miami, Chicago and NY) with his group 3MA, an innovative and unique trio that brings together string instruments from Mali, Morocco and Madagascar. Ballaké boarded his Air France plane to Paris on his way home from their final concert in New York. He checked in his kora, in its hard case, with its state-of-the-art amplification system specially designed by sound engineer Julian Cooper.
It was a night flight arriving in Paris the next morning – today, Feb. 4. At the airport, Ballaké picked up his kora case, went back to his flat and slept. But when he woke up and opened the kora case, he was shocked and dismayed to find his kora in many pieces, with only a note from U.S. customs--in Spanish--with the unfortunate motto: "Intelligent security saves time." (Lucy Duran)
They sent along a picture of the instrument in pieces and what looked like a note from the Transportation Security Administration—not customs exactly, but the point remains.
"The kora is a fragile, hand-crafted instrument, and Ballaké's kora is tailor made to his own specifications. It is an intrinsic part of his very special sound. Would U.S. customs have dared to dismantle a Stradivarius? In its own way that is what has just happened to Ballaké. The neck of the kora has been removed. The strings, bridge and entire delicate and complex sound system of amplification have been taken apart. The kora is in pieces. Even if all the components that have been dissembled were intact, it takes weeks before a kora of this caliber can return to its previous state of resonance. These kinds of custom-made koras are simply impossible to replace. They are certainly not available in shops." (Lucy Duran)
Traveling in the U.S. is difficult enough for African musicians, who already have trouble getting visas and crossing borders, even without their custom-built instruments getting mangled in the process. Here's hoping that Sissoko can repair his kora back to his specifications and that the next time the T.S.A. wants to perform a little security theater, they leave the fragile instruments out of it.