Bobi Wine, Uganda's People's President, comes to America with a new feature film
There are few musicians in modern history, certainly modern African history, who can hold a candle to Fela Kuti when it comes to brazen courage in standing up to powerful despots. Uganda's Bobi Wine is one. Since his election to the Ugandan Parliament in 2016, the 41-year-old popular musician has spoken out fearlessly for the rights of his country's poor and repressed citizens. It seems abundantly clear that Wine actually won Uganda's 2021 presidential election, in which he challenged the 35-year despotic regime of Yoweri Museveni. For all this, he has been arrested and beaten numerous times, confined to his home, and subjected to assassination attempts. His followers have been beaten, tortured and killed.
Anyone even casually following Ugandan news in recent years knows something of Bobi Wine's saga. But that saga, still unfolding today, is now being told in a powerful new film, Bobi Wine: The People's President, by Christopher Sharp and Moses Bwayo, and presented by National Geographic Documentary Films.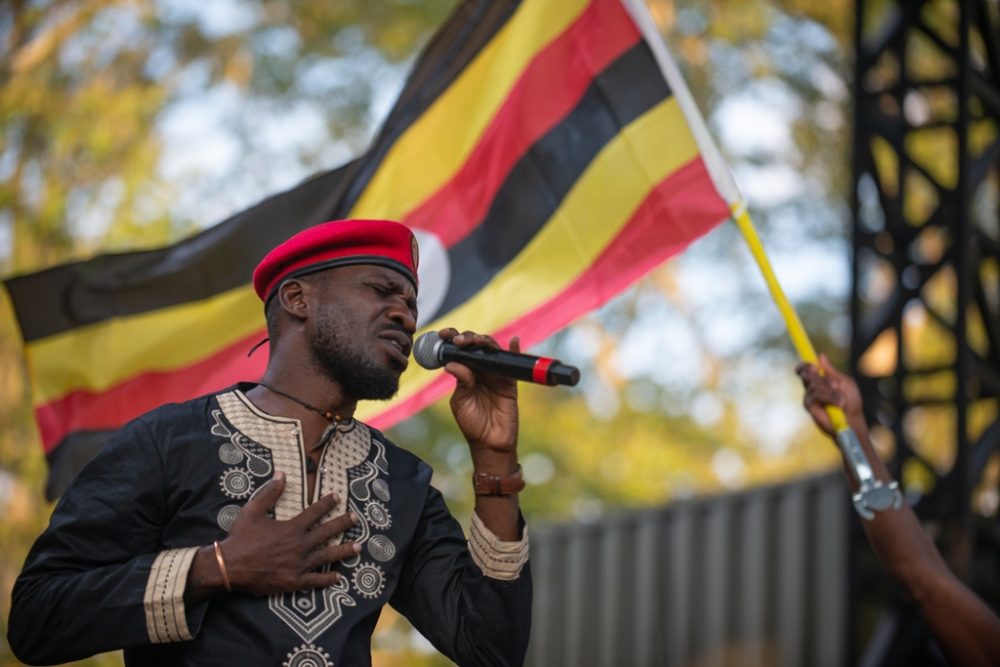 The film had its New York debut at Capital One City Parks Foundation SummerStage in Central Park last night (July 27), preceded by a spirit-raising performance by the artist, backed by an impressive band of local musicians. After just two days of rehearsal, they came off as more than comfortable in Wine's music, which ranges from dancehall and reggae to Afrobeats, township jive, and even a gospel number ("When the Struggle is Over, We Will Wear the Victor's Crown") rendered as a Polka! Wine was accompanied by his long time musical partner Nubia Lee and the two of them projected joyous certainty and confidence that quickly animated the assembled crowd.
Then came the film, a riveting tale captured by some extremely brave cameramen willing to wade into ongoing violence to document the appalling brutality of Museveni's police state. The screening was particularly effective following Wine's set and unfolding beneath a moody, New York summer sky at dusk.
During the film, Mukwae Wabei Siyolwe and I were honoured to interview Wine, and were mightily impressed with his passion and clarity. That interview will be featured on Afropop's upcoming new podcast, hosted by Georges Collinet, Mukwae and myself.
Meanwhile, with some 25-minutes left in the film, lightning flashed. A storm was coming. The site had to be evacuated immediately. Attendees fleeing for cover missed the film's uplifting conclusion, as well as the planned Q&A with the artist and film directors.
However, you may be able to catch one of these upcoming screenings. If you can, don't miss it. It's a landmark in African music history and documentary film.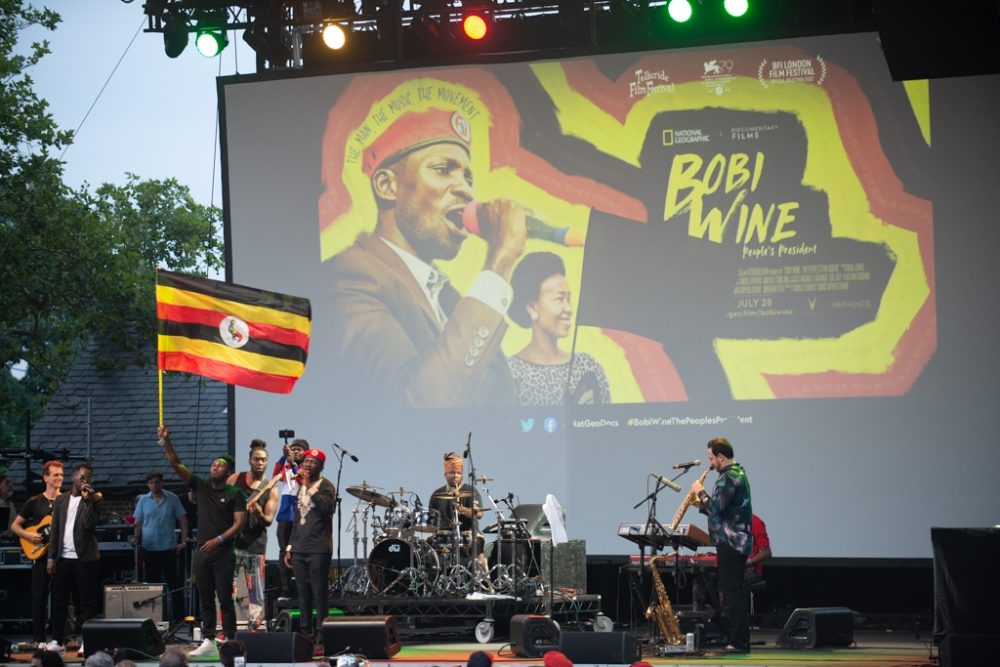 OPENS FRIDAY, JULY 28
New York, NY - IFC Center
Q&As July 28, 29
Los Angeles, CA - Laemmle Royal
Q&A July 30
OPENS FRIDAY, AUGUST 4
Grapevine, TX - AMC Grapevine Mills 24
San Francisco, CA - Landmark Opera Plaza Cinema
Q&A August 4
Decatur, GA - AMC North Dekalb 16
Houston, TX - AMC Gulf Pointe 30
Seattle, WA - The Grand Illusion
OPENS FRIDAY, AUGUST 11
Chicago, IL - Siskel Film Center
Akron, OH - The Nightlight