Newen Afrobeat: A Chilean Collective Inspired by Fela's Music and Activism
Newen Afrobeat was originally the brain child of Chilean composer/singer Nicholas Urbina in 2009, inspired by the music of Fela Kuti. He composed all the music for the first self-titled album which was released in 2013. The band toured in this formation until the mid-2010s when Urbina relocated to the United States. They did play together one last time at the Felabration Festival in Lagos in 2016 (founded in 1998 by Fela's daughter, Yeni). Nevertheless, the group decided to carry on without Urbina and reformed, with some member changes, into a collective that released a second album in 2018, Curiche.

We sat down last week with two members of the group, singer/dancer Macarena "Maca" Rozic and saxophonist Klaus Brantmayer, the day after their stunning performance in Montreal at the Festival International de Jazz, to talk about the band, their music and their politics which infuses their music. We even learned a few words in Mapuche.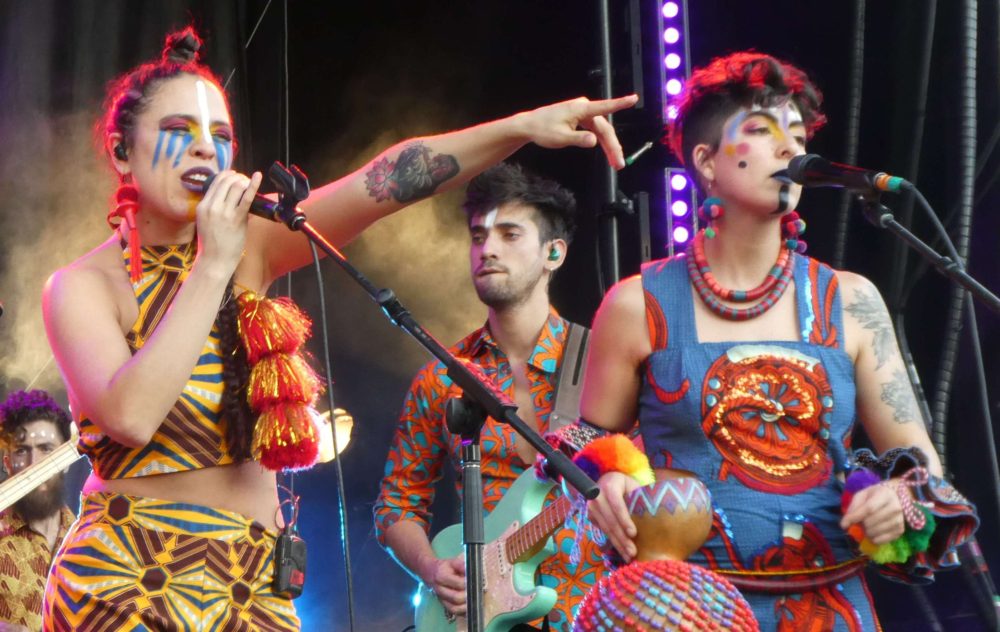 Ron Deutsch: So how did you guys first discover and decide to play Afrobeat music?
Macarena "Maca" Rozic: There are 15 of us in the band, so there are 15 stories how we all found our way to Newen. There is a lot of diversity in how we discovered Afrobeat music and found each other.
Klaus Brantmayer: Some members were more into funk, others more into jazz, some doing theater, but the group is the point where all our interests met. I think the different arts complement each other and has made it all the more expressive in the music, dance and production.
Maca: In Chile, or rather, in all of South America, there's no real information about Africa. There is a lot of ignorance about that big continent that has a lot of different cultures, but we just think of it as "Africa." Like it's just one thing. It's the way we were educated like that. In school, they taught us just a general "world history" and that is really just the history of Europe in the books. Today, with the Internet, we have it in our hands not to stay ignorant. We want to share and show the people in Chile, through the spirit and music, to help bring awareness of the African roots in both South and North America.
You're also inspired by the indigenous people of southern Chile and Argentina, the Mapuche.
Maca: We are not directly Mapuche, but all the people in Chile have Mapuche roots. They were the people who lived in that territory for a lot of years, more than the Spanish people. Mapuche comes from the words mapu which means "land," and che which means "people." They are the people of the land. They are part of it. They are fighting for that. And the Chilean state is very oppressive.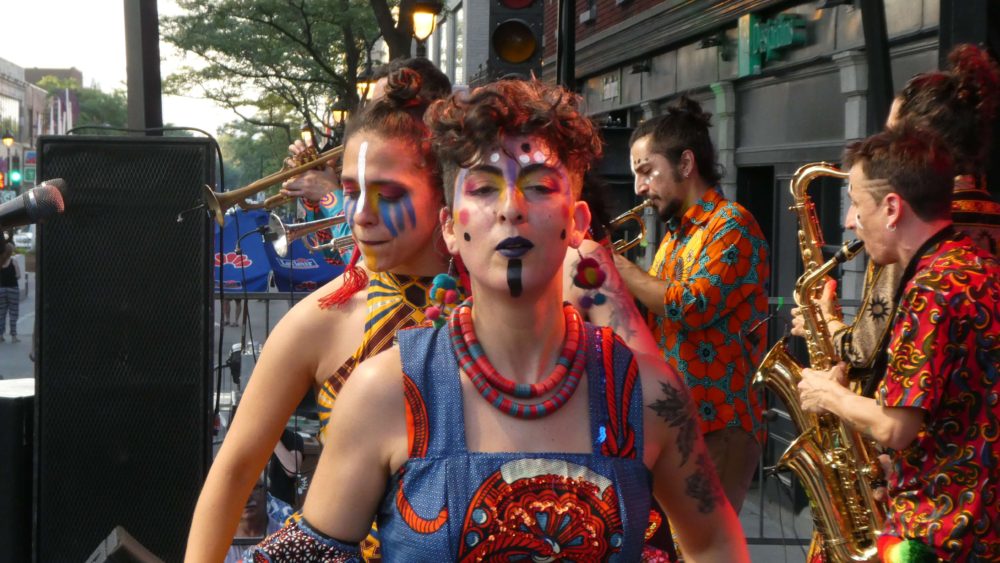 Klaus: Our work, our music is talking about this issue, keeping it in the present. We want to keep people thinking about it, in their consciousness. The Mapuches had an incredible resistance that has lasted till today. Now, the resistance is not with the Spanish, but with the Chilean state. They have a warrior spirit, and have kept their traditions. The Mapuches are not like the image you might think of people living in the forests. They are spread all over Chile. In the south, for example, they are organized in communities and trying to get more organized, but the state and the police are interfering.

During the dictatorship of Pinochet, he would give their lands to his friends to do whatever they wanted. And when these friends of Pinochet went to the land with ownership papers, they would just push the Mapuches out. And still today, even though it's a new government, they are still giving land to different ministers. There is still no respect. They are not trying to come to an agreement.
Maca: The Chilean government tells the Mapuche that all that is in the past and it's not their land anymore. Our music is, in part, to represent their fight. Afrobeat for us is music of resistance. It's about the old colonies trying to free themselves, ourselves, and that makes a lot of sense to us. We weren't born in a Mapuche community, but we are born in this generation and see this history and it makes no sense to us. What happened is not far in the past, it happened yesterday, and is still happening. Kids are still dying repressed by the police. If you look at the Mapuche people, they don't look different from us. For us, it's to support that fight.
Our new album, Curiche, the title comes from that the Mapuche named some people curiche – curi means black, and che again, is "people." This is a word that has existed in Mapuche which tells us that there were black people living in Chile hundreds of years ago. That is history we don't know. In school, they would teach us that it was too cold and too difficult for black people to make it to the Andes, which is very racist, and therefore we had no black people and no African roots.
Klaus: There is like a history mystery about black people in Chile. What we know now is that they were brought as slaves, or escaped from other places and came to Chile. So there were these communities of black people, but we don't know about that today.
Maca: And they met the Mapuche people. I read recently that some of these African mothers would give their children to Mapuche communities to be safer and have a better life. It started then to have a mix in the south of Chile between the African and Mapuche, because the Mapuche are more open and believe the land is for everyone to live.
So on "Curiche," the title song of the album, we talk about these African roots we aren't taught about, and the official history doesn't tell us.
Klaus: Like it's been ripped out of history....
Maca: …. to make it more white.
One of the things that I really love about you guys is that Afrobeat bands are often fronted by male vocalists, so it's great to see the women up front and center, not just singing backup.

Maca: Yes, so Fela had consciousness about some things but not others, because he was of his time. For me, having women in the front of the group is important to say what we want to say. Women have a different way of seeing things. Historically, we haven't had the space to express that. I think today in this explosive and exploitative times, female energy and their view of the world is necessary.
We talk about this on the song "Cántaros." About the natural cycles and that we are all made of water, but I am also different, a woman. I can see I am in front, but I'm also part of another thing – the collective of the band. And that is very important for me because we are working together. So at the same time, it's not important that I'm in the front. It is also a patriarchal thought to see it that way. It is important for me that we are all in it together and that we are playing an important part together.
Klaus: "Cántaros," means like a jug of water. The song, as Maca says, talks about female energy and the breaking of the patriarchy. We are breaking that idea. The roots of patriarchy are in our culture, our way of thinking, and way of acting, and we're not aware of it all the time. It's important both in our music and lifestyle to think more collectively. Not so independent. Not if "I'm O.K., I'm O.K." We think the world needs more of a collective perspective.
Maca: It's about the community. History, you know, says communism is terrible. Words are charged, but that is just one history.... But also democracy was never really what it was supposed to be, because it was bonded with slavery.
You also bring a mix of African and Chilean with the clothes you wear on stage. Can you tell me a little about them?
Maca: We made the clothes we wear on stage. We collected fabrics when we were in Africa the first time we went for Felabration and again last year.
It's important to us to show the richness and the wisdom we have in South America. In the past, while they didn't have books to show their culture of the past, the people wrote their story in colors, the artistic works, their clothing. It's a way of writing for them. And when the Spanish first came, they didn't see it.
Klaus: Maybe more than Chilean, it's more South American. For example, we have inspiration from both the south and north. You can see these cloth balls hanging from our outfits. These are very typical from the north of Chile, from Peru and Bolivia. The style of the clothes is our own style – Newen style.
The same with our music. We're not trying to make songs that are Chilean or African, or sound like anything else – it's our own music. When we listen to the album, we think it sounds like us. This is us.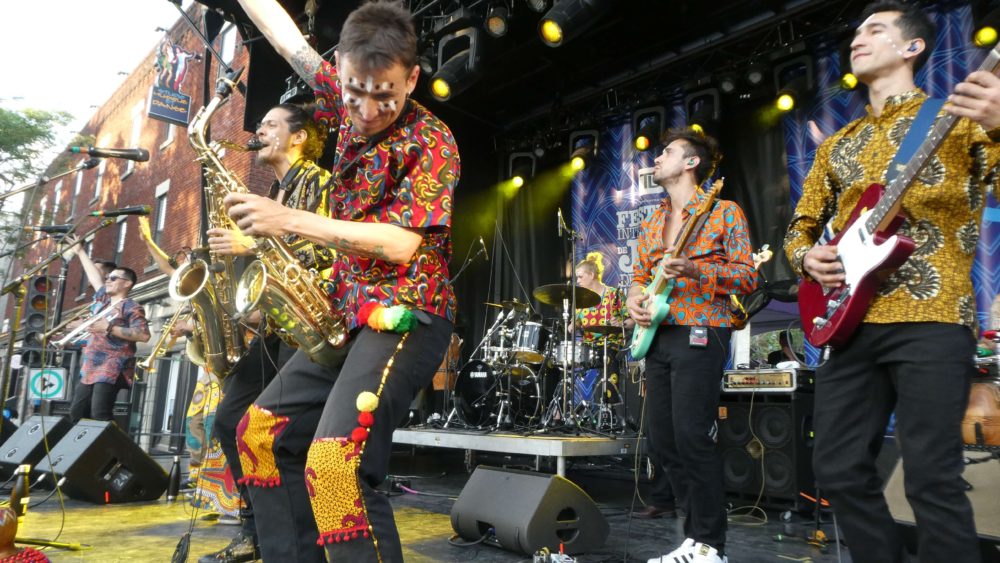 On your trips to Nigeria, you got to meet and get to know members of Fela's family and some of the musicians that played with them. Also, you've performed and recorded with his sons, Femi and Seun.
Maca: We first came there to pray...
Klaus:…. Play and pray. Getting to know the Kuti family and other musicians who played with Fela has had a lot of influence in our music, and his message about politics and society is also important to us.
Maca: It was strange because they first saw us as white people, but then were we like, eating sitting on the floor, and they were like, they had not really seen that from white people. They were like "You're from Chile? Where is that?" And we showed them on the map. And then they were like, "You come from there and you play our music?" But they came to understand who we were. We were so nervous because they are very important and inspiring to us, but there was a natural connection – musically and spiritually.
Klaus: And then after seeing them many different times in different situations, when they came to Chile we got this opportunity to record the video and it was like.... magical. In the video we covered Fela's "Opposite People," and played with Seun, his brass section from the Egypt 80 band and the legendary Cheick Tidiane Seck from Mali – we call him "the Black Buddha." Now we are constantly seeing them at different festivals and they greet us as friends.
Klaus: Another song on the album is "Open Your Eyes," which was given to us by Oghene Kologbo, who was the guitarist from Fela's Africa 70 band. We first met him Europe, but then he came to Chile to stay for a few months. He was our "baba" – like our grandparent – kind of a master, kind of a friend. We put all our energy and magic into the song.
Maca: Being together in Newen Afrobeat has been like a window to the world for us to have another history. Otherwise we would have been educated to just be another worker in a factory. We also have a song that talks about that – the last song on the album, "Come y Calla," which means "Eat and shut up."

Klaus: It's like for the kids in Chile, there is a saying where they would say, "Mom, I don't want to eat this!" And she would answer: "Eat and shut up!"
Maca: So it's like "Don't question things." If you go to another house, don't ask these things. You shouldn't question what you have in front of you. Just accept it. And also: "Don't talk about religion or politics. Just eat and shut up. Sharing at the table is not to share everything. There are limits."
Klaus: I was born the year the dictatorship of Pinochet ended, and that is another story of our people. Our parents had to live a very tough life. There was a curfew at night. And if they saw you out at night, the police could put a bullet in you.
Maca: To get together, build community, all that we have been talking about, this was dangerous talk back then. But even today, many of our laws were written at that time and have not changed. So while there is no Pinochet, laws he passed are still there.
Klaus: For our fathers, watching us do what we are doing so freely, with no chains, and travel to different festivals around the world, for them this is beautiful, you know. Things they couldn't do, we are doing, and I think they are proud that we are believing in something we love. Knowing that it is difficult to do in a culture that gives priority to practical matters.
Our lifestyle is connected to our music. It's part of our learning to be a community. You can bring in something, but then you have to have trust, and we develop it as a collective. We may have one song talking about this and another about that, but they are all connected. Our experiences, what we are learning, feeling – everything with Newen Afrobeat is connected. It's all intertwined. I think that's the motor that drives us.
Maca: I am a parent now too, and I have to show my son how to live. I always have to ask myself how to live so I can teach him what is really important for him. So I sing these words, like freedom, community, birds, water, female energy. I put all these words together with a new sense... and that is Newen Afrobeat.