Pat Thomas & Gyedu-Blay Ambolley: New Music from Ghana Masters
These days, young Ghanaians are likely grooving to Captain Planet's "Obi Agyi Obi Girl," or Fancy Gadam's "Total Cheat," featuring the rapper Sarkodie—that is, if they're listening to Ghanaian music at all. They might also be listening to top Nigerian stars like Davido and Tiwa Savage, or Burna Boy's new album African Giant (an excellent Afrobeats set, by the way). But that doesn't mean Ghana's old guard has faded into obscurity. Two new releases by highlife veteran Pat Thomas (73 years old) and Afro-funk legend Gyedu-Blay Ambolley (72) show that this exceptionally musical country's septuagenarians still have much to offer.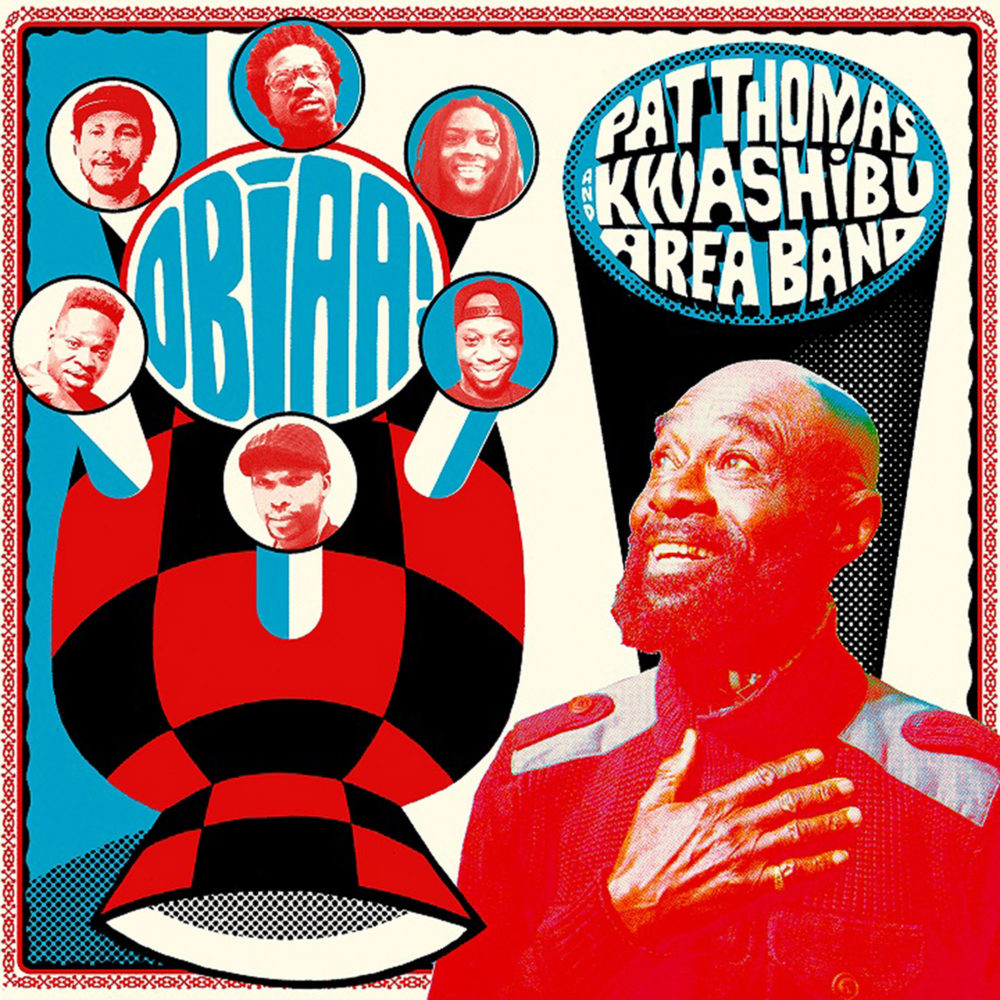 Thomas's Kwashibu Area Band has been busy touring ever since their self-titled 2015 album brought this all-but-forgotten highlife star roaring back to life in Ghana following a long stay in Canada. On their second release, Obiaa! (Strut), which means "Everybody," Thomas cries and croons like a 20-year old backed by a superb, brass-rich ensemble under the direction of Kwame Yeboah, a star in his own right these days. This set of nine songs nods to Fela's Afrobeat at times. Drummer Kwesi Boateng has clearly wood-shedded Tony Allen's signature shuffle, at once relaxed and animated as on the wistful opening track, "Onfa Nkosi Hwee," a tune that condemns boasting and showing off on social media. "Yamona" gallops along in a style Thomas calls "Afro-disco." The song talks about soldiers returned from war, though it's not clear which war he's referring to. There are also moments of the gentle palm wine guitar sound that preceded highlife, notably on "Odo Ankasa," a celebration of true love.
Elsewhere, we mostly get straight-up highlife, beautifully recorded and expertly rendered by a band that has only grown tighter and smoother after a few years on tour in Africa and Europe. Thomas finds winning warmth in minor key numbers like the slinky and sensuous "Atesem" and the perky "Obi Nfreno," which extends to nearly nine minutes and moves from a lament about a lost love to a complaint about a friend who has become rich, but doesn't feel like sharing. Thomas sings about the concerns of everyday life, offering moral advice as Ghanaian singers of his generation are wont to do. It's an interesting contrast with the aspirational ostentation and complicated modern romances of today's Afrobeats videos.
Of course, this is music you don't need to translate to enjoy: There is so much expression in Thomas's plaintive vocals and the band's lively interplay between guitars, horns and percussion. Highlife is music built to last, and we're lucky that an artist of Thomas's vintage is still around to keep the fires burning.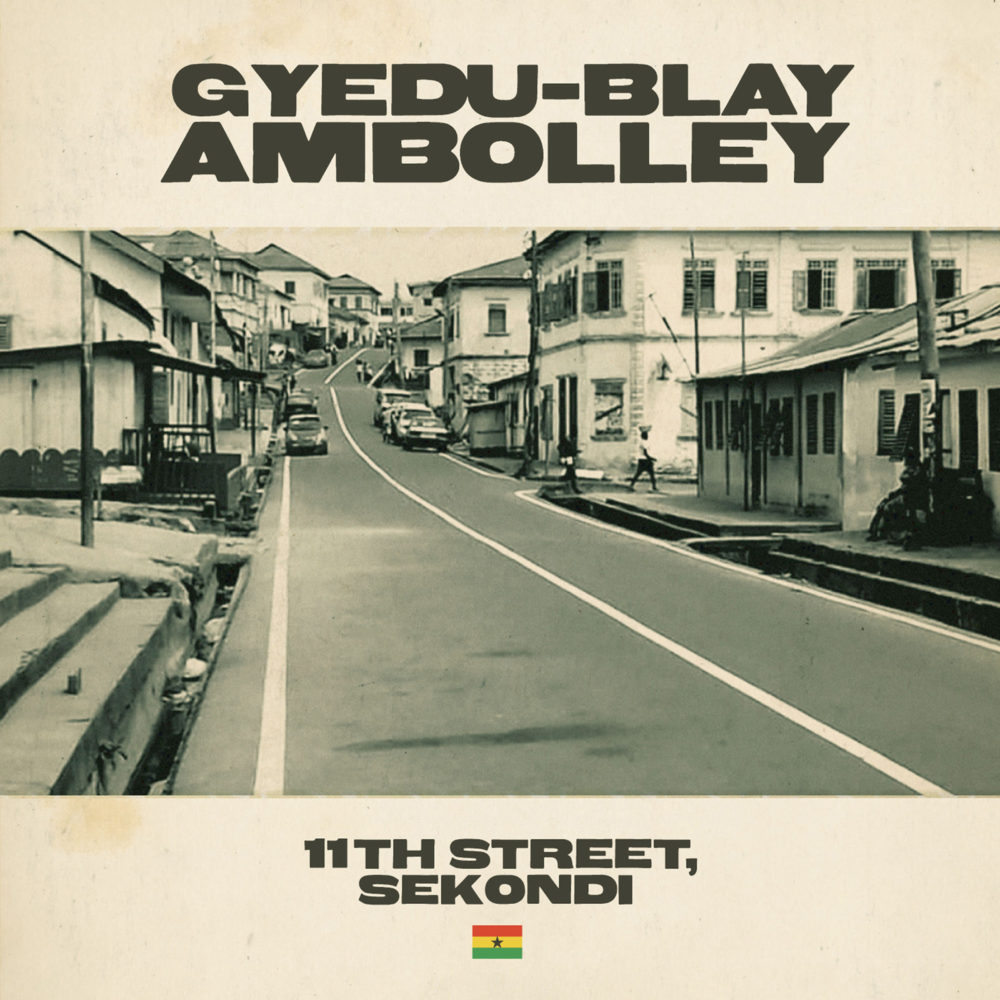 Equally impressive, if not more so, is Gyedu-Blay Ambolley's 11th Street, Sekondi (Agogo Records), named for area in Sekondi-Takoradi in western Ghana where he grew up. This is Ambolley's 12th album since he shook up the scene in 1973 with Simigwa, which introduced his signature vocable, spoken-word style. He has long claimed that track as the first commercial rap recording, arriving six years before "Rapper's Delight." Whether or not you buy that, there's no doubting that Ambolley gave birth to a sound all his own, a pop-and-flow delivery that is instantly recognizable, and still serving him well all these years later. "Yeh-bah!"

11th Street, Sekondi is a follow-up to his fine 2017 release Ketan, and in this reviewer's opinion, it's even better. Start with a crack band, rich with guitars, brass, keyboards and percussion, and a super clean mix completely devoid of jazzy blandness or pop cliché—occasional flaws in some earlier work. Then wrap all that around a set of wonderful songs full of stinging critique, sage wisdom, and playful humor. Ambolley conjures a powerful brew of highlife, Afrobeat, jazz and funk, harder edged than Pat Thomas's highlife, but still—amazingly—lighter than air.
[NOTE: 11th Street, Sekondi is now available on iTunes, but as a CD, only after November 22.]
Ambolley sings and composes in English, Fante and pidgin, and plays guitar and tenor sax. "Black Woman" kicks things off with a classic dual-guitar Afrobeat riff, setting up Ambolley's unmistakable, smoky bass whisper. His vocal is round and easy, half-sung, half-spoken, supremely relaxed. He tosses in a playful sax solo, offsetting the tart brass section arranging heard throughout these nine tracks. "Brokos" brings in the flavor of Congolese rumba, with tangy, clean guitar riffs and a clave lilt subtly different from the usual Ghanaian take. "I No Dey Talk I Do Dey Lie" delivers tongue-in-cheek highlife with its refrain, "I know they talk, and then they lie. I know they talk, and then they lie…" Once again a strong message couched in irresistible levity.
There's a lot of Fela-like Afrobeat here, although boiled down to efficient arrangements, and always distinguished by Ambolley's charismatic vocal presence. "Ignorance" is a fine example with its strong acoustic piano chords leading to an instrumental section weighted with foreboding, and ballsy brass pronouncements, setting up Ambolley's vocal nearly three minutes in. There are two short, concise highlife numbers near the end, "Sunkwa" and "Who Go Pay," both delightful. And then we get what may be the album's tour de force, "Who Made Your Body Like Dat," which begins as another funky Afrobeat number featuring back-and-forth vocals between Ambolley and a female chorus. Midway through, the band drops back to a percussion groove for a rap interlude by Wanlov of FOKN Bois fame—that pointed, pungent, wink-of-the-eye flow that only he can deliver. (Worth noting that Ambolley cameoed on the Bois most recent release, Afrobeats LOL.) The song resolves in a chorus of "My mama made me like dat; My fada made me like dat." And thank God they did!