Sylvain Leroux visits L'ecole Fula Flute in Guinea
Sylvain Leroux is a New York-based musician and bandleader who plays multiple instruments but specializes in the Fula flute of Guinea. He's been traveling to that West African country to study literally for decades. But in 2013, he became involved in an ambitious local project, a school aimed at teaching young Guineans traditional music. L'ecole Fula Flute has lived a storied life, moving locations, recruiting talent and raising money, and it has turned out a number of talented musicians. In early 2023, Sylvain returned to continue his own research and work with the school, and to connect with old friends. Here's his report on the journey.
I recently returned from a trip to Guinea full of experiences as an artist, student, teacher, father, brother, uncle, friend, mentor, host and outdoor enthusiast. Several threads of my life have come together, relationships have intertwined, and in these 40 days an era seems to have come to an end.
WEDDING
First, the marriage of our Guinean daughter Gambalou. For this occasion, our family was well represented, as I was joined by my wife Magali, my brother Michel, and his daughter, my niece, Zofia.
In Guinea, a wedding is not the affair of only one day, there are many events, each offering an occasion for renewed pageantry. First, is the dembadon, the bride's party, we close the street, the griots come to play, we dance into the night, and money comes out!(1)
The following day, the religious marriage is held under a large tent in the family courtyard; harmony, peace and respect reign. The presiding imam, a wise man in his fifties, welcomes us graciously. Speeches are delivered, and many prayers and rituals are performed. Afterwards, we are invited to a reception in the family of the groom where there was a DJ and his MC and we danced and the money came out!
On the third day, a well attended civil ceremony at the town hall was also followed by a huge public dance, where griots sang, we danced, and money came out!
Following all that, the bride retreats for a week in her room at her husband's family, and at the end, she prepares her first meal, which is offered to all the guests; musicians play, it's a party; we dance, and money comes out.
That day, the young artists from our school, L'école Fula Flute, and I played. We started the "Doudounba"(2) with traditional percussion, then Gambalou came to serve us, and we stopped to eat. After, we picked up the flutes, and the party started again! Gambalou emerged in a pretty yellow and black dress, and she and her company danced a lot.
ECOLE FULA FLUTE
In the meantime, I was busy at our school, teaching beginners and advanced students, making plastic flutes, and taking the temperature of things. Our directors Momo and Véronique were both having health issues and could not fully assume their roles. However, despite some looseness, teaching continued normally. I met five new students, three young children, a teenager, and a young woman who was welcomed because she is in a difficult situation.
I am comfortably lodged nearby with the family of Mamady Mansaré where we play the flute together every day. Mamady, elder of our school, welcomed me by giving me a batch of another 25 flutes he made and telling me that I am the only one he gives them to! A great honor and a great responsibility.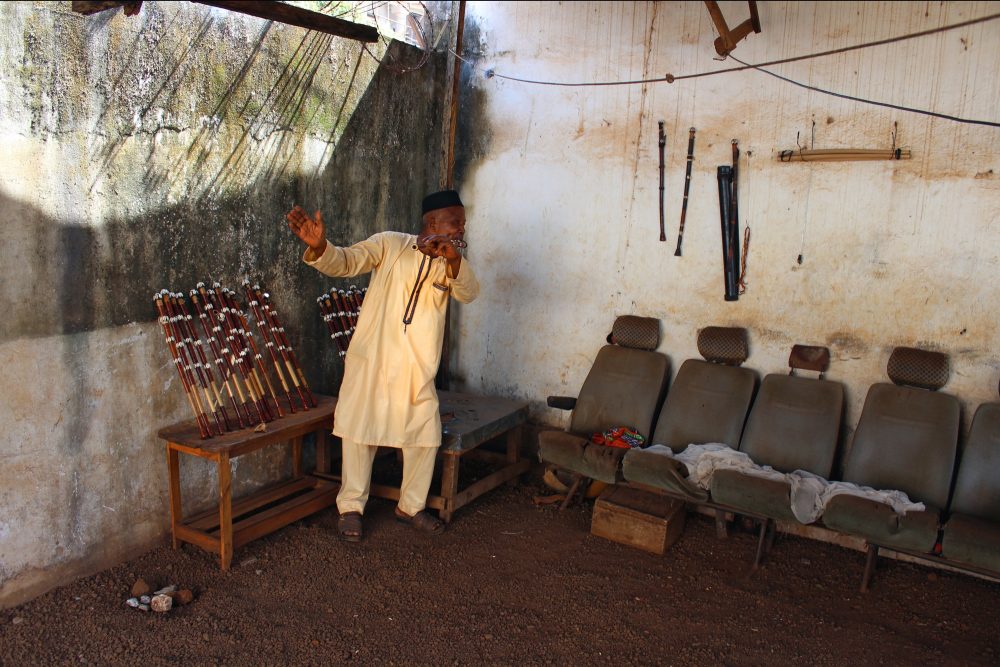 Doucki
After the wedding, we took off with Michel, Zofia and Naby Camara, eldest graduate of our school and excellent flutist, to explore the Fouta Djallon, a mountainous region dubbed "the water tower of West Africa" and the heartland of the Peuls.(3)
The driver who took us there could probably compete at the Indianapolis raceway, which was a bit scary, but saying a big "Inch Allah" (as God wills), as we often do here, we got used to it. We crossed Kindia, Mamou, Dalaba and Pita, and then, through endless bad secondary roads at nightfall, we arrived in Doucki, a small village atop a mesa, and were welcomed by Hassan Bah, a short, positive and energetic man.
Hassan and his family looked after all our needs. They guided us every day in hikes through their extraordinary land. Each trek had a name such as "The Caves," "Indiana Jones" or "The Stairs." We contemplated grandiose landscapes, visited traditional villages, walked on sunny plains, crossed pleasant forests, tasted known and unknown fruits, saw animals: cows, warthogs, monkeys, a snake, and—as if in a natural art gallery—admired rocks sculpted by time in which one can imagine all sorts of beings: here a lion, an elephant, a fish, a giraffe, or a woman looking up to the sky; we visited caves, bathed in waterfalls and in lakes of pure mountain water.
On our first walk, at the top of a rocky promontory, Naby and I took the flutes to test the echo, and after a while we noticed great black apes with long white tails—they were black-and-white colobus monkeys, squatting on another hill. After a while, they began to growl in response to our provocative Fula flute(4) phrases. Hassan was ecstatic, he had never seen anything like it! He later said that, these monkeys just had the best day of their lives.
Our last trek, the highlight of the week, took us down to the rice fields at the foot of the rock face and back up by way of century-old stairs; eight structures erected up a fault in the cliff and made of straight, long skinny tree trunks bound by lianas into bundles and wonderfully easy to climb, easier than the hills below in any case!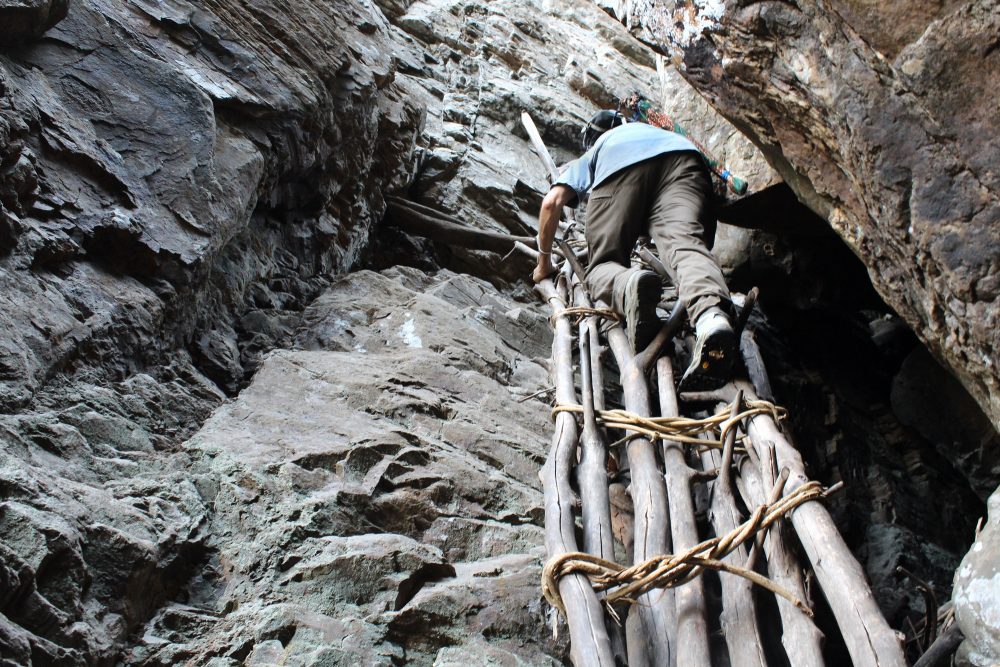 Thomas
Driven by Doulde and accompanied by Naby, Michel and Zofia returned to Conakry, from where they flew back to Montreal. On the way, I was dropped off in Dalaba, where I joined my Fula flute brother, Thomas Vahle.
Thomas and I learned the Fula flute at around the same time—he in Dakar and me in Conakry—and he has since made France his home. He is a powerful flutist who mastered the complex techniques of his teacher Mamadou Saïdou Sow and also had a long tenure as a member of the orchestra of the late, legendary Mory Kanté.
In 2019, while on tour in Guinea, he visited our school, where he spent several days working with the students, teaching them to make instruments and play Fula music. He was amazed and won over by their competence and enthusiasm; he had long dreamed of a music school in Africa.
This year, he wanted to get more deeply involved, but first, he invited me to meet Mamadou Saïdou Sow, his teacher from Dakar, who had returned to live in his Fouta Djallon village.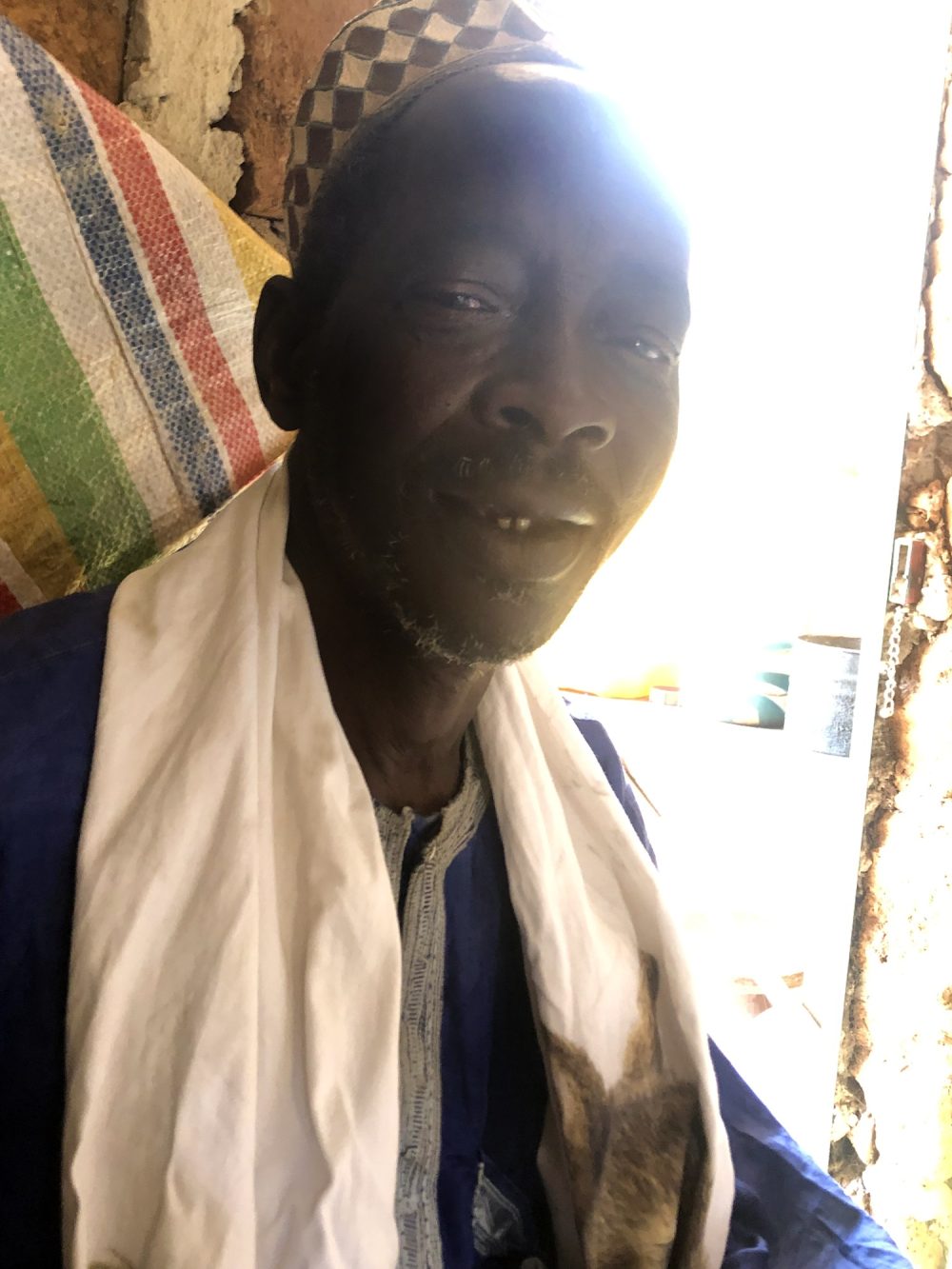 Nakodjé
So, after a night spent in the comfort of the hotel, we greeted Saïdou's Dalaba family where we could store our excess luggage at the home of Mamadou "Pomme de Terre," a charming and enterprising man. We walked a path through his thriving gardens into a large pine forest, like the one we had seen earlier, where he produces terracotta bricks.
After greeting the family matriarch, we took the bad road—but what beautiful landscapes!—on the back of two moto-taxis, which, after an hour or so of an uncomfortable ride, brought us by late afternoon to the foot of a cliff at Nakodjé.
Surrounded by forest, the village consists of a public place with rough-hewn market stalls surrounding it, with little boutiques, cafe, restaurant and scattered houses, either traditional, round with thatched roofs, or modern, rectangular with tin roofs; a bakery delivers bread every day whose quality rivals the world's best baguettes, and, finally, at the other end, there is a mosque. We make the rounds and greet everyone and are warmly welcomed.
Saïdou lives by the entrance of the village on a large, sloping plot surrounded by a fence, with two small houses in the middle, a round one and a square one, in which we slept. In him, we found a somewhat world-weary man who spends his days growing papayas, avocados, cassava, potatoes and more.
As was the case in Doucki, for seemingly religious reasons, it is forbidden to play the flute in the village and in the surrounding area, so we spent our first day there sitting on our hands. Thomas was especially frustrated and started saying that we came a long way to play the flute and that if we can't do it here, we should all three move our activities to Dalaba.
The next day, Saïdou announced that we would be going outside of the village to play. So, we took the road behind the mosque, and after a couple of kilometers, we came across the people of the village who were working to repair a slope on the dirt road. Saïdou invited us to a promontory and took the "lalas"(5) (or castanets); Thomas and me, the flutes, and then we proceeded to spend the whole day in the sun playing for the workers.
After a while, we were surrounded by young girls singing and clapping; a mother took a plastic bucket as a drum, as the hard-working men dug the road in rhythm. From time to time, money came out and went into Saïdou's pocket. Sweets were passed around and many of the girls, one by one, gifted me their candy. As the afternoon wound down, we hung out in the shadow of a large boulder, joking with the old men who were watching the scene.
So, having earned the grace of the villagers, we were then able to spend our remaining time working with Saïdou… who was still not playing a single note on the flute, but he listened, commented and sang phrases.
He has perfected a technique for singing in the flute with register jumps that is beautiful... and difficult. So, needless to say, between these two, it got pretty hot for me, as they say here.
We also took the opportunity to go and cut sumbula branches with which to make lalas with the students at the school, plus a pair for me!
Back in Conakry
Thomas was welcomed by the Mansaré family. Its patriarch, Mamady, is widely recognized as the greatest master of the Malinké flute. He is an inexhaustible source of pieces whose songs and stories he knows. He is a master of the art of the "talking flute," where complete sentences are spoken into the instrument. For 40 years, he toured the world with the Ballets Africains. I couldn't name a country where he hasn't been. Thus far, Thomas' Fula flute education has strictly been in the Peul style, so now it was his turn to heat up!
Mamady's family and their tenants live in the large courtyard that he built in Kokoma, on the outskirts of Conakry—when the area was rural, which is no longer the case—a neighborhood located one KM south of the T7 roundabout. In Sonfonia Gare, on the north side of the roundabout and at an equivalent distance, is our school. The arrangement at Mamady's is, therefore, very good because it allows us to get there on foot and avoid the hellish traffic of the city, although one still needs to watch oneself to avoid being hit by a vehicle or stepping into a foul ditch.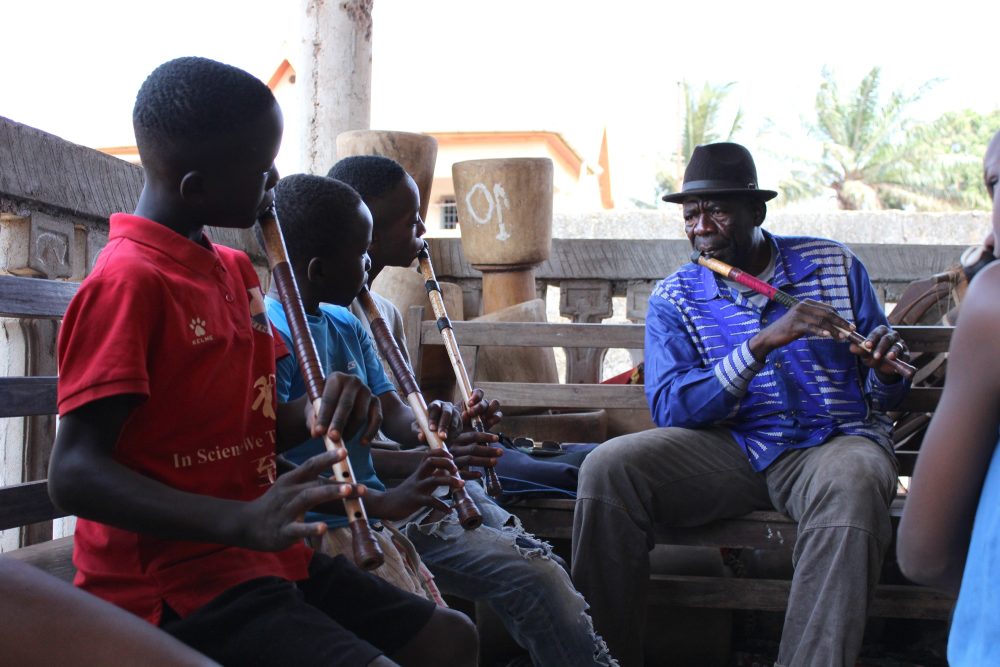 The Roof
Arriving at the school—where on that Monday we attended the classes in Peul flute led by Baba Gallé, percussion by Bouba, and music theory by Tanly—we are pleasantly surprised to find that a roof had been erected over the outdoor cement stage that was previously unusable as it was bathed in scorching sunlight, and so now, we have a new, large comfortable classroom.
This roof is a gift of the "Association Tyabala", an organization created in France by our benefactress Cathy Monnet and her friends, who, for years, have been striving to help us. This time, beyond the roof, they brought an assortment of sportswear and purchased a complement of electric fans for the rooms.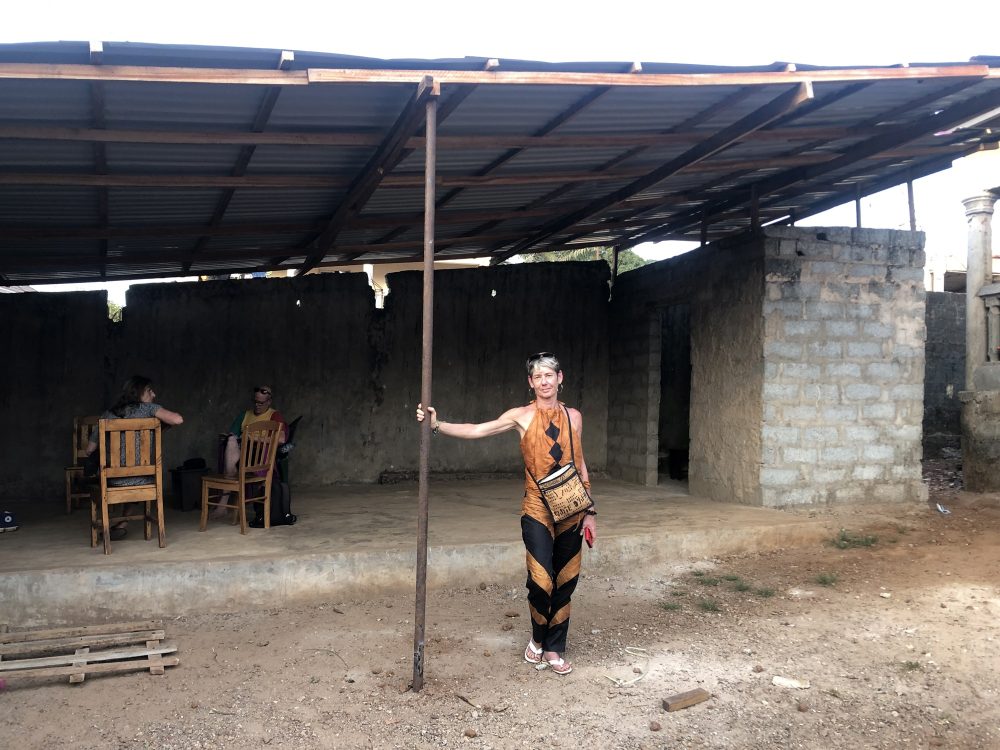 ISAMK
Our director, Momo, who also teaches there, arranged for us to spend two days conducting master classes at the Institut Supérieur des Arts Mory Kanté [ISAMK].(6) The class consisted of second-year students, the majority of whom play the keyboard. Two of them had Malinké-style flutes, decorated with leather and cowries.
We began, by way of an explanation of harmonics and the physics of sound, discussing how the Fula flute produces a scale of seven notes with only three finger holes. Thomas and I demonstrated our respective Fula flute innovations and spent most of the time left discussing modes, the colors they generate and how they are used, specifically in Guinean music.
The students were very involved, and the ISAMK Management was pleased with the experience. As a result, we will be soon sending one of our école fula flute graduates there to teach the flute.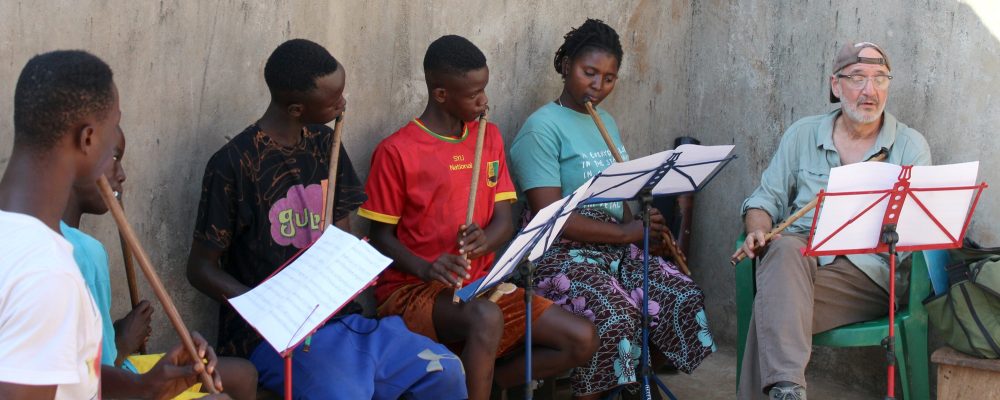 Diplomas
Before my departure, I was to preside at our school's exams and award ceremony. It was normally scheduled for Thursday, but political protests forced us to postpone it for security reasons.
So on Friday in the shade of our new roof, the students were there with their teachers—Momo Sylla, director; Veronique Lamah, supervisor and drama teacher; Mohamed Mmah Camara, school teacher; Mamady Mansaré, Malinké flute teacher; Baba Gallé Barry, Peul flute teacher; Bouba Mbeng, singing and percussion teacher; Djamady Kouyate, kora teacher; Seydou Tanly, music literacy teacher; as well as our friends Cathy and Régine from France; Thomas Vahle and myself.
Four candidates had applied for the diploma: Fatoumata Soumah, who, having failed last year, was making a new attempt; and the boys Seydouba Kouyaté, Seydouba Cissé, and Alhassane Cissé. We submitted them to tests on the Malinké flute, Peul flute, music theory, ngoni, kora, bolon and various percussion instruments (djembe, kinkeni, doundoun, etc.).
After analyzing the results, it was determined that two of them had resoundingly passed: Fatoumata Soumah with 87 percent and Seydouba Kouyaté with 90 percent; however, the other two candidates, who had not reached the required 60 percent threshold, were invited to concentrate and try again next year.
To the applause of all, we proudly awarded the diplomas to our laureates, as well as gifting each of them a complement of three flutes. Then, in celebration, the students together played a few pieces.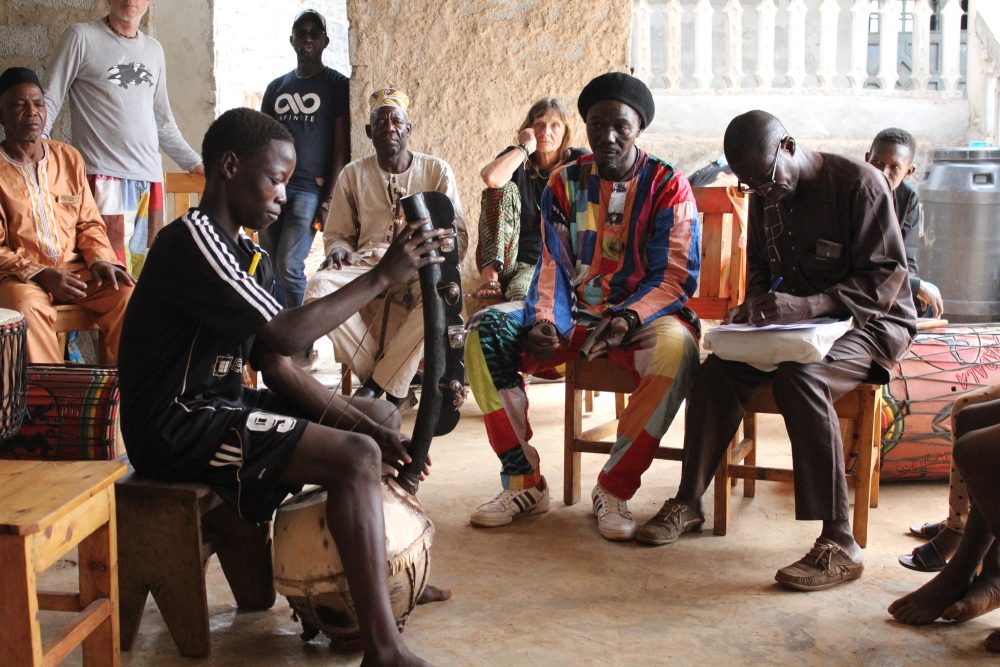 Two days later, I flew home to New York, but Thomas remained another week working at the school, teaching music and making lalas and flutes with our students.
The Fula flute has put me on the path to an ever-interesting quest on the edge of world culture and allowed me to be a conduit for the love of it to be passed on to a new generation of young flutists. It has been 28 years since my first trip to learn it in Guinea, this immensely rich country… rich in bauxite, iron, uranium, oil, gold, diamonds, water, agriculture and fisheries. Yes, but above all, rich in humanity, culture, beauty and magic.