Interview: Fally Ipupa Renews Himself
Photos by Attis Clopton, words by Morgan Greenstreet.
Read a full transcription of the interview here.

The Congolese superstar Fally Ipupa strides on stage at the Apollo Theater, dressed in a glittering silver suit and flanked by three singers in white. The expectant crowd explodes in a flash of elevated cellphone videography and screams.
From the first notes, his voice is strikingly clear, perfectly in tune, as seductive as it is energetic. When the band turns up the heat with "Original" kicking into the first sebene—the dance formula of Congolese popular music of the last half century—Fally places the mic into the waistband of his pants, sheds his jacket and focuses on tight, controlled movements. His dancing is unnerving, disarming, potent. The microphone twists in the front of his pants as he winds his waist, sending the fans in the first rows in paroxysms of enjoyment.
I met up with Fally for the second time three days before the show, at the studios of Sahara Reporters in midtown Manhattan. He had just arrived in New York from Canada, where he had played packed shows earlier that week with his full band, direct from Congo. Ahead lay the Apollo show and a multicity U.S. tour throughout the summer. Born and raised in Kinshasa, his life is international now: When he's not on tour, he splits his time between Paris and Kinshasa.
Fally carries himself like the star he is, with a relaxed self-assurance and almost sleepy reserve that hides a sharp and active mind. As I formulate questions in my best French, his eyes remain glued to his iPhone, flicking to me only when it's time to respond.
"In the history of Congolese music, there aren't many examples of artists who have made the jump to Europe and managed to maintain successful careers with one foot in the international market and one foot in Congo," I start. He looks at his phone. "Tabu Ley Rochereau, Pepe Kalle…Is it your goal to stay popular in the Francophone African market and also break through internationally?"

He looks up, fixing me with his unsettling, half-lidded gaze through his dark sunglasses. "Yes, that's the goal. I wanted to take risks; as an artist we have to take risks and take on new challenges. When you've traveled all over Africa, done it all, there comes a time when you have to take risks and renew yourself."
Fally Ipupa is from the Bandal (short for Bandalungwa) area of Kinshasa, "It's a musical community," Fally said, "Pretty much everyone knows how to sing and dance…it's cultural."
After rising through the ranks of Koffi Olomide's Quartier Latin, Fally spent 10 years as a bandleader, releasing three albums that established him in the top tier of Congolese popular musicians.
When I first interviewed Fally in 2016, he had yet to record Tokooos, his biggest album to date, which came out in 2017 on Elektra France, a subsidiary of Warner Music. The album was a clear stylistic effort to cross over into the French mainstream; collaborations with Aya Nakamura, Neza, Keblack and Booba (and unfortunately, R. Kelly) announced Fally's arrival on the French market.
"The idea was to make a more open album than usual, because I realized that I had a lot of fans who loved my music without really understanding the message," Fally explains. "The album is really in Western radio format, meaning two-minute and 30 seconds to three-minute songs, and more French than Lingala. It was a success because it opened up the French public to a different side of Fally."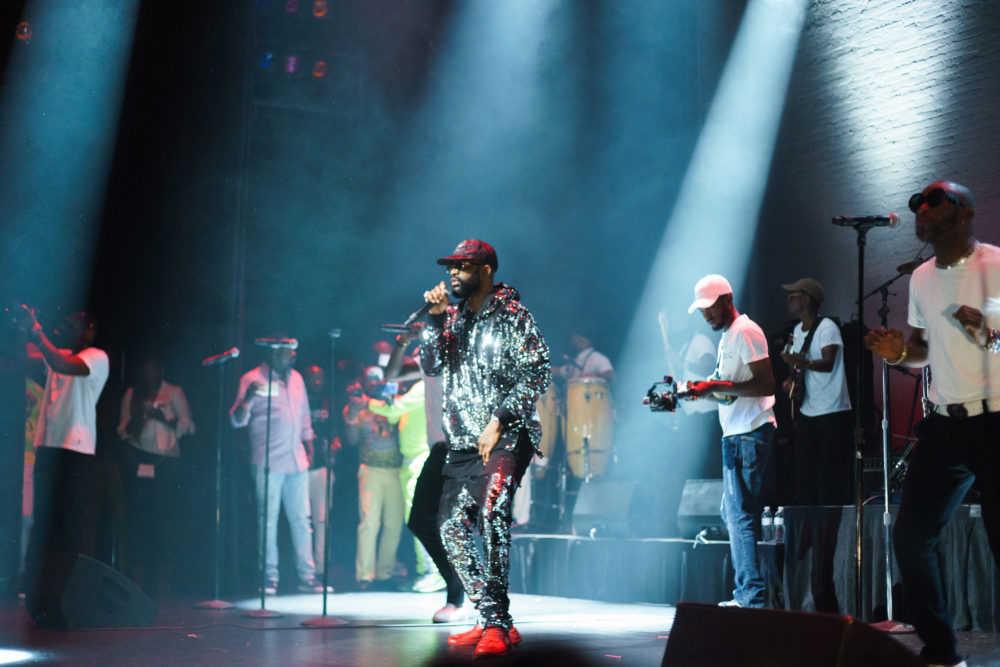 The payoff was also quantifiable in the volume of streams on the new material: The biggest single, "Eloko Oyo" has 55 million views on YouTube at time of writing, compared to 34 million on his previous biggest hit, "Original" from 2014. (By the way, I was recently tipped off to an older version of "Eloko Oyo," by Mabele Elisi, with roots in Mongo traditional music.)
However, as is often the risk of crossover albums, some of Fally's fans were not feeling the new musical direction. "When I put out Tokooos, my core fans were a bit…I won't say angry but a bit disappointed because they were waiting for a rumba album," Fally admits. "It had been more than five years since I'd put out real rumba songs. So they were saying 'Ah, Fally's changed, this is not the Fally we know.'"
In 2018 he responded with a massive triple album, Control, totaling 31 songs, a return to his classic rumba and ndombolo sound, aimed directly at the Congolese market. It opens with the générique dance tune "Control," a clear message:
"I was saying we still control the zone, we're still here!" Fally says. "When I came back with this album with many rumbas, I gave them what they wanted. It was a way of saying 'Don't worry, I'm in control.'" He laughs in a quiet, almost menacing way.
As a fan of Congolese music who doesn't understand much Lingala, I've always been more interested in the faster, more dance-oriented music that focuses on the exciting guitar madness of sebene. But Fally reminds me that, for Congolese fans, the sebene is secondary:
"For me, the first Congolese music is folkloric music, ethnic traditional music, the music from the village, and then rumba. But we are still a country dominated by the rumba."
This is clear from the structure of any new release of Congolese music, which usually has one or two up-tempo songs and many rumbas.
"The rumba comes first in Congolese popular music, the sebene came later. I'm talking about the rumba of the '60s, Tabu Ley, Wendo [Kolosoy], Jeannot Bombenga, Franco Luambo, all of them. And today you'll see all those songs are still there, people play them at parties. Of course they also play dance music, but it's more rumbas than anything else."
At the Apollo concert Fally started with "Sweet Life," a crossover r&b/rumba hit from 2013. As he sang and the audience sang along, I realized that I could identify several musicians onstage from the local Congolese music scene. Later I learned that about half of Fally's band had been denied entry to the U.S. after a run of shows in Canada, subs had been called the very morning of the concert, and considering this, they did a tremendous job with the star's repertoire, including many of the songs from Tokooos. The crowd sang along with most of the songs, phones out in selfie mode or live-streaming the show, dancing in the rows. Fally called on a few ladies from the front row, one at a time, to climb on stage. Each one, dressed to impress, approached Fally with timidity or temerity, and he focused his razor-sharp attention on each dancer for a brief moment, dancing seductively but keeping a few feet between himself and the dancer, before dismissing the lady with a smile, to return to the throngs below.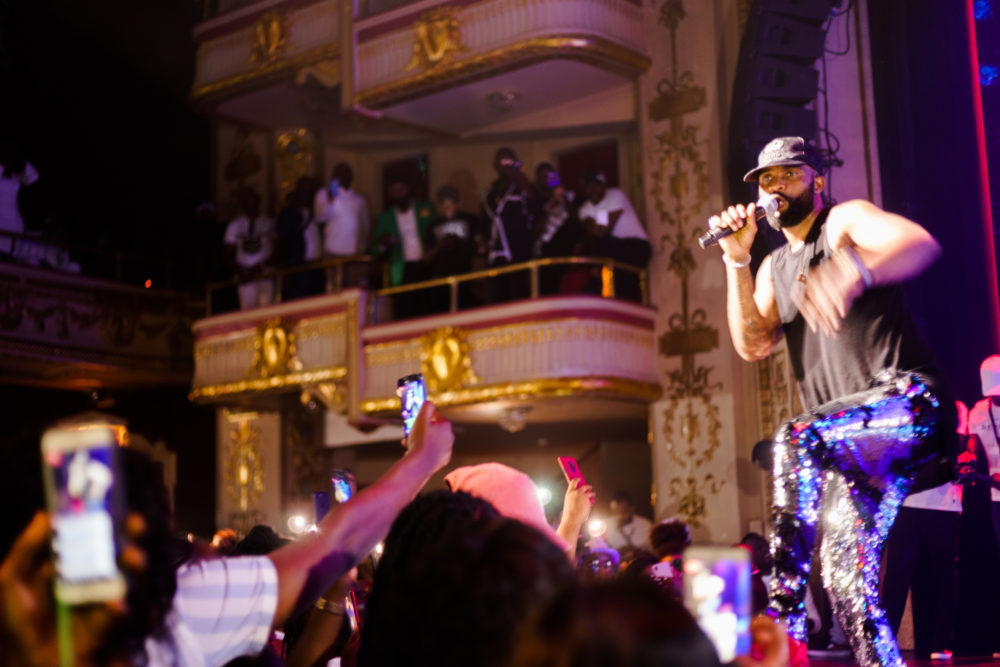 Congolese music has always been popular across Francophone West Africa, the Antilles, and famously, the Caribbean coast of Colombia for a half century. But Congolese music has always had a hard time breaking into international, Angolophone markets, particularly in the United States. Even in the age of Afrobeats, when Nigerian artists are collaborating with the biggest names in American pop music, Francophone Afrobeats/pop superstars like Aya Nakamura, MHD or Maitre Gims are unknown here. It is common to hear the distinctive post-dancehall bounce of Afrobeats on the streets of New York, but you need to go to special places to hear the distinctive guitars and Lingala crooning of Congolese music. The promoters of the Apollo concert, Duke Concept and Inside Diaspora are definitely doing their part to bring stars like Fally to New York and present them in venues comparable to their stature, but it's still an uphill battle.
"It's too bad," Fally says, "Americans need to be more open. They're starting to warm up to African music, but still only to the Anglophone artists. They're not taking any risks and they're missing something! Because the day that they allow Congolese artists to break through here…" He laughs. In 2017 Fally told me, "Congolese music is the real deal! The music is for real! I respect Nigerian music a lot, they have the benefit of language, they speak English and today the Afrobeats current is working very, very well. I'm really happy for them, but we are still here, because, if you put a Congolese artist on stage with a Nigerian artist, there will be a really big difference: They'll defend their music and we'll defend ours!"
The first time I saw Fally Ipupa perform was Labor Day 2015 at a midtown club with terrible sound. However, I was absolutely overwhelmed by the force of his band, the energy, tightness and sheer volume with which they attacked the sebene and their dynamic approach to playing the slower rumba. This type of playing can only be achieved through living and breathing music together, rehearsing and performing constantly, as a full-time band, the way they do in Congo. Towards the end of the interview I surprise Fally with an impertinent question on one of my favorite topics, libanga/mabanga, what Fally calls "le phénomène de dédicace," shout-outs of patrons that are often remunerated. I ask, "What part of your finances come from libanga, shouting out patrons?" Fally laughs, fixing me with his intense gaze again.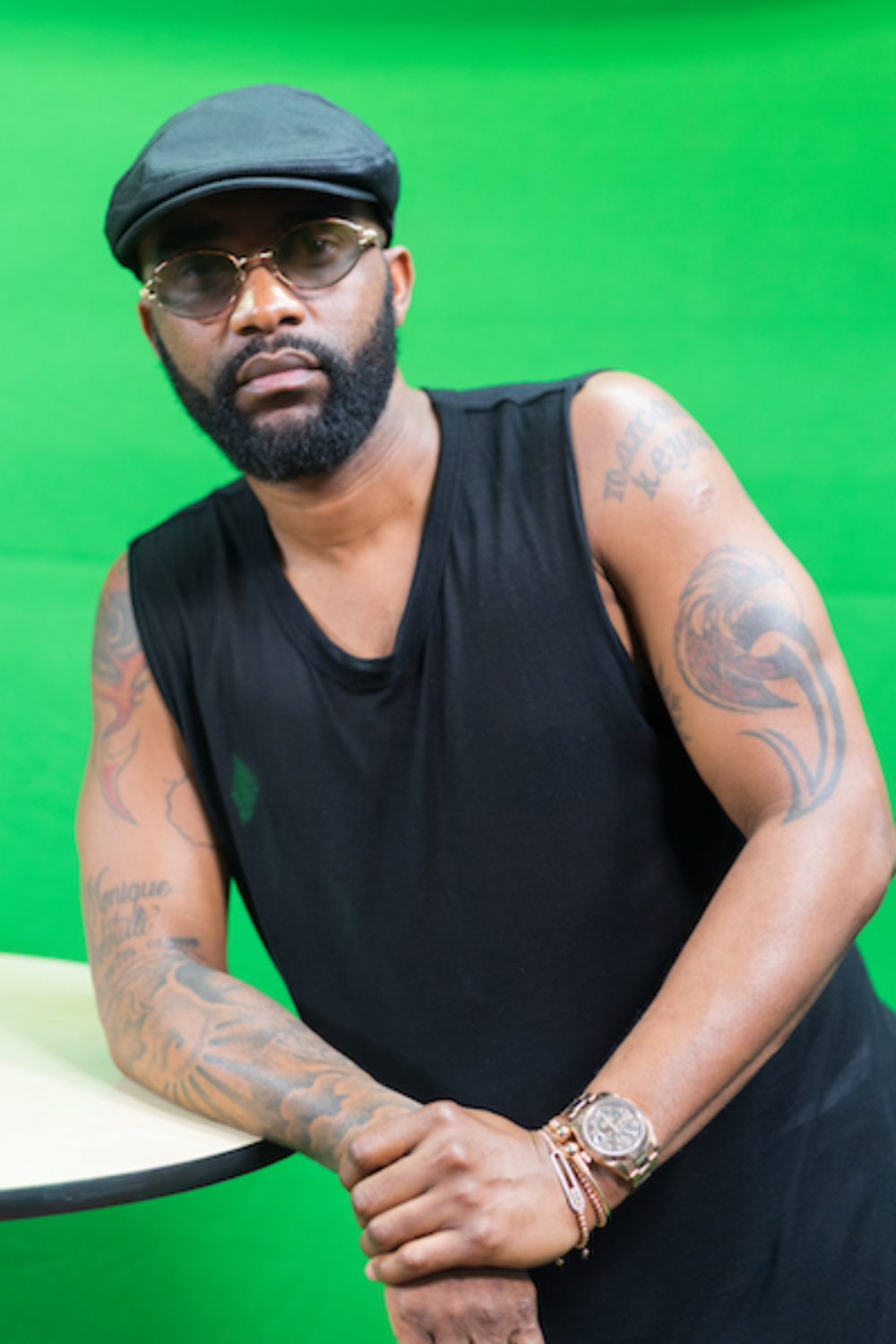 "Libanga is a cultural thing, it started a long time ago, and it wasn't always remunerated! Ten years ago it was much more about money, but these days it's more friendly. Sure, it still happens that people might bring a little something, but it's less common for people to pay for shout-outs, it's becoming more of a way to recognize people from your team, the people you grew up with, our friends and families. Anyways, it's our culture! When you're putting out a rumba album, there have to be names in it!"
I remark that he didn't include many names on his latest release, Control.
He explains, "I'm not against the idea of mabanga but I'm doing it less and less, because I'm about letting the music breathe. You'll notice that I don't put mabanga in the dance tunes, the génériques anymore, just in the rumbas, and I put it towards the end of the songs. It's good, it's our culture."
When I interviewed him 2017 Fally talked about the need to "pass the torch of Congolese music to a younger generation." With this in mind, I bring up Robinio Mundibo, an exciting young singer. Fally co-signs, "Robinio is the future, he's very, very talented, one of the artists today who will carry the torch of Congolese music into the future."
I ask about BM, a Congolese singer based in London who recently had a crossover hit with the simple sebene tune, "Rosalina," sung partly in English. To my surprise, Fally is unfamiliar with BM or the song, "If he's Congolese, that means he's good," Fally concludes with a laugh.
He also shouts out Gaz Mawete, DJ Virus, and DJ Boogie Black as young artists pushing things forward in Kinshasa. "In any case, Congolese music will always be there!" After Control, Fally tells me he's directing his attention back to the international market, preparing Tokooos II. It's a delicate balance to keep a foot in both markets, but if there's anyone who can do it, it is Fally Ipupa. In any case, I'll be watching and waiting for my next chance to see him command the stage.