Afropop Worldwide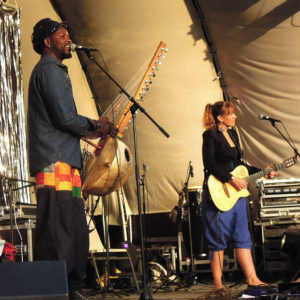 Afro-Sweden? Who knew? Over the past 60 years, a number of musicians from Africa and its diaspora have come to base themselves, or have been born, in Sweden. And recently, they have emerged as a collective voice in Swedish society. From the acoustic Mande folk of Sousou and Maher Cissoko, to the kaleidoscopic hip-hop of Timbuktu, and the smooth soul-pop of Swedish-born, Gambian-descended Seinabo Sey, there's definitely something happening in Scandinavia. On this program we speak with and hear recent music from a wide range of African and diasporic artists in Sweden, and get context from ethnomusicologist Ryan Skinner, who has immersed himself deeply in the Afro-Swedish scene for the past 15 years.
Produced by Banning Eyre and Ryan Skinner.
Originally aired Oct 18, 2018
Transcript
A Visit to Afro-Sweden
GEORGES: WHEN YOU THINK OF SWEDEN AND MUSIC, YOU PROBABLY THINK OF THIS.
WINDOW: m01_Mama Mia.m4a, Abba, Gold: Greatest Hits (Capitol, B0019M068E) (emerge 0:50-58)
GEORGES: OR MAYBE THIS:
WINDOW: m02_The Rain.mp3, Aetherian, The Untamed Wilderness, Lifeforce Records, B075Y1Q9Q8
(emerge 1:01—1:12)
GEORGES: OR MAYBE THIS:
WINDOW/BED: m03_Alla Gossar.mp3, Triakel Northside Records
YouTuben (from top)
GEORGES: THAT WAS ABBA'S "MAMA MIA", OF COURSE, THEN "THE RAIN" BY THE SWEDISH HEAVY METAL BAND AETHERIAN, AND THEN THE SWEDISH FOLK GROUP TRIAKEL. BUT THERE'S SOMETHING ELSE HAPPENING IN SWEDEN THESE DAYS.
WINDOW/BED: m04_Medan vi lever (Live in gambia).mp3, Adam Kanyama, Medan Vi Lever: Soundtrack (Medan vi lever, B01N91O0NA) (0:12
GEORGES: THAT'S SWEDISH-GAMBIAN RAPPER ADAM KANYAMA WITH THE SONG "MEDAN VI LEVER," "WHILE WE LIVE." HELLO, GEORGES COLLINET WITH YOU ON AFROPOP WORLDWIDE FROM PRI, PUBLIC RADIO INTERNATIONAL. TODAY WE BRING YOU SOMETHING UNUSUAL AND SURPRISING, A VISIT TO AFRO-SWEDEN….
WINDOW/BED: m05_Dakar by night.mp3, Maher Cissoko, Medan Vi Lever: Soundtrack (Medan vi lever, B01N91O0NA)
GEORGES: ON THIS PROGRAM WE'RE GOING TO MEET A WIDE RANGE OF AFRO-SWEDISH MUSICIANS. BUT FIRST LET'S HEAR FROM THE MAN WHO STARTED US ON THIS JOURNEY IN THE FIRST PLACE, AS IT HAPPENS, AN AMERICAN AND A LONGTIME FRIEND OF OUR PROGRAM.
ACTY: 01_RSkinner_intro.wav: My name is Ryan Skinner. I'm an ethnomusicologist, and anthropologist, and associate professor at the Ohio State University. I married into Swedish culture. And it's been part of my life for the past 20 years. My kids are Swedish American. My family and I spend time in Sweden every year. 15 years ago, I lived and worked in Sweden I was a middle school teacher. The school where I taught was introduced to me as an immigrant school. And I became very quickly aware of dynamics around race and ethnicity in Sweden. At the same time, I was recently returned from Mali, during one of the trips for my fieldwork in that country in West Africa, and I quickly became involved in the local West African associations and communities in Stockholm. I got to know that Malians, the Gambians, and the Senegalese very quickly, and I also got to know the musicians, and got to collaborate with some of them. So very early, I was roped into an African music scene in Stockholm, as a kora player, but also as someone working to bring that music onto local scenes and stages.
GEORGES: BACK THEN, AFRICAN MUSIC WAS EXOTIC. THESE AFRICAN ARTISTS WERE LIVING IN SWEDEN, BUT IN EFFECT, PRESENTING THEMSELVES AS FOREIGN. SO, IN 2003, RYAN HAD AN IDEA.
BED: m06_Kora Dance.mp3, Maher Cissoko, Medan Vi Lever: Soundtrack (Medan vi lever, B01N91O0NA)
ACTY: 02_RSkinner_festival.wav: We organized a festival of kora players, the majority of whom were living and working in Sweden. It was called the Jelibengel Kora Festival. The idea was to say that these folks are also Swedish folk musicians, and I think I was part of a moment in which that was happening. Artists were beginning to occupy those spaces and perform in ways that suggested that they belong to bear, and were going to stay there.
GEORGES: BUT THAT 2003 FESTIVAL WAS JUST THE BEGINNING OF THE CHANGES RYAN WOULD OBSERVE.
ACTY: 03_RSkinner_AfroSwede.wav: Ten to 15 years later, the conversation was no longer about African communities and Swedish society, but really, we were looking at a new generation, I would say to the children of those folks that I was working with in many cases, were beginning to say this dichotomy of us and them, Africans and suites, doesn't it make sense to us. My mother is Swedish in my father's African, or vice versa. I belong to both places. I am Afro Swedish. By 2010, 2012, 2013, there was a new language being spoken by a new generation about what it means to be black, African and Swedish.
GEORGES: MUCH MORE TO SAY ABOUT THE NEW GENERATION, BUT LET'S GO BACK TO THE KORA. THE KORA PLAYER WE'RE HEARING IS MAHER SISSOKO, ONE HALF OF A LONGSTANDING HUSBAND-WIFE DUO CALLED SOUSOU AND MAHER. 19 WE SPOKE WITH SOUSOU BY SKYPE FROM THEIR HOME IN SWEDEN.
BED: m07_Ibbes theme (Part 2), Maher Cissoko, Medan Vi Lever: Soundtrack (Medan vi lever, B01N91O0NA)
ACTY: 04_Sousou_intro.wav: My name is Sousou Sissoko. I am from a small village in the south part of Sweden. When I was a child, my father, who was also a musician. He played with the kora player from Gambia called Alhaji Mbaye. And I followed them on tours in Sweden, and I heard a lot of the stories from the kora, and I was very fascinated by the instrument in the stories. So that when I was like 17, I tried the instrument. I just tried little bit, and then Alhaji to invited me to come study in the Gambia. So then I was thinking, " Okay, when I finish school, then I want to go and study kora."
GEORGES: SO, SOUSOU VISITED GAMBIA WITH HER PARENTS, AND THEN IN 2000, SHE WENT AND STAYED FOR 3 MONTHS. SHE SAW IT AS A CHANCE TO LEARN, BUT GOT MORE THAN SHE BARGAINED FOR, AN EXPERIENCE THAT WOULD CHANGE HER LIFE.
ACTY: 05_Sousou_study.wav: I was studying everyday from like 10 to 4, very intense lessons. Then when I came back to Sweden I was having small concerts and stuff. I could play the basics. But for Swedish people who never heard the kora, they would go, "Oh, wow." But if you hear a kora player who was born to play the kora, how they play, you can see it's a big difference.
GEORGES: SO SHE WENT BACK AGAIN AND AGAIN AND STUDIED THE NGONI LUTE AND THE BALAFON AS WELL. AND SHE LEARNED TO SPEAK MANDINKA AND WOLOF. IN 2004, IN CASAMANCE, SENEGAL, SHE MET HER FUTURE HUSBAND AND COLLABORATOR, MAHER. BUT ALONG THE WAY, SOMETHING UNEXPECTED HAPPENED.
ACTY: 06_Sousou_SwedishFolk.wav: I was actually encouraged to study Swedish folk music when I was in Gambia, because when I was there studying the kora, a lot of Gambians were asking me, "But why are you studying our traditional music? Don't you have your own traditional music to study?
WINDOW/BED: m08_SankaVirrvals.mp3, Elika, Solo, Rafael, YouTube
GEORGES: THAT'S MAHER SISSOKO'S BROTHER SOLO, PLAYING KORA WITH SWEDISH VIOLIN PLAYER ELIKA FRISELL. SOUSOU'S FATHER PLAYED THE ACCORDION AND HE SOMETIMES PERFORMED WITH GAMBIAN MUSICIANS. BUT SOUSOU HERSELF WAS MORE INTERESTED IN LEARNING KORA THAN CREATING FUSIONS. SHE WAS PART OF A MOVEMENT OF YOUNG SWEDES TRAVELING BACK AND FORTH BETWEEN SWEDEN AND WEST AFRICA.
ACTY: 07_Sousou_water.wav: I think every person who does it, it's like spreading rings of water, you know? So every person spreads it to their friends, and then more people come, more people come, more people come.
GEORGES: SOUSOU AND MAHER DID NOT SET OUT TO BE A PROFESSIONAL ACT. THEY JUST PLAYED TOGETHER FOR FUN. BUT FATE INTERVENED IN THE FORM OF A MARABOUT, AN ISLAMIC RELIGIOUS CLERIC.
ACTY: 08_Sousou_marabout.wav: We saw a marabout in Ziguinchor. And he said that we should play together, and that we would tour the world. And he actually said, "Maher I know you don't like to play very much with Sousou, because you feel like you can play more kora than her. But still, it's going to be Sousou who will take you all the world. If you put together, you will be very strong together.
GEORGES: AND SO IT WAS. LATER ON, SOUSOU PICKED UP THE GUITAR AND THEY BEGAN CREATING SONGS OF THEIR OWN.
ACTY: m09_Sousou_languages.wav: We sing in five different languages, Swedish, English, French, Wolof and Mandinka.
GEORGES: HERE'S A TRACK FROM THEIR FOURTH AND LATEST ALBUM, MADE OF MUSIC.
MUSIC: m09_Rendez-Vous.m4a, Sousou and Maher Cissoko, Made of Music, (Jaliya / Ajabu! B07B12HRXY) [4:32]
GEORGES: FROM SWEDEN AND SENEGAL, SOUSOU AND MAHER CISSOKO. THEY'VE PLAYED IN 31 COUNTRIES AROUND THE WORLD, JUST AS THE MARABOUT PREDICTED. THEY SING ABOUT LOVE, BUT ALSO POLITICS, URGING AFRICAN LEADERS TO DO A BETTER JOB.
SO THIS IS A STORY OF A YOUNG AFRICAN MUSICIAN CHOOSING SWEDEN AS A PLACE OF HOPE AND OPPORTUNITY. BUT TODAY'S AFRO-SWEDISH SCENE GOES WAY BACK, AT LEAST 60 YEARS. IT MIGHT SURPRISE YOU TO LEARN THERE ARE FAR MORE PEOPLE OF AFRICAN DESCENT IN SWEDEN THAN IN ANY OTHER SCANDANAVIAN COUNTRY. WHICH LED US TO ASK RYAN SKINNER: WHY SWEDEN?
BED: (if needed) m10_Fitifata.m4a, Sousou and Maher Cissoko, Made of Music, (Jaliya / Ajabu! B07B12HRXY)
ACTY: 10_RSkinner_WhySweden2.wav: Why Sweden? To speak of Afro Swedish history, we really have to talk about two moments. The first takes us back to the 17th, 18th, and 19th centuries, when Sweden was a participant in the trans-Atlantic slave trade. They built Cape Coast Castle in Ghana. They occupied St. Bartholomew in the Caribbean. That is also an Afro Swedish history, and it leaves a trace. To talk about a more recent Afro Diaspora community, however, we need to talk about another moment of history, and that begins in the mid-20th century when we have waves of groups coming from the African world, different parts of it, the Caribbean, the Americas, for different reasons. Some seeking refuge and asylum, others simply seeking a better life. And for a long time, Sweden is accommodating that with rather generous immigration policies.
WINDOW/BED: m11_Bamako my home.mp3, Andreas Unge, Medan Vi Lever: Soundtrack (Medan vi lever, B01N91O0NA)
GEORGES: LET'S MEET AN ARTIST WHO CAME TO SWEDEN BACK IN THE 1970S.
ACTY: 11_Seruwagi_intro.wav: My name is Richard Seruwagi. I originally come from Uganda. I moved to Sweden in 1978 because of Idi Amin's world that didn't want me to live in Uganda. They wanted to kill me because of my theater works. So I moved to Sweden, and I've been living here now almost 40 years working as an actor and musician.
ACTY: 12_RSkinner_racism.wav: So here's is a really important point. People coming to Sweden and seeking refuge and asylum in Sweden, did find those things. However, the myth that many of them heard that Sweden was a place without race, or that racism didn't exist in Sweden. These folks came and discovered that that wasn't true.
ACTY: 13_Seruwagi_racism.wav: Oh yes, most of the black people living in Sweden they are experiencing, of course racism. You don't get as far as you can because of the color of your skin. And they don't consider your education as important. I mean there are a lot of people who come from different parts of the world, Africa and so on, doctors and engineers, but it takes them a long time to become again to become the doctors they were, if at all. Most of them drive taxis. Most of them clean.
GEORGES: BUT RICHARD CAME AS AN ARTIST, AN ACTOR AND A MUSICIAN.
ACTY: 14_Seruwagi_music.wav: Music came to me when I was very young and I would probably say I am a musician and work as an actor. If that explains it. Music and theater go hand-in-hand. I have been recording since the 90s, and I have bands here in Sweden since the 80s. I had a band called Zebra and Safari. And we played Swedish radio and television and made tours around the country and I'm still active doing music. I play music for films too.
WINDOW: m12_Say Say Say.mp3, Richard Sseruwagi, Medan Vi Lever: Soundtrack (Medan vi lever, B01N91O0NA) (top to 0:40)
Louder bed
ACTY: 15_RSkinner_SaySay.wav: The song "Say, Say, Say" appears in the film Medan Vi Lever, "While We Live," which is filmmaker Dani Kouyate's first feature film in Sweden. He himself is a native of Burkina Faso, but Dani now lives in Uppsala, and this is his first Swedish effort. And he cast the role of Sekou, a taxi driver, specifically for Richard Seruwagi. And at a crucial moment in the film, Sekou is riding with his nephew in his cab with a white middle-aged man in the back, and this man is clearly perturbed, even disgruntled, to be in a cab with two black people, it seems. And Sekou diffuses the situation by playing this track on a cassette deck in his cab. "Say say say." And they get out of that cab, everyone feeling happy about themselves.
ACTY: 16_Seruwagi_say.wav: You know, we live our lives sometimes worrying about so many things: where's the bread going to come from? How is my life going to be in the future? And this and that. Instead of living in the moment. And "Say, Say," I will enjoy my life today.
MUSIC: Say Say Say (emerge on vocal 1:50)
GEORGES: UGANDAN-SWEDISH ACTOR AND MUSICIAN RICHARD SERUWAGI WITH "SAY SAY SAY." [AND HERE'S ANOTHER FROM RICHARD. THE SONG IS "WE GO DANCING" AND HE SINGS IT IN THREE DIFFERENT LANGUAGES.
MUSIC: m13_We Go Dancing.mp3, Richard Sseruwagi, Foolish Pride, (KMP, B06XTDY4RC) (up to where he sings in Swedish)
ACTY: 17_Seruwagi_dancing.wav: "We Go Dancing" came to me early in the morning. I was in my country house. I was in a happy mood. And the beat started coming to me. First of all, it came up in my own language, Luganda, I grew up speaking Luganda and English but then suddenly I started having words in English too. Okay. But then afterwards I said, "Yeah, okay, but I live in Sweden. I am Swedish too." So after a while, I thought about it that this song is representing my identity as it is now in Sweden. Because I am African. I speak English, which is part of my language. Now I live in Sweden and I speak Swedish. So I wanted to combine all those three make the people that live also in the country like me, get the feeling that they are also included in the feeling that you get when you are joyful and probably you would like to jump up and dance.
MUSIC: We Go Dancing (a bit more)
GEORGES: RICHARD SERUWAGI WITH "WE GO DANCING."] IN SWEDEN, RYAN SPOKE WITH ONE OF THE BIGGEST STARS IN THE NEW AFRO-SWEDISH GENERATION, SEINABO SEE. BUT BEFORE THEY COULD TALK, SEINABO HAD A REQUEST.
ACTY: 18_Seinabo_beer.wav: [we hear her speaking in Swedish, ordering a beer]
ACTY: 19_RSkinner_beer.wav: Seinabo was very gracious. We didn't have much time, because she had just gotten out of a rehearsal, and she was sort of desperate for a break, and a beer.
BED: m13a_AM Loco.mp3, Various, Medan Vi Lever: Soundtrack (Medan vi lever, B01N91O0NA)
ACTY: 20_Seinabo_intro.wav: To introduce myself, my name is Seinabo Sey. And I'm a singer. My dad is from Senegal and Gambia, and my mother is Swedish. I am born here, but I have lived in both places quite a lot.
ACTY: 21_RSkinner_roots.wav: I asked Seinabo how she relates to and identifies with her African and Swedish roots.
ACTY: 22_Seinabo_loud.wav: We are culturally polar opposites, but I often hate talking about it, because it kind of emphasizes the differences. I would like to emphasize what connects everyone. But then, Gambia is a very loud place. You have to speak up to be heard, generally. And in Sweden, culture is to be quiet and know your place. So I think I've juggled that quite a lot. Trying to learn the different parts of each culture has been preoccupying my mind for basically all my life, but I feel like I can be myself in both places whatever that results in.
ACTY: 23_RSkinner_star.wav: Seinabo Sei breaks out onto the Swedish scene in 2014, winning awards for best new artist. The following year, she wins an award for the best soul and R&B artist. She is flooded with accolades in the Swedish scene. By 2015 and 2016, that begins to spill over into the United States, with writeups in the New York Times. And you can go into a Starbucks today and you can hear Seinabo Sei on the radio.
MUSIC: m14_Breathe.mp3, Seinabo Sey, I'm a Dream, (Universal Music AB, B07GBYM1DV) (emerge 0:22-1:30)
ACTY: 24_Seinabo_racism.wav: We have this thing in Sweden, it's called "vardagsrasism," which is "everyday racism." Which kind of takes the edge away a bit. We talk about that a lot in Sweden. My dad used to talk about that. So it's always been like that. Maybe the difference is now that a lot of us, our parents came here as a first generation, and now we are born Swedish, but we're still of African or different descent. And maybe it's easier for us to get into the system and connect and feel brave enough to do things. Maybe that's why so much is happening right now.
ACTY: 25_RSkinner_soul.wav: Seinabo Sey's music is strongly rooted in soul. And soul has a very deep root in Sweden. It's one of the most popular genres of popular music since the 1980s. In Seinabo's generation, there are more people of mixed heritage, from Africa and Sweden. It's a growing community, empowered in various ways to speak out. But really, what she'd rather be doing is making beautiful music and conveying the emotional depth of the feelings that she brings to her sound.
ACTY: 26_Seinabo_emotions.wav: I deal with emotions, how to convey them, how to write them, how to sing about them. Because it's come to a point where it's in our faces, affecting our everyday lives, as it did our parents. But people my age, we are all at an age where we feel like we have to do something. And to answer how my music fits into that, I make music for feelings. If it inspires anyone to fight the power and do any political action, more power to you. If it inspires someone to make a decision that they don't want to do that, that's totally fine as well.
BED: m15_Hard Time.mp3, Seinabo Sey, Pretend (Universal Music AB, B015KPSIVW)
ACTY: 27_RSkinner_hardtime.wav: At the 2016 Grammy awards in Sweden, Seinabo Sei takes home the award for best pop artist. She then takes the stage for a live performance on national television. The track "Hard Time" starts. And then, gradually, women from offstage begin to populate the stage, enter into the audience, fill up the auditorium. They are all black. They are all women roughly in Seinabo's generation, and they are standing stoic, looking straight ahead, as if to say: We as black women are here. We are part of Sweden. We are proud. We are beautiful. And we're going to make a statement.
WINDOW: Hard Time (up to 1:25)
ACTY: 28_Seinabo_cover.wav: I can count on my hand the times I've seen black women in the public eye. And I remember every single time that has made me happy. And I think, that's so sad. That's so sad. And I started googling covers of magazines and I realized that for every maybe 25th cover, there might have been one very light-skinned person that might've been black. They might have been in Vogue before hand, or in a Drake video, and then they might get a cover in Sweden. And it's so pathetic. And then they want an applause after that. You guys don't ever take risks when it comes to our art. You never, ever, ever really take a risk. And that made me so sad. So that's why I put that many people on stage because okay, if you don't show our diversity, I will in the only way I know how.
MUSIC: Hard Time (up to at least 3:20)
GEORGES: SEINABO SEE WITH 'HARD TIME.' WE'RE TAKING A VISIT TO THE SURPRISING WORLD OF AFRO-SWEDEN WITH OUR FRIEND RYAN SKINNER. YOU CAN READ OUR INTERVIEW WITH RYAN AND FIND LINKS TO AFRO-SWEDISH VIDEOS AND SO MUCH MORE ON AFROPOP.ORG. I'M GEORGES COLLINET, AND YOU'RE LISTENING TO AFROPOP WORLDWIDE, FROM PRI, PUBLIC RADIO INTERNATIONAL.
WINDOW: 20-second break: m16_Allt Grönt.mp3 Timbuktu, YouTube (intro, start at 0:05)
WINDOW/BED: m17_Back to Gambia.mp3, Maher Cissoko,
ACTY: 29_Mensah_intro.wav: My name is Stevie Ni Adou Mensah, a.k.a. Mensahighlife, and I'm a teacher. I'm a writer, a producer, a musician and dancer. My parents were born in Ghana. I was born in Sweden myself. I grew up in a typically Ghanaian household, and I think it was that contrast that made me create art with both the African traditions in mind, and the modern Swedish traditions. And somehow, I managed to fuse it.
ACTY: 30_RSkinner_violence.wav: Stevie grew up in Sweden in the 1980s and 90s when a particularly violent form of racism comes onto the social scene. You have Nazis who are threatening people who are not white. His family was a victim of far right aggression. He is formed by that history of violence in Sweden. It's not something he can separate his Swedish experience from.
GEORGES: AND THAT HELPS TO EXPLAIN WHY STEVIE WAS SO MOVED WHEN HE FINALLY GOT AROUND TO SPENDING TIME IN HIS ANCESTRAL HOMELAND: GHANA.
ACTY: 31_Mensah_Ghana.wav: Moving back in January 2014, it didn't take long for me to realize that there are so many lies when it comes to the conceived notions about what Africa is and stands for. It wasn't hard for me to maintain the excitement of being in Africa and take in everything that Ghana had to offer. Now, Ghana is home, and definitely more home than Sweden will ever be, because the issues that Sweden has are far more disturbing than Ghana or Africa will ever have.
ACTY: 32_RSkinner_renaissance.wav: Talking to Stevie, I proposed the idea that perhaps things may be changing. Over the past 5 to 10 years, we have seen a fluorescence of Afro-Swedish public culture in music, theater, film, and dance. And that we might be experiencing something we could call an Afro-Swedish Renaissance.
ACTY: 33_Mensah_dances.wav: I agree with you that in around 2013, 2014, something happened when it came to embracing those African roots in Sweden. Because growing up in the 80s, none of that was around. I remember myself, because my situation was quite different because my father came in the 50s, but most people came from countries like Ghana, Uganda, Eritrea, they came in like the 70s, the 80s. And their goal was to learn the language quite quickly and become a part of Sweden. My parents' situation was different, because my father, he was a respected drummer in Ghana. And his drumming and dancing and theater groups, they were serious. Wherever he went, he went with that state of mind. And my mom, came here in the 70s, she was the same. She was dancing all kinds of Ghanaian dances, showing the rich culture that Ghana has. That was something she was very proud to showcase in Sweden, in the '70s traveling around and inspiring people, and getting people to try dancing these dances. And, you know, other African households that I went to, they didn't really have that.
BED: m17a_Ofori's Story.mp3, Mensahighlife, YouTube
ACTY: 34_Mensah_school.wav: I remember in second grade in Stockholm, I performed a Ghanaian song wearing traditional Ghanaian clothes in school. And I was kind of bullied for it. But for me, it wasn't anything that felt strange, because this is something that was ongoing in my household.
ACTY: 35_RSkinner_bloder.wav: Stevie is deeply invested with a number of different genres. One of those is hip-hop. He grew up with hip-hop as a kid. He learned to breakdance. He learned to wrap in the 1980s and 90s in the schoolyard. "Du Blöder," "You Are Bleeding," is a hip-hop track through and through.
ACTY: 36_Mensah_bloder.wav: "Du Blöder" means "you are bleeding." I got the title because my brother, after he was attacked by skinheads, I got to see him in the hospital where he was in a coma. He looked fine, but he was bleeding from under his ear. And that always stuck with me. So that's the reason I called it "Du Blöder."
MUSIC: m18_Du-Blöder.mp3, Mensahighlife, YouTube [might need to reverse the f-word]
ACTY: 37_RSkinner_identity.wav: So when Stevie was growing up, hip-hop was coming of age in Sweden. Not just hip-hop, but R&B, and soul was already there. A lot of these reference points are coming from an American, particularly in African-American context. These are the sources and resources people are drawing on to express their emotion with being black in Sweden. In the 2000's, we begin to see rapid that is in Swedish, we also begin to see new kinds of fusions, including popular music that's been infused by music from the African continent. And this changes the mix. Now the reference points are homegrown, and that has a powerful affect on the nature of musicmaking and identity formation in the present.
ACTY: 38_Mensah_beats.wav: Through art, we started embracing it more. The dances I would say the dances were first, and then it started coming into the music that kids in the suburbs were doing. And if you look at it today, that's one of the most common beats, the kind of Afrobeat urban music in Sweden. People talk about it like Afro trap, Afro soul, Afro dance, Afro hip-hop. So people are really embracing, and I feel like the bond between Sweden and African artists is much closer. And I really think now in 2018, we've come to a peak of that.
GEORGES: WHEN STEVIE WENT TO GHANA IN 2014, HE HAD BEEN LISTENING TO GHANAIAN MUSIC HIS WHOLE LIFE, FROM FOLKLORE AND HIGHLIFE TO HIP-LIFE. THAT DISTINCTLY GHANAIAN SENSIBILITY COMES THROUGH IN THIS TRACK, "KA KE NAKAI."
MUSIC: m19_Ka-Ke-Nakai.mp3, Mensahighlife, YouTube [3:16]
GEORGES: FROM SWEDEN AND GHANA, STEVIE NI ADOU MENSAH, A.K.A. MENSAHIGHLIFE, WITH THE SONG "KA KE NAKAI"
WINDOW/BED: m20_Det löser sig.mp3, Timbuktu, YouTube
GEORGES: RYAN SKINNER INTRODUCED US TO ANOTHER REMARKABLE AFRO-SWEDISH ARTIST, ONE WITH QUITE A UNIQUE STORY.
ACTY: 40_JDiakite_intro.wav: My name is Jason Diakite. I am 43 years old. I am born in Sweden. My mom is a white American woman, and my dad is an African-American. My dad came and '68, my mom in '69. So I was raised in a home that was more or less an American home, and African-American home, a white American home, but of course the town and the country I grew up in was Sweden.
GEORGES: JASON'S PARENTS DIVORCED WHEN HE WAS YOUNG, AND HIS FATHER'S HOUSEHOLD TOOK ON A STRONG DIASPORA IDENTITY.
ACTY: 41_JDiakite_father.wav: My dad has strong ties to Nigeria. He spent six years there as a boy. There were a lot of Nigerians, then also people from Tunisia, Algeria, from the Congo, South Africa, Senegal, the Caribbean, Trinidad, India, and of course, African-Americans. And so I grew up, when I was at my father's, hearing those conversations, and those perspectives on politics and world events, but also on being black in Sweden. They would often turn to me at points in the conversation and say, "Well, Jason, you're Swedish. What do you think about this? " And I always felt kind of singled out and not belonging at that point, because I was the one Swedish representative. One kind of significant thing about my dad's home is that there were rarely Swedish people there.
GEORGES: OF COURSE, JASON WAS SWEDISH, BUT ALSO A YOUNG BLACK MAN IN A LAND OF WHITE PEOPLE.
ACTY: 42_JDiakite_black.wav: In his lessons and teachings, he was always telling me that I needed to learn about how to be a black person in this country.
ACTY: 43_JDiakite_school.wav: My first six years of school, I was basically bullied every day, racist invective, different variations of the N-word. The school environment was showing me: you're not one of us. And in the home environment, there was that same talk from the other side. No, we're not a part of this. It was always, the United States is terrible. It's so racist, but it's also the best country in the world, and so much better than Sweden. That's what I was raised to believe, so a young age, I got a deep sense of not belonging.
GEORGES: FROM THIS CONFLICTED UPBRINGING, JASON DIAKITE WENT ON TO BECOME A FAMOUS AND SUCCESSFUL AUTHOR AND SWEDISH HIP -HOP ARTIST. IN FACT, DISCOVERING HIP-HOP WAS IN A WAY HIS SALVATION. IT CAME EARLY, IN 1989, WHEN A COUSIN SHOWED UP FROM BROOKLYN BRINGING CASSETTES OF RAKIM AND ERIC B.
WINDOW: m21_Annie Leibovitz.mp3, Timbuktu, YouTube
ACTY: 44_JDiakite_hiphop.wav: It was like a homecoming in a sense, a feeling that I had arrived at something I could really identify with. These rappers, they're so cool; they're so angry, forceful. The way the beat sounded, the way they dressed and carried themselves. The dancing in the videos. And then of course the lyrics. It made me want to be a part of that culture. I just bought into it, hook line and sinker.
GEORGES: JASON WAS JUST 14 AT THE TIME, AND IMMEDIATELY STARTED WRITING RAPS OF HIS OWN. THIS AT A TIME WHEN FEW AROUND HIM IN THE CITY OF LUND EVEN KNEW WHAT HIP-HOP WAS. OF COURSE THAT WOULD SOON CHANGE. THE EARLY SWEDISH RAPPERS RAPPED IN ENGLISH AND IMITATED AMERICAN SOUNDS.
ACTY: 45_JDiakite_Swedish.wav: Then this rapper Petter came out with his first record, and it just made me want to rap in Swedish. And at the same time it made a whole lot of other people want to rap in Swedish. So then rap music in the Swedish language was, if not born, it was solidified and became very widely used. And now very few people rap in English in Sweden, very, very few.
GEORGES: FROM THE START JASON BROUGHT A UNIQUE PERSPECTIVE TO SWEDISH HIP-HOP, A POLITICAL PERSPECTIVE, AS IN THIS EARLY SONG, "PENDELPARANOIA" ADDRESSING RACISM IN SWEDEN.
MUSIC: m22_Pendelparanoia.mp3, Timbuktu, YouTube (emerge on vocal 0:24--)
GEORGES: JASON SAYS THE ART OF SAMPLING OPENED A WINDOW INTO ALL SORTS OF OTHER MUSIC: SWEDISH PUNK, ALTERNATIVE AMERICAN MUSIC, AND OF COURSE, MUSIC FROM AFRICA.
ACTY: 46_JDiakite_Fela.wav: I mean discovering Fela Kuti was incredible. Just that sense of, "Why has nobody told me about this before?"
GEORGES: IN 2004 JASON AND HIS PRODUCER MANS SPENT TWO MONTHS IN WEST AFRICA AND RECORDED A NUMBER OF SONGS THERE.
ACTY: 47_JDiakite_Ghana.wav: At that time we had kind of left sampling and Måns was playing the different instruments, which gave us even more freedom to extract and kind of remix, remake. And one of my most successful songs that I've done in my career was recorded in Ghana. It's called "Alla Vill Till Himmelen…" and was what we felt, me and Måns, was our version of what the music sounded like in Ghana.
MUSIC: m23_Alla Vill Till Himmelen.mp3, Timbuktu, YouTube [4:08]
GEORGES: JASON DIAKITE, A.K.A. TIMBUKTU, WITH A SONG THAT TRANSLATES "EVERYBODY WANTS TO GO TO HEAVEN. BUT NOBODY WANTS TO DIE." THIS COMES FROM WHAT JASON CALLS HIS "WORLD MUSIC" PHASE IN THE EARLY 2000S. JASON SPOKE TO US ABOUT THE SWEDISH PERSPECTIVE ON AFRICA.
BED: m21a_En High 5 & 1 Falafel.mp3
ACTY: 48_JDiakite_old wounds.wav: We don't have the same history of slavery that England the United States have, nor France for that matter. So there aren't as many old wounds that need to be healed.
ACTY: 49_RSkinner_SwedenDemorats.wav: The reality is that while Sweden did not play as significant a role in the transatlantic slave trade or colonialism on the African continent, it wasn't entirely absent from these processes. And in those moments, it was also being influenced by the rhetoric about whiteness and blackness, about racial difference. From the 1990s until the present, a number of skeletons have come out of the Swedish closet, among them, more open and politically active far right groups. This has really flourished with the rise of a political party called the Sweden Democrats, a political party that predicated on ethnic nationalism and affirms an idea that there is such a thing as Swedishness. Necessarily, that assumes that there are some people who are, and others who are not. 20% of the Swedish population at least has some kind of non-European background. And so when you have a politics that says there is one way of being Swedish, a fifth, or a fourth of the population are going to be necessarily excluded from that. And the rise of this politics of cultural and racial difference, has caused an enormous amount of turmoil in recent times.
ACTY: 50_JDiakite_fascism.wav: Well, they have been turbulent. It's like Sweden is growing up in a sense, and is going through an identity crisis, this old notion of us being a post-racial society has had to be abandoned with the growth of our own fascist-rooted, alt-right party, the Sweden Democrats entering the Swedish Parliament, with extreme right-wing terrorism on the rise, the burning down of refugee camps, and racism kind of resurging. The Afro Swedish identity has woken up and is claiming its place in Sweden.
GEORGES: OUR GUIDE RYAN SKINNER NOTES THAT MENSAHIGHLIFE AND TIMBUKTU ARE NOT THE ONLY ARTISTS GIVING VOICE TO THE CONCERNS OF AFRO SWEDES.
ACTY: 51_RSkinner_GoHome.wav: The song "Dax Att Aka Hem" "Time to Go Home" was released on the 8th of September, a day before the most recent parliamentary elections in Sweden, 2018. And it is a reference to a flyer that was sent out over the summer in July from a minor far right political party that said, "It's time to go home" on the front page. And it was sent to a variety of people, but the message was quite clear, that if you are not white, not ethnically Swedish, as they say, then after this election, you're going to have to go home. So this group of Afro Swedish musicians got together, created a poppy Afropop tune with lyrics that speak directly to that message, that say, "If the Swedish public chooses this path, then people like us don't belong here, and it's time to go home."
MUSIC: m25_Dax Att Åka Hem.mp3, Mandems, YouTube (up to 0:52)
GEORGES: "IT'S TIME TO GO HOME" AN IRONIC TAUNT FROM A COLLECTIVE OF AFRO SWEDISH ARTISTS UNDER THE NAME, MANDEMS.
ACTY: 52_RSkinner_resistance.wav: People are standing up. No question. There is resistance, and Sweden is like in many places at a crossroads. I am following the story of those who say there is another possible Sweden, and I'm encouraged by the fact that their voices are so loud and strong and artistically compelling.
GEORGES: THE FOLK DUO SOUSOU AND MAHER CISSOKO ARE ALSO FEELING THE NEED TO SPEAK OUT.
ACTY: 53_Sousou_hope.wav: We feel that we have to work against it. So it's like giving you motivation to work harder and to be out there. And we feel that we are important. Because people see us as a link between man, woman, black, white, Europe, Africa, whatever. That's what I hear from a lot of people in our audience. When they see us play and sing together, they get hope.
GEORGES: THANK YOU, SOUSOU AND MAHER, AND THANKS TO ALL THE AFRO-SWEDISH ARTISTS WE HEARD ON THIS PROGRAM. AND SPECIAL THANKS TO RYAN SKINNER FOR… WELL, LET'S HEAR IT FROM JASON DIAKITE..
ACTY: 54_JDiakite_ThankYou.wav: Ryan, again, thank you for telling the stories of the Afro Swedes.
GEORGES: RYAN IS WRITING A BOOK ON THE AFRO SWEDES AS WE SPEAK. AND HE SINGLES OUT JASON DIAKITE AS A KEY PLAYER.
ACTY: 55_RSkinner_beacons.wav: He is beloved in Sweden, by almost everybody. And so, yes, this moment is turbulent, and this moment is fraught with peril, but people like him genuinely give one a sense of hope. So I think that Jason is definitely someone who, like Seinabo, like all of these guys, are beacons.
GEORGES: SO TRUE, RYAN. FUNDING FOR AFROPOP WORLDWIDE COMES FROM THE NATIONAL ENDOWMENT FOR THE ARTS, WHICH BELIEVES A GREAT NATION DESERVES GREAT ART, AND PRI PUBLIC RADIO INTERNATIONAL AFFILIATE STATIONS AROUND THE U.S. AND THANK YOU FOR SUPPORTING YOUR PUBLIC RADIO STATION.
VISIT AFROPOP.ORG FOR AFRO SWEDISH VIDEOS AND OUR INTERVIEW WITH RYAN SKINNER. YOU CAN ALSO FIND US ON FACEBOOK AND FOLLOW US ON TWITTER AT "AFROPOPWW." MY AFROPOP PARTNER IS SEAN BARLOW. SEAN PRODUCES OUR PROGRAM FOR WORLD MUSIC PRODUCTIONS. RESEARCH AND PRODUCTION FOR THIS PROGRAM BY RYAN SKINNER AND BANNING EYRE.
JOIN US NEXT WEEK FOR ANOTHER EDITION OF AFROPOP WORLDWIDE. THIS PROGRAM WAS MIXED AT STUDIO 44 IN BROOKLYN BY STEPHANIE LEBOW. ADDITIONAL ENGINEERING BY GREG HARTMAN. [pause is too long] BANNING EYRE AND CC SMITH EDIT OUR WEBSITE, AFROPOP.ORG. OUR DIRECTOR OF NEW MEDIA IS BEN RICHMOND. AND I'M GEORGES COLLINET.