La Bamba: The Afro-Mexican Story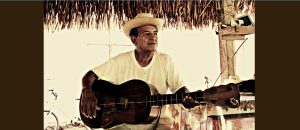 Much has been made of Mexico's rich Spanish and indigenous heritage, but until recently there's been little talk of Mexico's so-called "Third Root": Africa. Africans came to Mexico with the Spanish as soldiers and slaves -- so many that by 1810, the black population of Mexico was equal to that of the United States. Today, African heritage persists throughout Mexico, yet for a variety of reasons, black history has long been silenced. In this Hip Deep episode, we use music to explore that history as we take a road trip across the country in search of sonic traces of Afro-Mexico.

We visit the state of Veracruz to learn the history of the Afro-Mexican son jarocho sound, made famous by Ritchie Valens' 1958 hit cover of "La Bamba," a traditional jarocho tune. Then, we visit the Costa Chica of Guerrero, where Afro-Mexican communities are fighting for government recognition to help preserve faltering musical traditions. And we'll stop by the golden-age halls of Mexico City, where the Afro-Cuban danzón thrives far from its ancestral home in Havana. Along the way, we hear from top scholars in the field such as Ben Vinson III and Alejandro Madrid, as well as Afro-Mexican music stars past and present, from Los Cojolites to Las Cafeteras. ¡Que padre!