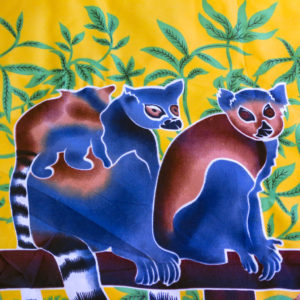 On a return trip to Madagascar, we catch up with and hear new music from tsapiky maestro Damily, the "king of salegy" Jaojoby, an exciting new duo starring Sammy of Tarika Sammy, Toko Telo and more. This music-rich edition is filled with entrancing and hard-to-find roots pop. In the wake of 2018's hard-fought presidential election, Madagascar faces a new era with former DJ Andry Rajoelina at the helm. Word is his theme song was a major boost. We'll hear it. We'll also sample rare field recordings from this spectacularly musical and often overlooked Indian Ocean island. Produced by Banning Eyre.
Transcript
Madagascar Medley
WINDOW: m01_Kolotsara (Good Culture).m4a, Tarika Sammy, Live Kolotsara (Tarika Sammy) (top to 0:14)
GEORGES: THAT'S SAMMY ANDRIAMALALAHARIJAONA AND CLARA ANDRIANAIVO—LET'S JUST CALL THEM SAMMY AND CLARA—TWO OF MADAGASCAR'S TOP TRADITIONAL MUSICIANS, WELCOMING US TO A MUSICAL FEAST.
WINDOW: m01_Kolotsara (short, 0:34-0:40)
GEORGES: HELLO, GEORGES COLLINET WITH YOU ON AFROPOP WORLDWIDE FROM PRI PUBLIC RADIO INTERNATIONAL. THIS EDITION "MADAGASCAR MEDLEY," MUSIC AND STORIES WE FOUND ON OUR RECENT VISIT TO THIS INCREDIBLY MUSICAL INDIAN OCEAN ISLAND, SO HUGE PEOPLE CALL THE ISLAND CONTINENT. AS I SPEAK TO YOU TODAY, MADAGASCAR HAS JUST INNAUGURATED A NEW PRESIDENT, ANDRY RAJOELINA, A FORMER DEEJAY. WE'LL HEAR THE SONG THAT SOME SAY MADE HIM PRESIDENT, AND SPEAK WITH ONE OF HIS SUPPORTERS, OUR OLD FRIEND JAOJOBY, THE KING OF SALEGY. WE'LL ALSO HEAR A LIVE PERFORMANCE FROM THE TRIO TOKO TELO, RARE FIELD RECORDINGS RECENTLY RELEASED ON VINYL, AND OF COURSE, MUCH MORE FROM SAMMY AND CLARA.
BED: m02_Bekapamaky.m4a, Damily, Valimbilo (Bongo Joe, 7 640159 732310)
GEORGES: LET'S KICK OFF IN THE SOUTHWEST, TULEAR, THE CAPITAL OF TSAPIKY MUSIC, A LOVELY… [ad lib might be better in 16] . MAYBE YOU REMEMBER OUR 2014 VISIT TO TULEAR WITH TSAPIKY GUITAR MASTER DAMILY. DAMILY HAS A SUPERB NEW ALBUM. IT'S CALLED "VALIMBILO."
ACTY: 01_Damily_Bilo.wav: [FRENCH]
GEORGES: DAMILY SAYS BILO IS A KIND OF SICKNESS, WHAT WE IN THE WEST CALL DEPRESSION. EVEN IF IT CAN'T BE CURED, IT CAN BE RELIEVED, SPECIFICALLY BY MUSIC. VALIMBILO TECHNICALLY MEANS "HUSBAND OF BILO" BUT IT'S REALLY A MUSICIAN WHO HAS THE POWER TO RELIEVE THE SUFFERING OF SICKNESS. DAMILY HIMSELF CAME OF AGE PERFORMING AT BILO CEREMONIES, AND HE SAYS RELIEVING SUFFERING IS THE PRINCIPAL ROLE OF TSAPIKY MUSIC. THAT'S WHY IT'S OFTEN PLAYED AT FUNERALS AND VERY IMPORTANT RITUALS HONORING THE DEAD. LET'S KICK OFF WITH AN ACOUSTIC GUITAR INSTRUMENTAL FROM DAMILY, SHOWCASING HIS SIX-STRING MASTERY. THE TITLE IS "KALITAKY."
MUSIC: m03_Kalitaky.m4a, Damily, Valimbilo (Bongo Joe, 7 640159 732310) [2:05]
GEORGES: MAN, THAT IS GORGEOUS! MALAGASY GUITAR MAESTRO DAMILY SHOWING OFF SOME SWEET AND NIMBLE PICKING. GEORGES COLLINET WITH YOU ON AFROPOP WORLDWIDES'S "MADAGASCAR MEDLEY."
BED: m04_Malay Nama.m4a, Damily, Valimbilo (Bongo Joe, 7 640159 732310)
…WE ASKED DAMILY TO TELL US ABOUT THE SONGS ON HIS NEW ALBUM, VALIMBILO.
ACTY: 02_Damily_songs.wav: [French]
GEORGES: DAMILY SAYS HIS MESSAGE IS ALWAYS THE SAME. HE TALKS ABOUT POVERTY AND THE TOLL IT TAKES ON FAMILIES. "WE CAN'T FORGET," SAYS DAMILY, "95% OF MALAGASY PEOPLE ARE LIVING IN POVERTY. I COME FROM THAT AND I CAN NEVER FORGET IT."
ACTY: 03_Damily_MalayNama.wav: [French]
GEORGES: THE ALBUM'S OPENING NUMBER, "MALAY NAMA," TALKS ABOUT THE WAY EXTREME POVERTY CAN CORRUPT HUMAN RELATIONSHIPS. DAMILY SAYS, "WHEN YOU ARE POOR, YOU DON'T LOVE YOUR SPOUSE, YOUR NEIGHBORS, YOUR FRIENDS. THIS SONG COMPLAINS ABOUT THAT. YOU MUST ALWAYS LOVE YOUR FRIENDS." "MALAY NAMA."
MUSIC: m05_Mama Sana.wav, T. Sammy Larak, Arovy ny rano (Larak Sammy) [cut from 2:15—5:15. Then we'll fade to bed somewhere in the raucous last minute]
GEORGES: WOW! RED HOT TSAPIKY FROM DAMILY AND HIS NEW ALBUM VALIMBILO. MAN, I LOVE THE WAY THAT BASS SLIPS AND SLIDES. THAT'S DAMILY'S BROTHER RAKAPO PLAYING THAT BASS.
WINDOW: m05_Mama Sana.wav (time to next emerge)
GEORGES: OKAY, LET'S GET BACK TO THE DUO THAT OPENED OUR PROGRAM, SAMMY AND CLARA. SAMMY IS THE FOUNDER OF THE 1980S ROOTS BAND TARIKA SAMMY, OR "SAMMY'S GROUP." AND THESE DAYS, HE'S MOSTLY WORKING WITH JUST A SINGLE COLLABORATOR, CLARA.
WINDOW: m04_Mama Sana.wav (0:23-0:34)
ACTY: 03b_Sammy_Clara.wav: Yes, four years ago, I introduced Clara to sing with us. But for ten years Clara was in the group Tarika Sammy. Clara is a good musician and I prefer that she have a group, Larak. She is Clara and this is Larak. I think she is the first woman in the Betsileo tribe who plays all the instruments in Madagascar.
GEORGES: SAMMY CALLS THE NEW ACT LARAK SAMY TSARA, LARAK BEING A ROUNDABOUT WAY OF SAYING… CLARA! SAMMY TOLD US THAT THE THING THAT SOLD HIM ON CLARA WAS HER VOICE. YOU BE THE JUDGE
WINDOW: m04_Mama Sana.wav (1:23—1:56)
GEORGES: WOW. SAMMY AND CLARA WITH A TRIBUTE TO THE LATE, GREAT MAROVANY PLAYER, MAMA SANA, A TRAILBLAZER FOR WOMEN IN MALAGASY MUSIC. MAMA SANA IS ONE OF CLARA'S HEROES.
ACTY: 04_Clara_intro.wav: [French]
GEORGES: CLARA SAYS SHE COMES FROM FIANARATSOA, LAND OF THE BETSILEO PEOPLE, IN THE SOUTH OF MADAGASCAR. AND SHE LISTS THE INSTRUMENTS SHE PLAYS: KABOSY, VALIHA, JEJY VOATAVO, FLUTE, HARMONICA, PERCUSSION, GUITAR…. THIS IS MOST UNUSUAL. AND CLARA SAYS IT WAS SAMMY WHO ENCOURAGED HER TO BE A MULTI-INSTRUMENTALIST.
ACTY: 05_Clara_instruments.wav: [French]
GEORGES: CLARA SAYS SHE STARTED SINGING AT 16, BUT SHE WAS MOSTLY DOING COVERS. "I DIDN'T THINK I KNEW HOW TO PLAY INSTRUMENTS," SHE SAYS, "I JUST SANG." BUT WHEN SAMMY FOUND OUT SHE COULD IN FACT PLAY SOME GUITAR, HE SAID, "AH! YOU KNOW GUITAR, BUT YOU DON'T PLAY?" FROM THERE, SAMMY STARTED TEACHING HER, FIRST KABOSY, THEN VALIHA, THEN FLUTE. TODAY, THEY'RE SENSATIONAL ONSTAGE, BOTH SWITCHING UP INSTRUMENTS MID SONG, WITH SAMMY OPERATING THREE LOOP PEDALS TO CREATE THE EFFECT OF AN ENTIRE BAND. HERE'S A TRACK FROM SAMMY AND CLARA'S LATEST CD, AROVY NY RANO. "PROTECT THE WATER."
MUSIC: m06_Ravoravo (Happy).m4a, (top to 4:50, then to bed)
GEORGES: LARAK SAMY TSARA WITH "RAVORAVO," "I'M HAPPY." I LIKE THAT MALAGASY-SOUTH AFRICAN MIX. VERY NICE! SAMMY AND CLARA'S NEW ALBUM INCLUDES SONGS RECORDED LIVE IN EUROPE, INCLUDING A COLLABORATION WITH AN ARTIST FROM SENEGAL.
ACTY: 06_Sammy_Toure.wav: Inside there are two songs that we sang with Modou Toure. Modou Toure is the son of Toure Kunda.
GEORGES: REMEMBER TOURE KUNDA FROM ZIGUINCHOR CASAMANCE, SENEGAL? MAKES A NICE BLEND WITH MALAGASY MUSIC, DON'T YOU THINK?
MUSIC: m07-Kadu (Gift) ft. Modou Touré.wav, T. Sammy Larak, Arovy ny rano (Larak Sammy) (to 1:25)
GEORGES: SAMMY'S MUSIC HAS LONG BEEN MORE SUCCESSFUL ABROAD THAN IN MADAGASCAR. IT'S A PUZZLE, BUT THE TRUTH IS, MALAGASY ROOTS MUSIC GETS VERY LITTLE ATTENTION ON LOCAL RADIO AND TELEVISION—IT'S FRUSTRATING FOR SAMMY.
ACTY: 07_Sammy_youth.wav: Today it's really very difficult. Because the problem in my country, in Madagascar, is that the children don't know their culture. I like to take the modern music, like DJ music, and I introduce traditional instruments and we sing traditional songs, and everybody's like "Ah, this music is nice. We like this music." Because we changed some things. But if you stay with really acoustic music, it's very, very difficult for the young people. You know, I play with a loop, and in the loop there are rhythms, like a DJ rhythm, reggae, and I put traditional instruments, sometimes mix in jazz and reggae, and the young people like it. "Wow, I like this music!" It's a new music for them.
MUSIC: m08_Alamino.wav, Larak Samy Tsara, Horijan'ny Betsileo (Samytsara) (top—0:31 )
ACTY: 08_Sammy_reggae.wav: I play this song like reggae. Because sometimes the group, the duo, we are invited to play at reggae festivals in Madagascar, and people like that because reggae is really popular.
MUSIC: m08_Alamino (up to 3:10)
GEORGES: "ALAMINO" BY SAMMY AND CLARA, A REGGAE SONG AIMED AT YOUNG LISTENERS. SAMMY SAYS THAT EVEN THE WAY HE DRESSES SENDS A MESSAGE TO THOSE YOUNG LISTENERS. IF HE WEARS A TRADITIONAL WOVEN COSTUME—VERY ELEGANT AND BEAUTIFUL—YOUNG PEOPLE WILL DISMISS HIM AS AN ELDER, DECIDEDLY NOT COOL. BUT IF HE WEARS A BACKWARDS BASEBALL CAP AND DRESSES LIKE A RAPPER, IT'S A WHOLE DIFFEENT STORY.
MUSIC: m09_Soa Gasikara.wav, Larak Samy Tsara, Horijan'ny Betsileo (Samytsara) (up to 1:45)
GEORGES: THESE DAYS NOT MANY PRESENTERS CAN AFFORD TO BRING GROUPS ALL THE WAY FROM MADAGASCAR TO THE U.S.. BUT SAMMY AND CLARA--JUST TWO MUSICIANS--CAN DO SO MUCH. THEY SEEM LIKE PERFECT CANDIDATES. WHEN OUR PRODUCER BANNING EYRE SUGGESTED THIS TO CLARA, SHE LIKED THE IDEA…
ACTY: 09_Clara_REACTION.wav: [French]
GEORGES: ANOTHER MALAGASY GROUP WE HOPE TO SEE ON AMERICAN STAGES IS THE TRIO TOKO TELO. WE MET THEM AT THE MOST RECENT WORLD MUSIC EXPO, WOMEX, AND HAD A CHANCE TO RECORD THEM IN THE EUROPEAN BROADCAST UNION RADIO STUDIO.
WINDOW/BED: m10_TokoTelo_RahaHita.wav, Toko Telo, Afropop Field Recording
GEORGES: AS WE'VE REPORTED IN OTHER PROGRAMS, THIS TRIO WAS ALTERED BY THE TRAGIC DEATH OF ACCORDIONIST REGIS GIZAVO IN 2017. THE REMAINING TWO, GUITARIST D'GARY, AND VOCALIST MONIKA NJAVA, WERE LEFT IN A DIFFICULT SITUATION. HERE'S MONIKA.
ACTY: 10_Monika_Joel.wav: [French] The story is that after the tragic death of Regis, D'Gary and I were a bit lost to know what direction to take. We didn't know what to do. So we tried to auditions who might take the place of Regis. But it was difficult. Because the other musicians, when they heard it was to play with D'Gary, they wanted to play like D'Gary. But that didn't work. So when we tried with Joel, we wanted to see if he could marry his guitar playing with D'Gary's. And it turns out this is a very good marriage.
GEORGES: MONIKA SAYS THAT SHE AND D'GARY DIDN'T KNOW WHAT TO DO AFTER REGIS'S DEATH. IT WASN'T EASY TO FIND A MUSICIAN WHO COULD TAKE HIS PLACE. MONIKA SAYS, "WHEN MUSICIANS HEARD THEY WERE TO PLAY WITH D'GARY, THEY WANTED TO PLAY LIKE D'GARY. AND THAT JUST DIDN'T WORK." BUT THEN THEY FOUND JOEL RABESOLO, A GUITARIST WHO KNEW HOW TO COMPLEMENT D'GARY'S UNUSUAL STYLE. LET'S LISTEN TO THE NEW TRIO'S VERSION OF THE SONG "TOY RAHA TOY."
ACTY: 11_Monika_TRT.wav: [French]
GEORGES: MONIKA SAYS "TOY RAHA TOY" CAN HAVE MANY MEANINGS. BUT IN THIS SONG IT'S ABOUT A BOLD YOUNG WOMAN WHO TRIES TO SEDUCE A RELUCTANT OLDER MAN. "YOU WANT? OR YOU DON'T WANT?" THE MAN DECLINES SAYING IT IS NOT RIGHT FOR HIM TO HAVE SUCH A YOUNG GIRLFRIEND!" "TOY RAHA TOY."
MUSIC: m11_TokoTelo_ToyRahaToy.wav, Toko Telo, Afropop Field Recording
GEORGES: TOKO TELO PERFORMING FOR AFROPOP AT THE 2018 WORLD MUSIC EXPO IN THE CANARY ISLANDS. COMING UP, MORE MALAGASY MUSIC WITH JAOJOBY, RAZIA, TENCE MENA, AND MORE. VISIT AFROPOP.ORG FOR A PHOTO ESSAY ON OUR RECENT VISIT TO MADAGASCAR, AND A FASCINATING INTERVIEW WITH RAZIA. I'M GEORGES COLLINET, AND YOU'RE LISTENING TO AFROPOP WORLDWIDE, FROM PRI, PUBLIC RADIO INTERNATIONAL.
WINDOW: 20-second break m12_Akory Ary.wav, Zara Jean Paul, To Catch a Ghost: Field Recordings from Madagascar (Sublime Frequencies, SF111)
WINDOW: m13_Tsy Lany.m4a, Razia, The Road (Razia Said, 0 51497 00970 0) (very short. Time to next emerge)
GEORGES: RAZIA SAID IS A MALAGASY SINGER WHO HAS MADE THE WORLD HER HOME. IN RECENT YEARS SHE HAS BEEN BASED IN HARLEM, NEW YORK, AND SHE HAS PRODUCED THREE ALBUMS DURING THOSE YEARS. THE NEWEST ONE IS CALLED THE ROAD AND IT'S HER MOST PERSONAL WORK TO DATE.
WINDOW: m13_Tsy Lany (0:19-1:12)
ACTY: 12_Razia_TheRoad.wav: In September, 2016, I got a phone call saying that I had to rush to Madagascar because my grandmother was in bad shape. She was just about to turn 92 she was dying. So my aunt asked me to rush to Madagascar as my grandmother and I are very close and she wanted to see me before she went. So, of course, I hop on the first plane and arrive in Madagascar, and I thought she was going to go within a day or so. But eventually, seeing me I guess kind of resurrected her and she ended up living another four months after that. So I decided stay with her until the end. She needed me there, so I stayed. And because I stayed there much longer than I expected, I decided, okay, this is the perfect time to channel all this energy in all these emotions into music.
WINDOW: m13_Tsy Lany (very short vocal emerge)
GEORGES: RAZIA CALLED ON HER DRUMMER HARVEY WIRTH, WHO PRODUCED THE ALBUM. AND SHE INVITED RALEDY, ONE OF THE MOST RENOWNED SALEGY GUITARISTS IN MADAGASCAR.
ACTY: 13_Razia_Raledy.wav: Raledy is this amazing guitar player from the northeast of Madagascar. He is a farmer when he's not a performer. He's an amazing performer. He has a band himself. He's one most famous salegy guitar players. He has played with Jaojoby since years. And it seems like Jaojoby is having a hard time letting him go with me. [laughs] So I got in touch with him, and he said, "Yeah, when you need me there?" And within 24 hours he was in Antalaha. So I rented this place and we just stayed there for three months and worked from 9 to 5, sometimes 9 to 8—every day, and we came out with The Road.
GEORGES: WHAT A STORY. LET'S HEAR A SONG FROM THE ROAD. THIS IS "REMANDRENY," A SONG OF THANKS TO RAZIA'S GRANDMOTHER, AND TO ALL PARENTS WHO RAISE CHILDREN TO FACE AN UNCERTAIN FUTURE.
MUSIC: m14_Remandreny.m4a Razia, The Road (Razia Said, 0 51497 00970 0) [3:05 then fade to bed]
GEORGES: RAZIA WITH "REMANDRENY" FROM HER NEW ALBUM, THE ROAD. RAZIA TOLD US THAT THOSE SESSIONS IN ANTALAHA BECAME A LITTLE STRESSFUL BECAUSE SHE WORKED THE MUSICIANS SO HARD WITH HER DRIVEN NEW YORK ENERGY. IT WAS ESPECIALLY CHALLENGING FOR THE GUITARIST RALEDY, BECAUSE SHE WAS ASKING HIM TO PLAY THINGS HE WAS NOT USED TO.
ACTY: 14_Razia_stress.wav: That was part of the stress, because he was used to just going into the salegy. That's the natural thing for him. So he was saying, "I cannot do this. This is so complicated!" He would say "Maybe you should get a classical person." And I'd say, "No, this is the whole idea. We want you to do it. Using the salegy approach" He was calling it soul. "I'm not a soul player. I cannot play soul music." And I was like, "Oh come on. It's going to be good. Try it." And after each take he would say, "It's hard. It's hard." But it's beautiful.
BED m15_Antalaha.m4a Razia, The Road (Razia Said, 0 51497 00970 0) (we can use the first 30 seconds as bed before vocal comes in)
GEORGES: LET'S HEAR RALEDY ON HIS HOME TURF. THE SONG "NAVE" IS A CELEBRATORY SALEGY TRACKED LIVE IN ANTALAHA. THEY WERE GOING FOR AN AUTHENTIC SALEGY SOUND, AND THIS TIME, IT WAS RALEDY PUSHING RAZIA INTO NEW TERRITORY.
ACTY: 15_Razia_Nave.wav: Even if we heard a little bit of "kong, kong, kong" from the tire shop, it's not a big deal. Because it was actually bringing some real atmosphere to the whole thing. And I had Raledy coaching me to sing the way it's supposed to be sung.
MUSIC: m16_Nave.m4a, Razia, The Road (Razia Said, 0 51497 00970 0) (4:02)
GEORGES: I LOVE IT, RAZIA KICKING OUT SALEGY ON HER NEW ALBUM, THE ROAD. YOU CAN READ OUR COMPLETE INTERVIEW WITH RAZIA ON AFROPOP.ORG. SHE HAS SOME VERY INTERESTING THINGS TO SAY ABOUT FUNERAL RITUALS IN MADAGASCAR. CHECK IT OUT!
BUT, SPEAKING OF SALEGY, LET'S CHECK IN WITH OUR OLD FRIEND, THE KING OF SALEGY, JAOJOBY. I DON'T KNOW WHETHER TO CALL IT MODESTY OR INSIGHT, BUT JAOJOBY TOLD US, "I DON'T SING, I SHOUT."
BED: m17_JAOJOBY_LIVE_Mangala Vaiavy.wav Jaojoby, Afropop Field Recording (use the intro as bed)
ACTY: 16_Jaojoby_AWEE.wav:
GEORGES: [laughs] THAT'S JAOJOBY'S SIGNATURE CRY, AND WE WERE SO HAPPY TO HEAR IT AGAIN. WE CAUGHT JAOJOBY LIVE IN NOSY BE, A BEAUTIFUL ISLAND OFF THE NORTHWEST COAST OF MADAGASCAR. HERE'S A TASTE OF THE BAND LIVE, WITH THE AFOREMENTIONED RALEDY ON GUITAR.
MUSIC: m17_JAOJOBY_LIVE_Mangala Vaiavy.wav (edit to come in on singing 0:37-2:34, then to bed)
GEORGES: MAN, THE GUY HAS STILL GOT IT. A CLASSIC MALESSA—THAT'S A SLOW SALEGY—FROM THE KING OF SALEGY, EUSEBE JAOJOBY. WE ASKED JAOJOBY ABOUT THE MUSIC SCENE IN TANA THESE DAYS.
ACTY: 17_Jaojoby_NewKids.wav: There is new kids in town, you know. But unfortunately, they do not play Malagasy music. They are lpaying what they call African beat, rap, R&B too. Yah. Myself, I love American rhythm and blues. But I have never forgotten to play Malagasy music. You know, when we open our radio, or television, Internet, what do we hear? What do we see? We say the mondialization, globalization. I think that our government has to educate the young people. But unfortunately, it is not the case.
GEORGES: AS WE MENTIONED AT THE TOP OF THE PROGRAM, MADAGASCAR HAS A NEW PRESIDENT, ANDRY RAJOELINA. THEY CALL HIM "THE DEEJAY" BECAUSE HE STARTED OUT AS A DEEJAY AND WENT ON TO PRODUCING LIVE CONCERTS IN MADAGASCAR AND THEN A BUSINESS CAREER IN RADIO AND TELEVISION, AND THEN POLITICS. JAOJOBY IS A SUPPORTER OF THE DEEJAY, SO WE ASKED HIM IF HE MIGHT HAVE SOME INFLUENCE WHEN IT COMES TO EDUCATION POLICY, ESPECIALLY WHERE IT CONCERNS TEACHING KIDS ABOUT MALAGSY CULTURE.
ACTY: 18_Jaojoby_president.wav: You know, to give advice to a president, you know, it's too much pretension. He's the president of the Republic. But I can say that Andry Rajoelina is a friend of ours. We intend, we hope, to give him advice. What is it good to do for the Malagasy culture. Let's hope that he will listen to us. He will listen to us. You know, he's a good guy.
BED: (possible if it works, just guitar intro) m18_ Tsara Ny Maro.m4a, Jaojoby, Mila Anao (Universal, 0 602527 736440)
GEORGES: LET'S HOPE SO INDEED. MANY FOREIGN OBSERVERS HAVE THEIR DOUBTS. [ad lib] BUT RAJOELINA WON DECISIVELY AND TODAY, EVERYWHERE YOU GO, YOU SEE PEOPLE WEARING HIS SIGNATURE ORANGE CAMPAIGN T-SHIRTS. SOME SAY THAT ONE REASON HE WON IN 2018 WAS HIS CAMPAIGN SONG, IN WHICH JAOJOBY AND MANY OTHER MALAGASY STARS PARTICIPATED.
MUSIC: 18b_ANDRY RAJOELINA HIRA FANEVA NUMERO 13.mp3 (up to 2:15, then to bed)
GEORGES: MALAGASY PRESIDENT ANDRY RAJOELINA'S CAMPAIGN SONG, WITH THE GREAT JAOJOBY IN THE MIX. NOW, YOU MIGHT NOTICE THAT THE SONG SOUNDS MORE LIKE AN AFROBEATS SONG FROM WEST AFRICA THAN ANY MALAGASY STYLE. THIS SOUND, ALONG WITH R&B AND RAP, ARE ANIMATING MALAGASY YOUTH THESE DAYS, BUT JAOJOBY WANTS YOU TO KNOW THAT THE CLASSIC SOUNDS OF MADAGASCAR ARE NOT GOING AWAY ANY TIME SOON.
ACTY: 19_Jaojoby_alive.wav: We are still here, alive. And we do not give up the fight. We continue to play Malagasy music, salegy, tsapika, malesa, bawedza. And We do not stop telling young people, "Hey, it is good to play rap. It is good to play R&B, but don't forget that the Malagasy musics are also good."
MUSIC: m19_Manambitamby.wav, Randriana Solo, Mahalid Destin To Catch a Ghost: Field Recordings from Madagascar (Sublime Frequencies, SF111) (30-40 seconds)
GEORGES: SPEAKING OF TRUE MALAGASY MUSIC, THERE'S A FASCINATING NEW VINYL RELEASE FROM OUR ANDVENTUROUS FRIENDS AT SUBLIME FREQUENCIES. IT'S CALLED TO CATCH A GHOST: FIELD RECORDINGS FROM MADAGASCAR. THESE TWO [SODY] FLUTISTS, RANDRIANA SOLO AND MAHALID DESTIN, WALKED 20 KILOMETERS INTO TULEAR TO MEET AND PERFORM FOR CHARLES BROOKS, WHO HAS BEEN STUDYING AND RECORDING MALAGASY TRADITIONAL MUSIC FOR OVER 20 YEARS.
WINDOW: a bit more
GEORGES: THE SOUNDS ON THIS ALBUM ARE EXTRAORDINARY. LISTEN TO THIS TRIO OF ANTANDROY SINGERS PERFORMING BEKO, A KIND OF IMPROVISED PRAISE-SINGING MOSTLY PERFORMED AT FUNERALS.
WINDOW: m20_Banaika.wav, Soa Vinelo Soando, Kavoria Lappella, Vonarivo M'Bola To Catch a Ghost: Field Recordings from Madagascar (Sublime Frequencies, SF111) (top to 1:48, then to bed)
GEORGES: WOW. BEKO SINGING FROM A NEW VINYL RELEASE OF MALAGASY FIELD RECORDINGS, TO CATCH A GHOST.
BED: m21_Sacanoy.m4a, Various Artists, Small Island Big Song (B07GVYD9K4) A Living Album, (crossfade to ambient intro under next speech)
GEORGES: MADAGASCAR IS SUCH A UNIQUE PLACE IN SO MANY WAYS. BUT IT IS ALSO PART OF A LARGER WORLD OF INDIAN OCEAN ISLANDS, AND MANY OF THE ORIGINAL INHABITANTS CAME FROM THE SOUTH PACIFIC, INDONESIA AND AUSTRONESIA. THAT'S THE INSPIRATION BEHIND A RECENT ALBUM CALLED SMALL ISLAND BIG SONG. THESE ARE COLLABORATIONS BY ARTISTS FROM MADAGASCAR TO BALI, INCLUDING OUR FRIENDS SAMMY AND CLARA.
MUSIC: m21_Sacanoy, (emerge 1:20—2:44)
GEORGES: JOYFUL SOUNDS FROM INDIAN AND PACIFIC OCEAN ISLANDS. SMALL ISLAND BIG SONG. FUNDING FOR AFROPOP WORLDWIDE COMES FROM THE NATIONAL ENDOWMENT FOR THE ARTS, WHICH BELIEVES A GREAT NATION DESERVES GREAT ART, AND PRI, PUBLIC RADIO INTERNATIONAL AFFILIATE STATIONS AROUND THE U.S. AND THANK YOU FOR SUPPORTING YOUR PUBLIC RADIO STATION.
WINDOW: m22_Bonne année 2019.mp3, Tence Mena (YouTube) (0:4-0:45 )
GEORGES: ALIRGHT! THAT'S MALAGASY POP STAR TENCE MENA RINGING IN THE NEW YEAR. AS YOU CAN HEAR, SHE'S ROCKING A SALEGY BEAT, HER ROOTS. BUT THESE DAYS TENCE MENA IS MORE APT TO BE PLAYING A KIND OF MALAGASY AFROBEATS, LIKE THIS NEW TRACK TO WIND UP OUR MADAGASCAR MEDLEY.
MUSIC: m23_Tsy aferanao.mp3, Tence Mena (YouTube) (as much as we can get)
GEORGES: THANKS TO DAMILY AND YVEL, TO SAMMY AND CLARA, JAOJOBY AND CLAUDIA, AND RAZIA FOR THEIR HELP WITH THIS PROGRAM. VISIT AFROPOP.ORG TO SEE PHOTOS OF OUR RECENT VISIT TO MADAGASCAR AND READ OUR INTERVIEW WITH RAZIA. YOU CAN ALSO FIND US ON FACEBOOK AND FOLLOW US ON TWITTER AT "AFROPOPWW." MY AFROPOP PARTNER IS SEAN BARLOW. SEAN PRODUCES OUR PROGRAM FOR WORLD MUSIC PRODUCTIONS. RESEARCH AND PRODUCTION FOR THIS PROGRAM BY BANNING EYRE. AND HEY, IF YOU'RE HEADING TO SOUTH BY SOUTHWEST THIS MONTH, BE SURE TO CHECK OUT THE AFROPOP STAGE ON MARCH 15 AT THE PALM D'OR. DETAILS ON AFROPOP.ORG.
JOIN US NEXT WEEK FOR "QUELBE: HIDDEN TREASURE OF THE CARIBBEAN." THIS PROGRAM WAS MIXED AT STUDIO 44 IN BROOKLYN BY MICHAEL JONES. ADDITIONAL ENGINEERING BY GREG HARTMAN. BANNING EYRE AND CC SMITH EDIT OUR WEBSITE, AFROPOP.ORG. OUR DIRECTOR OF NEW MEDIA IS BEN RICHMOND. AND I'M GEORGES COLLINET.