Nha Mundo: The Sound of Cova da Moura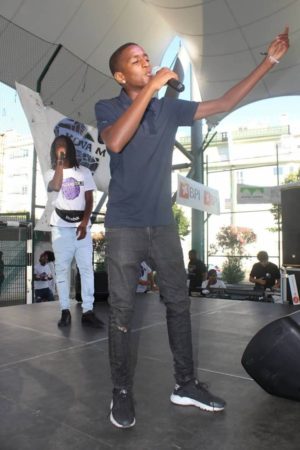 On a hill in the northern suburbs of Lisbon, Portugal sits the neighborhood of Cova da Moura. Only a highway and a forest park separates it from the city center, but it could be an ocean away. Built in the 1970s by immigrants from former Portuguese colonies in Africa (namely Cape Verde and Angola) Kova M, as locals call it, is a community brimming with life. Cape Verdean Kriolu, not Portuguese, is the lingua franca, and funana, Kriolu rap and afro-house dominate the streets. We take a walk through the neighborhood and visit the local community center, Moinho da Juventude, whose free-to-use music studio has become a launchpad for an abundance of young talent. Here, the youth of Kova M turn out potent rap and afro-house and produce their own music videos. In doing so, they speak their truths of living in a neighborhood harshly kept in the margins of Portuguese society. Photo by Roque G.
Produced by Sebastian Bouknight
Tracklist:
Apollo G ft. Garry: "Tempo Antigo"
Tam Tam 2000: "Melhor Futuro"
Loreta KBA: "Ncre Bai També"
Rafa and Mariv's: "Simi Gosta na Vivi"
LBC Souljah: "Guetto Aljazeera"
Kova M ft. Landim: "Vida Marginal"
Mynda Guevara: "Nha Mundo"
Samba KF ft. Benny Desbloqueado: "Dal Po"
Puto G: "Hey"
LBC Souljah: "Tudu Pobri é um Soljah"