Cape Verde Sounds: Heard and Unheard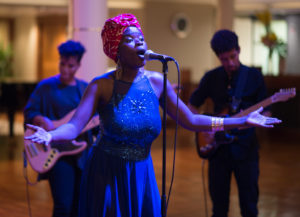 On a 2018 return visit to the archipelago of Cape Verde, we find all sorts of fresh musical activity, global and local. We hear some spectacular young female vocalists in this program, including Fatou Diakite, descended from a Malian family, but raised in Cape Verde and Guinea Bissau, and a master of styles from morna to gumbe. We also meet Lucibela, now based in Lisbon, and one of the most talked about Cape Verdean singers today. And we hear new work from Nancy Vieira, Jenifer Solidade and Elida Almeida. We also meet local artists unknown on the local scene, including producer and cutting-edge songwriter Wilson Silva, and high school-aged singer Maya Neves—already a diva! The great Cesaria Evora may be gone, but Cape Verde's musical spirit is thriving!
Originally broadcast May 24, 2018.