Afropop Worldwide
South African Roots in the 21st Century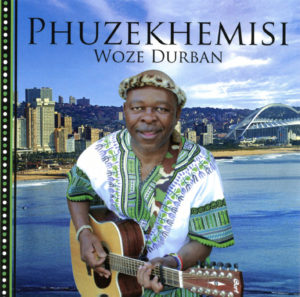 Yes, it's the age of South African House, Afrobeats, Afro R&B and the likes, but roots music lives on in South Africa. This show updates the Zulu pop music known as maskanda, with a look back at its history and a survey of the current scene--rich musically, but troubled by fan rivalry that can lead to violence and even deaths. We'll hear nimble ukapika guitar playing, heavy Zulu beats and bracing vocal harmonies. We'll meet maskanda legend Phuzukhemisi and veteran South African radio broadcaster Bhodloza "Welcome" Nzimande, long a champion of maskanda music and a would-be peacekeeper in the fractious current scene. We'll also hear from Zulu guitar legend Madala Kunene, and check out some of the recent gqom music that has largely replaced maskanda and other roots styles in the lives of young South Africans.
Produced by Banning Eyre.
Rebroadcast from May 2019.
Transcript
South African Roots in the 21st Century
WINDOW: M01_Ngcono Lapho.m4a, Shabalala Rhythm, Best Of Shabalala Rhythm (Gallo, 6 001212 366339)
GEORGES: AH, THE UNMISTAKABLE SOUND OF MASKANDA, ZULU TRADITIONAL POP FROM SOUTH AFRICA.
WINDOW: Ngono Lapho (emerge on first vocal 0:13-0:22)
GEORGES: THAT'S THE BAND SHABALALA RHYTHM WITH A VINTAGE ELECTRIC MASKANDA HIT. HELLO, GEORGES COLLINET WITH YOU ON AFROPOP WORLDWIDE FROM PRI PUBLIC RADIO INTERNATIONAL. TODAY, WE GO TO DURBAN, SOUTH AFRICA, THE URBAN CENTER OF KWAZULU NATAL TO TAKE THE PULSE OF ZULU ROOTS MUSIC IN THE AGE OF SOUTH AFRICAN HOUSE, AFROBEATS AND HIP-HOP.
WINDOW: a bit more vocal
GEORGES: WE HAVE SOME TERRIFIC GUIDES TO THE MUSIC WITH US TODAY. STARTING WITH THIS GENTLEMAN.
BED: M02_Sazi_picking.wav
ACTY: 01_Sazi_intro.wav: My name is Sazi Dlamini, I am lecturing at the University of KwaZulu Natal in Durban South Africa.
GEORGES: SAZI SAYS THAT MASKANDA, OUR MAIN FOCUS TODAY, ONLY BECAME A RECOGNIZED GENRE IN THE LATE 20TH CENTURY. ITS NAME COMES FROM THE BAD OLD DAYS OF APARTHEID.
ACTY: 02_Sazi_maskanda.wav: Maskanda is now recognized as a style and genre of music. The term itself comes from Afrikaans word, musikant, which is "musician." And before it crystallized into describing Zulu musicians, it meant anyone who played an instrument. For example, in Johannesburg, musicians who worked the streets at night and got picked up by police had to prove that they were musicians. And this was often by playing on their instruments: saxophones and trumpets—before they could get their stamp on their ID to say, "Okay, you are a musikant. You can go your way for the night." But there was a push to define black South Africans according to their ethnicity--there was ethnic radio, and maskandi came to describe Zulu traditional music, played on instruments.
BED: M12_Imbizo.m4a, Skokiana, Skokiana ()
GEORGES: IN THIS PROGRAM YOU'LL HEAR THE MUSIC REFERRED TO BOTH AS MASKANDA AND MASKANDI. EITHER ONE WORKS. AS SAZI SAYS THE NAME CAME ABOUT IN THE EARLY '80S WHEN ZULU FOLK MUSIC PLAYED GUITAR AND CONCERTINA EMERGED AS COMMERCIAL POP.
ACTY: 03_Sazi_mqaqshiyo.wav: With production, the style got orchestrated in emulation of mqashiyo, a style of mbaqanga that kind of followed the jazz era at the turn the 1960s. So because mqashiyo was kind of hot in the early 60s when the likes of Phuzushukela--that's the earliest maskandi guitarist—were discovered, the producers wanted to emulate the power and popularity of mqashiyo, the mbaqanga style of that time. So they came with bass, drums, backing vocals, and everything we know ensemble maskanda to be.
GEORGES: LET'S HEAR A MBAQANGA SONG FROM BACK IN THE DAY. HERE'S IRENE MAWELA FROM A NEW COMPILATION OF 1980S TRACKS FROM THE SOUTH AFRICAN BROADCASTING CORPORATION.
MUSIC: M03_Guvhukuvhu.m4a, Irene Mawela, The Best Of The Sabc Years (1982 - 1988) (Umsakazo, 1 9342801100 7) (up to 1:25) GEORGES: IRENE MAWELA WITH THE MBAQANGA SOUND THAT ROCKED THE SOUTH AFRICAN TOWNSHIPS FROM THE 1960S, THROUGH THE '80S. BUT LET'S GO BACK…. FROM THE MOMENT EUROPEANS ARRIVED IN SOUTH AFRICA, ZULU MUSICIANS BEGAN ADAPTING WESTERN INSTRUMENTS, ESPECIALLY THE MORE PORTABLE ONES, GUITARS, CONCERTINAS, HARMONICAS AND FIDDLES. SAZI MENTIONED THE FIRST RECORDED MASKANDA GUITARIST/SINGER, PHUZUSHUKELA.
WINDOW: M04_Isidwaba (An African Hide Skirt).m4a, John Pengu, Singing In An Open Space - Zulu Rhythm And Harmony, 1962-1982 - CD 5027 (Rounder, 0 11661 50272 7) (just a note…)
ACTY: 04_Sazi_Phuzushukela.wav: His name was John Bengu, nicknamed Phuzushukela. He was from Nkandla in Zululand, but he was working in Johannesburg.
MUSIC: M04_Isidwaba (up on vocal at 0:10—1:20, then to bed)
GEORGES: JOHN BENGU, A.K.A. PHUZUSHUKELA, WHICH MEANS "SUGAR DRINKER." THIS IS THE EARLIEST RECORDED FORM OF MASKANDA, AND SAZI SAYS IT IS THE ONE LEAST INFLUENCED BY WESTERN HARMONY.
ACTY: 05_Sazi_distinct.wav: It's not organized in terms of I IV V. there is no kind of hierarchy. Traditional harmony is often based on alternating fundamental roots, maybe just a second apart, or a minor third apart. But of course how it's structured between leading voices and chorus. It's call and response and responsorial. I think that's the word. Mostly harmonized in fourths. It's got its own complexities, but it's very distinctive in not having those traits of Western style popular music, except for its pronounced influence from the mission culture.
WINDOW: M05_Emdlovana Zinkani (They Are Stubborn In Greytown), Msomi and Amagugu Singing In An Open Space - Zulu Rhythm And Harmony, 1962-1982 - CD 5027 (emerge 0:26—0:44)
GEORGES: THE "MISSION CULTURE" SAZI REFERS TO BROUGHT RICH CHORAL HARMONIES, EVEN IN TRADITIONAL MASKANDA. BUT AS TIME WENT BY, A MORE WESTERNIZED FORM EMERGED, AND IT TOOK ITS NAME FROM A RIVER THAT DIVIDES ZULULAND, SHIYAMENI.
WINDOW/BED: M06_Hard to Get.m4a, Umjik'Jeli, Bayatatazela (Ezamachuphe, CDEZA001)
ACTY: 06_Sazi_Shiyameni.wav: Early colonial structuring of society divided society. Those who became workers in farms, some did not want to be identified as traditional. So they changed even the dances, and their way of singing. And Shiyameni is one of the contemporary styles.
GEORGES: YOU CAN HEAR THAT FAMILIAR WESTERN POP STRUCTURE IN THIS RECENT MASKANDA TRACK BY UMJIK'JELI…
MUSIC: M06_Hard to Get (emerge on vocal 0:38—1:55)
GEORGES: AS WE'LL HEAR IN THIS PROGRAM, COMMERCIAL MASKANDA IS GOING STRONG IN THE 21ST CENTURY, BUT IT MOSTLY APPEALS TO ZULU LISTENERS. HARDER TO FIND ARE THE TRADITIONAL PLAYERS WHO MAKE MUSIC FOR CULTURAL, NOT PROFESSIONAL, REASONS.
ACTY: 07_Sazi_disappear.wav: There are a lot of maskandi who are unrecorded and play in the shade, who still play in the old way. We are talking more about nationally recorded broadcast phenomena. So in commercial terms, as a trending sound, it has disappeared. Because they are not recognized or appreciated. This morning someone was phoning me down from south coast and saying, "Hey, Dlamini, there's a young man here who is about to put away his guitar. And he is a very good maskanda player. What can you do?" Because he was expecting me to have some ways of promoting him, showing him what to do with his thing. I suppose culture, as it is, has been misled into thinking that If you play well, you deserve to be rich. Whereas, like I say, it's something that you play with your family, around a fire, or when you're going to see your friends.
WINDOW/BED: M07_Sevelina.m4a, Shiyani Ngcobo, Introducing Shiyani Ngcobo (World Music Network, 6 05633 51012 6)
GEORGES: WE'LL HEAR MORE FROM PHUZEKHEMISI, ONE OF THE BIGGEST MASKANDA STARS EVER, IN A MOMENT. BUT FIRST, IN AN EARLIER PROGRAM, WE MET THE LATE MASKANDA GUITARIST SHIYANI NGCOBO.
WINDOW: M07_Sevelina (emerge for vocal 0:29—0:44)
ACTY: 08_Sazi_Shiyani.wav: Shiyani is very important to me in his appreciation and preservation of some of maskanda's original forms and sensibilities. He was among the earliest contestants in a competition that was looking to revive maskanda. It was sponsored by a Brewer, a sorghum Brewer. But the competition attracted a lot of grassroots participation, solitary maskandi artists. Shiyani comes from that wave, and he won. He was supposed to go and record ahead of Phuzekemisi. But Shiyani fell ill. He had to spent time in hospital, by which time I think there had already been two rounds of competition that put on the pedestal, on the limelight, Phuzekhemisi and Mfaz'Omnyama, so he remained unproduced and unrecorded.
GEORGES: THAT IS UNTIL 2003, WHEN BRITISH PRODUCER BEN MANDELSON SHOWED UP TO RECORD SHIYANI IN AN UNUSUAL ACOUSTIC SESSION. THE ALBUM SET ASIDE THE HEAVY DRUMS AND BASS OF COMMERCIAL MASKANDA AND FOCUSED ON THE GUITAR AND VOCAL.
MUSIC: M08_Udadewtha.m4a, Shiyani Ngcobo, Introducing Shiyani Ngcobo (World Music Network, 6 05633 51012 6) (up to 1:38)
GEORGES: MAN, THAT'S SWEET! THE LATE SHIYANI NGCOBO. NOW LET'S MEET A MAJOR PLAYER IN THE DEVELOPMENT OF ZULU POP MUSIC. WE'RE TALKING MASKANDA, BUT ALSO ISAKHATAMIYA, THE A CAPPELLA CHORAL STYLE POPULARIZED BY LADYSMITH BLACK MAMBAZO.
ACTY: 09_Welcome_intro.wav: My name is Welcome Nzimande, commonly known as Bhodloza, I am the guy that started working with the SABC in 1978, from teaching. I am a teacher by profession. When I started, I was just like everybody else who is interested in the international kind of music. I felt this was the thing that was going to be good for us. But when I came to the SABC, Ukozi FM. During the time it was Radio Zulu. My mind changed. I said, "But this is a Zulu station and we are not playing Zulu music." I said before blaming myself, or blaming anybody, let me take an initiative. I started focusing on maskandi and isakathamiya. They gave me isakathamiya, actually. They felt it was the music that was good for my voice. I promoted black Mambazo extensively. I felt it was the right thing to do, and even today, I think it is the right thing that I've done.
WINDOW: M09_Sidedele.m4a, Phuzekhemisi No Khethani, Imbizo (Gallo Record Company, B073XJZWBY) (top to 0:43)
ACTY: 10_Welcome_derided.wav: When I started, maskandi was not popular. In fact, I was derided by my colleagues at the radio station. Those who are still alive, they still say it, "Hey, we were deriding you when you are playing these things, but we didn't know that it was going to be this big."
GEORGES: A KEY MOMENT CAME WHEN A YOUNG PRODUCER NAMED WEST NKOSI ENTERED THE SCENE. LONGTIME AFROPOP LISTENERS MIGHT RECALL THAT THE LATE WEST NKOSI WAS A GUEST ON OUR VERY FIRST BROADCAST BACK IN 1988. THIS MAN IS A GIANT IN THE STORY OF SOUTH AFRICAN POP.
ACTY: 11_Welcome_WestNkosi.wav: Yes, West Nkosi. He was damn good. He was a very good producer. I remember when we started Phuzekhemisi no Khetani. These guys came to me and said, "We are struggling. What can we do?" And I connected them with West Nkosi. He is the one that was very good in producing those guys.
GEORGES: WEST NKOSI WENT ON TO PRODUCE 19 ALBUMS FOR PHUZEKHEMISI. BY THE WAY. WHEN WE MET PHUZEKHEMISI A FEW YEARS BACK, OUR TRANSLATOR TOLD US HOW HE GOT THAT NAME.
ACTY: 12_Phuz_name.wav: (Stereo) The name was derived because he was working and not allowed to drink at work. He used to hide his beer at the chemist." So that's how the name was given. It means "the one who drinks at the chemist, at the pharmacy. [laughs]
GEORGES: [reaction] WEST NKOSI ALSO PRODUCED AND CHAMPIONED THE CHORAL VOCAL STYLE WELCOME MENTIONED, ISAKATHAMIYA.
WINDOW: M10_Nkosi Yami Ngabusiswa.m4a, Ladysmith Black Mambazo, The Best Of Ladysmith Black Mambazo, Vol. 2 (Shanachie, 0 16351 66122 7) (top to 0:40)
ACTY: 13_Welcome_LBM.wav: This rhythm. [HUMS] and people fell in love with it overseas. They couldn't even get the meaning of what was said, but they fell in love with it. And I told Black Mambazo, "You are going to go overseas one day," and Joseph Shabalala laughed at me. He said, "No. Who are we to go overseas?"
GEORGES: OF COURSE, IT WASN'T LONG BEFORE PAUL SIMON ARRIVED IN JOHANNESBURG TO START WORK ON THE GRACELAND ALBUM.
ACTY: 14_Welcome_PSimon.wav: Paul Simon showed up after two years. I still remember. They were struggling. There were going to Germany. [SINGS] They were practicing to sing in German over there. And I even said, "It's not very important for the language. It's the rhythm that is important."
GEORGES: SIXTEEN GRAMMY NOMINATIONS AND MANY AWARDS AND HONORS LATER, NOT TO MENTION MILLIONS OF ALBUMS SOLD, LADYSMITH'S PLACE IN HISTORY IS ASSURED. EVEN IN THE EARLY 1980s, LADYSMITH WAS VERY SUCCESSFUL IN SOUTH AFRICA, BUT THE DOMINANT STYLE WAS STILL MBAQANGA.
WINDOW: M11_Melodi Ya Lla.m4a, Mahlathini & Mahotella Queens, Paris – Soweto (Polydor, 422 839676 2) (20 seconds or so)
GEORGES: YES, THE IMMORTAL MAHLATHINI AND THE MAHOTELLA QUEENS IN A MID-1980S PRODUCTION BY WEST NKOSI. WEST BEGAN PRODUCING MASKANDA ARTISTS USING THE SAME BIG STUDIO SOUND OF ELECTRONIC DRUMS AND DRIVING BASS LINES. A LANDMARK ALBUM WAS IMBIZO, WEST NKOSI'S FIRST FOR PHUZEKHEMISI AND HIS THEN PARTNER KHETANI.
WINDOW: M12_Imbizo.m4a, Phuzekhemisi No Khethani, Imbizo (emerge on vocal at 0:10—1:20)
GEORGES: WE ASKED SAZI DLAMINI WHAT MADE PHUZEKHEMISI SO SPECIAL.
ACTY: 15_Sazi_Phuzekhemisi.wav: Production. Well, and his own energy. He's very energetic. And also, coming into a space where maskanda was being translated from being an ethnic marker. For a good decade, maskanda was just an ethnic music played on one station, the Zulu station. But then, towards the 1980s, the resistance movement, especially the worker movement, and they started engaging traditions like maskanda. Remember, Phuzekhemisi's earliest outdoor concerts were for CSASTU, the Congress of South African Trade Unions.
GEORGES: WHEN WE MET PHUZEKHEMISI IN NEW YORK, HE TOLD US ABOUT HIS BREAKTHROUGH 1990 SONG, "IMBIZO."
ACTY: 16A_Phuz_Imbizo.wav: [Zulu]
ACTY: 16B_Phuz_Imbizo_TR.wav: "Imbizo" is about the traditional leaders who were calling people and asking for money before the ANC was on band. So he was complaining about that. Every time you are being called to pay money, and you don't know what that money is going to. That's what made this on successful. And the song made them to be dubbed the People's voice. That's how they called him in South Africa. Because he's so concerned with the plight of the people in the rural areas, how they are struggling. He singing most of the time about those things.
GEORGES: BUT IN MASKANDA'S EARLY DAYS, WELCOME SAYS, EVEN THE ZULU PUBLIC WAS A LITTLE HESITANT.
ACTY: 17_Welcome_strategy.wav: Most of the people, even our people in the rural areas, they didn't like it.. It's the stigma. Being uneducated. And I said, "Okay, I must have a strategy." And so I said, "This is the year of maskandi." Because I know if you say this is the year of something, people start listing. They started listening, and they started watching. And I started my strategy of saying to the people who are maskandi singers, the artists, "Raise the bar. Try and come up with things that are going to be interesting to the people who are going to be following you, your fans." And I got to the fans as well. I presented to the fans. "Try and love your thing. Look, the best guitar that this guy is coming up with." Then we started with the gold discs. I remember in 1982 in August, we had two artists got the Gold disk for the first time.
WINDOW/BED: M13_Sigudlele Thendeni.m4a, Phuzekhemisi No Khethani, Imbizo (30 seconds)
ACTY: Kathryn_intro.wav: I am Kathryn Olsen, I am a lecturer at UKZM. I did my doctorate looking at maskanda music and its relationship to politics and social change. during the late 1990s into 2008.
GEORGES: KATHRYN OLSEN RECENTLY PUBLISHED A FASCINATING BOOK CALLED "MUSIC AND SOCIAL CHANGE IN SOUTH AFRICA: MASKANDA PAST AND PRESENT." SHE SAYS THAT WITHIN ZULU SOCIETY, ISAKATHAMIYA AND MASKANDA WERE TIED TO A KIND OF CLASS DISTINCTION.
ACTY: 19_Kathryn_stigma.wav: Isakathamiya was for amakorwa, which are people who had missionary education. And maskanda was for the bottom end laborer. And there is still that kind of stigma. If you are a maskanda musician, you are from the backend of nowhere, really. What do you know?
GEORGES: LIKE HER COLLEAGUE SAZI DLAMINI, KATHRYN WAS ORIGINALLY DRAWN TO FOLKLORIC MASKANDA ARTISTS, WHO WERE ONCE PLENTIFUL IN KWAZULU NATAL. THESE DAYS THEY ARE FEW AND FAR BETWEEN.
ACTY: 20_Kathryn_maskanda.wav: It's not people who you might be able to identify through studios, through records or whatever. There are musicians who are playing maskanda music, because that's the do in their spare time. But certainly in my encounters in the townships, in my everyday experience, I don't come across maskanda musicians like you used to. Certainly, when I was growing up, and even in my early years of studying, you would see street musicians everywhere. Very often people would be walking around and they had their guitar strapped to their back. You don't see that. No. It's Gqom music that's the thing. It's not maskanda. If I look at my students, and I talk to them all the time, all those youngsters that come to Varsity to study music, when I say to them, "What about maskanda?" "No, that's old people's music."
WINDOW M14_Amalukuluku.m4a, Dladla Mshunqisi Feat. Professor, Umshunqo (Afrotainment, 6 009707 438615) (short window)
GEORGES: SPEAKING OF GQOM MUSIC, THE TOP TREND IN SOUTH AFRICAN YOUTH MUSIC THESE DAYS, HERE'S A NEW TRACK FROM DLADLA MSHUNQISI.
WINDOW Amalukuluku, (Emerge 0:14---1:14)
GEORGES: YOU CAN GET THE FULL STORY ON GQOM MUSIC FROM OUR RECENT PROGRAM ON THE SUBJECT. JUST GO TO AFROPOP.ORG AND SEARCH ON GQOM. THAT'S G Q O M. COMING UP, MASKANDA WARS, LADIES' MASKANDA AND MORE ROOTS POP FROM SOUTH AFRICA. VISIT AFROPOP.ORG TO READ MORE FROM THE INTERVIEWS SAMPLED IN THIS PROGRAM, AND SO MUCH MORE. I'M GEORGES COLLINET AND YOU'RE LISTENING TO AFROPOP WORLDWIDE FROM PRI, PUBLIC RADIO INTERNATIONAL.
WINDOW: 20-second break M16_Wangisiza Baba.m4a, Shwi Nomtekhala, Wangisiza Baba (Bula Music, 6 009686 38981)
GEORGES: WELCOME NZIMANDE WAS NOW ONE OF MASKANDA'S BIGGEST PROMOTERS. HE USED HIS POSITION ON RADIO ZULU TO BUILD A LOYAL FOLLOWING FOR ARTISTS LIKE PHUZEKHEMISI AND MFAZ ONYAMA.
ACTY: 21_Welcome_ladies.wav: Then in 1989, we gave a chance to the ladies. I said to the ladies, "The boys are singing about their guys." You see, a guy that has got a small voice would sing… [SINGS HIGH Oh, my love] A boy is saying "my boyfriend." And I said, it must be a lady that says that. And now you must take your place as ladies. Sing maskanda. There are maskanda musicians now like Izingane Zoma, Imithente and many others that have come on board.
MUSIC: M17_Wayenz Inkinga.m4a, Imithente, Vuka Mathambo (Gallo, 6 001212 449933) (emerge on vocal 0:27—1:04…)
GEORGES: IMITHENTE, A FEMALE MASKANDA GROUP. KATHRYN OLSEN HAS A BIT OF A DIFFERENT TAKE ON THIS PHENOMENON. SHE CITES THAT OTHER FEMALE GROUP WELCOME MENTIONED, IZINGANE ZOMA.
WINDOW: M18_Votela Uhulumeni.m4a, Izingane Zoma, Kutheni (Izingani Zoma, 6 009516 620416)) (emerge on vocals at 0:34—1:24)
ACTY: 22_Kathryn_women.wav: The group is called Izingane Zoma. It's the female group. All the music is written by men. They are singers. They are brought in. They perform the music and it's now said to be female maskanda. Well, I think that's a bit of a joke. Because they are just doing as you do in a patriarchal society, doing what the men tell you to do. When I tried to interview them a long time ago, I couldn't interview them without an intermediary from the studio. And they weren't allowed to answer my questions directly. I had to speak through him. And very soon, my interpreter said that what I was asking wasn't being asked. So I just lost interest in the whole process. But they don't have a voice. Those women.
WINDOW: OF COURSE THERE ARE MANY POWERFUL AND SUCCESSFUL WOMEN IN SOUTH AFRICAN POP, JUST NOT SO MUCH IN THE WORLD OF MASKANDA. MASKANDA EXISTS AT THE CROSSROADS OF TRADITION AND MODERNITY. ONE THING IT RETAINS FROM THE PAST IS INTENSE COMPETITION AND RIVALRY AMONG ARTISTS. IN 1997, WELCOME FELT THESE RIVALRIES WERE GETTING OUT OF HAND. SO HE DECIDED TO ASSEMBLE A POWER TRIO OF TOP MASKANDA STARS IN A SHOW OF UNITY.
ACTY: 23_Welcome_trio.wav: I brought in iHashi 'Elimhlophe, Phuzekhemisi, Mfaz' Onyama. Because they were doing different genres. I brought them together because they felt they were coming on the right way, as I was pushing them, especially because some of them were competing in a way that I didn't like.
GEORGES: THE SUPER TRIO WELCOME ASSEMBLED RECORDED A LANDMARK MASKANDA ALBUM.
ACTY: 24_Welcome_Sxaxa.wav: Izingqungqulu Zomhlaba. "the leaders of the world." But it was popularized by the top song of theirs, which was, " "Sxaxa Mbij'" "Pull Together." When the guys working in the mines, they say, " Sxaxa Mbij', Sxaxa Mbij', Sxaxa Mbij'…" Pull together.
MUSIC: M19_Sxaxa Mbij'.mp3, Izingqungqulu Zomhlaba, Sxaxa Mbij' Pulling Together (Gallo Record Company, B074DYPBCL) (from top, 2:00)
GEORGES: THREE TOP MASKANDA ARTISTS COLLABORATING ON A 1997 HIT CALLING ON PEOPLE TO PULL TOGETHER AT A TIME WHEN THERE WERE DEEP DIVISIONS IN THE MASKANDA WORLD. [WELCOME NZIMANDE.]
ACTY: 25_Welcome_fighting.wav: I was trying to say, "If the people are quarrelling, come together, and talk first of all. And then start singing together." Come together, because you see, if you are fighting, and there are followers, there are fans, and they start saying, "We are going to kill that one you are quarrelling with." And news was coming to me that they want to kill Phuzekhemisi because he is quarreling with Mfaz' Onyama, or something of that nature. So the best thing is to make those people come together and sing. I brought them to the SABC when I was still the station manager. I said, "Now the people are killing one another in the stadia, and I said, "Stop this. Otherwise I will stop you here in this station." And I stopped them. They came back and they apologized. And they said, "We are sorry. We can see the value of the station. What we have started is not helping us." But the time when I left the SABC, they started coming back to doing that again. They say, the strategy works that way, The fans, they side with a team. They side with a party. So they are forming the parties and fans that are going to buy their music. Especially when it comes to festivals. They tell their fans on Facebook and the social network. When they're going to have those festivals, they really talk, and they come together in numbers, and they make money. But I still criticize it up to this day.
BED: M20_Ngitshele S'Thandwa.m4a, Shwi Nomtekhala, Wangisiza Baba (Bula Music, 6 009686 380981)
GEORGES: AS WE'VE SAID, THERE ARE A FEW MASKANDA ACTS THAT STILL COMMAND BIG AUDIENCES IN SOUTH AFRICA. SO FAR WE'VE HEARD FROM I'HASHI 'Elimhlophe, PHUZEKHEMISI AND MFAZ ONYAMA…
ACTY: 26_Welcome_Shwi.wav: And the other artist that became very popular in this country, still very popular too, is Shwi Nomtekhala, a maskandi music act. You see, first, before they were singing maskandi, they were singing this acapella music, isakathamiya, like Ladysmith Black Mambazo. And I was saying to them "Guys, why now changing?" And they said, "It works for us." And I said, "Have you left isakathamiya?" And they said, "No we have not left it. We still do it." I said, okay fine. But the thing that impressed me is the sales. The sales were close to 1 million. SINGS "Ngafa." That's the one that killed the nation. It really killed. "Ngafa." AIDS. And it really sank into the minds of the people, the way AIDS was killing people. In this country, there is no song that reached that level. I have talked to the guys who think they are really selling. There is no song, even in pop and everything. Brenda Fassie never reached that. Never.
GEORGES: WELL, WE BETTER HEAR IT. HERE'S SHWI NOMTHEKALA WITH THEIR 2004 HIT, "NGAFA."
MUSIC: M21_Ngafa, Shwi Nomtekhala, Wangisiza Baba (Bula Music, 6 009686 380981) [emerge 0:33 to 2:30, then to bed]
GEORGES: SHWI NOMTEKHALA WITH THE SONG THAT PUT THEM ON THE MAP IN 2004. THIS GROUP HAS CUT ITS OWN PATH TO STARDOM. THEY DON'T FOLLOW THE RULES OF MASKANDA. FOR INSTANCE, IN MASKANDA SONGS THERE'S ALWAYS A POINT WHERE THE SINGER SPEAKS.
ACTY: 27_Welcome_promoting.wav: These guys, by the way, they sing and they also talk. "I am so-and-so. I come from wherever. My King is so-and-so…" And all those things. They were nearly disqualified by the SABC some time back. The powers that be felt that they were promoting themselves. They were advertising themselves. They should pay. And I came in. I intervened. And I said, "I'm happy that you have called me, Because you would have done the wrong thing. These guys are doing it this way. It is natural for them in their tradition to talk about their indunas, Their kings and their chiefs, to talk of their mountains and their homes. If you are going to stop them doing that, you're going to be killing the creativity that they have. They really listened to me and they let it go. And now they are doing it. I remember one group Stimela came up and they also did that, they sang and recalled their mountains and all those things, and then they started saying these things like, "No, but these are not maskandi. These are merely promoting, really. They are advertising." Then they disqualified them, and they did not continue.
WINDOW: M22_Inhlinini Yoxolo.m4a, Khuzani, Inhlinini Yoxolo (RISA, 6 009143 588936) (emerge 4:26—5:10)
GEORGES: THAT'S CURRENT MASKANDA STAR KHUZANI, LETTING US KNOW EXACTLY WHO HE IS AND WHERE HE'S COMING FROM. KATHRYN OLSEN SAYS THAT SWHI NOMTEKHALA HAS REACHED A MORE MAINSTEAM AUDIENCE PRECISELY BECAUSE THEY DON'T FOLLOW MASKANDA'S CONVENTIONS. FOR STARTERS, SHWI IS A DUET.
ACTY: 28_Kathryn_Shwi.wav: It's quite usual to have a duet. Whereas it's usually a lead singer and backup singers, they've got the duet, and they both sing and play. And their singing, their harmonies, are directly related to isakathamiya. So it has this kind of sweet sound that you associate with that, but with the guitar which is more like Western folk music. It's strumming. It doesn't sound like maskanda to me. They don't do izibongo, which is what he was talking about where you say where you come from and all that, which was really like a stamp that distinguished maskanda from mbaqanga, that izibongo section. And the introductory guitar section where they really set the stage with the guitar, drawing me in: "Here I am. This is my location and I'll move from there." A lot of that is gone. It is not seen as necessary. Because the format, just the format of other types of commercially viable sounds that they see and they imitate. "Why do that? I don't need to do that.?"
WINDOW: M23_Webabulali.m4a, Shwi Nomtekhala, Seludlulile (SHEER, 6 001610 370051) (emerge on vocal at 0:26, and edit to get to harmonies at 2:00 sooner )
GEORGES: SHWI NOMTEKHALA WITH "WEBABULALI." [cut adlib] KATHRYN AND WELCOME BOTH SPEAK VERY HIGHLY OF ANOTHER VETERAN MASKANDI ARTIST STILL ON THE SCENE. WE HEARD HIM EARLIER AS PART OF WELCOME'S 1997 SUPER TRIO. I'LL LET KATHRYN HANDLE THE INTRODUCTION HERE.
ACTY: 29_Kathryn_iHashi.wav: iHashi 'Elimhlophe. He is originally from KwaZulu-Natal, Greytown area, and he actually didn't start off as a maskanda artist. He started off doing things like mbaqanga Soul Brothers type of thing, and he moved from there into maskanda. IHashi takes the izibonbo way of delivering your vocals, which is rapidly spoken words, but he makes it into a kind of virtuosic rap. So it's like capitalizing on that kind of ideal of rap music, but maskanda-izing it by having it spoken so fast and having the guitars in the background. He's got big sections like that, and the crowds go wild for it. I go wild for it. I think it's amazing.
MUSIC: M24_I Vume Wethu.mp3, Ihashi Elimhlophe (YouTube) (Top to 1:46)
GEORGES: iHashi ELIMHLOPHE! Ihashi lives in johannesburg, not DURBAN, and he appeals to a more elite audience. He wears designer outfits and makes SUPERB videos, and HE's not afraid to take on political subjects.
ACTY: 30_Kathryn_topical.wav: You know he'll have songs during election times where he's talking about political parties and what people are doing and that kind of thing. Or he'll be talking about relationships or AIDS or can't get a job, the economy's over. That sort of thing. So he's using that framework to punch out very topical issues.
GEORGES: SazI dlamini says this is not typical in maskanda.
ACTY: Sazi_backward.wav: Maskandi have never been overly political in their texts. More egalitarian popular, talking about the plight of men, the position of women. Not protesting, but actually just pleading for things to stay as they are. A man is a big man, and better if he has more wives. And I don't think it helped that it became nurtured within an institution of the radio that sought to assert the similarity of ethnicities. A lot of maskanda practice and expression seems not to grasp what the rest of humanity is about. You know, they are misogynistic in their approaches, and often express views that are kind of backwards.
GEORGES: EVERYONE WE SPOKE WITH IN DURBAN AGREES THAT THE BIGGEST FACTOR CURTAILING MAINSTREAM APPEAL FOR MASKANDA IS THESE VIOLENT CLASHES AMONG ARTISTS AND THEIR FANS.
ACTY: 32_Kathryn_tension.wav: There have been artists set one against the other. And they seem to have this kind of duel. So you have one, and then the competition. And in the songs they badmouth the other person, and then they get a response, and it builds this anxiety and this tension.
GEORGES: NOBODY HAS BEEN ABLE TO STOP THIS VIOLENCE, BUT KATHRYN SAYS IF ANYONE COULD, IT MIGHT BE WELCOME NZIMANDE.
ACTY: 33_Kathryn_violence.wav: You know, he claims that he is going to speak to these musicians and get them to stop the violence. I think he might actually be able to do something. Certainly no one else would. He has the credibility. And people really do look up to him. And I think he's got a kind heart. The thing is, things have changed so that whereas you would look up to the chief, now you might look up to the chief, but you fear the nganga, the witch doctor, and you fear the gang warlords, the people who got the power and the money to annihilate you.
GEORGES: MEANWHILE, THE MUSIC GOES ON WITH ALL ITS EXUBERANCE, VIRTUOSITY AND BRAVADO. LET'S HEAR ONE MORE MASKANDA, THIS ONE FROM A VETERAN, AND MASTER OF REGIONAL ZULU GUITAR STYLES, Bhekisenzo Cele, WHO GOES BY THE STAGE NAME Vukazithathe.
MUSIC: M25_Ngeke Kulunge.m4a, Uvukazithathe, Makhosazane (RISA, 0723983676)
BED: M26_Madala_picking.wav
GEORGES: MASKANDA ARTIST VUKAZITHATHE. BEFORE WE LEAVE, LET'S MEET ANOTHER ZULU GUITARIST/SINGER FROM THE DURBAN AREA. BORN IN 1947, MADALA KUNENE DOES NOT PLAY MASKANDA AS SUCH. HIS ROOTS GO BACK TO THE OLD MARABI JAZZ OF THE EARLY 20TH CENTURY TOWNSHIPS. AND HE'S SELF-TAUGHT ALL THE WAY.
ACTY: 34_Madala_street.wav: Me, I never been to that school things. I learned everything in the street. I tried to talk English in the street. No teacher was teaching me to put a white shirt and a tie. No.
GEORGES: MADALA DEVELOPED HIS OWN WAY OF TUNING AND PLAYING THE GUITAR, AND HE SINGS ABOUT SERIOUS SUBJECTS. WHEN WE MET IN NEW YORK A FEW YEARS BACK, HE REMINISCED, A LITTLE SADLY, ABOUT THE OLD DAYS IN HIS TOWNSHIP, CATOMENO.
ACTY: 35_Madala_unity.wav: Those days, there was a unity. In Catomeno, we just had unity. You can't call, "this one is a Xhosa. This one is Sotho." No, we just unity. We brothers and sisters. We never fight together in Catomeno. Never. Now, no more unity because we've got African National Congress. There was nothing for another party. Everyone he wants money. Everyone he want to be leader. Now he must fight. If you want to be a leader, you must fight.
GEORGES: WE LEAVE YOU WITH A SONG FROM HAPPIER DAYS IN MADALA'S LIFE. "SANIBONANI" "FREE AT LAST."
MUSIC: M27_Sanibonani.m4a, Madala Kunene, African Classics: King of the Zulu Guitar (Sheer Group, 87806800726)
GEORGES: MADALA KUNENE WRAPPING UP OUR TOUR OF ZULU ROOTS MUSIC IN DURBAN, SOUTH AFRICA, FUNDING FOR AFROPOP WORLDWIDE COMES FROM THE NATIONAL ENDOWMENT FOR THE ARTS, WHICH BELIEVES A GREAT NATION DESERVES GREAT ART, AND PRI PUBLIC RADIO INTERNATIONAL AFFILIATE STATIONS AROUND THE U.S. AND THANK YOU FOR SUPPORTING YOUR PUBLIC RADIO STATION.
THANKS TO OUR GUESTS SAZI DLAMINI, WELCOME NZIMANDE AND KATHRYN OLSEN, ALSO TO LOUISE MEINTJES AND ROBERT TRUNZ FOR THEIR HELP WITH THIS PROGRAM. VISIT AFROPOP.ORG TO READ EXCERPTS FROM OUR INTERVIEWS AND HEAR MORE GREAT SOUTH AFRICAN ROOTS MUSIC. YOU CAN ALSO FIND US ON FACEBOOK AND FOLLOW US ON TWITTER AT "AFROPOPWW." MY AFROPOP PARTNER IS SEAN BARLOW. SEAN PRODUCES OUR PROGRAM FOR WORLD MUSIC PRODUCTIONS. RESEARCH AND PRODUCTION FOR THIS PROGRAM BY BANNING EYRE.
AND DON'T FORGET TO] JOIN US NEXT WEEK FOR ANOTHER EDITION OF AFROPOP WORLDWIDE. THIS PROGRAM WAS MIXED AT STUDIO 44 IN BROOKLYN BY MICHAEL JONES. ADDITIONAL ENGINEERING BY GREG HARTMAN. BANNING EYRE AND CC SMITH EDIT OUR WEBSITE, AFROPOP.ORG. OUR DIRECTOR OF NEW MEDIA IS BEN RICHMOND. AND I'M GEORGES COLLINET.