Angelique Kidjo's Homage to Mother Nature
Count Angelique Kidjo as an artist who has made good use of her time in lockdown. At home in Paris with her garden and home studio, she has made numerous appearances at virtual concerts and events, and the four-time Grammy award-winner has recorded her 15th album, Mother Nature. The album's central focus is the global environmental crisis, and the album's title track already has the feel of a classic. For the video, released June 4, 2021, she was accompanied by none other than Sting.



The day of the release, before he saw this video—or he surely would have asked about it— Afropop's Banning Eyre caught up Angelique in Paris. She was in her car, being driven through the city's busy streets by her husband/manager and co-composer Jean Hebrail. Here's their conversation.
Banning Eyre: Angelique, are you there?
Angelique Kidjo: I'm in the car. It's so busy here. If it's working, let's do it.
Sounds good. You're still in Paris.
Yes, I'm coming back June 12, I think.
Listen, I have to congratulate you on staying so active and visible during the pandemic. I keep seeing your face on my computer hosting globalFEST concerts and all sorts of online events. You have certainly stayed in the game.
Yeah, man, hey, this pandemic has been hard on me. Within a week, Manu Dibango was gone, and then a week later, Jean's father. And then you realize that you just have to do the best you can and continue living. That's all. We don't have any choice but to move forward. So many people have died, and we're not out of the woods yet. But I'm keeping this positive spirit up and sharing it around, for people to realize that they have to get vaccinated. I am vaccinated completely. Jean too. I want to go back on stage. But I want people to think about this. This is just a moment, but if we all pay attention it's going to be gone.
That's right. But hey, it has been a brutal year. So many losses. Coming to your album, just couple weeks ago, before I knew that you had worked with her, I did a long interview with the singer Shungudzo. Such an interesting person. And just at the end she said, "Oh, by the way I've been doing some work with Angelique Kidjo." Then just a couple of days later your album arrived and I put the pieces together.
She is talented. Absolutely talented.
How did you find her?
Through Eli Wolf from Universal. I was trying to reach out to the diaspora at large, wherever they are, not only in Africa, to do this album to pay homage to this earth. I wanted us to bring another perspective to the table. You know we grew up very close to nature in Africa. You've been there. You know how close people are with nature. And this climate change is going to impact especially the children of Africa. I can't be the only one talking about this issue. The issue is our concern globally, especially African artists. We can't just sit aside and be quiet on this. We are the losers of this game.
One thing I found very interesting in speaking with Shungudzo was when she spoke about her early days as a songwriter in Los Angeles. And a lot of the talented young songwriters she was working with really did not appreciate the way she wanted to write socially and politically engaged songs. It reminded me of what some of the Afrobeats artists I've spoken with in Nigeria say when I asked them about their connection with Fela's political legacy. The line is, "Yes we can write those songs, but they don't sell. That's not what people want to hear." And then I look at your album and is just loaded with powerful messages. So I'd like to hear your response to this idea that socially engaged messages don't sell.
Well, you know what? Things are changing, and people are changing too. I think that COVID 19 is changing the way people see the world. Because you've got to keep in mind all of these diseases that we have been fighting and surviving in Africa. Suddenly COVID 19 comes knocking at the door. COVID 19 is not discriminating. It has no frontier and is just right in your face. You don't pay attention, you get it. It's just not a matter of black, white, rich or poor. It's like HIV and AIDS. It's everywhere. And anybody can die from it.
So it shows the vulnerability, but also the conductivity and the solidarity that living demands of us, to pay attention to something that is happening afar, and if you don't, it's going to come sooner or later to your doorstep. So politically inclined lyrics is not about selling any more. It's about having a point of discussion where people need to be reminded of what is going on and enjoy while listening to those messages. With music we still entertain. We are still entertaining. If each one of us comes to make a decision about how we need change in our life for us to get a chance to share this planet. There's a time for everything.
Social messages? How do you say it doesn't sell? First of all, it's not about selling. It's selling the story. Our human story. Everything is not beautiful. Nobody wakes up every day and everything is fine. You wake up you say, "I'm O.K." But you can't be O.K. every day. It is impossible. Then you are not a human being.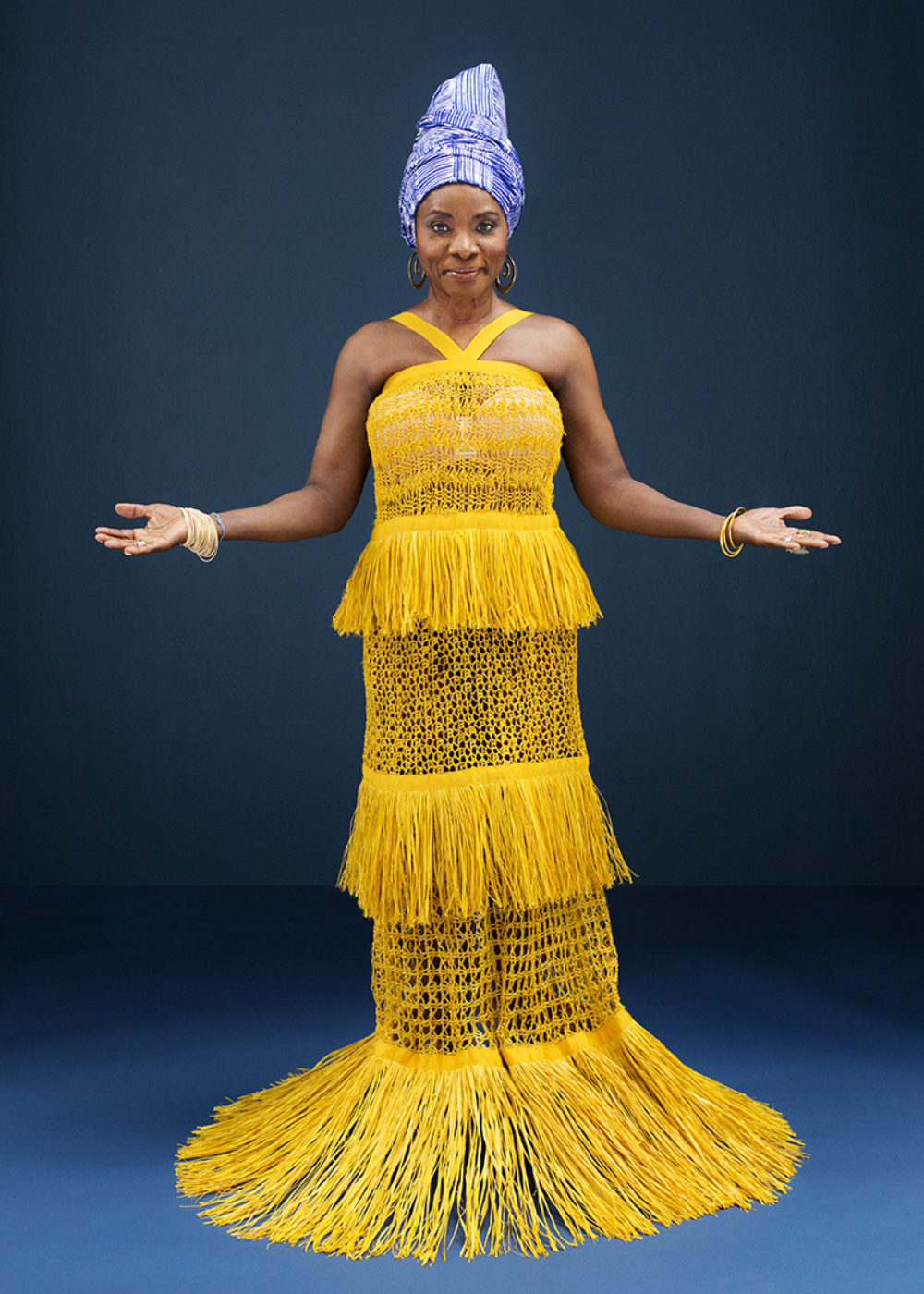 Shungudzo also spoke about this. If you make a song beautiful enough, people will get the message, and enjoy it. You catch the ear with the music, and then the message comes in.

I mean, look at Bob Marley. Bob Marley sold millions of albums. And all of his songs were packed with political messages.
Amen.
So I think it's ignorant when you say something like that, that political and social messages don't sell. I mean, Bob Dylan.
Fela.
Woody Guthrie. I mean, come on. Look at what's going on. Look at Bruce Springsteen. He does his show on Broadway, and people are there. Because people want to know exactly what time it is. We are more aware of what's going on. And we all want to find solutions to our problems and try to live together. It's not about canceling people or bullying people. That's just creating pain for people for no reason and nothing is solved.
You mentioned Marley. I always think of the line "Total destruction the only solution," such a sweet little song that we all love to sing.
[Singing] "So much trouble in the world." "It's a war." "Everywhere is war." [Laughs]
Let's talk about your album. You had to do a lot of remote work here. I'm looking at all the studios involved in this album and it's quite amazing. Was that difficult?
It was not difficult. I mean, I had so many dates booked for 2020. I was going to have a very full year. It was starting off in Carnegie Hall on March 14.
I remember. We were all set to be there.
And on March 4, the Carnegie Hall show got canceled, and that same evening, we booked a flight to come back to Paris. That was because of my mom, and Jean's father who was in a nursing home. We never thought that a year and more later we would still be locked down here. It's just crazy. The thing is, when you stop traveling, your body reminds you of the machine you have been using going from one place to the other. It deserves some retuning, some rest. And your mind is different. You think of things differently. So my idea was to do an album with a minimum carbon footprint, and to do that was to engage in a conversation.
All of those songs—in 2019 I had them waiting there for me to work on. So now I have all this time on my hands sitting by my house. Thank God we did a lot of work in 2018 and the house is brand-new. The studio is brand-new. So I can say I'm one of those privileged people that has a studio at home. I started gardening. I have a garden because I was sick and tired of struggling to find fresh vegetables and salad. I said, "No, I have all the space in my house. I have been postponing and pushing gardening aside, I had convinced myself not to garden." I was always saying, I don't have three hands, but you know what? Do it. Just get your hands in it. And I have my tomatoes. I have my basil. I have my mint. I have all of it. And I can go to my garden, pick my stuff, put it in my pasta. And guess what? That's the best thing in the world.
And then you have time to just spread out and work and give time to everybody. And the thing that was important to me is the transmissions behind all these songs. I mean people have helped me. There have been so many artists before me that have impacted me, inspired me. Miriam Makeba. Celia Cruz. Aretha Franklin. James Brown. And the list goes on. How do I pass this legacy on?

I started listening to Back on the Block by Quincy Jones. How he did that album, to bring in these young hip-hop artists who knew nothing about the history of Black music basically. Of jazz. Ella Fitzgerald. Sarah Vaughan. He brought all of these people together to just prove that all this music has the same roots. It's there. It's always there. So I reached out to all of these artists. I reached out to Yemi [Alade] during the EndSARS movement [protesting police vigilante violence in Nigeria] because I was afraid that something might happen to them. Because I knew that most of them would be there fighting for a different society that they want to live in.
We talked and she said, "Ma, they are killing us." I said, "Just get out. Get out of the street quick. Get out of there. There's nothing for you there except violence. You are not there for violence. You are there to ask for justice. So let's use music. I will send you my song 'Dignity,' because it's all about dignity. We need to dignify our police for them to dignify us. We need to write the song."
So I sent her the song, and a week later she sent me a groove. I said, "Everything you want to express that you couldn't express, just put it in this song. The things that you are feeling right now, just sing it." And we wrote "Dignity" like that, within a week.
It's a great song. And a great video.



Absolutely. And what she's expressing in the song is the same sentiment she had spoken to me about, when you're out there and they're shooting at you just because you are asking for justice. And that's what she put into that song, to come in peace, not in pieces. That's so important. Respect has to be reciprocal. If you want respect, you have to respect yourself and respect others. That's how the whole album started. And then Mr Eazi sent me a message on Instagram saying that he had a song for me. And I said, "O.K. Send it."
So he sent the song with a sample of Salif [Keita]'s voice. And I said, "Ooooo, this is three generations, three layers of transmission right here! So we should have Salif singing with us on this song." And we did. How many times have I told you how beautiful my continent is? But these lyrics are from Mr Eazi. Africa's one-of-a-kind.
Let me ask you something about that song. You and Salif both do this thing at the end of your concerts where you invite the audience onstage to dance. For you it's the song "Tumba." And for Salif, it's "Africa." So is there anything in this version from the original recording of "Africa," or is it all remade?
No. No. We redid the whole thing. Totally. It's the same melody. But not the instruments. Not the recording.
Got it. A great reinvention of a great song. Here's a question about the songs you co-wrote with Shungudzo. I see in the composing credits the name Adeniyi Adelekan. Who is that?
That's Shungudzo's music partner.
O.K. And I see your daughter Naima helped write some of these songs.
She is a wonderful writer. I don't know what to tell you. She's the type of person who has the talent to write words, and not just the songs with me. She has written an opera, which we are about to perform.
That's fantastic. Tell me about the song you did with Burna Boy. Your voices are just amazing together.
Well, Burna Boy. I met him after the Grammys last time, and we said we had to work together. Then I was in contact with his mom. And his mom called me and he picked up the phone and said, "Ma, I have a song for you." I said, "Send it." He took his time. That's what I love about the COVID situation. You are never in a rush. Things just fall in place as they have to be. So then one day he was calling me on WhatsApp video. He said, "Listen. This is your song." So I said, "What are you waiting for? Send it to me now." He said, "Let me finish. I will send it to you."
So he sent me the song and then I worked on it. Immediately. And I sent him my version. And he said, "I want more of you, Ma." I sent him the second version. He said, "I want more of you. I want your voice to be more." I said, "You sure? You want me to Angelique Kidjo your song completely?" He said, "Yeah." So O.K., I said, "Be careful what you wish for. I'm going to do it the way you say." So I sent it to him, and this time he didn't say anything anymore. He sent me a thumbs up. I said, "O.K., that's how you like it. You can have it." That's how the whole thing came about.
That's wonderful. What's the message of that song?
Do yourself. You got to do yourself. This is real Africa. Don't mess up with us. Because if we Africans let things go scatter, everything breaks. We have got to fix Africa. It's our home, our country, our continent, everything. We have to do it ourselves, do it yourself. Don't wait for somebody to come help you build your own house.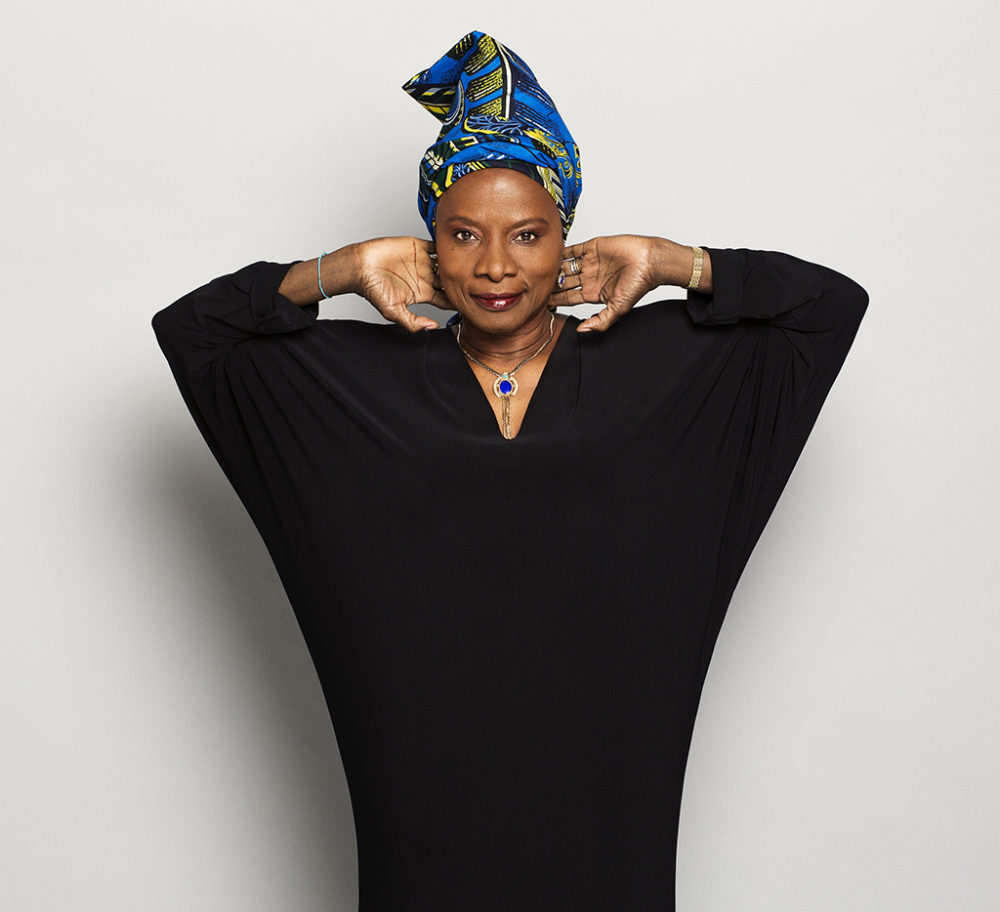 I love that you have the guitarist Lionel Loueke playing on a number of the songs. I always remember hearing you play in a duo with him at the Metropolitan Museum of Art.
[Laughs] Well, Lionel is one of my favorite guitar players. And the song "Omon Oba" is this song from the Beninese gang, two singers from Benin, me and Zeynab, and Lionel. We went real deep roots on that one. Because you need glue when you're writing a story. The origin of this story is Benin culture. "Omon Oba" means "children of kings." Because our fathers are kings, our mothers are kings. So we are here to tell the story of the greatness of our ancestry.
I'm just now reading an amazing book called A Fistful of Shells by Toby Green. It tells the story of the slavery and colonial eras in Africa up to 1850, but all from the African side, full of details about the various empires, including Benin. Fascinating stuff.
Of course. Of course. That's all the stuff that's been left out. If you have to tell the story of the greatness of people you have been demonizing, your story makes no sense. You have to make them less than human in order for you to do what you want to do. The greatness of our kingdoms is absolutely amazing, but we have to be proud of it. And celebrate it in every way. I'm not going to shy away from my culture where I come from. I don't diss other cultures, because in every culture, there is a truth to it, meaning to it. My culture means a lot to me so therefore I want to understand the meaning of other cultures.
Amen. I'm curious about the song "Take It or Leave It," where you have EarthGang, this rap duo out of Atlanta. It sounds to me like a hiplife song, modern highlife. That's not what I was expecting from rappers out of Atlanta. Tell me the story of that song.
Well, James Poyser, the keyboard player for The Roots, he came up with the groove, along with the guitarist João Mota. What did you expect from me? I am always doing that. There's no music that is expected from anyone. As long as you are a musician and you can sing or play, every music is yours. It depends what you do with it. Your take on it is always going to be different. A song has to have multiple lives to exist. You know what I mean? And if your song is not sung by other people, it disappears from the face of the earth.
The song "One Africa" is a reinvention of Grand Kalle's 1960 classic "Independence Cha Cha." In your version, there are only two singers listed, you and Jacques Daoud. But I'm hearing this huge chorus at certain points. Is that all you?
Yes. That's me. It's me.
Wow. You went over the top on that one.
Well, there's a sample of the original in the beginning. And there's Jacques Daoud from the West Indies.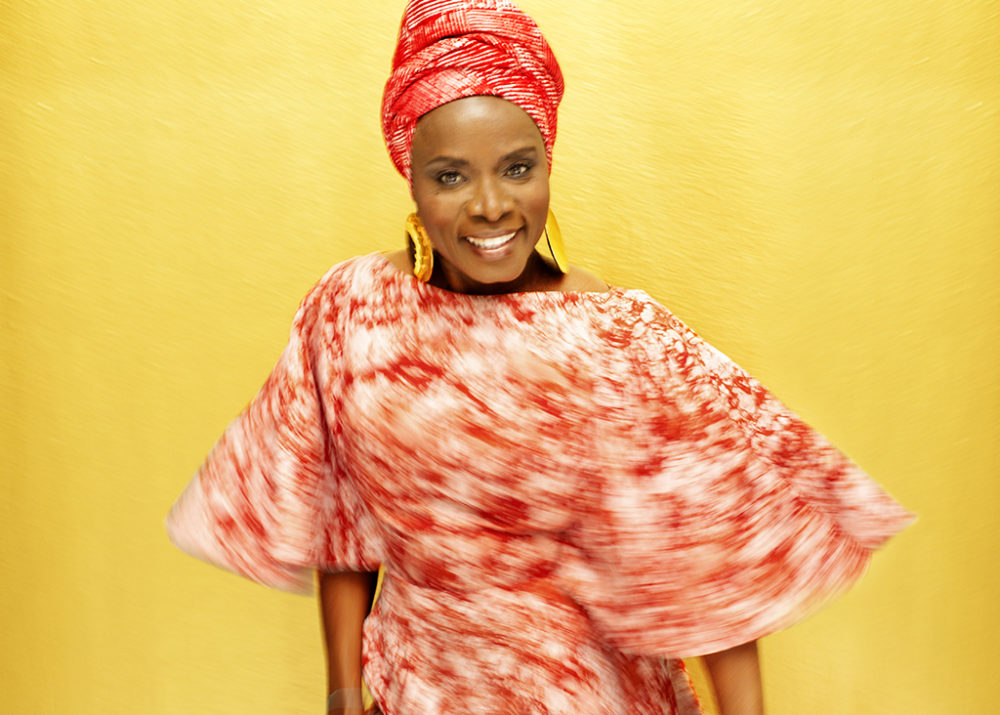 But the rest is you, a big sound! Tell me about the last song, a very sweet song, "Flying High."
Well, we have to start with the statement, "Hey, we have been here before. That bloodstain on the floor. There has to be another way." Those statements finish up the album. The last words I sang on this album are "life is beautiful," because that's what I believe in. No matter what, you just have to see the beauty in life and celebrate. And the producer on that song, Dany Synthé, is Cameroonian born, raised in France, and he's a really great producer. What was also important for me to do on this album was to celebrate the young producers that come from Africa. I just let them be. I wanted them to do their sound, their craft, and just to be free. And I will add mine to it. That's what we call transmission. I didn't tell people, "This is what you have to do." I don't do that. I can't tell you how to do your craft. You have to be free. You have to function how you feel about it. If it doesn't work for me, I will tell you it doesn't work for me. But as long as you are doing it with all of your heart, it works for me.
That reminds me of what you said at the Grammys last year about how it was time for the new generation of African artists. And you are really living up to that on this album. I think that you more than anyone are really acting as a bridge between these generations of African music that sometimes can seem very separate. But you bring it all together.
That's one of the things that I found out when I started traveling as a UNICEF group member in 2002. You arrive in places where… I mean villages, far villages. And people start singing your song. Nobody remembers my name, but people are singing my song. It means that those songs are powerful. One of the things that was really interesting when Yemi got in touch with my older brother and said, "Can you please put me in touch with Angelique. I want her to be my role model, my mentor. Please, please." So that's it. We connected when I went to Lagos. And she told me, "Your music, I grew up listening to it." So for me it's just normal to recount and reconnect and build that bridge. All of those musicians they are influenced by my music. So doing this is just normal for me. It's like breathing.
It comes very naturally to you and that's a beautiful thing. When do you think you'll be able to get back on the stage again?
Well, I have a show at the Kennedy Center on June 19 with half of the house I think. Not a full house yet.
Well, we will be watching. Safe travels coming back to our sweet shores. We're waiting for you.
I miss New York. You guys are moving out of Brooklyn. I'm not going to no Connecticut yet.
Well, you've got Paris. Great to speak with you, Angelique. Safe travels.
Take care. I'll speak with you soon.