We first got the rundown on the emPawa talent incubator from its founder, the Nigerian star Mr Eazi, as he sat on a patio outside a hotel on Manhattan's West Side back in 2019. In between bites of his burger, he mentioned the rush of success that one of emPawa's first alumnus was enjoying, a young Nigerian singer named Joeboy.
Flash forward two years and a few blocks away, and Joeboy himself was in a hotel on Manhattan's West Side. His latest single, "Sip," tops streaming charts across the African continent, and he was fresh off playing his first shows in America, playing for 10 thousand people at Sacramento's Lost in Riddim Festival.
As a graduate of emPawa, Joeboy has an eye on the big picture of his career, but in the back of his head, he's always writing, always composing, always plotting the next thing. He works extremely quickly—his breakthrough song, a semi-cover of Ed Sheeran's "Shape of You," was recorded with new verses and an adapted chorus with 24 hours of Joeboy hearing the song for the first time.
Afropop's Ben Richmond sat down with Joeboy this week to hear about his rise, his first American shows, and his dream collaborators. It was the day before Joeboy had a chance to get out and explore New York, so you can forgive him for saying he likes Los Angeles more.

Ben Richmond: You liking New York so far? You're from the big city too.
Joeboy: It reminds me of Lagos. But I'm not sure yet. Tomorrow I'm going to go out and experience the city for fun. Right now I prefer L.A. to New York.
Warm weather fan?
It's not the weather, [New York] just reminds me of Lagos. Population density, you know.
Sure. So I actually interviewed Mr Eazi right back when emPawa was getting going, just a block or so from here. You were probably mentioned then, so it's cool to see the first big success from that in person. What brings you to New York this week?
I have a bunch of meetings and studio sessions. I'm just here to check out the city. It's my first time in America so I'm trying to experience everywhere.
You did your first American show?
Yeah in Sacramento and L.A., at festivals. It was big.
How'd it go?
It was amazing; the response was great. For my first show it was really amazing. Like 10 thousand people vibing.
Who else was at that show? It was the Riddim Festival?
Burna Boy, Wizkid, Amaare, Oxlade, Shenseea, Sho Madjozi, uh...those are the ones I can remember, but there were a lot of artists in the lineup; it was a two-day festival.
I'd like to hear how you ended up with emPawa, but first maybe some background. Where did you grow up?
I grew up in Lagos, Nigeria; I was born in Lagos. I grew up in a music-loving family. Music was always something I loved. I didn't think I could make music, but it was always something I loved. It gave me peace. I started making music for fun from 2013. I was making playful demos, nothing serious. And I started making covers. I covered popular songs, and one that really popped on Instagram in Lagos, was an Ed Sheeran cover. Somebody sent video to Mr Eazi and he really liked it and sent me a DM.
What song was it?
Ed Sheeran's [sings] "I'm in love with the shape of you." My cover is still on YouTube.
What was it about that song that spoke to you?
To be honest, I didn't know much about the song until a friend called me when I was in school—his name's Taiwo. He called me like, "Yo what's up, I think you need to make a cover of this song. It's really big now." I didn't really listen to much r&b and pop then. I used to listen trap music like Bryson Tiller and the rest. So I didn't listen to much foreign pop music, but I was like "I'll check it out." And the next day he sent me the instrumental, and the next day I listened to the original song. And I made my version, how I'd sing it if I sang it.
Same backing track?
Yeah but different lyrics. I kind of tweaked the chorus but the verses were my own.
Did that take you a long time to do?
No! Same day that I listened to the original song. Same day I recorded.
And once you got connected with Mr Eazi what happened?
After I got connected to Mr Eazi we started talking, and he started connecting me with a lot of producers. The first person I worked with was E Kelly who produced "Leg Over"—one of Eazi's biggest songs. At some point, Eazi texted me, "What's up, I'm starting this program and I think you should apply for it," and I did. And I got to be a top-10 finalist and I ended up in the top two. From there we started working together officially, partnering together. We dropped "Fààjí" featuring Mr Eazi, and I dropped "Baby" and that was the breakthrough single. Then the "Don't Call Me Back" EP, and its been up from there.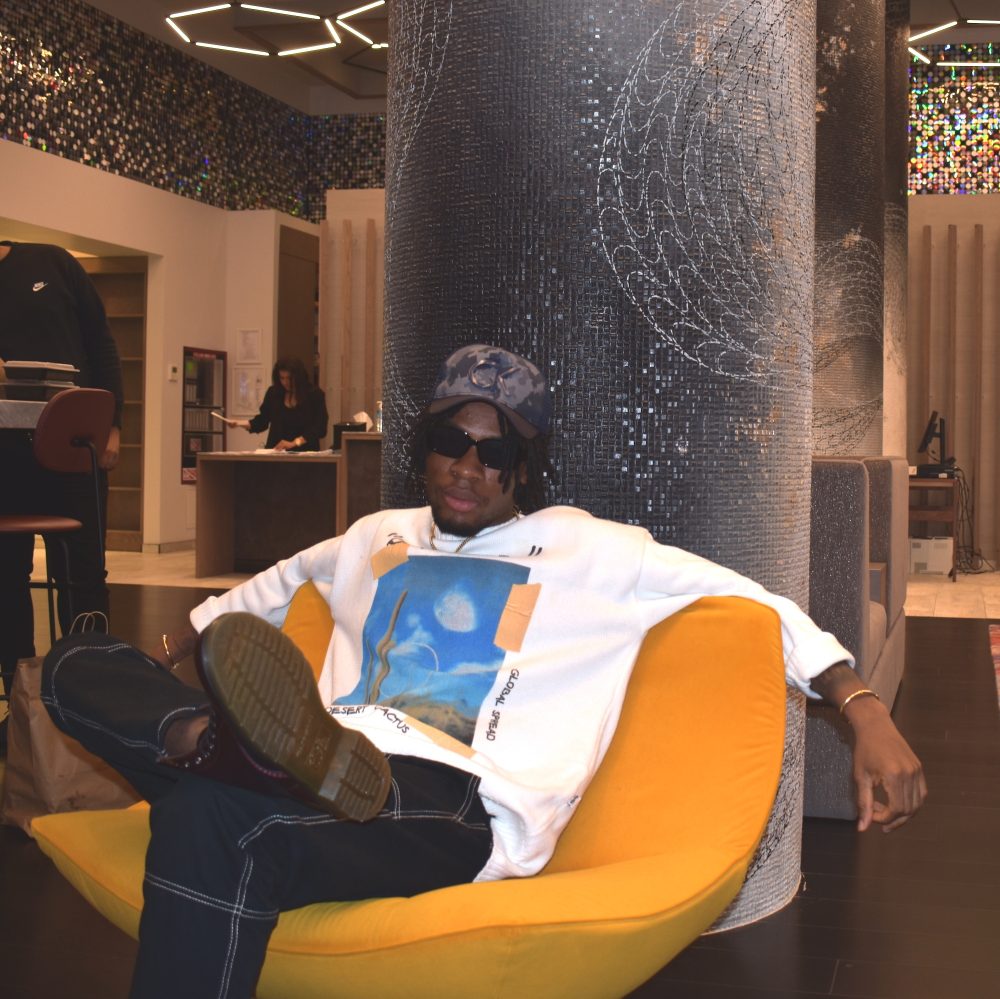 As part of emPawa you put together a music video, but after you made the cut for the top 10, you went to South Africa?
No, I missed it! My visa wasn't ready on time, so I was the only person who missed it. I felt so bad that I missed emPawa camp. But I got to go down to shoot the video for "Baby," in Cape Town.
There was making the video, but was there a music education part of it? Was there dance?
I was just learning on the way. I was always hanging around Mr Eazi, so I would ask him questions, "how do you do this, how do you do that?" Just learning on the job.
Was there a business component to what you learned there?
Definitely. I think most of the time we young artists are so particular about our art that we seem to forget that there's a business to it. I think it's so important at this age to have a grounded knowledge or at least an idea of how the business works, so you don't get swindled.
It seems like Afrobeats really resonates with the diaspora here. When Wizkid played a few weeks back it seemed like every young Nigerian in the tri-state showed up. For New York that's a lot of people. But for your American shows, who are you seeing in the audience?
I think Afrobeats is now becoming a global sound. [Wizkid's] "Essence" is one of the biggest songs on the radio now. I think there's more attention being paid to African music. And big shouts to Africans living in the U.S. too, spreading the music, spreading the world. I actually see people from different races and places—I see Latinos, I see white people, I see them vibing to the song word for word, I'm like "Me?"
I think it's a very very peaceful era. I think social media has played a big role in that. You can just be scrolling down your page and stumble on something you really like and the next thing you can check out the artist on Shazam. It's not even "Oh, I heard this song but I don't know it." You can just Shazam the song and start listening and start filling up on the artist. Streaming platforms, social media, they've made it easier for your music to breakthrough.
There's also a lot of sounds being borrowed. Like you came up with this Ed Sheeran song, J Balvin and Mr Eazi have worked together.
Music is so so dynamic that you can fuse sounds together--Afrobeats and Latino, Latino and pop, Afropop too. It's just beautiful. Amapiano too. Different sounds that can work together and it's a beautiful thing to see.
Yeah, I really liked the Amapiano version of "Nobody," the song you did with DJ Neptune and Mr Eazi. I liked both versions, are you tempted to start doing different versions of songs?
Yes yes. "Sip," my latest hit single, I'm going to make different versions of it. Touch on different markets with it.
Is there anything we can look forward to that you can tell us now?
Uhhhm...most likely there's going to be a Latino version and definitely a dancehall version too. Because the song is almost like a dancehall song to be honest. It has a beat with some Caribbean influence in it.
There's always that exchange from Jamaica to Ghana and Nigeria. You said you're here in a studio here?
Yeah, I'm doing some studio time just meeting people and just experiencing the city. Because I'm touring next year and I want to do it properly so I'm laying the groundwork, making sure I know the right people to talk to and right things to do.
Are you going to do any recording too?
Yeah, I had a session a few days back and I'm heading to Miami where I'll have a few days there.
Where have you been recording so far? Only in Lagos?
I record everywhere. I travel a lot. Most of the time in Lagos or Ghana. I love Ghana. It's very peaceful and quiet. I think that helps me creatively.
Your first full album Somewhere Between Beauty and Magic came out this year, and man, right from where it starts off with the strings, it's just so pretty. How does it feel to make a full length versus just singles?
I think it's a lot more effort that we put into it so people don't get tired of it. An album has to be a cohesive body of work, so you have to be more intentional when you're making an album—about how you arrange your songs, a good mix but it has to be one. It's way more intense making an album.
I thought of Afrobeats as a real singles genre but when Burna Boy's African Giant came out…
Exactly. With music, anything is possible, but with an Afrobeats album, you have to be really really particular so people don't get tired of it.
Some fast, some slow, some ballads, some guest spots. When you were putting together did you think of producers you wanted to work with? How much of a plan did you have going into it?
Normally I work with a lot of different producers. All of my hit singles are from different producers, like "Baby" was produced by Dëra; "Beginning" was Killertunes, "Don't Call Me Back" was KO, "Door" was Tempoe—so I work with different producers. Making an album I wanted to make as many songs as I could. When I felt like "Oh, I think we have something here," I would just start arranging. There were a lot of songs that had to be scrapped off the album because they didn't feel like they were meant to be part of it.
Was "Sip" one of them?
No, "Sip" was after the album dropped and I was on a different wavelength. "Sip" is pretty different from all the songs I've released from way back. It's the beginning of my sound evolving.
What would you say people should listen for, what do you say is the difference?
The difference is most of the time I'm perceived as the loverboy—I love love, yeah? But right now I'm just singing about real life experience, what people go through on the day-to-day, not just love. And that's where the influence of "Sip" came from, that's where I got the idea. The music you should be expecting from me is more raw. I'm more open with my songs, and more comfortable singing about my innermost self. I'm singing from my soul basically. It's not just pop, it's like real life stuff. Not just pop dance dance dance.
Although, it does work like that. It's still catchy.
Well, you always have to make it catchy. It's very very important for Afrobeats [Laughs].
You've said you didn't play any instruments before starting your musical career—what's your process for coming up with new songs? Do producers contact you and are like "Joeboy, you're going to love this beat" or do you reach out to them?
Most of the time, it's just me. I'll call up producers I trust or believe in and tell them, "Will you send me a beatpack." I tell them to send me anything, not what they think I would like, that they are confident in. Just send it to me, and if I like it, if I vibe with it, I'm going to like relax and listen to the instrumental and look for the vibe that's going to work perfectly and when its almost done I call the producer again and wrap it up.
Do you still work really quickly?
Yeah, right from the beginning, I've always been like that, because I'm always just writing writing writing. So, 30 minutes or an hour, I'm done with the song.
You must just always have that running in the background.
Yeah, like right now we're talking but I could have an idea and just write a note in my phone or recording voice memos. I record voice memos a lot and when I'm free I just listen back and keep listening and anything that sticks with me, I build on it.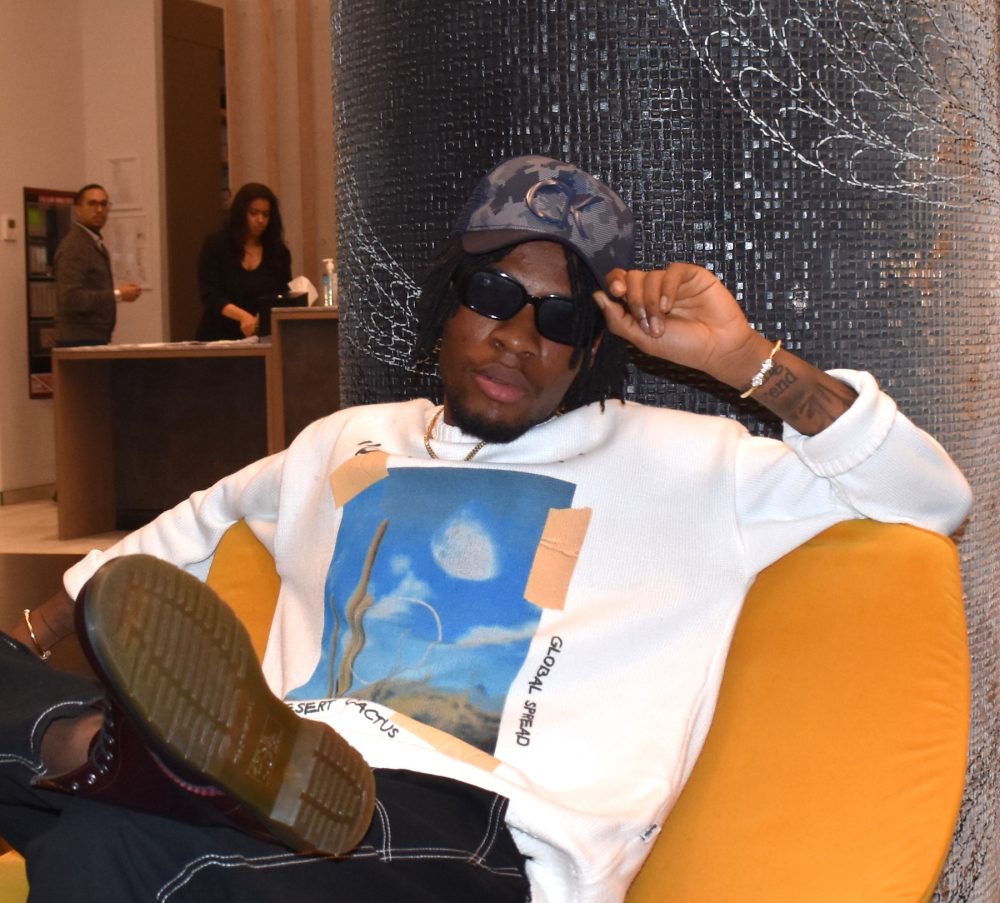 Do you think you'll keep making full-lengths?
Yeah, definitely. I mean, I'll make any project, could be an EP, could be a mixtape. Whatever I'm going to put out is going to be great--that's facts. [Laughs]
Are you interested in more collaborators?
Definitely. I think that's what's next for me, broadening my sound. I think my music has pretty much spread throughout all of Africa. Joeboy is a big name in southern Africa and East Africa, West Africa. Maybe I need to break into North Africa more, because it's a whole different experience there. Different sound there. But I think it's time to start broadening, amplifying my sound. I'll be doing more strategic collaborations, with Latinos, with hip-hop heads in the U.S. I really love Post Malone and Weeknd. I love those two guys. And maybe Drake and Rhianna. But, it's step by step, so I'm just doing everything in my power to make sure we get to that level.
What's coming up the rest of the year?
Yeah, I'll be touring next year. But I'll be promoting my song "Sip," and from there I have a bunch of shows lined up all over the year. It's not my personal tour, that's still coming. And I've got two media features coming in the next couple of months. And that'll be it for the year and then next year, start all again.
Very cool, and you'll have a new release for the tour?
Yeah, a project—I won't call it an album yet, but it's a project.