Maya Kamaty: Redefining Maloya for the 21st Century
"When you open the map of the world, you can't even see us. We're so tiny, tiny," says Reunion Island singer Maya Kamaty as we interviewed her in Montreal before her performance at this year's Festival International Nuits d'Afrique. "A tiny, green island, but it's great."
Kamaty is the daughter of legendary maloya musician Gilbert Pounia, leader of the band Ziskakan. Maloya was the music of the slaves who were brought to the island by French colonialists. They would gather and dance to the traditional, rhythmic blues sound in secret locations, as it was banned by the slave owners and the church. Then in the 1970s, the French authorities legally banned it, as it was closely associated with activists groups seeking greater autonomy for the island. It wasn't until 1981, when French president Francois Mitterand not only legalized it, but funded promotion of it, that it could be performed again in public. The island remains a French department, along with the even smaller African island of Mayotte, the Caribbean islands of Guadeloupe and Martinique, and the South American territory of French Guiana.
"Reunion has more than 200 micro-climates," she continues. "So you have the forests, the mountains, the sand, a volcano – all kinds of landscapes. We have pretty good food, too – a mix between the cultures, just as the people, the religion, everything – you can find all that in the food. So we have all these influences from Mozambique, Madagascar, India, China... and France, of course, because they brought us on the island. Maybe 900,000 people. We're pretty isolated, and at the same time pretty open-minded people.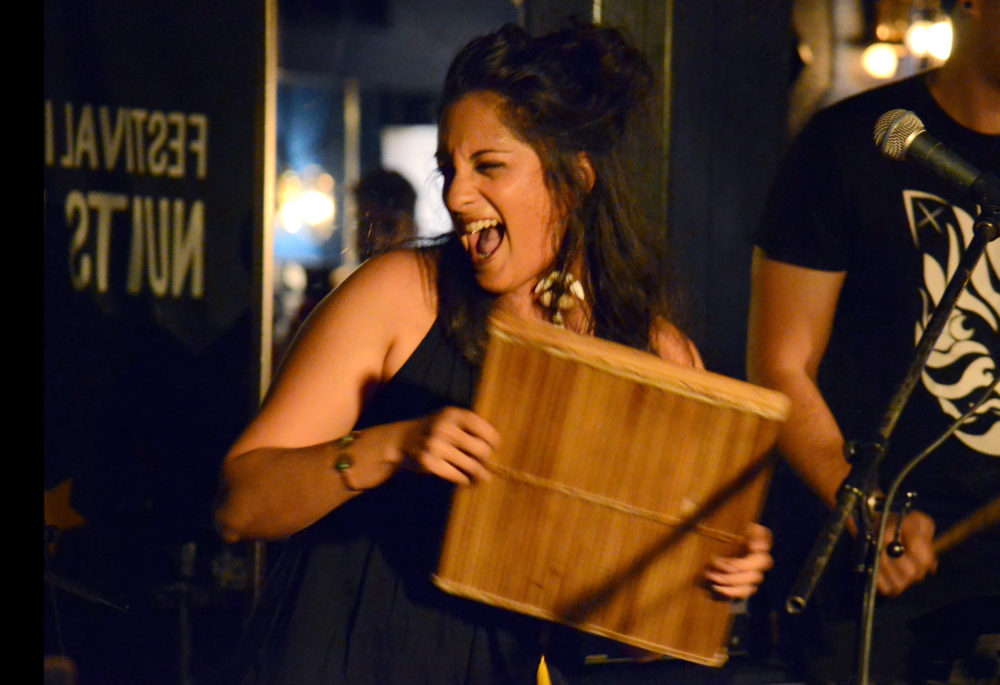 "I'm a mix, as well – part fifth generation from India, but also from Madagascar and China. You can't see it on my face, but it's there. I've been to India several times – kind of a 'roots' trip – but you could also say that about China as well. But India is a part that is mostly seen on my face, you know. So when I go there they talk to me Tami or Indi. But I've also been to Tunisia just last week, and people spoke to me in Arabic. So who knows?"
Growing up on such a small island, it was inescapable for Kamaty not to be recognized as the daughter of one of the island's most prestigious musicians. And even though she grew up singing backup vocals with Ziskakan, becoming a professional musician was not what she initially planned for herself.
"My father wasn't there a lot because he was on tour," she explains, "so I thought it was a shitty job. I was doing a lot of sports, especially badminton, ping-pong and handball. I was looking for a career in sports, as a teacher, probably. But not in music, because the bar was too high for me to compete, I think. It was very hard as people always recognized me as the daughter of my father. I could never just buy some groceries because it would take, like, three hours, because everyone knows my father. And it would take hours and hours with him. We'd be: 'Papa, please let's go.' But it was fun at the same time, because musicians and poets would come over to the house. So it was a good cultural environment with some really smart discussions and debates going on. I was taking this in without really realizing it at the time."
Kamaty occasionally still joins her father on stage singing backup, as in this clip from 2017 below.
We should note that her family also runs a hotel with a cafe and restaurant where they all perform when not on tour: It's called Le Zinzin, located in the town of Grand Bois, overlooking the ocean.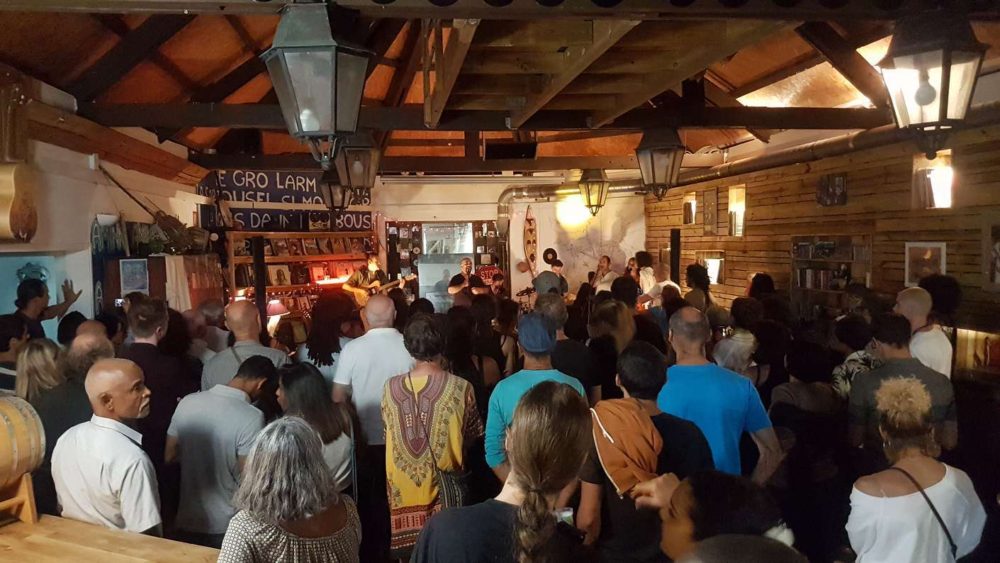 "When I was growing up, there was always music, always stories – because my Mom is a storyteller – political debates, always poetry... and always good food," she recalls. "So that's a large part of my childhood. It's been really rich for me to have that around. But when I was a teenager, I rebelled against the Creole culture, you know? I was listening to the Cranberries, Nirvana, also a lot of bad stuff – boy bands, like the Backstreet Boys. My father was not so happy about that. He always told me to go look in the dictionary for the words 'acculturation' and 'deculturation.' I told him, 'You are crazy! I'm not going to do that!'
"So then, in 2005, I go to France to university. I arrive in Montpelier for my studies in cultural mediation and communication, and the first word we learned was 'acculturation,'" she laughs. "When I was growing up I wasn't really politically aware, until maybe when I was around 20. But at the same time, I had some clues. For example, in school we weren't allowed to speak Creole, only French. But at home and in the streets we did. It's better now there, but still, they are trying to make it better."
It was in Montpelier, while studying so far away from home, that she began to become both more culturally and politically aware and discover her own musical voice.
"When I arrived at university and I wanted to tell the world about Reunion," Kamaty says, "and that France is not only the Eiffel Tower and Asterix and Obelix, you know? It's also people from Madagascar who came to this tiny place and something beautiful and huge happens there. Home was so different from France, but at the same time, we are France too. It's quite a shock when all your life, in the books and in school, they teach you that your ancestors were from Gaul, and teach us the origin of the Eiffel Tower, and stuff like that, but my ancestors were also from Mozambique and Madagascar and they never taught us about that. So here I was, like, 'We exist and we're a part of this culture too.' Though for me," she adds, "it was never a rebellion against France. For my parents, of course, back in the '60s and '70s, it was probably that. But yet even today, with French people, you cannot be diverse. You have to choose... but I don't want to choose."
She found a group of like-minded friends, mostly musicians, including Carlo de Sacco, who would form the band Grèn Sémé during that time, as well the percussionist she still collaborates with, Moana Apo.
"We did music together, just for fun," she says, "In the beginning, it was just about listening to music, singing along.... being chill. Carlo was a student there, as well. We were really good friends and he wrote some lyrics and good melodies, and started his band, which I was just singing backup with. But I was also learning a lot of stuff and wanted to help them get gigs, so I started to manage them. It was then, when I was going on stage with Grèn Sémé, I would have this feeling that this is me, you know? Not being with my parents. It's something else and this gave me the confidence, self-esteem and legitimized me to start to write my own compositions. My decision to sing in Creole was because the first song I wrote, I took my pen and paper and just wrote in Creole.
"So I finished school – successfully, thank you. But at first, I'm just thinking about just managing bands for a career, and I wanted to go back to Reunion Island. I had the choice to stay in France or go back, but I decided to go back and see what is happening there. I also wanted to reconnect with my roots, make some pocket money, and probably work with my father for a while, networking and understand more about how music production worked."
Although when she arrived and told her parents she wanted to pursue a career in the music business, it didn't go over particularly well at first.
"We had, like, a two-hour conversation about it. He was saying how it was a really hard job and that I should do something else, anything but. You know... fathers. But I told him, 'No. I want to have my own experience with it. I'm pretty sure we are so different in how to manage.' He's old school – doesn't really read his contracts and stuff. So while I had always sung with the band, I now became official. And eventually I took over managing the band, too. I also started to sing some of my own songs with Ziskakan – not that I gave him a choice," she laughs. "After all, I was the manager now."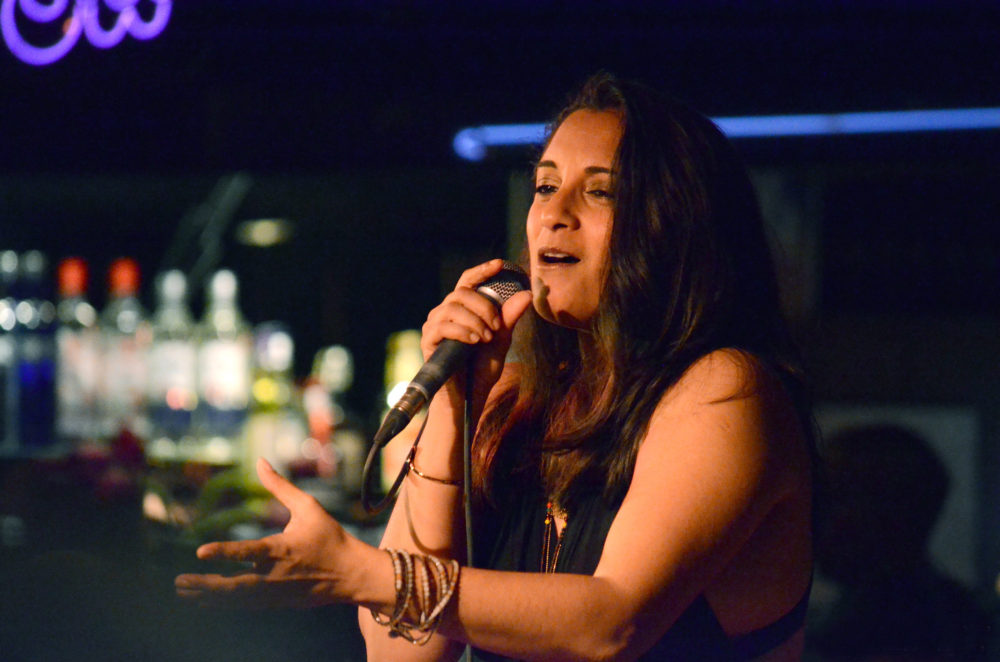 In 2012, Kamaty decided to take a huge step and start her own group.
"For two years," she says, "I was composing and stuff, then I put together a band. I started to make some EPs, you know, with, like, five tracks and giving it to the promoters and getting small gigs, just on Reunion. But then I got invited to perform at the Sakifo Music Festival by [festival founder] Jerome Galabart, which I was also working on production of. This is the biggest festival on Reunion Island. So I just said yes, without thinking what would happen. Just challenging myself. That's when I decided to go professional. That performance was really important for us, because it was the moment people saw us for the first time. It was sort of like the coming-out festival for me. But when I'm looking back at those first shows, I'm thinking, 'Who is this shy, small girl?' I'm so much more confident now."
Here she is at that first concert....
And you can see just how much more confident she became in this next video, just two years later in 2014 as she released her first album, Santié Papang.
Santié Papang was a stunning debut album which made it to many reviewers' best of list for the year and Kamaty was being hailed as "the new face of maloya." Most of the songs have a light, breezy and bluesy feel to them, such as "Ecris-moi," with lyrics by Mauritian poet Michel Ducasse, who has noted that the words are directed at two young people he saw texting each other all the time. In it, he's suggesting they should instead write letters to each other a l'ancienne, in the old-fashioned way.
Ducasse also wrote the lyrics for "Comme un Refrain," but Kamaty wrote the lyrics for all of the other songs on the album. Some reflect on social problems she was seeing on the island, for example, the song "Dernié Viraz," talks about alcoholism, and another, "Son Zié," tackles the subject of domestic abuse.
She points to "Dernié Viraz," which was one of the last two songs she recorded for the album, as an example of how she was already looking to explore introducing more electronic sounds to her music, "but we didn't have the material nor the instruments," she says. "But you can hear that going this new way was already in my head."
"You see, while we released the album in 2014," Kamaty continues, "we were already performing it from 2012. So when the album finally came out two years after, I was wishing there were other things we had done with it. But no regrets."
Not long later, she met Paris-based Brazilian singer Flavia Coelho and her producing partner Victor Vagh, while opening for Coelho at a concert in Paris. "Meeting them was another step for me, and today they are very good friends," Kamaty says. "She's amazing. I don't understand the energy she has. She's a lot of things at the same time. She can be very sensitive also. There was a track on Santié Papang, 'Mazine,' I wanted to remix a bit, you know, give it a little more punch. I was wondering who could do that, and so we went to Victor's studio in Paris, worked on it together and put it up on the Internet in 2016.
"And so then, Moana and I started working on new material on his computer all day. Eventually, I had an EP with five new tracks we made on our own, which were more electronic, for sure. And when we decided to move forward in that direction, we asked Victor to work with us." Kamaty willingly put herself in danger and took risks, she says. The result is her new album, Pandiyé, which was released earlier this year.

The album is definitely a big step forward for her from Santié Papang – ethereal, yet earthy; smart and exciting; complex, yet comfortable.
"I'm really happy with the album," she says, "because it's really who I am today. The first album was who I was then. I think an album defines who you are at some point, you know?"
And who is she now?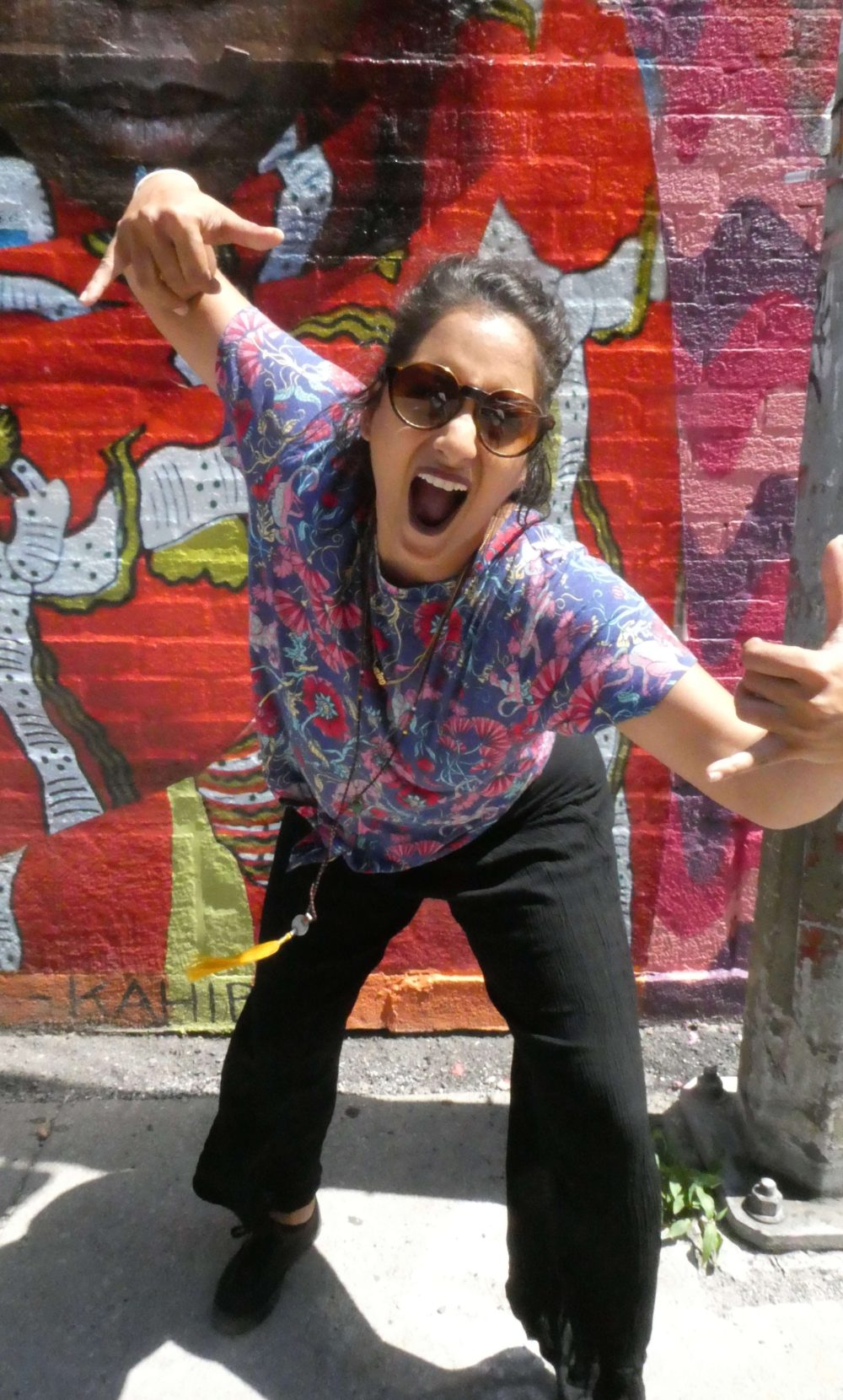 "I'm a 33 year-old woman with a wild temper," she laughs. "A woman who assumes responsibility for what she does – my mistakes, my doubts, my body – I accept everything, all of me. I have a lot of doubts every day – how people will see the changes we wanted to do with the traditional music. I have so much respect for maloya. I didn't want to be disrespectful to the tradition at all. It's just an attempt to do something new. My music, from the beginning, was not traditional – not just percussion and voices. On the new album, I've kind of defined it as 'electro-pop Creole' music."
When we told her that after listening to the album we thought she could now, perhaps, be called: "the Björk of Reunion Island," she swooned.
"For you to say that the album reminds you of Björk, is a great compliment for me," she says. "She is one of my big influences. I've been influenced by a lot of women – [Danish singer/songwriter] Agnes Obel, a great pianist, [British-Indian musician] Susheela Raman, [Malian singer] Fatoumata Diawara, and so many more. Agnes Obel is one of my favorites at the moment. Also Portishead, Radiohead, Morcheeba. What I wanted to do with electronic music is also going back to the roots of these sounds. But there are also some Indian influences."
But whenever one does something new and different, something that doesn't already have a market-tested recognizable genre to fit itself neatly into, there is not just a creative vulnerability Kamaty must deal with, but also how it would be received by the industry and critics. While you can clearly hear the sounds of Reunion across the album, it is definitely not your grandfather's maloya.
"In France," Kamaty says, "when you talk to journalists, because you come from Reunion Island, in their heads you are doing maloya. So I'm just saying because of that, it's not that. The 'world music' stamp doesn't work. It doesn't match. How do you call my music 'world music?' Just because I sing in Creole? It's a huge question for me.
"I didn't know it would be so difficult to get out of the 'world music' slot. For example, just two weeks ago, I was in Belgium and they put us on the 'world music' stage. I'm sure we could have had a slot on other stages, but when the decision is in the hands of a few people – and those people have strong ideas about what I'm supposed to be, what can you do? So I have a lot of questions as to what I'm supposed to do to force people to just see what I'm doing. Because this album is so many things. Can you believe iTunes put us in the 'country/folk' category? That's harsh, right?
"I hope things will change," she adds, "because otherwise there's just this tiny spot for a lot of bands who are so different from each other. I just didn't think this direction I've taken was going to be so difficult to deal with."
And what's next on her agenda?
"Working on some new ideas, definitely," she says, excitedly. "We are going to do a remix EP on this album, and that gives me time to write some new songs – when I have some time to settle down again. I've been touring for one month and we still have another month to go. My husband is at home, so I need to get back to Reunion."