Best of The Beat on Afropop: Leo Sarkisian and Mwamba Dechaud
African music historian and Beat contributor Gary Stewart, during his 1993 research trip to Zaire and Congo-Brazzaville for his book Rumba on the River, encountered many of the musicians who created the Congolese rumba style that made all of Africa dance. (See the "Best of the Beat" episode in which he chronicles his experiences on the journey.)
Among his adventures, Gary encountered Mwamba Dechaud, the elder brother of "Docteur Nico" Kasanda, who in the early '60s established the foundation for the soukous guitar sound that is essential to today's Congolese style. Dechaud played mi-solo guitar alongside his younger brother in Kalle's African Jazz band, and moved on to African Fiesta Sukisa when Nico founded his own group. Nico had died in 1985, and Gary found Dechaud living in reduced circumstances. Tellingly, this guitar master who played such a seminal role in the history of African music was without a guitar to his name.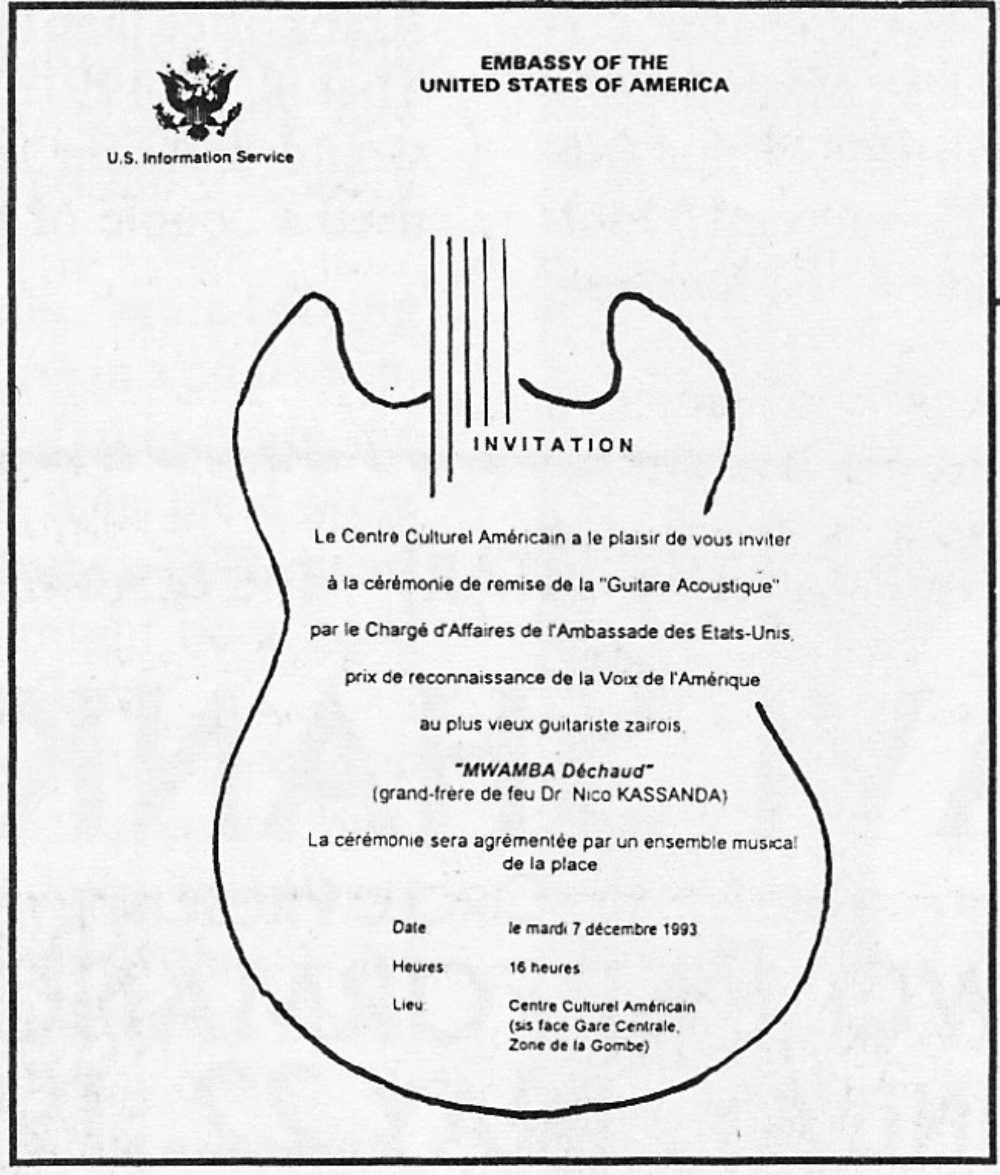 In the second part of this saga, however, Gary made good on his promise to Dechaud to send him a guitar. He bought the guitar himself and arranged with the help of Leo Sarkisian of the Voice of America's revered program "Music Time in Africa" to have it sent to Kinshasa through diplomatic channels and given to Dechaud. An event was organized at the Centre Culturel Americain for the presentation of the guitar--"Le Prix de la VOA"--in recognition of Dechaud's contributions to music, and also honored other veteran Congolese musicians who performed live with Dechaud for the attending dignitaries.
Sadly, Leo Sarkisian passed away on June 8, at age 97, following six decades of a life-long passion for and service to African music.
Leo is the subject of this week's Afropop Worldwide program, "A Remembrance of Leo Sarkisian."

Dechaud, who was the composer of the classic rumba anthem, "Africa Mokili Mobimba," among many others, died five years after the guitar presentation, in 1999 at the age of 64.
Gary Stewart's website: rumbaontheriver.com
ABOUT "BEST OF THE BEAT ON AFROPOP"