Femi and Made Kuti Launch U.S. Tour in High Style
The stage manager at the Wall Street Theater in Norwalk, CT, seemed puzzled when I asked if the light, Thursday night crowd might have anything to do with the direct competition between the opening show of Femi Kuti's 2022 U.S. tour and the opening night of the January 6 hearings. He had not considered it. But Sean Barlow and I had, sitting in our car at 8 p.m. across the street from the theater as the show was beginning inside the hall and in Congress, not to mention all over American media.
Still, we pressed pause on Lynn Cheney and went inside to hear New York-based Amayo and his seven backing musicians opening the concert, mere hours after Femi and Made Kuti and the musicians of the Positive Force had touched down from Lagos, Nigeria. Amayo's music was instantly engaging, rich with the twists and turns a tight Afrobeat orchestra can maneuver, but sharpened by the smaller size and total focus of the ensemble. In his short opening set, it was abundantly clear that Amayo has emerged from his animating role in the band Antibalas enlarged and liberated.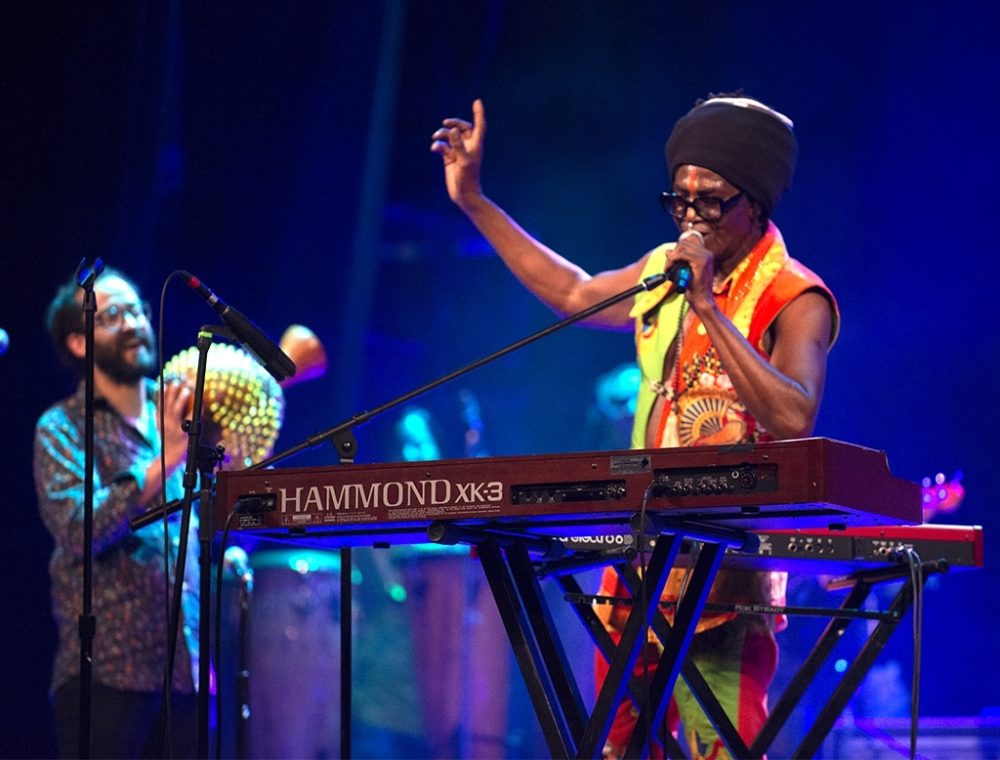 Then came Femi, fully charged and promising "a true demonstration of African determination." And boy did he deliver. His set was a masterpiece of showmanship, mixing old and new songs and controlling his volcanic band with electrifying deftness, precision and passion. When he sang his song from the recent Legacy album, "You Can't Fight Corruption With Corruption," it succinctly recapped Benny Thompson's opening statement in those hearings we'd left behind in the car. And there were a number of moments in the show when his words could be heard as reflection on America's political dramas, not just Nigeria's.
I kept thinking of the interview I did with Femi from Lagos before this tour, as he expressed the notion that nothing ever improves in Nigeria. At one point in the show, Femi snapped the band to silence and in a kind of quavering whisper, repeatedly sang something to the effect of, "Things will get better….in time." Walking into the show, we had overheard a guitar-banging singer in a tavern belt out a version of what he called, "the theme song for 2022," Bob Marley's "Three Little Birds." Sure. Don't worry about a thing... But the difference with Femi was that "in time" bit, because he had also told me that as he neared 60, he did not expect to see any significant solution to Nigeria's problems in his life. Time is long.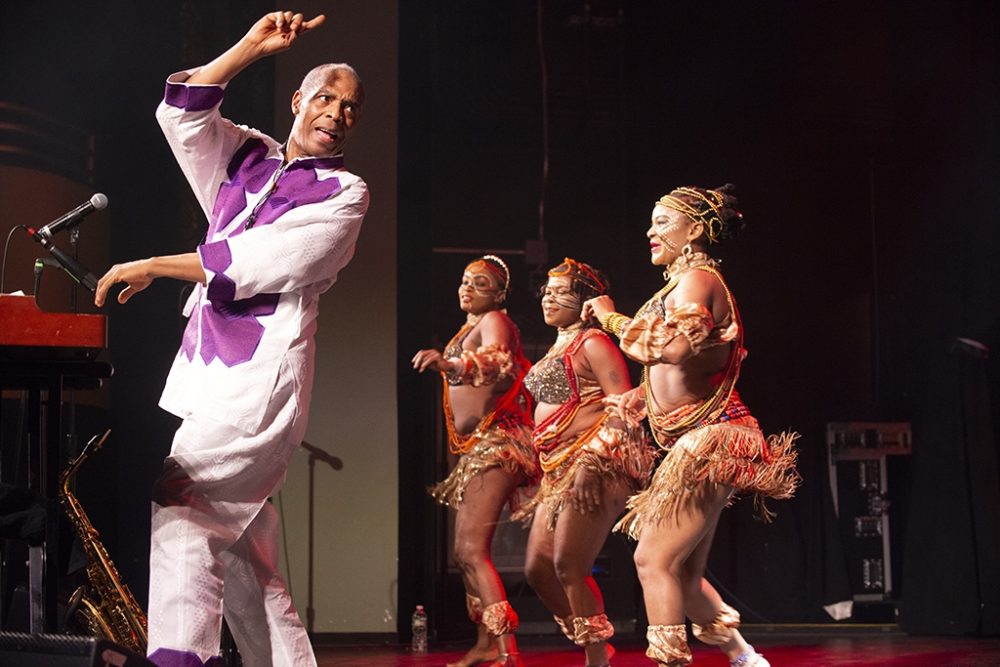 All that aside, this was far and away the best performance by Femi Kuti and his band that I have seen, and I've seen quite a few. His tunes are relentless, driving, funky, fiercely rehearsed and arranged. But at the same time, there's this inviting warmth that comes from the vibe and personality of the musicians—even more than from the music itself, let alone the lyrics—the bitter pill in the sweet sauce, as Femi likes to say. Femi's three female singer/dancers, including his wife, appear in full Afrobeat regalia, but their mood is closer to the joyous Mahotella Queens than Fela's legion of obedient tail-wagging female cohorts.
Femi too, in his brief, pithy stage patter, emits a newly mellow warmth on stage. At one point he silenced the band and advised that we must all be careful to distinguish "Afrobeat" from "Afrobeats." I heard this not as a put down of the rising Afrobeats genre, but rather of sloppy journalists who fail to note the difference. But again, it was done with a playful wink. Even Femi's angular body language sends a message. Like his father Fela's and his young brother Seun, those moves suggest a kind of possession, but Femi's moves are more tightly controlled, physical expressions of the dueling positive and negatives that collide in his art.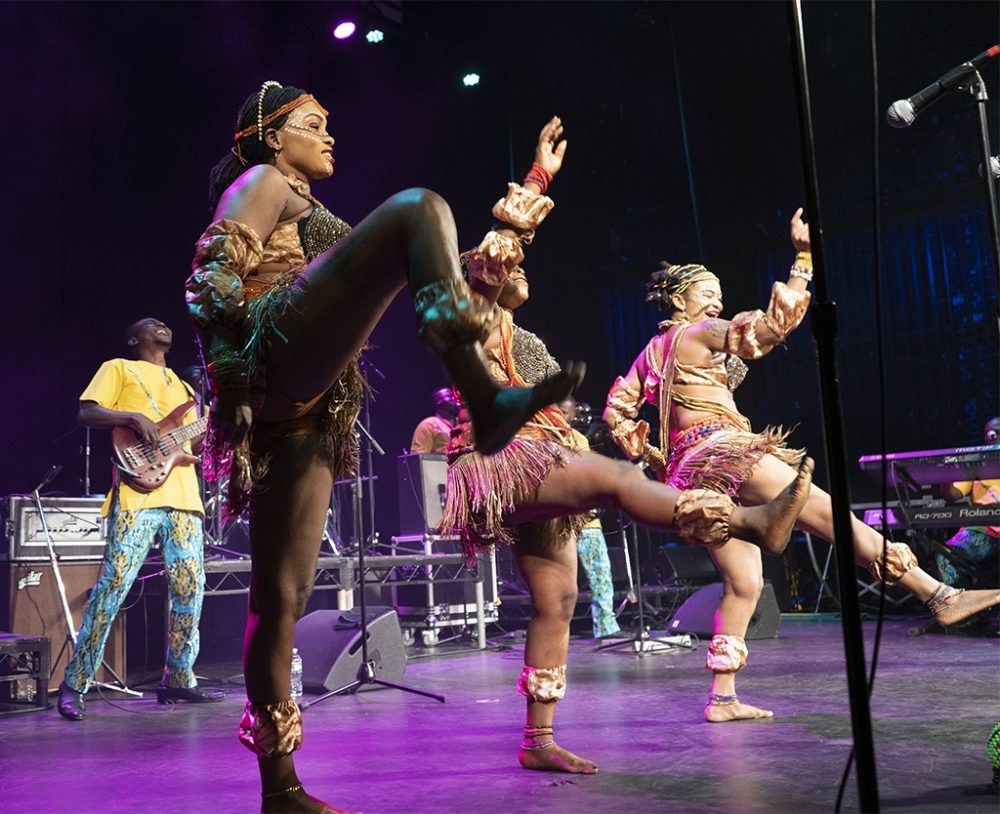 As advertised, Femi's son Made [pronounced as Mah-dey] did appear, graciously presented and excellent in his own right. I will say no more about the show's unusual flow, because if you are anywhere near this tour, which continues at New York's Webster Hall tonight, you need to go and see for yourself. God bless the Kuti clan for keeping Africa's big band tradition alive with such force and relevance.