Meet the South African Genre-Bending Rap Duo Stiff Pap
Braiding the electronic music genres of their home country like kwaito and gqom with hip-hop, the South African duo Stiff Pap released their debut album this summer, along with a five-minute movie to introduce listeners to the rappers Jakinda and Ayema Problem and the world of Stiff Pap. Via WhatsApp, they sat down to chat with Matthew Key, Afropop's local South African electronic music expert, AKA DJ M-Point host of "The Loxion Music Mix Show" on WESU- FM in Middletown, CT. Their conversation about Cape Town vs. Johannesburg, their dream collaborations, and what exactly "stiff pap" is, is right here.
Matthew Key (DJ M-Point): This is Matthew Key AKA DJ M-Point with Afropop Worldwide and today, I am, via WhatsApp, with Jakinda and Ayema Problem who make up the duo, Stiff Pap. How are you guys doing today?
Jakinda: O.K.
Ayema Problem: Doing fine…Awesome.
How did you meet and how did you come up with the name "Stiff Pap"?
Jakinda: We basically met when we were in university. We were staying in the same student residence and Ayema came across my music on SoundCloud, and he was really interested in working with me so we met up together in the dining hall and we just started discussing stuff and became friends.
Eventually we started making music together and after we made our first song, we really liked the direction we were taking with the music so we just decided to create a band. Obviously we needed to have a name, so we just wanted to have a name that was that was really authentically South African, and "Stiff Pap" was the name that really stuck.
O.K., and actually to describe to our international audience, can you describe what "pap" is?
Ayema Problem: Um, pap is maize meal—do you guys have maize meal that side?
Well, we have something similar in the States called "grits," and I know that it's usually eaten in the Southern states.
Ayema Problem: Oh yeah, that porridge!
Yeah, porridge, yeah!
Ayema Problem: Yeah, that's basically porridge! But with stiff pap, it's way more dense, like, there's way more maize meal than something like grits or porridge. So, it's way more dense and I think that it's not even eaten just in South Africa, I think it's in southern Africa. Some parts even call it sadza. Shout out to our fans calling us "Stiff Sadza" recently.
Man, I learn something new every day!
I'm actually intrigued by the influences in music. I know that with the combination of sounds such as kwaito with songs such as "Mkokotelo," "Electro," and with gqom with that song "Ngomso" with Moonchild Sanelley , and even trap music with the song "Maradonna." Is there any specific genre you prefer?
Ayema Problem: [Laughs] Hmm?
Jakinda: I don't know—I wouldn't say that there's a specific genre we prefer, we consider ourselves a hip-hop act, but alternative hip-hop, but yeah, I wouldn't necessarily say we lean towards a specific genre more than the other. It depends on what we're trying to express through the specific song. I think that we use the genre as more than a medium—almost like a painter uses specific talents to symbolize certain things. I think the genres are just a medium of expression for us.
I saw a documentary on YouTube, when the group was still based in Cape Town, and I remember both of you speaking about the racial and class divisions in the city. Would you like to elaborate on that?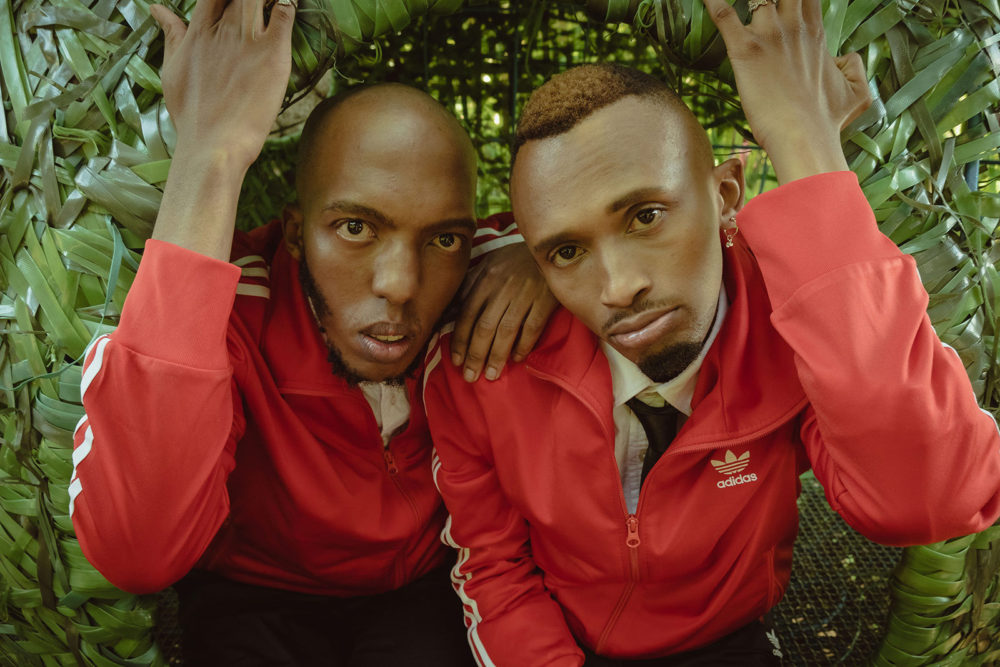 Ayema Problem: Yeah man, especially living in Johannesburg now, which is predominantly metropolitan, it was weird moving here from Cape Town. In Cape Town, basically, the whole entire city is segregated. The town predominantly is made very Eurocentric first and then when you get a bit outside of the town, that's when you get to see people of color, and then the farther out you go, that's when you see brown, Black people.
And then they're so far from the town, so far from the opportunity, so far from access. Being in Cape Town, you just feel that. When you're walking in the CBD [Central Business District], you feel it, when you're walking in a promenade. You're like, "Yo! I'm actually a Black person—in South Africa!"
Jakinda: Cape Town is like that because the effects of apartheid are kind of still there. The people were really divided during apartheid, put into specific areas and stuff and really that kind of persists now. The segregation is still there. The way people have been put against each other, like even Black people and colored people, have been separated from the main city and the main city, like the CBD, has been basically dedicated to white South Africans and Europeans—tourists and stuff.
A lot of the houses are really, really expensive there and a lot of them are empty but they're owned by people who don't even live in South Africa. So Cape Town is—Cape Town sucks from that point of view.
Sounds like America too. I remember reading about apartheid and I think when I was 8 years old, the first time I saw [the film] Sarafina, I was like "Man, they still have segregation down there?"
Ayema Problem: [Laughs] Yeah.
I was 8 years old at that time when the movie came out, and I know apartheid ended, but the sad thing is the effects still go on, like with segregation here in the U.S. That legally ended in the '60s, yet the effects still happen. I definitely see the similarities.
But now that the group is based in Johannesburg, how would you compare the music scene there, compared to the music scene in Cape Town?
Jakinda: I don't know what Ayema thinks but basically, there's no music scene in Cape Town. Like there's musicians who are making interesting stuff, but in terms of a scene, I don't think that there's a music scene in Cape Town. Even when we lived there, there wasn't much of a scene. There was a small kind of electronic scene, alternative scene, but the people don't really interact with each other that much. I think people all see each other as competition, so then the scene itself never really grows and so there's no real industry in Cape Town. And there's no real industry in Cape Town in terms of television or stuff like that. If you really want to be on television as a musician, you got to be in Jo'burg so, there isn't really that industry backing for Cape Town as well.
I think that that's what makes it really difficult to be a musician in Cape Town, so I think that's one of the main reasons we wanted to leave—because Jo'burg is just so much more lively. There's so many more opportunities for artists in Johannesburg and I think that the industry is way more supportive here from a financial point of view, like there's more opportunities to really make something of yourself here, if you really work hard.
Ayema Problem: Yeah, also since Cape Town is basically a tourist destination, it's very wavy, it's like you were saying like Los Angeles or Miami, or like an environment like that. People there ain't on that hustle because, it's a tropical destination of some—it's a vacation destination. So, there's that vibe about it where you can just chill and just take your time, whereas in Jo'burg, everyone is a hustler. Like every second person you meet is a hustler; everybody's trying to get it, some way, somehow.
So, the scenes are affected by that. In Cape Town, the scene is slow. In Johannesburg, everything is fast paced.
Can you give me some details about your latest album: TUFF TIME$ Never Last?
Ayema Problem: [Laughs] "TUFF TIME$"……
[Both laugh]
Jakinda: What would you like to know about it?
How did you guys come up with the concept and also the music that's featured on it—basically, what's the whole album like?
Jakinda: TUFF TIME$ is a conceptual album I guess, a conceptual body of work. Been working on it for the last two to three years, and it's basically loosely based on our experiences moving to Jo'burg and our experiences as artists on the rise, in pursuit of our dreams and how that experience has been from Cape Town compared to Jo'burg—the difficulties that come with that, being young and Black in South Africa during this political climate we find ourselves in—the pandemic. Like really the experiences of the last two, three years and just how the city of Jo'burg has inspired us in so many ways to kind of hustle, like Ayema said. It has this hustle that we kind of—we've always had it but we kind of had to pick it up a bit further to really be upfront on what we want and our desires. I think that TUFF TIME$ is just an embodiment of those experiences and the things that we learned and us coming into our own as artists.
Ayema Problem: Yeah. TUFF TIME$ got bangers also, let's not forget that. [Laughs] We tried to make a body of work that's going to represent the times that we're under, even as a country. I feel like we didn't try to make a "political project," but ever since I listened to it and what's happening to our country, I feel like it's a wave. I feel like it's a mentality that we try to represent: South African kids and South African youth in a broader perspective than what's been presented to the world.
In the past would you ever expect to perform at events such as Afro-Punk and Oppikoppi?
Ayema Problem: Yes, yes.
Jakinda: We've always had big dreams, that's the thing. Even before we did any of that stuff, we saw ourselves performing on some of the biggest stages. I think that we've always been very ambitious about what we wanted to achieve with our careers and we still want to perform on the biggest stages. Like I want to perform at Coachella one day, and I think we can do it. I've seen someone like Moonchild (Sanelly), who we've worked with, she performed at Coachella.
That kind of stuff inspires us because it makes me feel like "well, if she can do it, what's stopping us?" we just got to work towards it, you know?
Ayema Problem: Yeah.
Jakinda: But we've worked with BCUC (Bantu Continua Uhuru Consciousness), another close collaborator of ours, they've performed as Glastonbury and that's one of the biggest festivals in the world. So, for us, we've always been around people that were working really hard and achieving great things, so it always showed us if these people who are around us can achieve these great things, we can do it too.
What musicians, internationally, would you like to collaborate with?
Jakinda: Slowthai, JPEGMafia….
Ayema Problem: JPEGMafia, yeah.
Jakinda: Oh, Tyler the Creator, I'd love to work with Tyler the Creator…
Ayema Problem: Shygirl.
Jakinda: Shygirl, Kelela….I'd love to work with Kelela, Yves Tumor-somehow, somewhere I would love to work with Yves Tumor…..hmmmm.
Ayema Problem: South African, let's give him a South African name.
Jakinda: I thought it was just—was it not about international collaborations or was it also local?
You know what? I did say internationally, but give me a local one.
Ayema Problem: Bongeziwe Mbandla
Jakinda: Yeah, that would..that would be dope. Been wanting to work with him, yeah, I don't know. I think that the people that we want to work with locally, a lot of them we've already worked with. I think I'll have to think about who's new in the scene and stuff like that.
But yeah, in terms of international collaborations, those people would be like quality for me.
O.K., and for my final question…
Ayema Problem: Danny Brown! Danny Brown! Let's not forget Danny Brown.
O.K., you know what? I can actually picture both of you working with Danny Brown and Tyler the Creator. That would be something! Also, for my last question, how would you describe your music to anyone who has never heard of Stiff Pap?
Ayema Problem: Hmmm…..
Jakinda: I don't know, ahhh….
Ayema Problem: Good music?
[All laughing]
Jakinda: I would say—I don't know how I would be able to describe in terms of the sound and how it's just proud and that it's just some of the most exciting music you're going to ever hear from Africa.
Ayema Problem: Simple….I would say one of the most interesting acts in the world
Yes, that's a good title. All right, well, it's been a pleasure speaking to both of you! Thank you very much Jakinda and thank you very much Ayema Problem. You guys gave me a lot of information not just about your music, but also about South African society in general and South African music—current South African music, so definitely, thank you very much for the opportunity for interviewing you!
Ayema Problem: Wow, thank you for interviewing us, man! Thank you.
Jakinda: Thank you so much!