Nuits D'Afrique 2023 in Montreal: The Full Rundown
Afropop Worldwide was once again a presence at the 37th annual Nuits d'Afrique festival in Montreal this July. Sean Barlow and Banning Eyre stopped in for a few days during the second week and filed this photo essay. But our man Ron Deutsch caught the whole shebang, and here's his comprehensive report.
This year's Montreal Festival International Nuits d'Afrique took place from July 11 to July 23. We have been covering the festival for over a decade now and so you should know by now that one of the things that defines this city are the multitudes of immigrants that have shaped the island, and made it a mecca for musicians from around the globe. So while it's certainly an "international" festival, two-thirds of the 60-plus performers call Montreal their home. From calypso to kompa, from salsa to soukous to samba, all these musical styles can be found in the city and stages of the festival.
The first week of Nuits d'Afrique is centered mostly at Club Balattou, which has served as the unofficial home for African musicians, but there are also concerts at other venues. On the second week, the focus of the festival shifts to the Quartier des Spectacles, in the center of downtown Montreal with large open-air spaces and streets closed to vehicles. In fact, while Nuits d'Afrique is in one area of the quarter, simultaneously there is the Just for Laughs comedy festival and the Complement Cirque, an international circus and acrobatic festival. In addition to its two stages for music, Nuits d'Afrique also sets up open-air markets, with clothes, trinkets, and food stalls ranging from jerk chicken to chicken yassa.
The festival opened at Club Balattou with Jinj, who are French-born Sevana Tchakerian and Armenia-born Gor Tadevosyan. They play what they've dubbed "Armobeat," a fusion of Armenian folk music and French hip-hop. The second night featured a sold-out performance by Angelique Kidjo at the Mtelus Theater. While we have seen Kidjo perform many times over the years, watching her work a mostly French-speaking audience with many coming from West Africa, her stage presence seemed more at ease and conversational with the crowd responding in kind.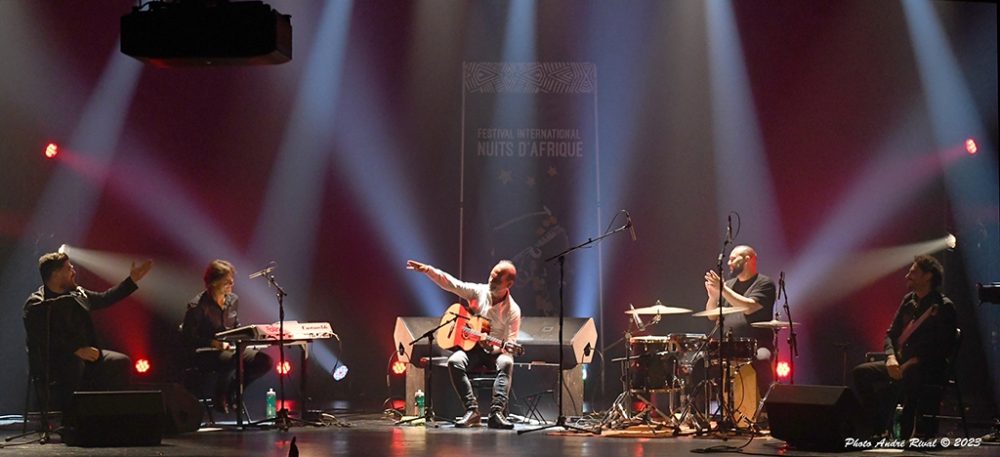 Highlights from the rest of the first week included flamenco master Juan Carmona performing with Morrocan Rai chanteur Youba Adjrad. Carmona has been exploring the Arabic roots of flamenco and their performance whisked the audience away to Andalusia for the evening. The annual "La Nuit de Kora" starred Senegalese-Quebeckers Seckou Keita and Zal Sissokoho. To end the very special evening, they were joined by Djely Tapa on their encore. There was also Delgres, who we first interviewed back in 2017 when he began the project. The trio, Pascal Danae on guitar, Baptiste Brondy on drums, and Rafgee on tuba, continue their exploration into the connection between Caribbean and New Orleans music and culture, and Danae's Guadalupe family's immigrant experience. We'll be featuring a catch-up interview with Danae here next month. Regrettably, we were somewhat underwhelmed by Cameroonian Blick Bassy's set at the Fairmont Theater, featuring songs from his latest release, Mádibá.
However, we were utterly seduced by Project Dharani, led by singer Lavanya Narasiah. Born in Quebec of South Indian parents, Narasiah had a band of musicians surrounding her representing the Caribbean, Africa, and Brazil. Yet singing is not her full-time occupation, Narasiah is a practicing medical doctor and researcher. We wouldn't mind visiting our doctor if they sang as beautifully as Narasiah.


As mentioned above, the second week of Nuits d'Afrique focuses on its outdoor stages. So while there continued to be shows at Club Balattou, the outdoor shows run nonstop from 3pm to 11:30pm and even though the venues are only a mile apart from each other, there were just too many acts we wanted to see at the Quartier des Spectacles to ever leave.
Of the afternoon and early evening performances, there were several stand-outs. A new singer on the Montreal scene whom we instantly fell in love with was the exuberant Noé Lira. Lira sings, dances, and plays the accordion. The Quebecker of Mexican descent dubs herself an "artivist," using her art to call attention to violence against women issues. While Lira has only begun performing music over the last couple of years, releasing her first album in 2021, she was named Revelation of the Year by Radio-Canada. However, she has been known as an actress in Quebec for some time, currently co-starring in the French language TV series L'Empereur.
Two Brazilian artists delivered outstanding performances. Diogo Ramos is an established figure on the Montreal scene, originally from Sao Paolo. An excellent songwriter, his splendid set featured a 9-piece band backing him, featuring many songs from his 2022 album Cabaça, in which he explores mixing samba funk and electro-hip-hop

Newcomer Thaynara Perí, is originally from Minas Gerais, then spent a decade in Bahia before relocating to Montreal just over a year ago. Having watched some of her videos made since arriving in the city, we were expecting to see a fairly conventional Brazilian singer, backed with mostly acoustic instrumentation. So we were surprised as she came on, having completely reinvented herself and her act with a new, more exotic look, a more electrifying stage presence, and backed by electric instrumentation. The audience definitely dug her set, and we will surely keep our eye on her future endeavors. She told us she is currently recording an album looking to be released early next year.
Continuing on, it was great to see two favorite women performers again. French-Cameroonian chanteuse Valérie Ekoume first began touring as part of the Soul Makossa Gang, backing up Manu Dibango for eight years before launching her own solo career. With her traditionally-costumed back-up musicians, she delivered a steady set of delicious Afropop. She also included a tribute to her former boss with a rendition of the classic "Soul Makossa." Here's a video from when we saw her last year in 2022 at the Africa Festival in Wurzburg, Germany.
We were also very excited to see Burkinabé Paris-based Kandy Guira. She calls her music "Faso Electropop," and certainly delivers on that. Backed by only a DJ and an electric guitarist, when they first came on, the stage felt a bit bare, but as soon as she started to sing, her presence and voice totally filled the void. With her commanding presence, it's not surprising she is also a professional model. We first met Kandy as a member of Les Amazones d'Afrique back in 2019, but she also keeps busy as a backup singer with acts like Oumou Sangaré, (you can hear her on Sangaré's 2020 album Acoustic), and, like Ekoume, she worked with the late Manu Dibango. As with her work with Les Amazones , many of her songs deal with social and political issues of African women. Stay tuned for an interview with Guira in the near future.
We were also quite pleased performances by long-time favorite Kobo Town, led by Trinidadian-Canadian Drew Gonsalves, who never fail to get audiences moving with their original mix of calypso and ska. Burkino Faso-born Dicko Fils with his always crowd-pleasing voice and kamele n'goni playing; we caught a beautiful acoustic solo, reggae-infused set from Haitian-Quebecker Jean Jean Roosevelt; Senegalese singer Seydina, an artist we've watch grow and discover himself for several years now; an action-packed afro-futurist performance from Congolese-Quebecker Kizaba; and another recent immigrant, Cuban keyboardist extraordinaire Andy Rubal, who drove the audience into a salsa dancing frenzy.
We finally need to tip our hat to the winner of this year's Afropop Worldwide Prize for best new local group, Afirka, who received their award on stage after their excellent set by our fearless leaders Sean Barlow and Banning Eyre.
"Afirka really stole your hearts with their faithful, lively evocation of Algerian pop styles, notably classic Rai," Banning explained. "Hamed's vocals complete the picture laid out by an excellent band. There are many bands around who play classic African styles, but none we've seen like this one. The performance clearly confirmed our choice as the band was killer on stage."
Moving on to the headliners, we were very excited to finally see The Bongo Hop, a project formed by French composer/trumpeter Etienne Sevet. It all began in 2011, when as a working music journalist Sevet was encouraged to pursue music by British producer/musician Will Holland, aka Quantic, while both living in Cali, Colombia. The group features Colombian singer Nidia Gongora, who we first encountered in 2012 at SXSW when fronting the Colombian traditional folk group Canalón de Timbiqui. As well, she has collaborated with Quantic on several of his projects. The Bongo Hop bills itself as Afro-Colombian, but you'll also hear influences from throughout Latin America, as well as some Afrobeat thrown in. The Bongo Hop have released three records to date, with other guest artists including Haïti's Kephny Heliacin, French Creole MC Greg Frite, and Angolan semba icon Paulo Flores. We'll be posting an interview with Sevet here soon.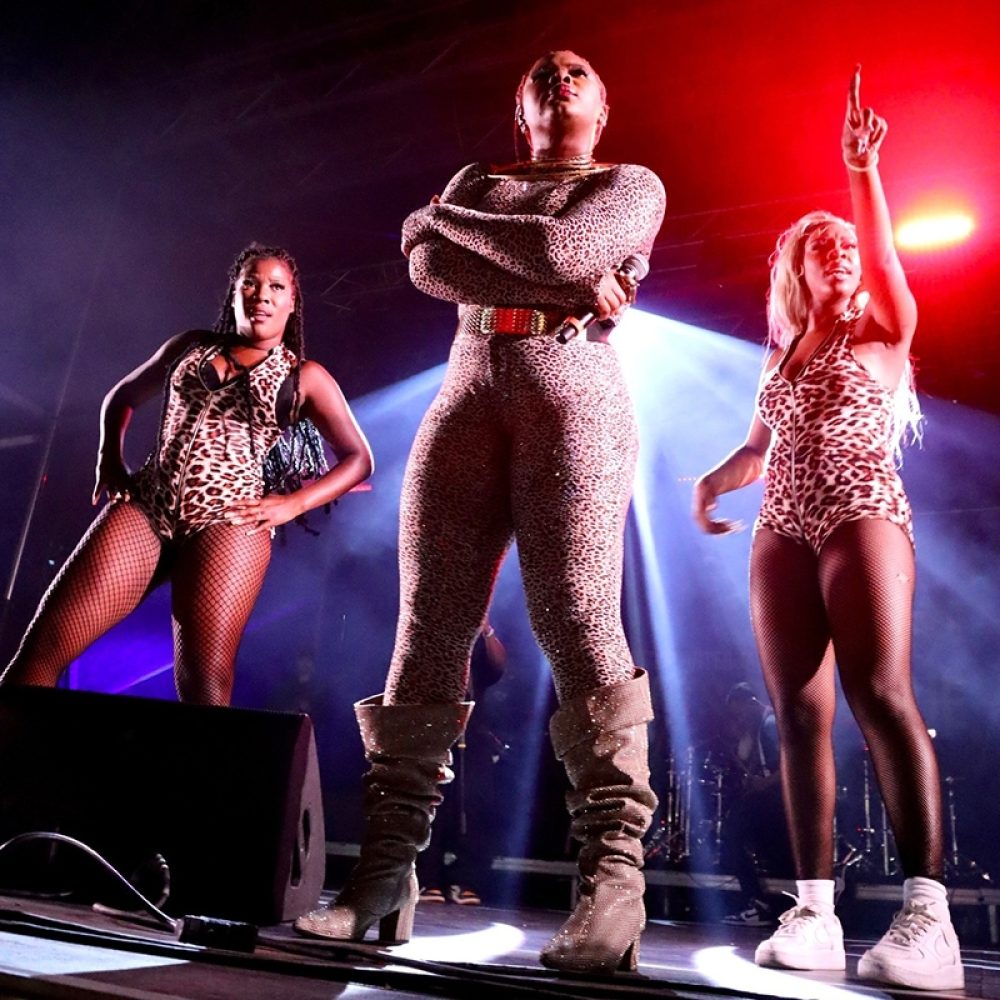 The next two headliners couldn't be any more different. Nigeria's Yemi Alade exploded onto the stage with a spectacular set. The multi-award winning artist lived up to her title as "Queen of Afropop," and her performance rivaled that of her recent collaborator, Angelique Kidjo's show the previous week. Alade and Kidjo recorded together on the latter's 2022 Grammy Award winning album Mother Nature. Alade also recently collaborated with Colombian hip-hop group Bomba Estereo on the song "Conexión Total" which was itself nominated for a 2022 Latin Grammy. Click here for Banning and Sean's interview with Alade before her performance. Meanwhile, the following night, British-Gambian kora player and singer Sona Jobarteh, took audiences on a transcendent journey. Jobarteh is considered to be the first female kora musician from the West African griot dynasties. But she is no way a "strictly roots" performer, rather she takes the instrument into jazz and r&b, as well as classical music which she also has a background studying. There is a graceful, lyrical thread that runs through her music, and it was a perfect soundtrack for a beautiful night outdoors.
Sidi Wacho first knocked us out in 2017, not long after French-Algerian rapper Saïdou teamed up with Chilean rapper Juanito Ayala to form this project that mixed both their cultures and musical genres, rapping in both French and Spanish, and with a strong anti-fascist and anti-capitalist message. With three albums now under their belt and an international following, we were eager to see and hear what they're up to. We can definitely say they've taken it up a few notches and are even tighter and more dynamic. We will also have a catch-up interview online with them soon.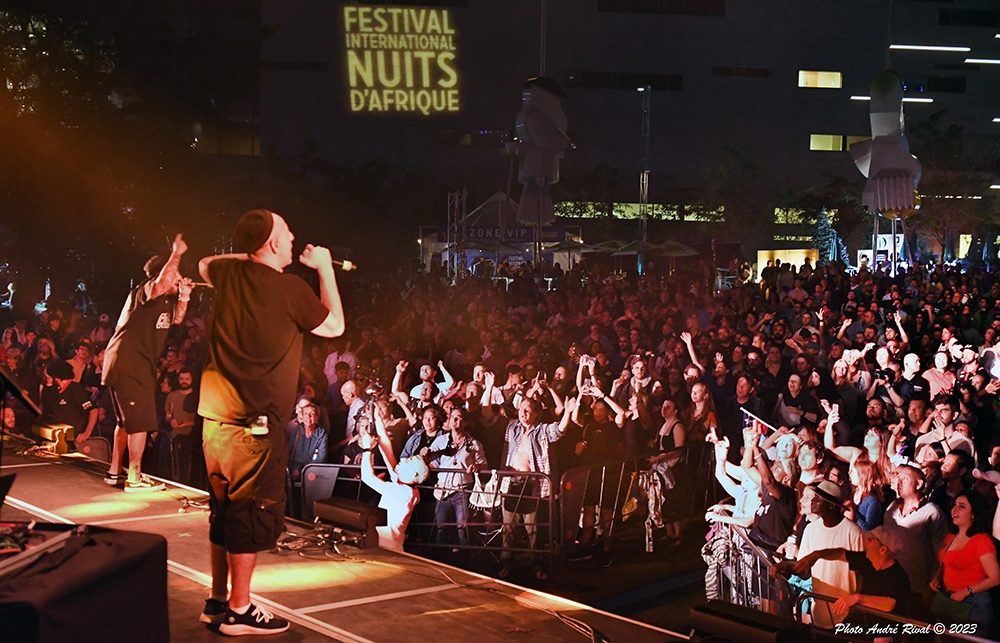 Finally, the last two nights were headlined by Rusdell Nunez y Su Sabor Concentra'o on Saturday and Le Zo Gang featuring Meiway on Sunday. Nunez is yet another Cuban artist who has relocated to Montreal. One has a strong feeling that we'll be seeing more and more Cuban rhythms showing up in future Nuits d'Afrique festivals. They delivered a solid set of rumbas, timbas, merengues, and cha-chas. As for Meiway, the Ivory Coast singer has been a star attraction for several decades and the packed audience of at least 4000 was like a sea of waving white handkerchiefs, a trademark to spot his fans with.