Hip Deep In the Niger Delta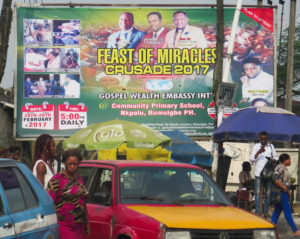 The massive Niger River Delta is a fantastically rich cultural region and ecosystem. Unfortunately, it has been laid low by the brutal Biafran War (1967-70) and by decades of destructive and mismanaged oil exploration. This program offers a portrait of the region in two stories. First, we chronicle the Biafran War through the timeless highlife music of Cardinal Rex Jim Lawson, perhaps the most popular musician in Nigeria at the time. Then we spend time with contemporary musical activists in Port Harcourt's waterfront communities and in oil-ravaged Ogoniland to hear how music is providing hope for these profoundly challenged communities. The program features new and classic music, the words of Nigerian scholars, musicians, activists and veterans of the Biafran War, concluding with an inspiring live highlife concert on the Port Harcourt waterfront in which rappers and highlife graybeards come together to imagine a better road ahead.
Produced by Banning Eyre.