Youssou N'Dour Returns to Carnegie Hall
All Photos by Fadi Kheir

Just weeks after singing the opening song—his indispensable anthem "New Africa"—at Burna Boy's sold-out Madison Square Garden show, 62-year-old Youssou N'Dour pretty much sold out the equally prestigious, if smaller, Carnegie Hall. The Carnegie Hall crowd was, like Burna Boy's, mostly African. But this time most were Senegalese. That was evident by their elastic dance moves and their knowledge of N'Dour's complex lyrics. These Africans were fabulously turned out, especially a large contingent of slim women in elegant, sparkling gowns and elaborate hair weaves. Maybe they weren't as young as the Burna Boy fans, but still a good deal younger than the grey-beard Americans like myself who also attended. Many of us have been listening to N'Dour for a good 35 years, longer than a lot of the Carnegie Hall fans who attended have been alive. That is staying power.
Arriving on stage in a midnight-blue grand boubou, N'Dour fronted an 11-piece ensemble, including some new faces but also key members who've been with him for decades. Throughout a two-hour and 20 minute show—by my count a few minutes longer than Burna Boy's show—N'Dour played some 28 songs stretching out generously and sometimes linking song-to-song without a pause. N'Dour was not aiming for the international hits. Few of those songs contained any English, and well-known standards like "Immigres," "Birima" and "Set" were bundled together near the end of the show. As an example of N'Dour's prolific output, I have about 24 of his albums, including a number released only in Senegal, and the Carnegie Hall set list included at least 10 songs I find on none of those recordings.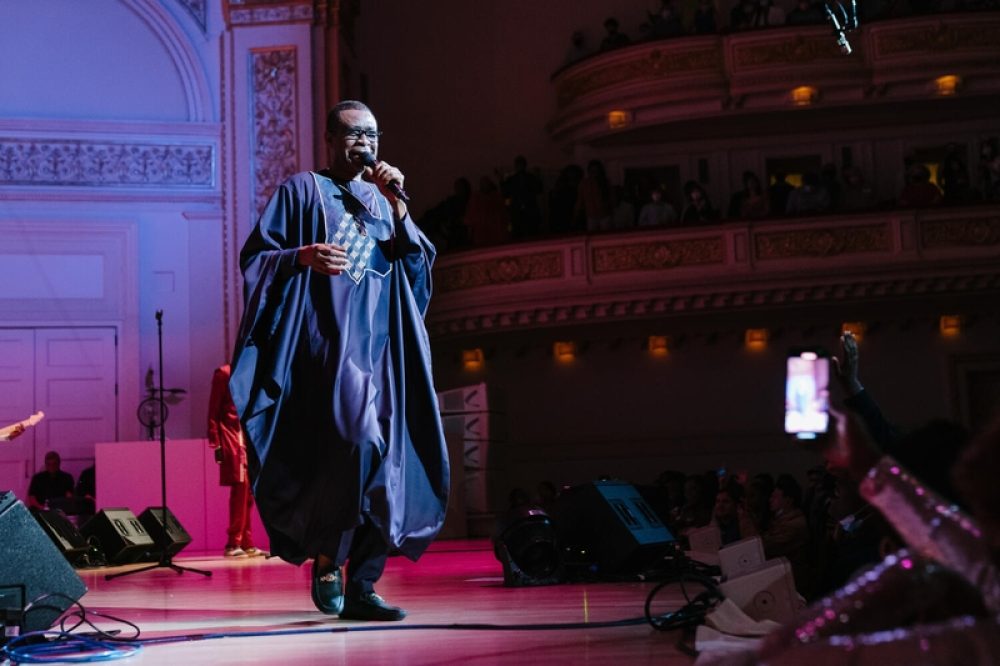 As for the music itself, it was hardcore mbalax all the way, scarcely a slow song the entire night, and little of the crossover pop heard on N'Dour's international releases. Mbalax is based in Wolof sabar rhythms, which involves playing with one bare hand and one stick, which delivers a gunshot crack. The rhythms are dense and tricky, easily familiar to Senegalese ears, but often confounding to Western ones. In this show, songs sometimes began with something close to reggae or ska, but inevitably that sabar crack revved the groove into adrenaline-fueled mbalax. It's no accident that N'Dour's most recent album is called Mbalax, and is clearly aimed reasserting his identity with the genre. Although this show included only one or two numbers from that album, it delivered the mbalax gospel more forcefully than the recording itself.
Now, Carnegie Hall with its world-famous acoustics is not the ideal venue for such powerfully percussive music. The room tends to boom with that many drums and amplifiers in action. But that didn't bother these fans one bit. Moreover, as much of a ruckus all those tamas (talking drum) and djembes, kit drums, guitars, keyboards and horns could raise, N'Dour's voice easily dominated the soundscape, start to finish.
This artist has long been hailed as one of, if not the, greatest living African singer. As this show demonstrated, his spectacular voice is absolutely undiminished. It is hard to imagine another singer putting out at that level for so long. Only 20 songs in, during the golden-hooked "Birima," did N'Dour finally address the crowd directly, saying, "I need your voices in this beautiful room." Naturally, he was rewarded. But in the main, N'Dour left the animation to his longtime percussionist Boubacar Faye. Faye and tama player Assane Thiam, another veteran, showcased percussive mastery a number of times throughout the evening.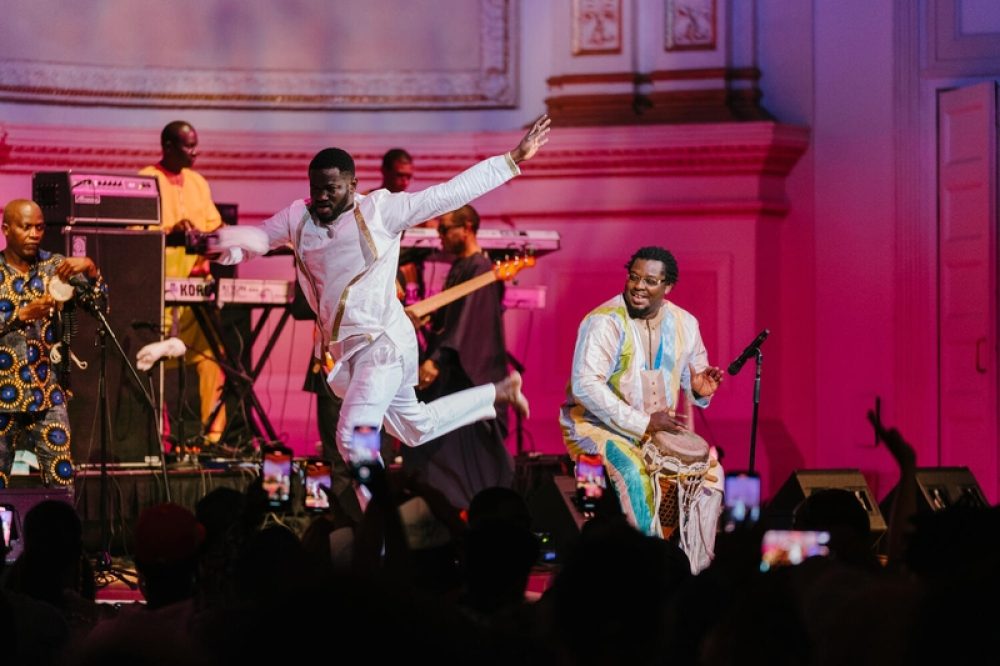 If N'Dour's presentation was no-nonsense, it was also joyful. His rubber-limbed dancer Moussa Sonko, appeared often in a variety of outfits, including a teepee-shaped Peul hat, baggy white shirt and bright yellow trousers, always thrilling the crowd, especially when he performed leaping summersaults across the stage at the show's climax. That climax also showcased a few dancers from the audience who managed to climb onstage despite the efforts by security guards to prevent them. (Tough job!) These dancers were adept at the arms-flying ventilateur (electric fan) dance moves that are a signature of mbalax, and the crowd roared with appreciation each time.
Carnegie Hall made the pro forma announcement about no filming or photography, but forget that. From the first notes, the phones were out, and there was simply no point in intervening. Three women in front of us spent nearly as much time photographing themselves and each other as they did the performance. In fact, much of the photography seemed aimed at documenting the fact that "I was there!" We in the audience spent a lot of time on our feet dancing, and by the end, all this created something like the atmosphere of the four-hour long Grand Bal concerts N'Dour has long been famous for in cities like New York and Paris. In any case, this was a far cry from a typical night at Carnegie Hall.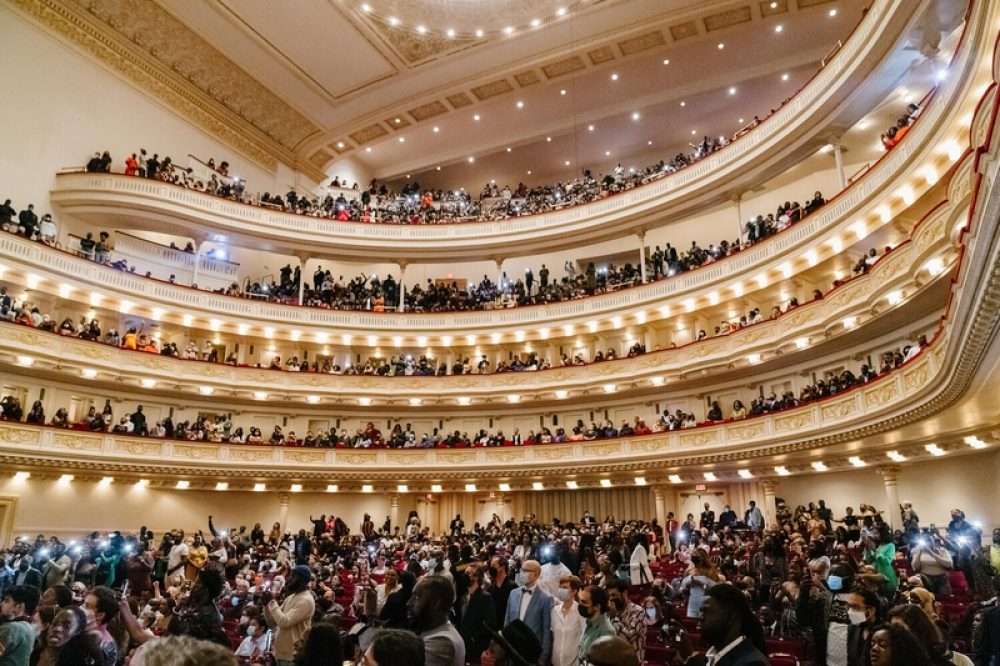 This was N'Dour's first New York show since before the pandemic. It's now been almost a decade since his stint as Senegal's Minister of Culture, and he's long since shaken off the hue of formality that position endowed him with, fully embracing his deeper calling as an artist and entertainer. Backstage after the show, N'Dour received visitors in small groups. He spoke about his enthusiasm for the new sounds coming out of Africa, and the pleasure he takes in his work with Burna Boy. There was not a trace of the stodginess one sometimes hears from African musicians of his generation, who sometimes look askance at new sounds like Nigerian Afrobeats or South African amapiano. For N'Dour, Africa is on the move and it's all for the good. So I guess it's left to folks like me to say it for him: Youssou N'Dour Is Still Number One.