Biafra at 50: A Wound That Does Not Heal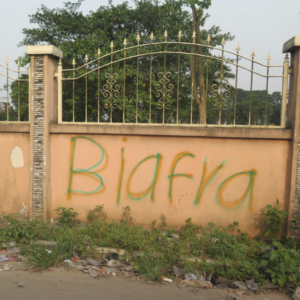 During the 2016 U.S. presidential election, some foreign observers were puzzled by groups of Nigerians who showed support for Donald Trump's campaign. The most prominent supporters were the IPOB (Indigenous People of Biafra), a controversial, fervently Christian, mostly Igbo, nationalist organization that is still fighting for independence from Nigeria. On Jan. 20, 2017 a rally in Port Harcourt celebrating the inauguration of Donald Trump turned violent, and a number of people were shot dead by Nigerian security forces. In order to understand Trump's appeal to the IPOB, we hear from current Biafra activists and dissenting voices in the Port Harcourt community, and examine how the unresolved issues that triggered the devastating Biafran War in the 1960s still resonate and persist in the Niger Delta today.
About the Producer:
Banning Eyre is a writer, producer, photographer and guitarist who has worked with Afropop Worldwide in various capacities since 1987. He was the lead producer on the 2017 program series Hip Deep in NIgeria.